Add a community to your MemberPress site and/or monetize your Discord today!
Discord is a great platform for connecting people and groups from around the world. From gamers to hobbyists, there are tons and tons of Discord communities you can join for instant chatting, voice calls, and more.
If you're thinking that sounds like a great thing for an online business to have, you're thinking right – and you're in luck. The new Connect Discord to MemberPress plugin is locked, loaded, and totally free to use!
In this post, we'll explain what Discord is and show you how to use the Connect MemberPress to Discord third-party plugin on your membership site.
If you've been wanting to…
Add a premium, exclusive community to your MemberPress site
Update your existing community or forum, and/or
Sell Discord memberships
Then keep reading!
What is Discord?
Discord is a messaging and social platform available for both mobile and desktop. It features chat channels as well as Voice over IP (VoIP) communication.
It's very popular among gamers, but more and more businesses are using it to host online communities.
So, how can Discord work for your businesses? Well, in a variety of ways. Discord is a great tool for communication – period.
Let's take the example of a membership site, one that's powered by the #1 membership plugin for WordPress.
This site has members, and those members are all drawn together by a common interest. That could be a particular course, a pin of the month club, a series of ranch cam live streams in picturesque Montana, or almost anything else.
The key is that there's a common thread tying these members together into one paywalled site. And if this site isn't allowing these members to communicate with one another and convene in some digital way, those members (and that site owner) are missing out.
Is Discord Right For My Business?
Onsite communities and forums
As with most things, it depends. If you already have a community hub system that works for you and your business, maybe you're set. Why fix it if it ain't broke, yeah?
But say you don't have a method of communication (whether internal or external) for your customers. Or say you've got a community or hub, but it's outdated and clunky.
In those cases, adding a private Discord channel could be awesome for your business. After all, VIP MemberPress communities can be hugely successful.
Alternatively, you could have a successful membership site by managing a brick and mortar community, like a church group, a nonprofit, a housing association, and more.
The key to all of these is maintaining a digital space where people can interact. If you could benefit from…
A customizable social platform
Fostering industry networking
Easy media file sharing
Voice, text, or video communication and interaction
Then you should give Discord a shot.
Discord monetization
If you already have a Discord server, there's another way the Connect MemberPress to Discord plugin can benefit your business. And that's by allowing you to sell access to your server.
With the new plugin, all the paywalling and membership power of MemberPress is applied to your Discord server.
Create and sell exclusive, tiered memberships
Have members auto-removed when their memberships expire*
Automatically add members to a Discord role when they sign up for a membership
Automatically direct message members to notify them of changes, upcoming billing, and so on
Discord does have a premium membership function in beta. However, when it goes live, creators will have to pay a hefty 10% fee on membership revenue.
With the Connect MemberPress to Discord plugin, you get a totally independent, non-hosted solution for Discord memberships.
Not only that, MemberPress is the world's #1 monetization and membership plugin for WordPress. That means it brings an outrageously larger list of features to the table.
How does the Connect Discord to MemberPress Plugin Work?
This third-party plugin allows you to connect your private Discord server to your MemberPress backend. With a few clicks, you can automatically add members to specific Discord roles depending on what membership level they have.
Your members will receive an invite to your Discord server. Then, upon joining, they'll be automatically assigned to their role.
For example, you might create different membership tiers, and lock some areas of your Discord server behind a paywall set to that tier level.
For MemberPress creators looking for a community plugin, and Discord users looking for a way to monetize, the Connect MemberPress to Discord plugin is the winning ticket.
Please Be Aware
Some users are currently reporting issues with the plugin, such as Discord removing roles from members after membership renewal.
With this in mind, we recommend using Zapier to integrate Discord and MemberPress.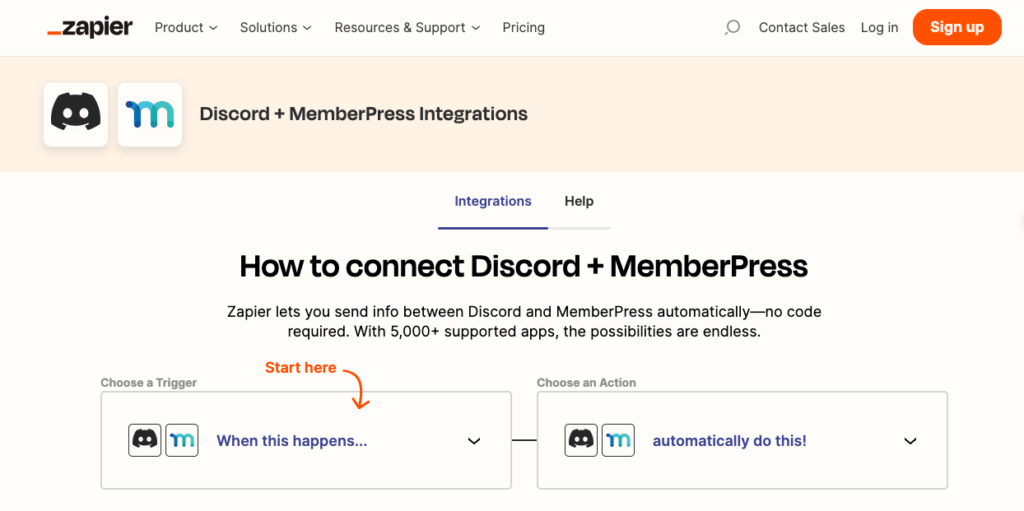 The MemberPress Zapier integration is available to all MemberPress Plus and Pro account holders and is super easy to set up.

However, if you'd still prefer to connect using the Connect MemberPress to Discord Plugin, read on and follow our step-by-step instructions.
How to Set Up the Connect MemberPress to Discord Plugin
The third-party plugin that will connect your Discord server to MemberPress is extremely easy to set up. In this tutorial, we'll assume you already have MemberPress installed.
To get started, you'll need to install the Connect MemberPress to Discord plugin.
This will allow you to give your members whatever Discord roles you want based on membership level. It'll also allow you to give server access to your members only.
You'll want to set up a Discord account, as well. You can set up a server in the app or in your browser by clicking the + (Add a Server) button on the left-hand side.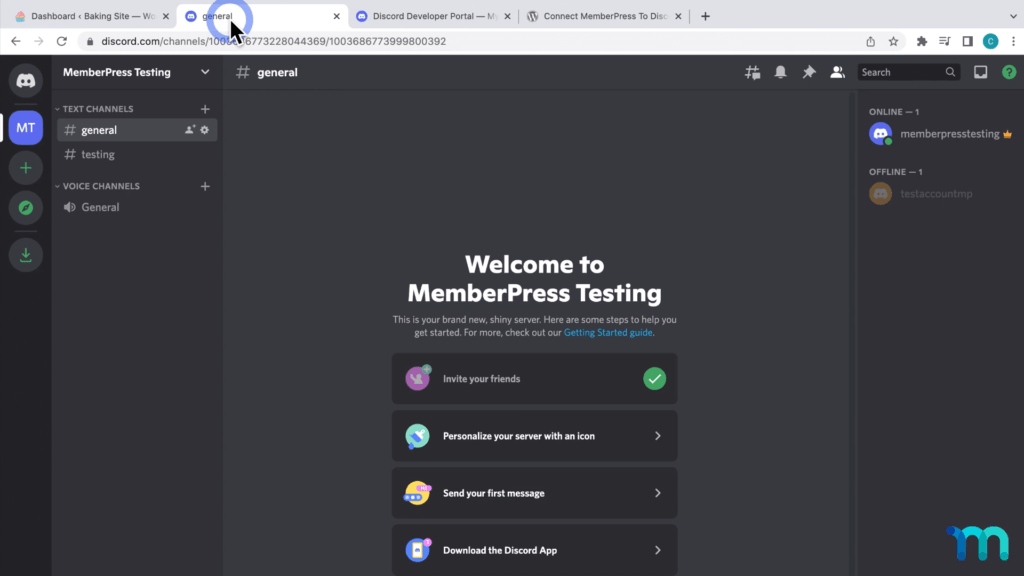 Now, when you go to MemberPress on the backend, you'll see a new tab called "Discord Settings". From here, you can enter your Discord account information.
To do this, go to Discord's developer portal, select Applications, and add a New Application in the top right. Name it MemberPress.
Click Create, which will then create an app within Discord: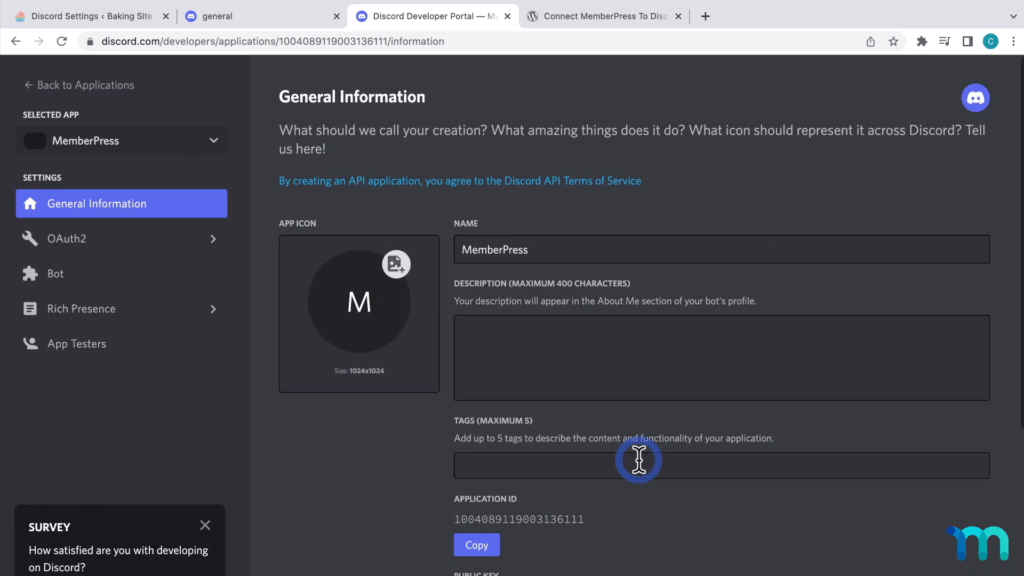 Go to OAuth2 on the left, and click copy client ID. Go back to your plugin settings and paste this under Discord client ID. Next, you'll need the Client Secret, so you'll go back to OAuth2, click Reset Secret, and confirm:
Then, go and paste this string into the Discord Client Secret on the MemberPress settings. Copy the Redirect URL from the plugin settings, go back to Discord, select Add Redirect, and paste it in.
Do the same with the Bot Auth Redirect URL.
Next, go to the Bot section on the left and create a new bot. Discord bots can perform tasks for you automatically, such as welcoming new members, banning members who violate your rules, and more.
So, to put the bot into MemberPress, you'll need to reset the bot token, then paste it into the plugin settings under Bot token.
After that's all done, open up the Discord app, and go to your settings via the gear icon in the lower left. Go down to Advanced, and enable Developer Mode.
After that, right-click on your server icon on the left, and click on Copy Server ID. Take it back to the plugin settings, where you'll paste it under Server ID. Then, save your settings.
Next, you'll see a button that says Connect Your Bot. That'll take you to the following page in Discord:
Click Continue.
Next, you'll set up your membership roles in Discord. Membership roles can be set to various permissions on your server.
Access them from the plugin backend by going to Role Mappings, and dragging each Discord role to the membership level its associated with: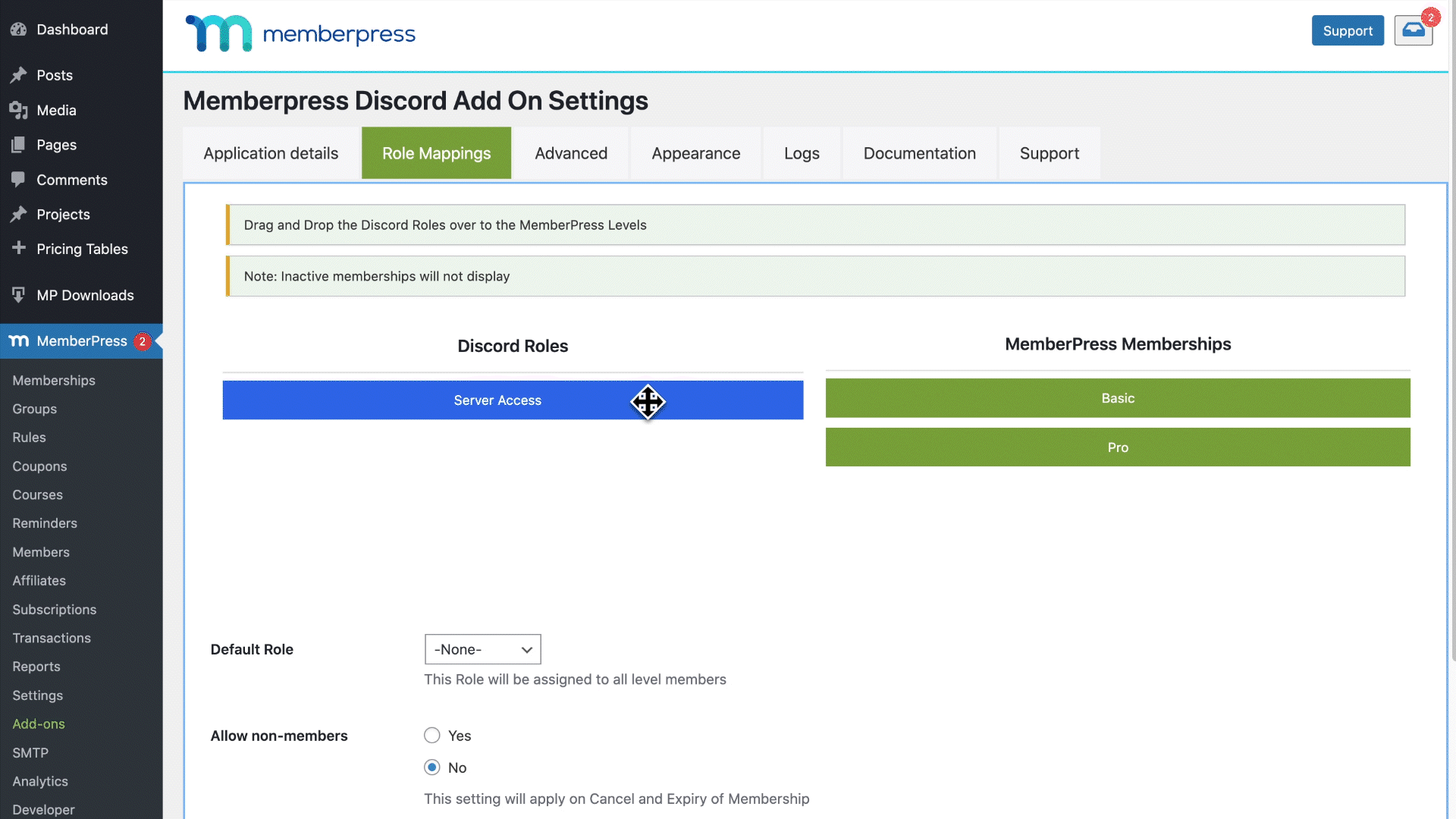 Below that, you can set a role assigned to anybody who joins the server via Default Role, or you can leave that blank. Be sure to click Save Settings often so you don't lose progress.
There are tons more options you can see on the backend. For detailed setup instructions, check out the video above.
And there you have it! Your Discord is all set up and linked with your MemberPress site.
Conclusion
MemberPress sites are fantastic for all kinds of things, and forming communities is one of the best.
Whether you're looking for a Discord Premium Memberships alternative, or you're ready to get your MemberPress community up and running, the Connect MemberPress to Discord plugin is just what you need.
And don't forget – it's FREE!
Have a cool use for Discord in mind? Or are you already using it? Let us know how in the comments down below.
If you liked this article, be sure to subscribe to the MemberPress blog!