Teachable vs Kajabi vs MemberPress
Online learning is a massive industry, and it's only likely to keep growing. If you have knowledge to share, chances are there are people willing to pay for it. All you need to get into the industry is a platform that enables you to publish and sell virtual courses.
This kind of platform is called a Learning Management System (LMS), and there are many quality solutions out there to choose from. Knowing how each of them works will enable you to pick the best fit for your needs and the kind of courses that you want to create.
In this article, we'll compare three top LMS solutions – Teachable vs Kajabi vs MemberPress – to help you find the ideal option for you. We'll look at the features, course creation process, and cost of each. Let's get right to it!
Teachable vs Kajabi vs MemberPress Compared
Choosing an LMS is no small task. The platform you build your courses on will determine everything from how your curriculum is set up to what type of media and assessments you can include. Ideally, you want to select one that both fits in your budget and provides the functionality you need to attract, engage, and educate students.
Teachable, Kajabi, and MemberPress can all help. Below, we've compared their key features to guide your decision. Let's take a look.
Teachable is a fully-functional LMS that gives you the tools you need to set up a website for your online courses. You can use it to create membership plans with recurring fees or sell classes individually.
This platform enables you to put together classes using a broad range of elements. You can upload videos, documents, and audio recordings, as well as set up quizzes and more.
Other handy features include:
The ability to use a custom domain name for your site
Sales tracking
Support for additional team members or instructors
Unlimited courses and students
Live classes
Integration with third-party platforms to collect student feedback
One unique aspect of Teachable is that it promotes members' courses on its website. This gives you one more avenue to find students, and you don't have to pay extra for it. On top of that, this platform offers email marketing functionality and it enables you to set up your own affiliate program.
Offering certificates can be an excellent way to promote membership for your courses, and Teachable enables you to do so. As far as payments go, it supports over 130 currencies and PayPal, so your students will have plenty of ways to pay.
Price: Teachable plans start at $29 per month for unlimited courses and students.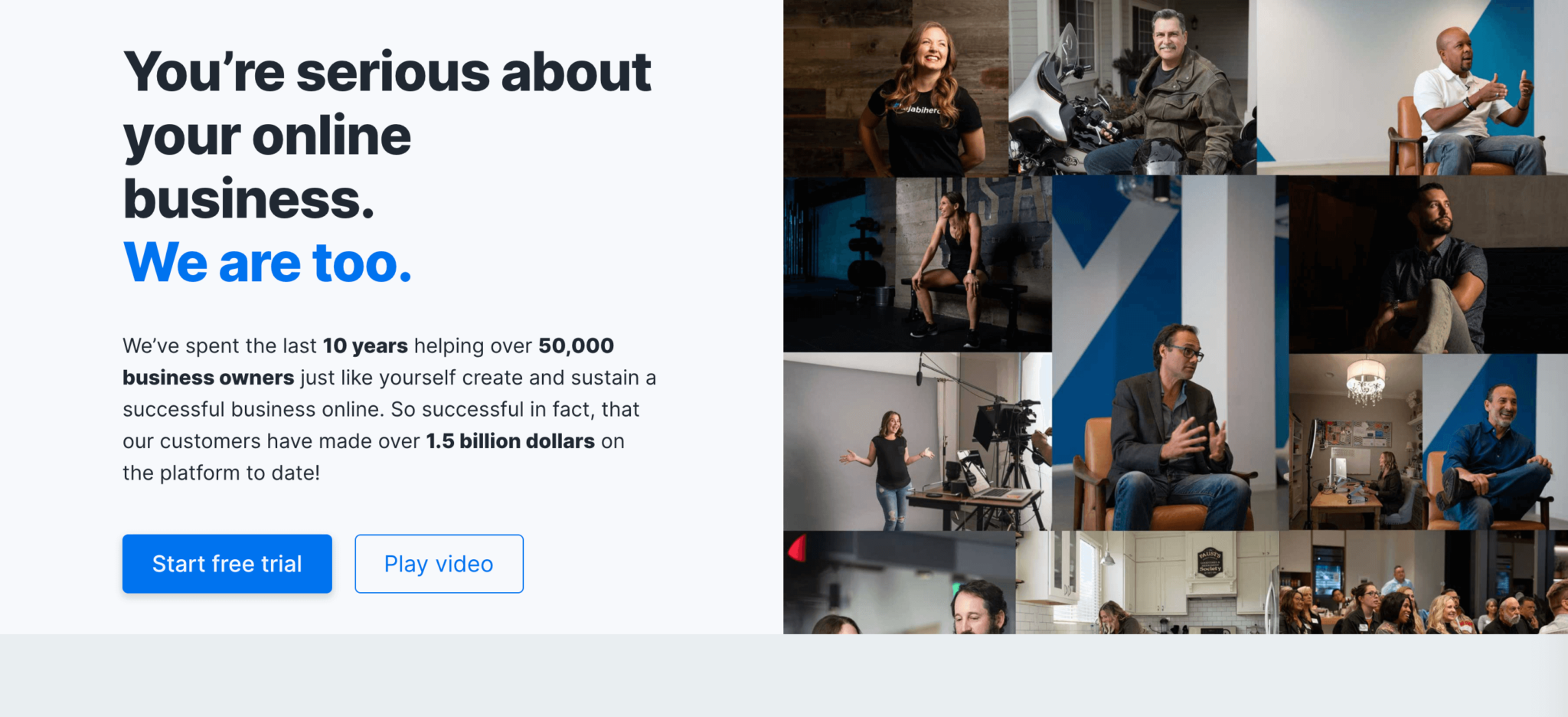 Kajabi doesn't bill itself as an LMS. Instead, it strives to bring all the online business tools you need under one roof and enables you to set up a website to sell products, courses, coaching plans, subscriptions, and more.
Features include:
Content creation and management
Built-in business analytics
Email marketing with a visual campaign builder and video integration
Automation triggers for every area of your business that's powered by Kajabi
Mobile app creation
As far as online courses go, Kajabi enables you to design, publish, and sell yours on an individual basis or through subscriptions. All this happens on your own website, which you can also build using this platform's tools.
Kajabi's site creation process is remarkably simple as the platform enables you to choose from a broad library of themes. You can also customize every aspect using an intuitive page builder.
If you don't want to create courses from scratch, Kajabi provides templates to kickstart your lesson plans. Moreover, it also includes community features, which enable your students to engage with each other and encourages them to become more invested in your brand.
For payments, Kajabi works with both PayPal and Stripe, which means that students from all over the world should be able to purchase your courses.
Price: Kajabi plans start at $119 per month for up to three digital products (including courses).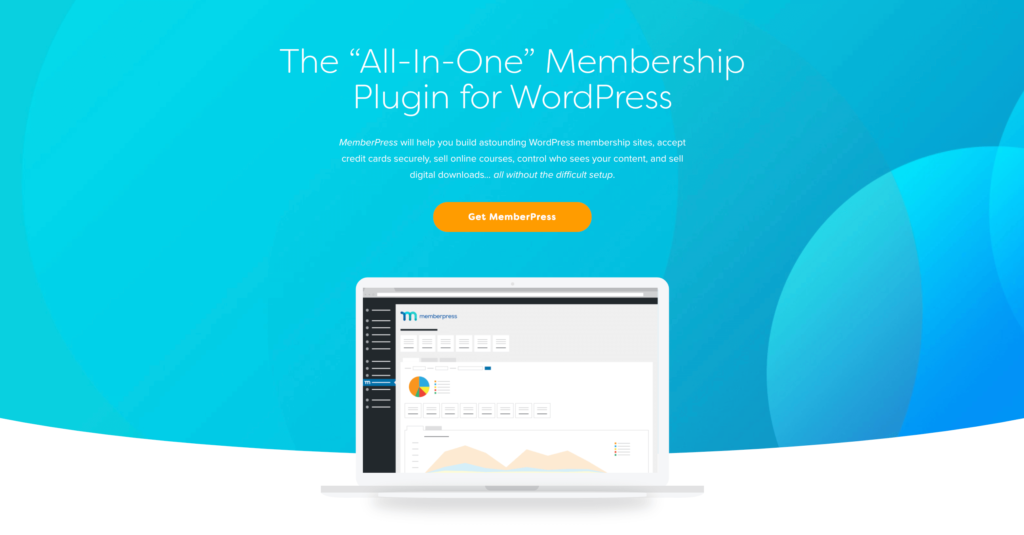 If you use WordPress, then you know it provides one of the most intuitive experiences when it comes to creating an online site. Out of the box, it isn't what you'd call an LMS, but that's something you can easily fix using the right plugin.
MemberPress enables you to add a premium membership system with restricted content to your website. It also comes with an LMS add-on called MemberPress Courses. You can use it to create and publish lessons, put together a comprehensive curriculum using a visual builder based on the Block Editor, and more.
Some specific features our plugin provides include:
'Classroom Mode', which automatically styles your pages so they're student-friendly
The ability to set up access rules and restrict content
Course progress tracking so students can see where they are in their classes
A variety of subscription options for charging students
The advantage of using self-hosted WordPress versus a hosted LMS such as Teachable or Kabaji is that you have full control over your website. With MemberPress Courses, you can publish any type of classes you want. Moreover, thanks to WordPress' library of plugins and themes, you can add a wide variety of additional features to your site.
MemberPress enables you to use multiple gateways to process payments for your courses, including Authorize.net, PayPal, and Stripe.
Price: MemberPress' Basic plan costs $149 per year. Keep in mind that you'll also need to pay for hosting and a domain name when launching your WordPress site.
Conclusion
Every LMS offers a different approach to course design, marketing, and payment processing. Understanding how the top platforms work and the features they offer is the best way to determine which solution you want to use for your own online classroom.
If you're on the fence between Teachable vs Kajabi vs MemberPress, here's what you need to know about each:
Teachable: This LMS includes a broad range of marketing tools to help you boost revenue and grow your business.
Kajabi: As an all-in-one online business solution, Kajabi may be the best option if you're starting to build your brand from the ground up.
MemberPress: A highly customizable and scalable solution that brings you all the advantages of WordPress and an LMS at an affordable price.
Do you have any questions about how to choose the perfect LMS? Leave them for us in the comments section below!