Lesson 10: How to Set Up MemberPress Email Reminders
With MemberPress, you can effortlessly create multiple reminder emails that are automatically sent to your members when important events are about to take place or have already taken place.
No more manually sending reminders or worrying about keeping track of important dates. MemberPress does the heavy lifting for you, ensuring that your members never miss out on crucial deadlines or opportunities.
Whether it's sending a reminder for a membership renewal, a payment due date, or an upcoming event, our automated email reminders will keep your members engaged, informed, and connected.
By leveraging the power of automated email reminders, you can create a seamless and personalized experience for your members, keeping them loyal and committed to your community.
In this Video…
We'll walk you through the process of creating email reminders for various scenarios that may occur on your website, ensuring that you can effectively communicate with your site's users and keep them informed.
MemberPress Email Reminders
MemberPress Reminders allow you to send out automated emails to members when certain events are about to or have already happened. Currently, the supported reminder types are:
After a member signs up
After signup abandonment
Before a subscription expires
After a subscription expires
Before a subscription renews
Before a credit card expires
After a credit card expires
Read more on each reminder here.
How to Create a MemberPress Email Reminder
Go to MemberPress > Reminders and Click the "Add New" button.
Here, you'll find options to set the trigger for your reminders, such as hours, days, weeks, etc. You can also choose to enable or disable subscription reminders for both the User and Admin.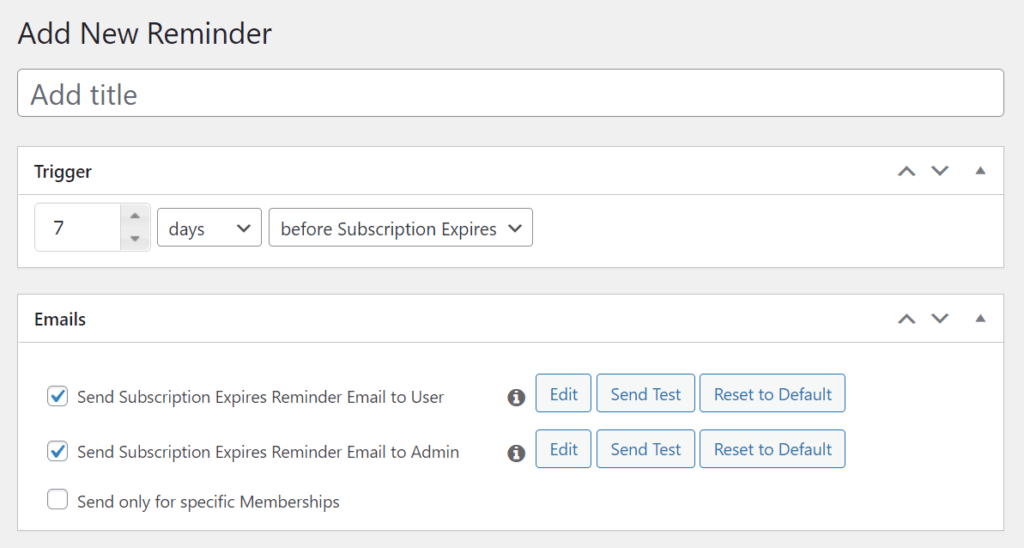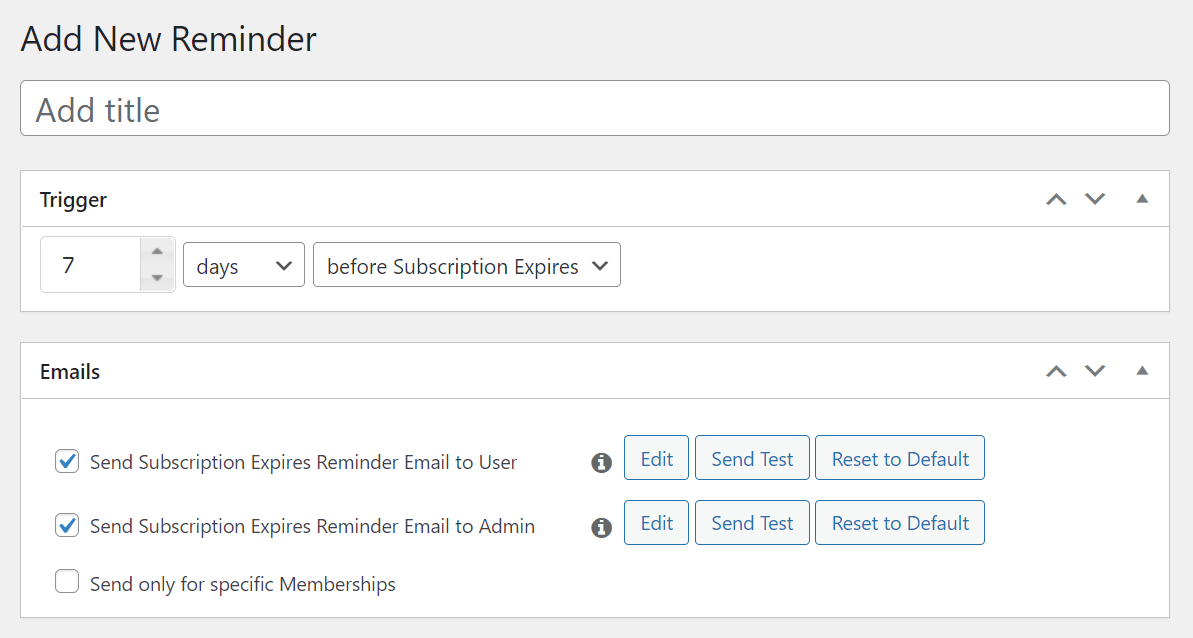 If you only want to send the email to specific memberships, you can do so by enabling the "Send only for specific Memberships" tab. From there, you can select which membership(s) you want to send the reminder to when triggered.
Finally, MemberPress will automatically generate an email for you, but you can customize it according to your preferences. You can add your own text, images, and links to create a personalized and effective reminder.
Don't forget to save your email by pressing the "Publish" button. But before you do, it's a good idea to test your email, especially if you've selected any dynamic sender elements.
Related Reads + Resources