MemberPress' automated email reminders allow you to create multiple reminder emails that are automatically sent out to members and prospective members when retention events take place or are about to take place.
As one of the plugin's most unique and valuable features, it can help increase new memberships and improve membership retention rates.
Increase New Memberships and Retention
For example, through reminders, you can automatically notify members when it's time to renew a subscription or update an expiring credit card — avoiding lapses and lost memberships.
With reminders, you can also automatically send out an email to a potential member who abandoned the signup process.
This is a great way to reach out to those who may have had second thoughts at the last minute, faced difficulties during the registration process, or simply became distracted and went elsewhere before signing up.
If you use trial memberships, the "Before trial ends" reminder can be a great way to encourage continued memberships.
In this post, we'll provide a step-by-step guide to implementing the reminders feature so you can begin using it to grow your membership business. Let's get started!
What are Reminders in MemberPress?
The reminders feature in MemberPress uses triggers to send out automated emails to members when retention events occur. As mentioned, these events might include things like a credit card that's about to expire, a membership that's about to renew, or a sign-up process abandonment.
Each trigger includes an email template that is sent to users, and these templates can all be customized to meet your needs.
There are a number of reminder types, or triggers, to choose from, and you can set the emails to be sent before or after the trigger events take place. The supported reminder types include:
After a member signs up
After a member abandons signup
Before a subscription expires
After a subscription expires
Before a subscription renews
Before a credit card expires
After a credit card expires
Before a trial ends
How to Create Automated Email Reminders in MemberPress
As with all the MemberPress features, setting up a new reminder on your membership site is simple and straightforward.
From the Reminders item on the MemberPress menu on your site's admin dashboard, you can view any existing and create new reminders.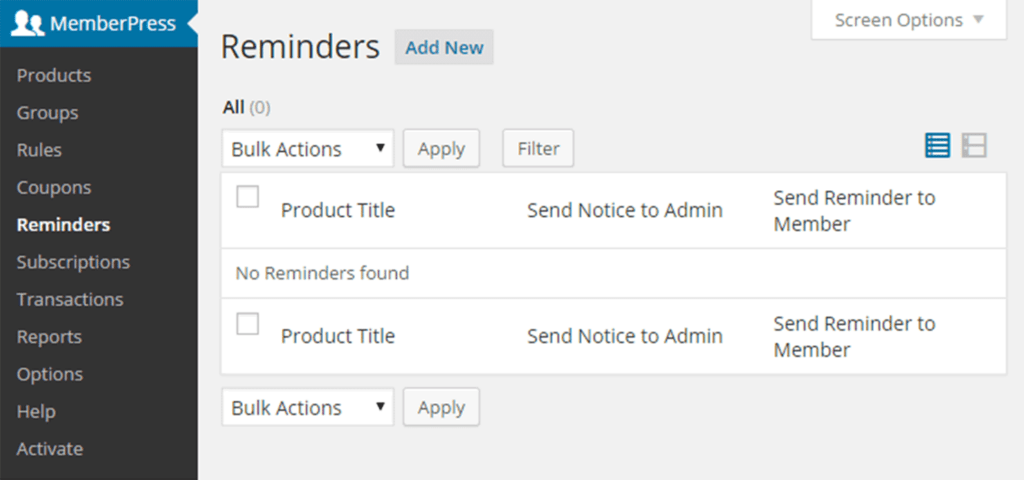 To create a reminder, you'll choose from one of the seven triggers listed above, then set a time-frame for the reminder email to be sent.
Selecting a Trigger Event
The names of the triggers are self-explanatory. However, it's worth taking some time to think about how you can use them to best meet your needs and the needs of your members.
For example, using the "after signup abandoned" trigger gives you the opportunity to not only remind a potential member to complete the process, but also ask them if they had any difficulties or last minute objections that may have prevented them from registering.
Once you're ready to create a reminder, the first step is to click on the Add New button. From the Add New Reminder screen you can then choose a trigger event and set the amount of time the system should wait before sending the email.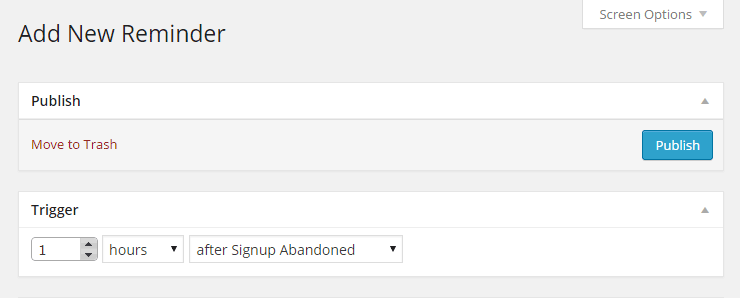 Next, you'll configure the reminder email, including who it will be sent to and what its contents will be.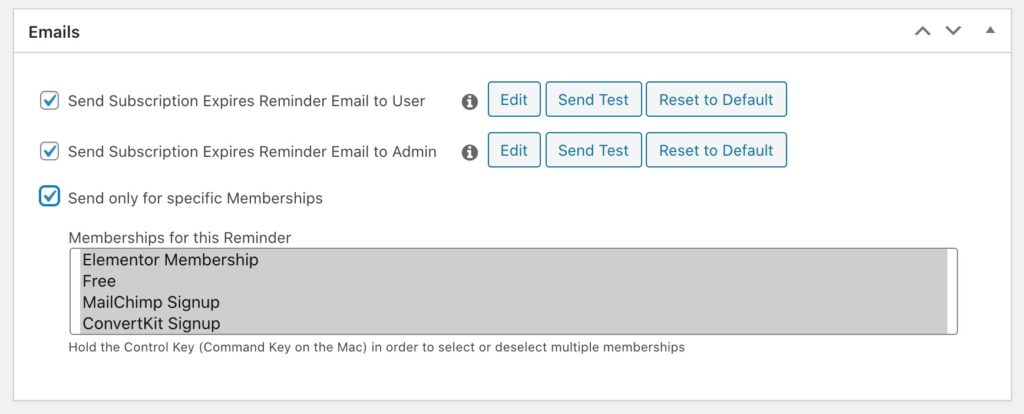 The main options here allow you to determine who will receive the email — the member, the admin user, or both.
This option enables you to provide personalized service to your members. When you're first establishing your membership site, you'll likely have more time to interact with your founding members, gather important feedback, and forge strong connections.
Sending the email reminder to both the member and the admin user on the membership site can be beneficial because it notifies the administrator that a trigger event has occurred and identifies the member related to that event. This knowledge gives the site manager the opportunity to manually respond should they desire to.
However, there's no need to manually respond, as the reminders feature is more than capable of following up automatically on your behalf.
Editing the Email Templates
If you're short on time, you be glad to know that MemberPress includes an email template for each of the triggers right out of the box. However, once you've chosen who will receive the email reminders, the templates can be edited to meet your needs.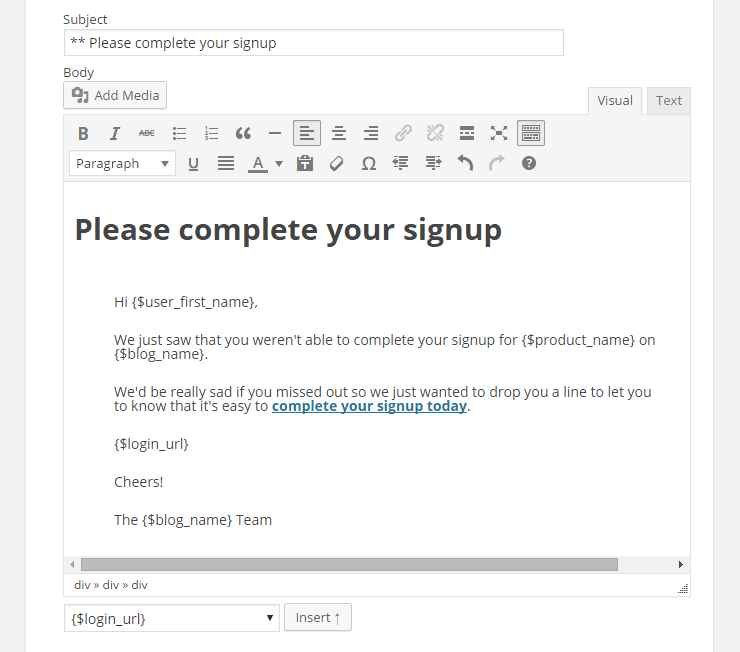 Using the WordPress editor, you can craft your reminder emails just as you would a post.
The selection of placeholders allows you to insert personalized content, such as the member's name and a link to the login page, directly into your reminder emails.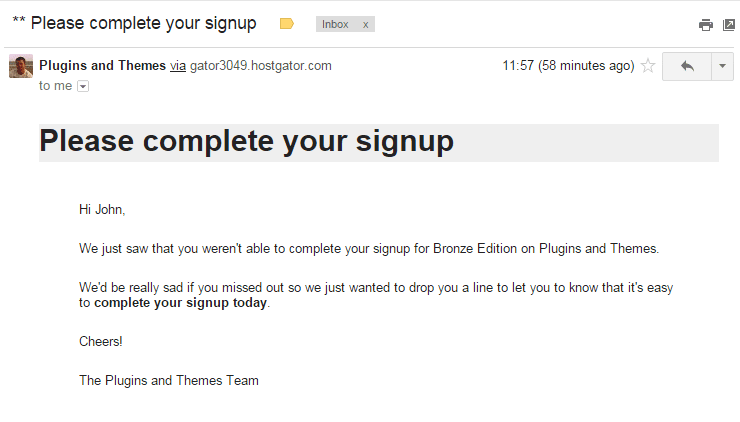 At any point you can send a test email to see how the message will appear to your members. Once you're satisfied with the reminder, save it by clicking Publish.
It's worth pointing out that you can create multiple reminders, including more than one reminder for each trigger.
This feature allows you to send a series of follow up emails for the same trigger, such as an expiring card reminder one week and then again one day before the date of expiration.
Managing MemberPress Reminders
Once you've created at least one reminder, you can review it from the Reminders screen.

From there you can view, edit, or delete any of the existing reminders that are active on your site.
PRO TIP
Several of the automated email templates include default asterisks in the email subject line and body. Consider removing those to give your emails a more personalized feel.
Final Thoughts
Reminders can improve signup rates and member retention, making this feature an easy way to generate more revenue from your MemberPress site without taking up too much your valuable time. Get started with reminders today!
If you have any questions about the reminders feature of MemberPress, please leave a comment below.
If you liked this article, be sure to subscribe to the MemberPress blog!