With the membership model, you can start an online magazine – and maintain your independence!
Editorial content is popular. And it's not hard to see why – it's one of the best ways to share ideas and opinions. But if you've been thinking of starting an online magazine to share informative articles (your own and others), you might not be sure what format it should take.
A membership site is the perfect solution. By taking advantage of features unique to the membership model, you can create an online magazine that engages readers and writers from across the globe – and maintain your independence from third parties.
In this post, we'll go over why you might want to build your publication on WordPress. Then we'll show you how to start an online magazine with the membership model in 3 steps. Let's get to it!
MemberPress Site Example: The Canary

The Canary is an awesome example of an online magazine created with the membership model. It's built on self-hosted WordPress + MemberPress, is 100% membership-based, and is fully independent. That means the magazine isn't constrained by advertisers or third-party platform rules.
As a result, The Canary has won tons of awards for its content, which focuses on ideas and key developments that impact democracy, equality, freedom, and fairness.
Inspired? Us too!
Why You Might Want to Start an Online Magazine with WordPress
Editorial content is a powerful medium for sharing thoughts and opinions on different issues. It opens up important conversations on issues that matter to all of us.
Starting a membership site on WordPress is an effective way to create a forum for sharing this type of content. Editorial content can span skill levels, topics, and demographics. By controlling who gets access to what content, you can tap into these interests to target niche communities.
Freedom
Above all, we'd never advocate publishing any content that falls outside the realms of kindness and courtesy.
However these days, you don't have to be radicalized or even political in any way to be at risk. An innocent misunderstanding can leave you in breach of your host's terms and conditions.
And pressure from advertisers can impact your content even if you haven't accidentally breached your host's terms.
That being said, when you build your publication on self-hosted, decentralized WordPress + MemberPress…
You aren't subjected to the risk of de-platforming, because you own your site and its content.
You retain control of your customer data. That means, if you need to move your content to a new platform, you've got free access to a backup. No fees, hassles, or waiting periods.
Like The Canary (above), you make your money through memberships. While you can include advertising in the mix, you don't have to. So you won't have to worry about advertisers influencing what you say.
Scalability
A membership site gives you the opportunity to re-invest in your users by allowing them to become contributors. Not only does this model help build up your content collection, but it also makes your readers feel heard. And readers who feel heard tend to stick around.
With the membership model, you can also scale up your publication by offering courses. For example, in addition to providing great content and opportunities to contribute, you could offer your readers courses to help improve their writing skills. And that's a win-win for everyone.
How to Start an Online Magazine (In 3 Steps)
In this tutorial, we'll show you how to start an online magazine using the MemberPress plugin. So you'll need to have a WordPress site in place already. If you don't have one yet, no problem. It's easy.
Check out this guide from our friends over at WPBeginner to get started (button below). Once you reach the section titled "Step 4: Add Content to Your Site", you're ready to get rolling with MemberPress.
Step 1: Create Your Membership Tiers and Rules
Let's start with the core of your site: the membership tiers. These will determine what your users pay and what content they have access to. We recommend that you start with at least two tiers. This way, visitors will have some options.
Start by navigating to MemberPress > Memberships > Add New: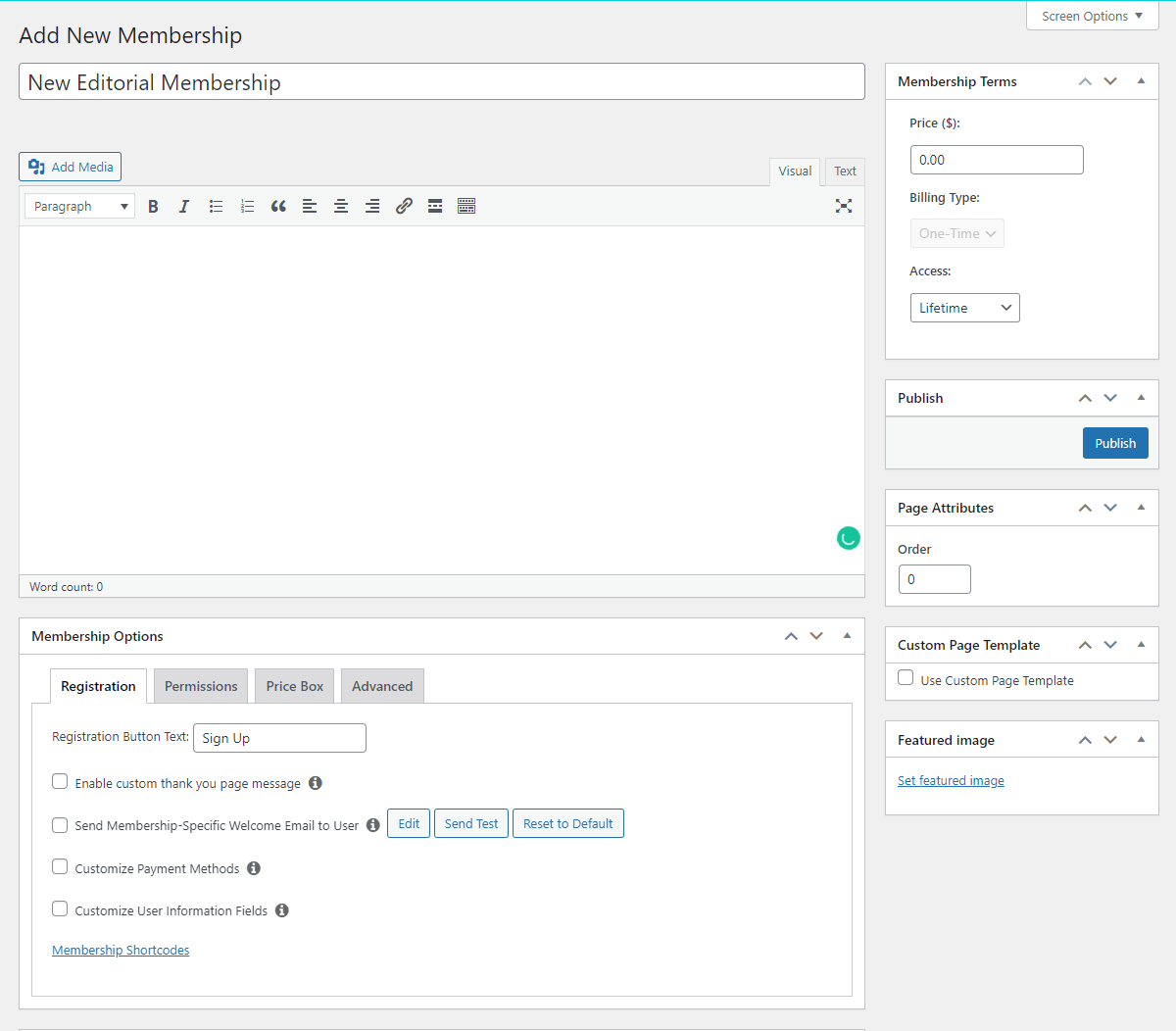 Next, you'll need to fill out some fields. Start with a descriptive title and an explanation of what the tier offers. Then, set your price.
Consider using a monthly model so that your editorial content site reflects traditional magazines. Additionally, this can help provide a more flexible payment solution.
Next, scroll down to the Membership Options. This includes settings such as registration terms, access permissions, and even price boxes. Customizing some of these settings can help improve the checkout experience for your new visitors.
When you're done, save your work. Repeat this process as many times as you need. Afterward, you can move on to rules by going to MemberPress > Rules. These govern which users can access what content.
For example, we wanted to create a rule so that only users in a certain membership tier can access one of our categories. As such, we'll select that category as our Protected Content and set that membership tier as our Access Conditions: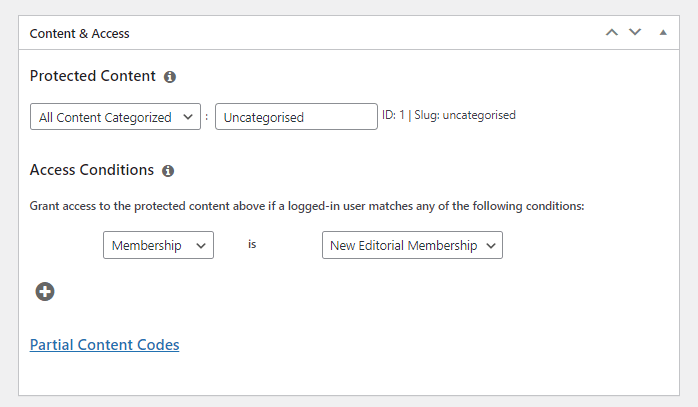 Save your new rule. Then, repeat the process for each condition you want to add.
Step 2: Build Informative Courses
As mentioned, educational courses are an excellent way to support an editorial website. Helping writers improve their skills can be beneficial for your site by leading to better content and a more engaged audience.
Fortunately, we've built a course function into our platform. This means there's no need to run a separate learning management system (LMS). You can offer your courses, along with quizzes, directly to your members.
To get started, head to MemberPress > Courses > Add New: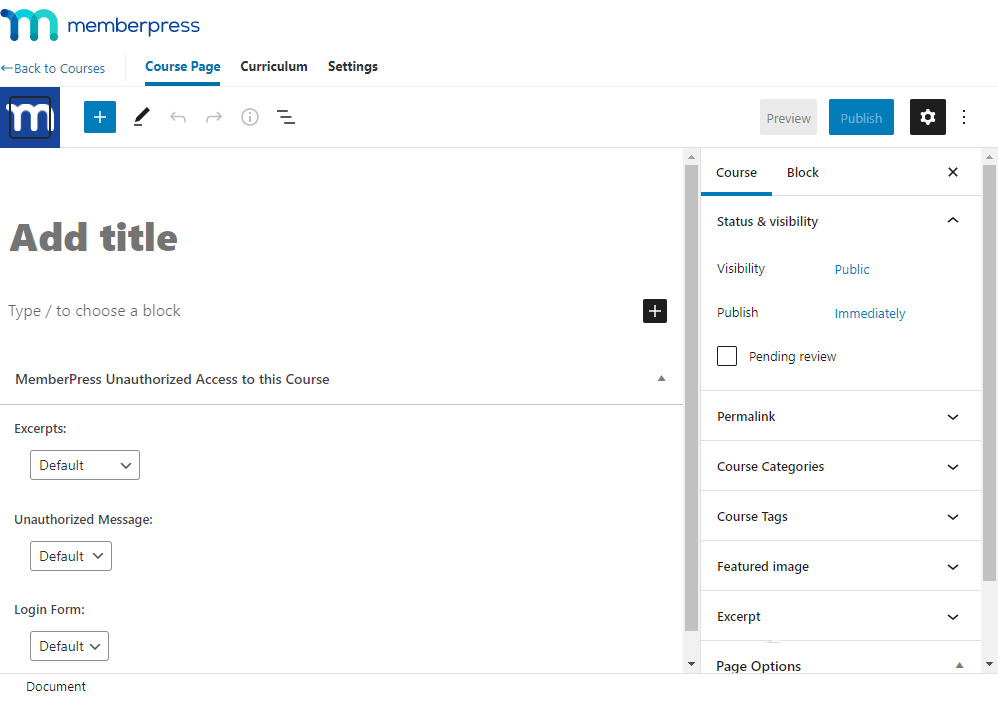 Here, you can enter some information about your course and configure some settings. For a more in-depth look at your options, check out our comprehensive guide to courses.
We recommend that you start with courses for beginners. The majority of users who'd take advantage of such an online course probably won't be very experienced at writing for an online magazine.
You might also want to build a membership forum for each course. Not every student will be an independent learner. Offering this member-to-member contact can help build a tighter-knit community.
Step 3: Start an Affiliate Program
A membership site gives several benefits as is. However, you can increase its potential reach by adding an affiliate program.
Affiliate programs enable you to recruit independent partners (affiliates) to market your site. Your affiliates will earn a commission every time someone they refer subscribes to your magazine.
As you can see, affiliate marketing is an effective model to expand your reach through advertising while retaining your independence.

Fortunately, there are several tools to help you start your own affiliate program. We recommend our sister plugin Easy Affiliate. This tool integrates directly with MemberPress and offers a ton of features, including:
Fraud detection
In-depth reports
You can start by signing up for an account, then installing and activating the plugin. After it's set up, go to Easy Affiliate > Settings > Ecommerce: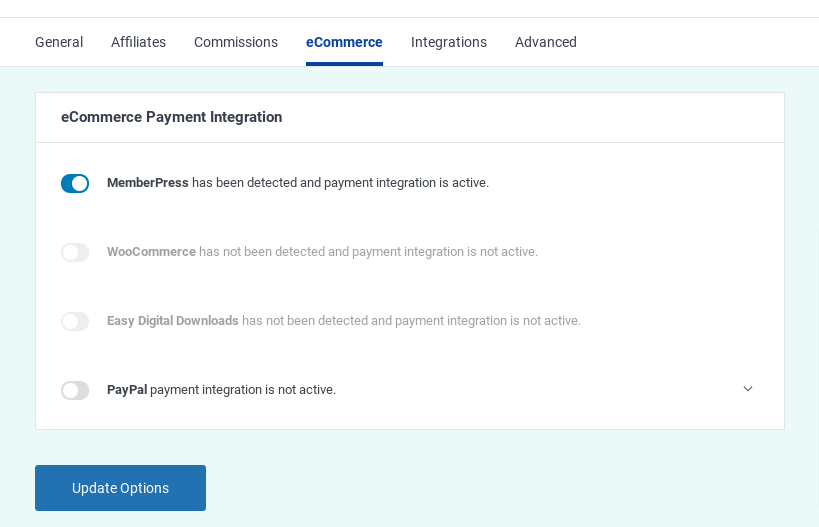 Make sure that the slider for the first option is set to the "on" position, then select Update Options. That's it! Easy Affiliate is now integrated with MemberPress. All you have to do now is go to the Easy Affiliate dashboard and set up your program.
Affiliate Marketing Use Cases
The affiliate marketing strategy can work for you a couple of ways – through outside affiliates and contributing affiliates.
Outside affiliates could be just about anyone – publishers of other magazines, bloggers, social media influencers, podcasters, etc. Their affiliate link would go directly to your magazine from wherever they placed it in their content. Whenever one of their audience members subscribed to your magazine via the outside affiliate's link, that affiliate would earn a commission.
Contributing affiliates would be those who write content for your site. These guys would take advantage of MemberPress' paywall features. For example, each contributor's article could include a paywall like what you've seen on The Wall Street Journal and other big-name pubs: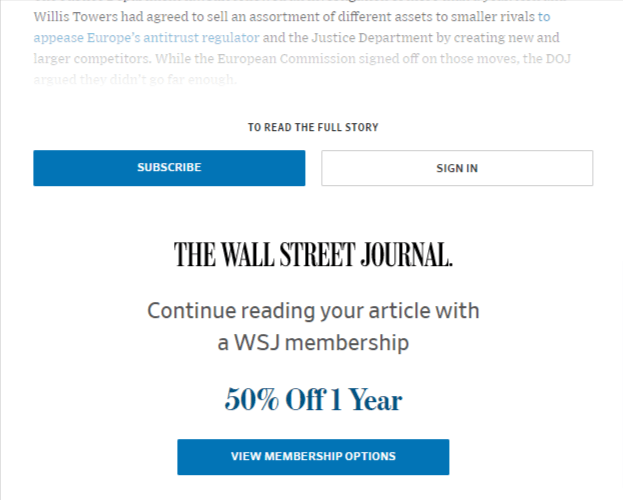 Your contributing affiliate's special link would be attached to the "subscribe" button. Each time a user subscribed to read the rest of their article, that contributor would earn a commission. Talk about a great incentive for high-quality writing!
The Takeaway
Editorial writing is a unique form of content. It can help provoke thoughtful discussions among users as they sharpen their skills. A membership site can help connect these authors and build a community.
In this article, we showed you how to set up a membership site with MemberPress in 3 easy steps:
Create your membership tiers and the rules that go with them.
Build informative courses to help support your writers.
Start an affiliate program to market to potential members.
Do you have any questions about how to start an online magazine in WordPress? Let us know in the comments section below!
If you liked this article, be sure to subscribe to the MemberPress blog!