Start your own online fitness website fast and easy!
More and more people are working out from home, and the business of online fitness has grown rapidly as a result.
Although this business is booming, is it really as easy to get started as it seems?
With MemberPress, it really is!
In this post, we'll show you how quick and easy it is to create and sell fitness programs online with MemberPress. Let's get started!
Can An Online Fitness Business Really Work For Me?
Definitely!
It's great to be in the gym, physically working with your customers as they reach their weight loss goals. However, with so many people short on time and money these days, the convenient and affordable online fitness model is growing fast.
According to research, the 2019 worldwide virtual fitness market was valued at $6,046 million. Projections show it reaching $59,231 million by 2027. That's an astounding 33.1% growth over seven years.
The online fitness business model is convenient for clients, and it's beneficial to your bottom line. With a fitness site, you can offer one-on-one training sessions and online fitness courses that generate passive income.
With MemberPress, you can also…
Take advantage of affiliate marketing in two ways
First, you can sign up as an affiliate for fitness products you know and trust. Second, you can start a self-hosted affiliate marketing program to get others to sell your fitness products and services.
Now, let's go over how you can create and sell workout programs online with WordPress and MemberPress, step-by-step.
Step 1: Download and Set Up MemberPress
Once you've got your WordPress site in hand, you'll need to purchase and download MemberPress.

QUICK TIP: If you don't yet have a WordPress site, head over to WPBeginner, and check out their awesome guide.
MemberPress has a ton of advanced features that'll allow you to get your fitness program up and running in no time. It gives you the ability to do things like…
Restrict access to your content based on subscription levels
Accept subscription payments online and set up recurring billing
Sell your workouts
Create and sell online fitness classes
Create a members-only community
Once you've purchased and downloaded the MemberPress plugin to your WordPress website, go to MemberPress > Settings to activate your license key: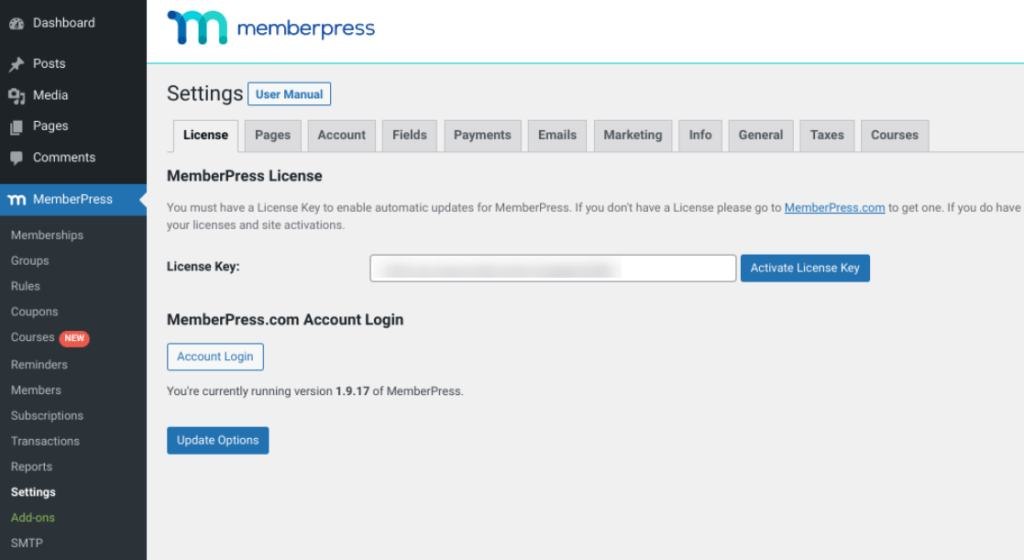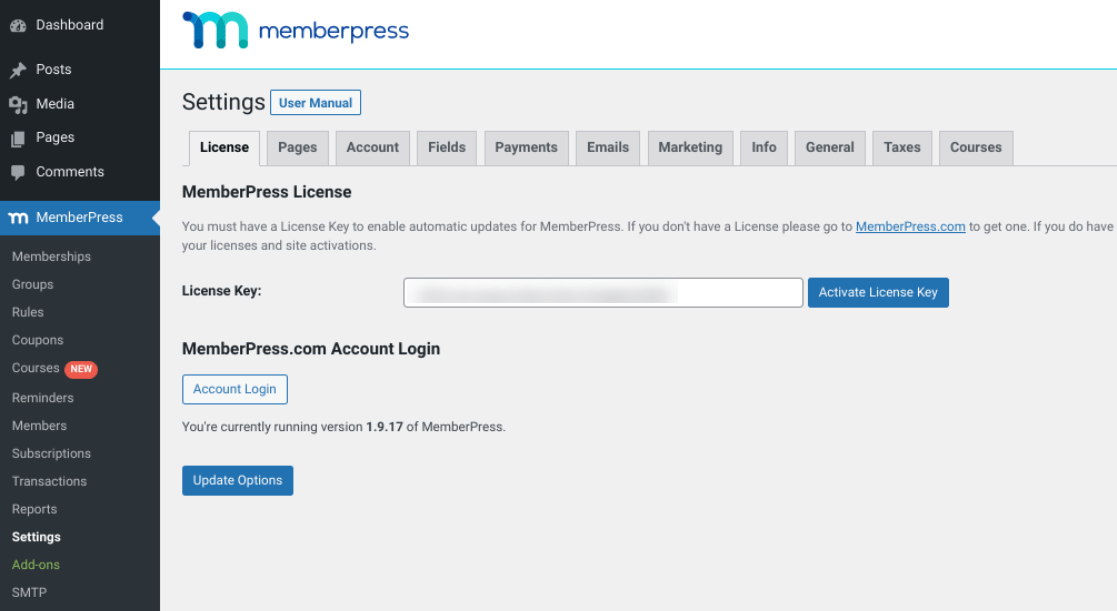 Next, you'll want to configure all your settings. These settings include:
Your preferred payment methods (Stripe, PayPal, Authorize.net, and even offline payments)
Your membership page slugs
Taxes, and more
For detailed setup instructions, watch the Getting Started with MemberPress video tutorial below.
Step 2: Create Membership Levels
You'll use membership levels to set up different pricing options for your fitness membership customers.
You might have each level offer your clients access to different levels of content – different workouts, meal plans, additional coaching, and so on.
With MemberPress, there's no limit to the number of membership levels you can create, so you can customize your plans however you wish.
To get started, go to MemberPress > Memberships, then click the Add New button. You'll be taken to a page where you'll be able to add a title and description for your membership level.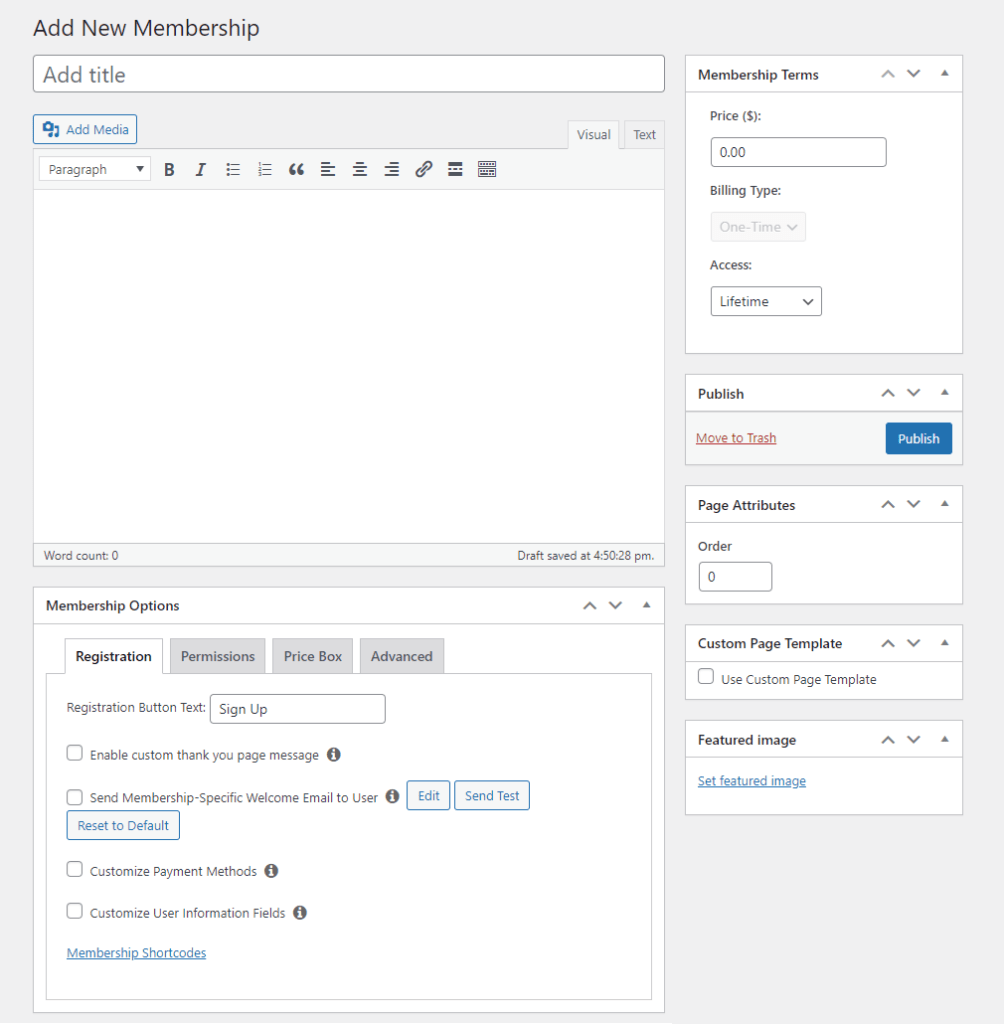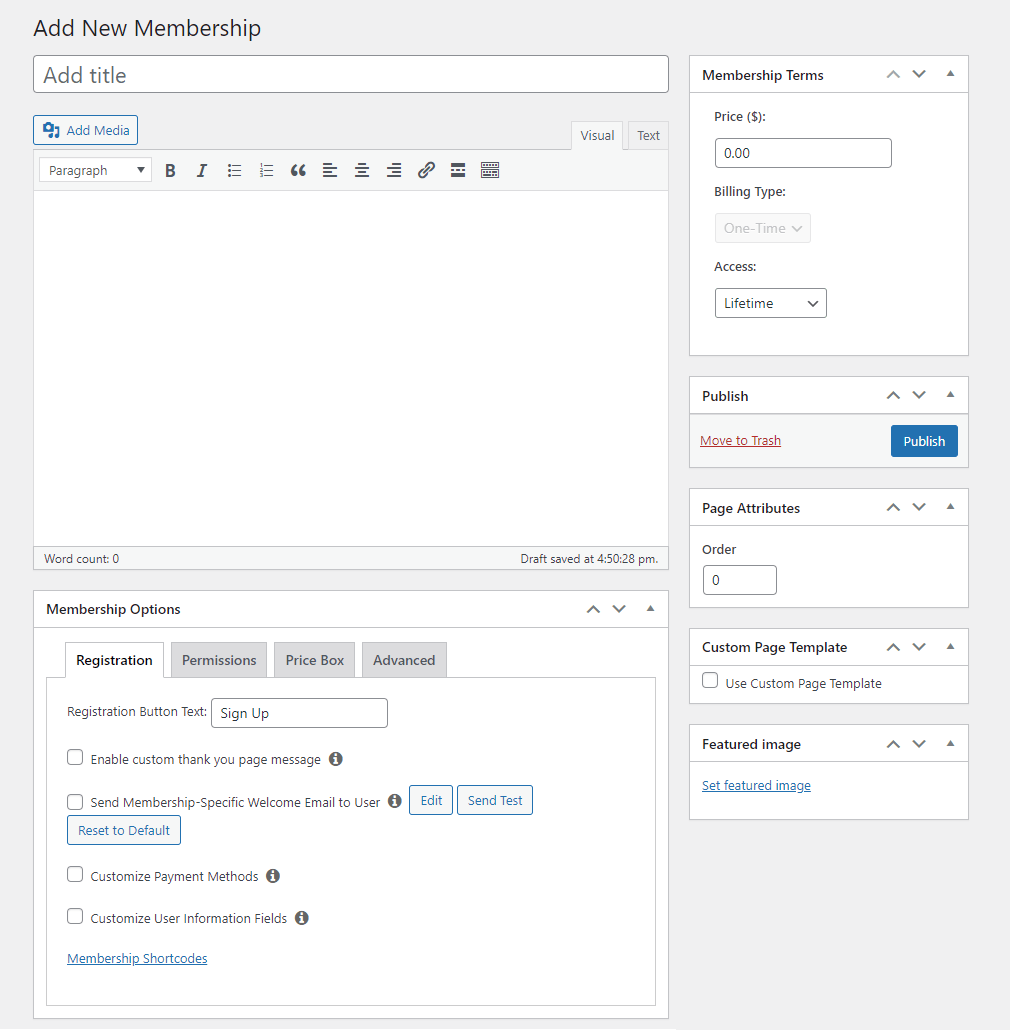 You'll also be able to include…
Membership price
Billing type (whether your membership will be a one-time payment or recurring)
Access duration (whether your members will have lifetime access to your fitness program or access for a limited amount of time)
Once you've finished configuring those options, scroll down on the same page to Membership Options.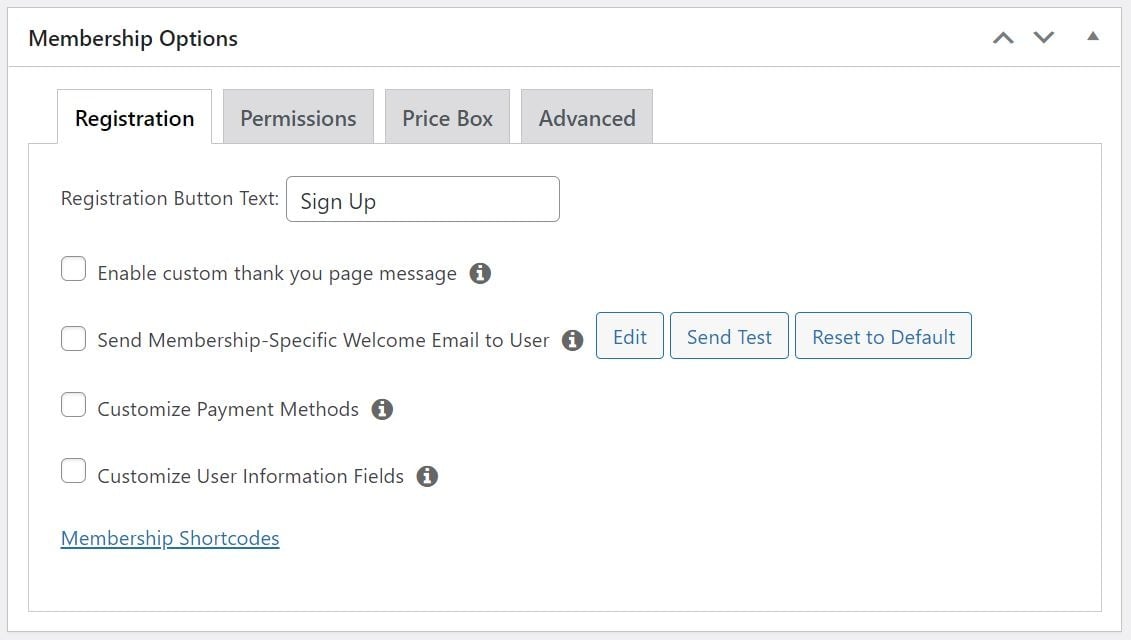 In this section, you can further customize your membership level using each tab:
Registration – Choose the registration button text, enable a thank you page, send a welcome email, and customize the payment options.
Permissions – Select who can purchase that membership type, and create a custom message for users without permission.
Price Box – Set the look for the price box by including benefits, custom text, and a highlight option.
Advanced – Add a URL for members to access their content, add pricing terms, and redirect to a custom login page.
When you're done, click the Publish button to create your membership level. This process can be repeated as many times as you need for an unlimited number of membership levels.
Step 3: Set Up Rules
Now that your membership levels are set up, you can define which memberships will have access to specific programs on your fitness site using rules.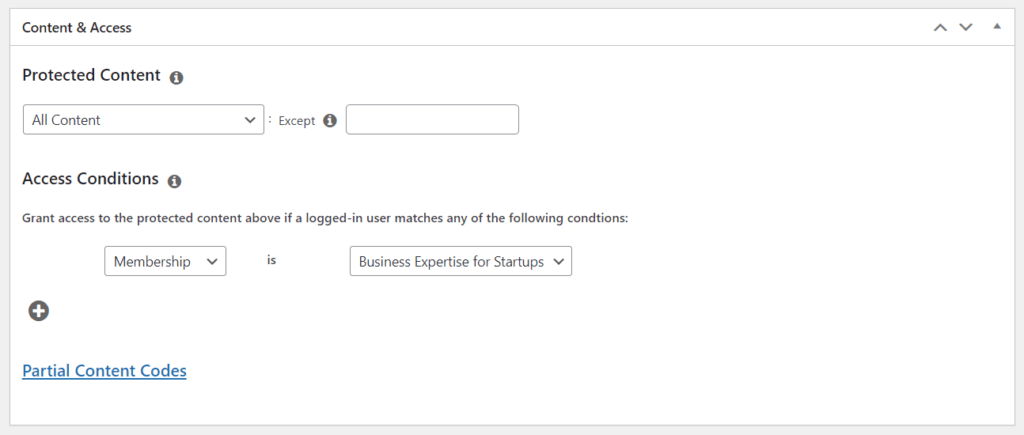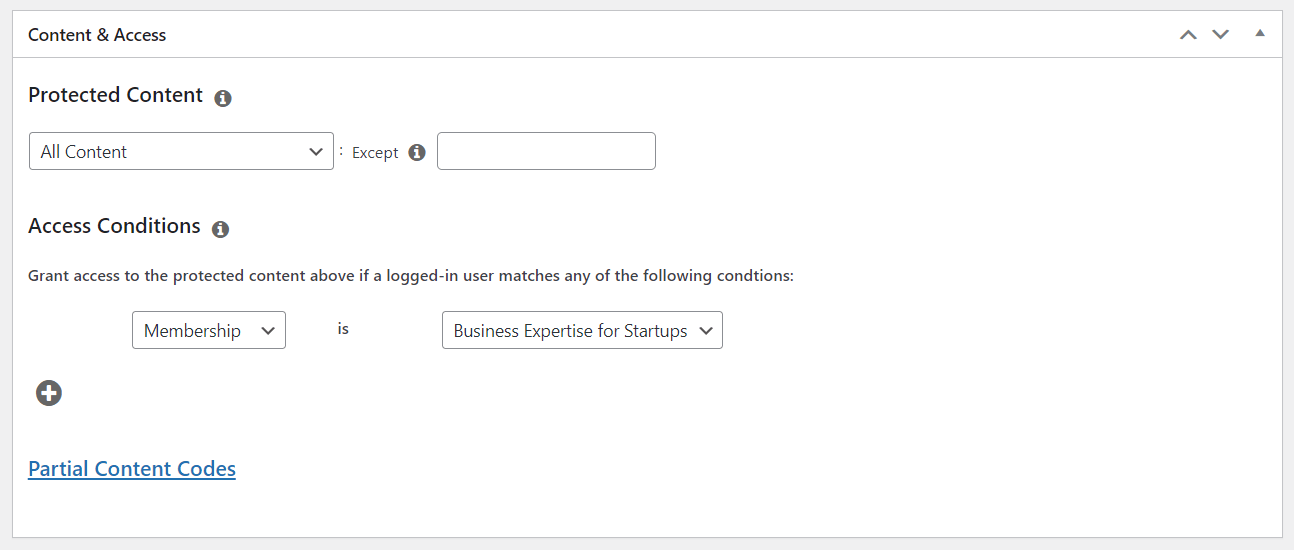 On your WordPress dashboard, go to MemberPress > Rules > Add New to access this feature. You'll then be taken to a page where you can link specific pieces of content to your selected membership types.
For example, you can set a piece of content so that it's available to all membership levels or set a specific workout program so that it's only accessible to the highest paying memberships. It's totally up to you!
After you've done that, scroll down to the Drip/Expiration section. Enabling the drip option allows you to slowly release content to your members over time, rather than all at once.
The expiration option allows you to decide when, or whether, the content you provide will no longer be accessible to your members.
Once you've configured everything to your liking, be sure to save your rules.
Step 4: Add Your Workout Programs
Now you can finally start adding your fitness programs and content to WordPress.
You have the option to add your programs in several different formats, alone or combined:
In a WordPress blog post as written content
As a stand-alone WordPress page including written content and videos
As PDFs members can download and use offline
Other digital downloads, including ebooks, videos, and more
As online fitness classes
For detailed instructions on how to create online fitness classes using the built-in MemberPress Courses Add-on, check out our guide, Getting Started with MemberPress Courses. You can also check out the video below:
Step 5: Build Your Pricing Page
Setting up a fitness membership pricing page is a breeze with MemberPress. Just go to MemberPress > Groups > Add New to get started.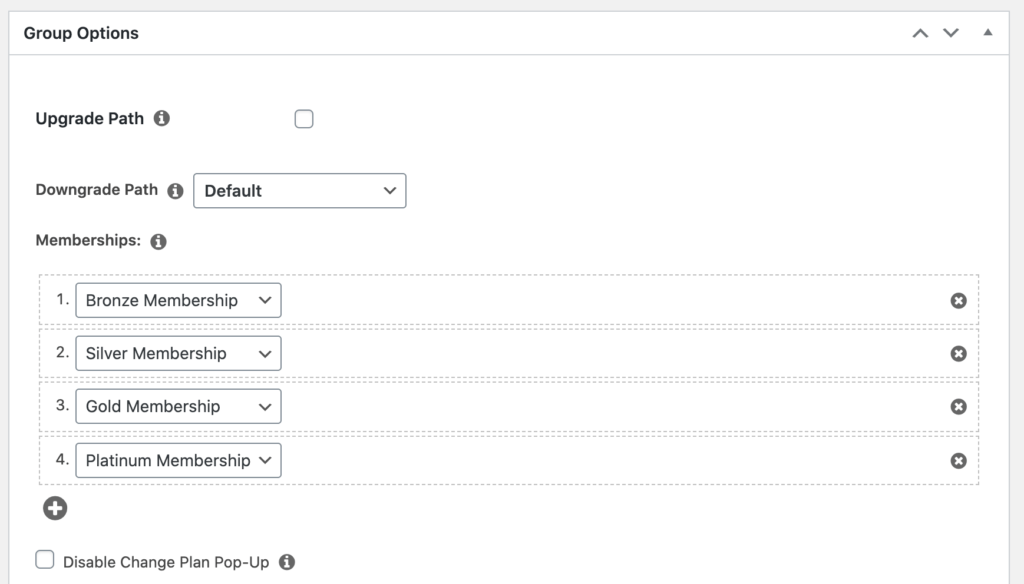 First, name your group so you and your team will know what the page is for. Then scroll down to the Group Options section. Here, you'll be able to add the membership plans you want to make available to potential customers.
MemberPress will automatically build your pricing page as you add groups.

You can also change the theme in this section to your liking. Once you're done, click Publish.
Step 6: Add Sign Up and Login Pages
Last, but definitely not least, you need to add sign up and login pages to your fitness membership site.
To create the sign up page, go to Appearance > Menus > Manage with Live Preview in your WordPress dashboard to find the options. This will take you to the visual editor.
Next, go to All Pages > Add Items > Memberships. Here, you can click on the "+" next to your member pages:

This will make your memberships visible to your users. Don't forget to save your changes when you're done.
Finally, you'll want to add a login page for new members. To find this option, go back to the dashboard and select MemberPress > Settings > Pages:
Click on the drop-down menu next to MemberPress Login Page and choose Auto Create New Page. Scroll down and click Update Options.
You're all set!
Wrap Up
With the online fitness industry growing like crazy, there's never been a better time to create and sell workout programs online. Thanks to WordPress and the MemberPress plugin, it's also never been easier.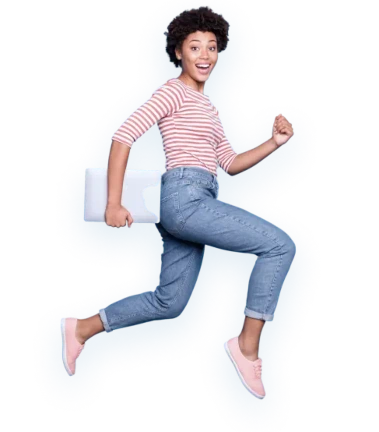 Get MemberPress
Start selling your online fitness program today!
Get MemberPress Now
See All Features
Do you have questions about starting your own online fitness business? Ask away in the comments.
For more business-boosting tips, be sure to subscribe to the MemberPress blog!