People are spending increasingly more time dedicated to their hobbies. And these activities are often shared with others. If you have a niche interest or passion, you may be wondering if you can profit from it.
Well, there's a good chance you can.
A monetized membership site can allow you to make passive income from your hobbies. It also allows you to create an online community to keep your niche interests alive.
In this guide, we'll explain why you should consider turning your hobby into an online business. Then we'll explain how to set up your own members-only website in 5 simple steps. Let's get started!
Why You Should Consider Turning Your Hobby Into a Business Online
A membership site has hidden content that is only available to paying subscribers or registered users (or both) thanks to a paywall. With a members-only hobby site, you can offer specialty materials to other people who share your niche interests and passions.
For example, the Orchids Made Easy "Green Thumb Club" enables orchid enthusiasts to learn new techniques and join an online community:
A hobby-based online business can enable you to generate passive income. That's because, after setting up your content, you can continue to make revenue from sign-up fees and ongoing subscriptions.
The value of the global hobby market is expected to increase to approximately $545 billion by 2023, so there's an excellent opportunity for long-term earnings.
Affiliate Marketing Opportunities
In addition to subscriptions, you can generate passive income from your hobby site via affiliate marketing – both as an affiliate yourself and by running your own affiliate program.
As an affiliate marketer, you sign up with other companies to promote their products through specialized links (affiliate links) in your site content. Each time one of your site visitors completes a sale or other action by way of your affiliate link, you earn a commission.
When you operate your own affiliate program, you earn income from the other side. Affiliates sign up with your program, then use the affiliate links you provide to promote your products or services. When one of their visitors completes a sale or some other action by way of that affiliate link, you pay your affiliate a commission.
Learn more on how to start your own affiliate program with Easy Affiliate >>
Community Building and Niche Support
Finally, a membership site for hobbyists can help bring people together. If your interest is very niche, your site can serve as a community base and enable users to share their passion.
Not only are communities great for supporting your passion, but they're also proven to boost member engagement, increase sales, and help reduce member churn.
DEFINITION: Membership churn is the opposite of membership retention. It refers to the rate at which members leave a membership-based website, community, business, or organization due to subscription cancellations or lapses.
MemberPress Hobby Website Example


Through Cake Craft School, multi-talented crafter, "Bea", teaches students her passion – the art of fondant (sculptable icing) modeling. The site has templates, over 70 tutorials, and 400 step-by-step videos.
Cake Craft School manages its enrollment with MemberPress, offering monthly, quarterly, and biannual access to members.
How to Turn Your Hobby into a Business With MemberPress (In 5 Simple Steps)
First off, you'll need a basic WordPress website in place. Fortunately, WordPress is incredibly easy to set up.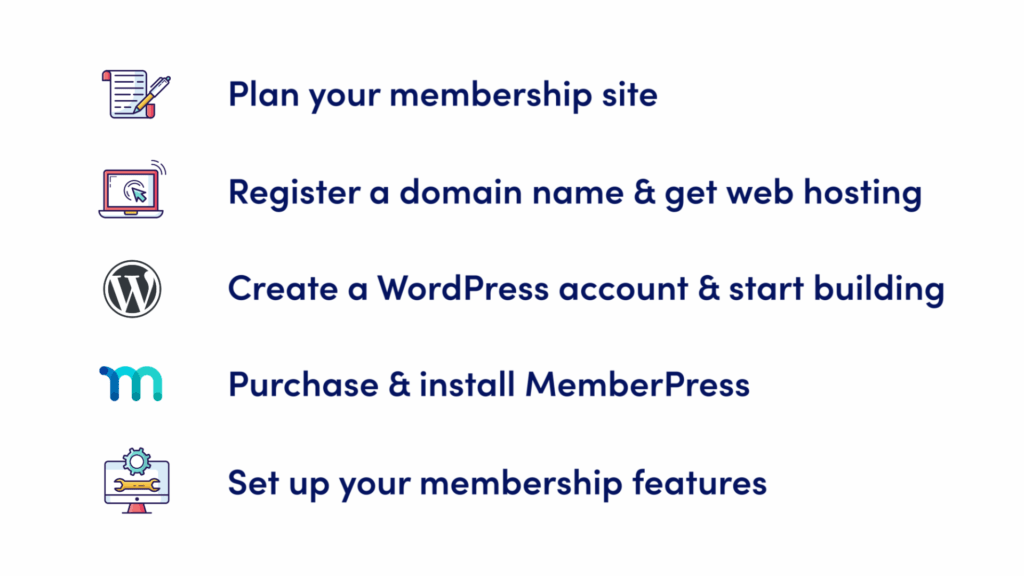 We highly recommend this content management system (CMS) for its customization options and integration with hundreds of plugins (including MemberPress!).
Once you've got your basic WordPress site set up, you're ready to get rolling.
Step 1: Create Your Members-Only Content
First off you'll need to plan and create the content you'll offer to your members. This is a very important first step if you want to succeed, so make sure you take your time and research your audience as part of the process.
Following are some great content ideas for hobby sites (and they're all possible with MemberPress).
Video
Video is the most popular content type out there right now, so any time you invest in creating video content will be time well spent.
Say you enjoy ceramics, you might record yourself using various techniques to throw pots, then embed those videos on your site.
Keep in mind that you do not need a fancy and expensive video setup to record great video content. Check out the article below to get started quickly and with very little investment.
Online Classes
If you've got videos, you've got what you need to create and sell online courses – an excellent way to monetize your hobby website. With MemberPress (Basic, Plus, and Pro), the Courses Add-on is included and makes it very easy for anyone to build and sell online classes, complete with quizzes and progress tracking.
But your lessons don't have to be video-based. You can create written courses with screenshots, too. It really depends on what works best for you and your hobby.
Whatever way you decide to format your classes, you should think about creating courses for people at different skill levels – for example, for students who are total beginners to experienced master potters curious to learn new techniques. Doing so can significantly broaden your potential audience.
Members-Only Forum
Keeping with the ceramics example, artists tend to love sharing their work, exchanging ideas, and benefitting from the critiques of other designers. Including a members-only forum as part of your hobby-based online business makes these sorts of exchanges possible.
That's why an established sense of community is proven to keep members coming back for more.
The New York Times best-selling author, travel hobbyist, and blogger Nomadic Matt offer an inspirational example. He includes a VIP community on his MemberPress site where other travelers can get advice, share experiences, and stay connected around the hobby of traveling.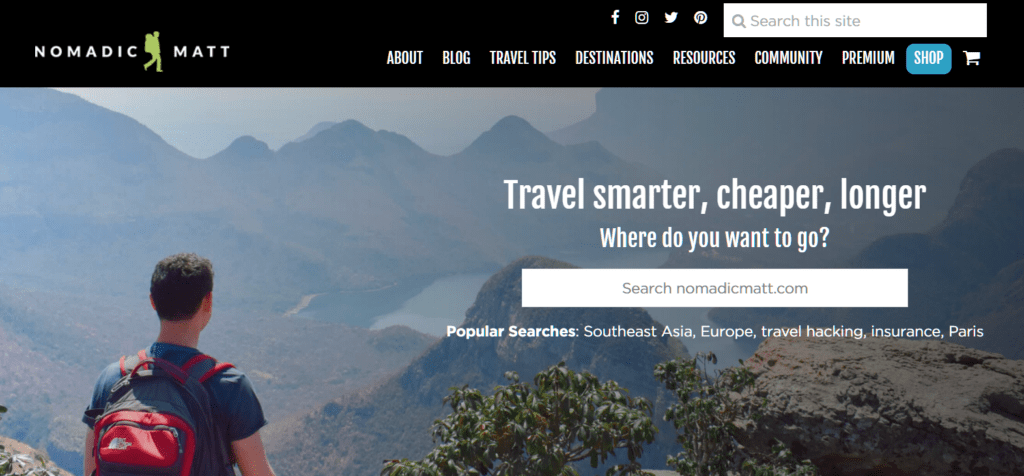 Online Store
An online store is another great form of content to drive more revenue to your hobby-based online business. Here, Nomadic Matt gives us another excellent example.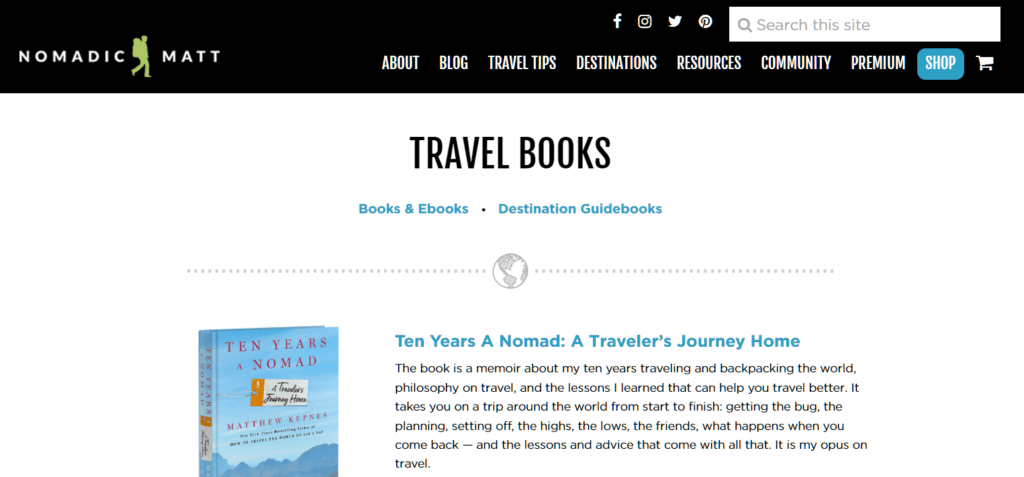 Through his store, site visitors can purchase all kinds of cool travel hobby products, including books, ebooks, and travel guides.
Though Matt's site doesn't include it, swag like t-shirts and mugs are also excellent products to help boost your revenue and build brand awareness.
Regardless of the content you decide to sell in your online store, just make sure it relates to your hobby and brings value to your members.
Once you've got your content strategy laid out, you're ready to get the MemberPress plugin set up.
2. Install and Set Up the MemberPress Plugin
The MemberPress WordPress plugin integrates seamlessly with WordPress sites and enables you to control everything from your website's dashboard.
Start by choosing from one of our MemberPress paid plans. Once you've signed up, you'll be directed to your account dashboard. There, click to download the plugin files in a .zip format, and copy your license key: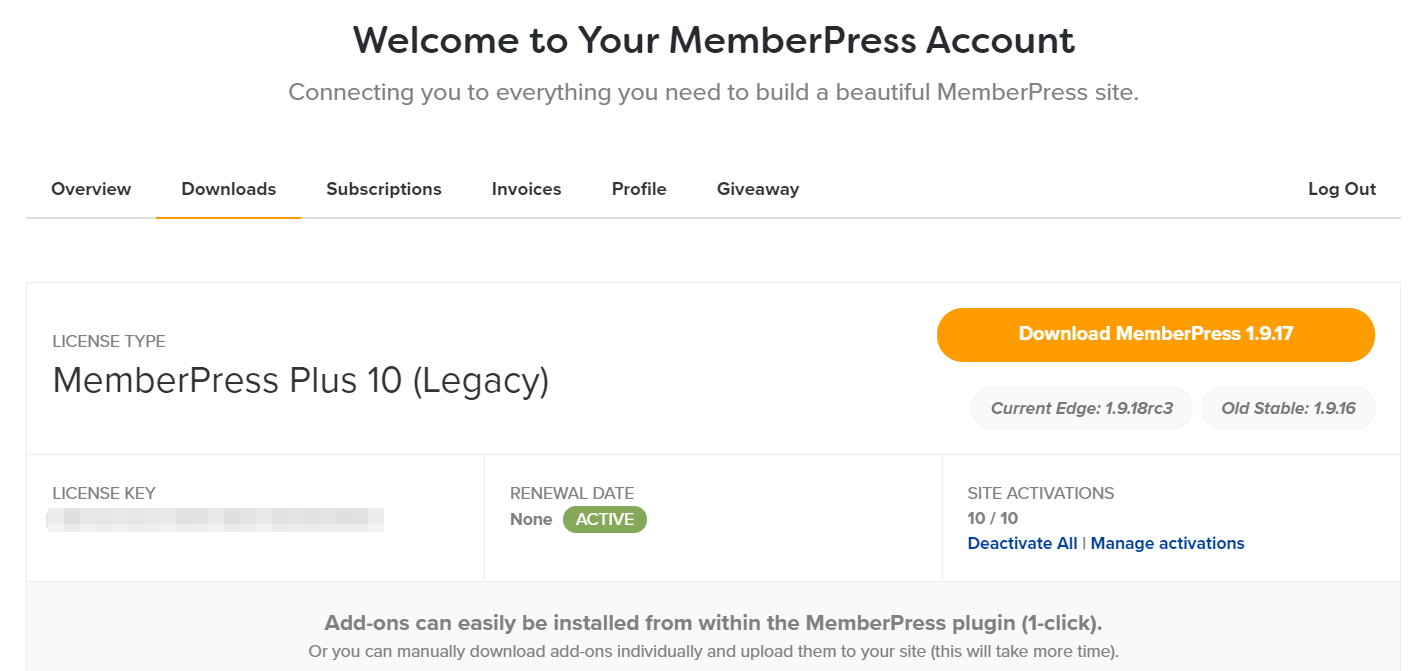 Head across to your WordPress dashboard to install and activate the plugin. Navigate to Plugins > Add Plugins > Upload Plugin. Click on Choose File and select the .zip folder with the MemberPress files:


Once you've installed the plugin, click on Activate to complete the process. Then, head to MemberPress > Settings > License to enter your license key and activate your subscription.
3. Set Up Your Membership Plans
Now it's time to set up your membership plans. The plan names will depend on the theme of your particular site. For example, in the screenshot below, the membership name would work for a knitting hobby site.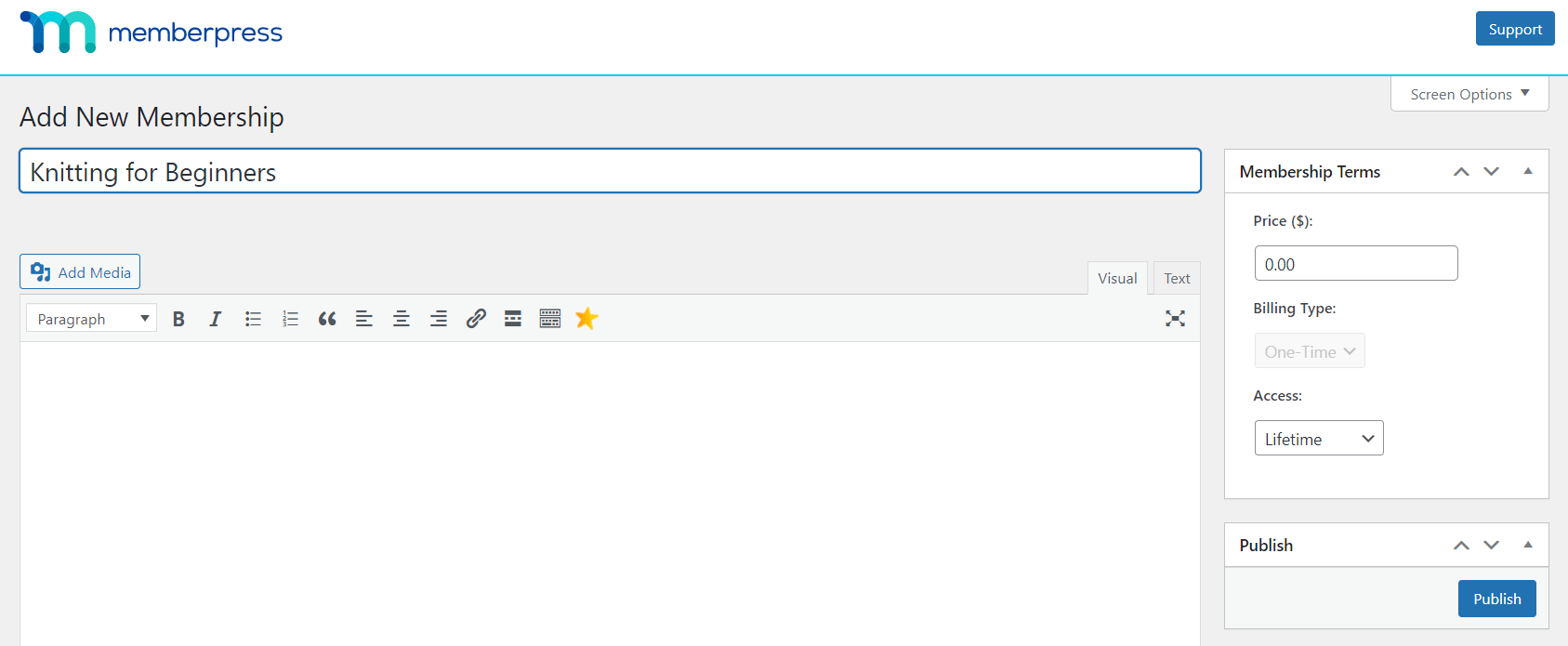 Navigate to MemberPress > Memberships > Add New. You should then see a form where you can name your plan, write its description, and customize its settings:
For example, you will set the price of your plan, its billing type, and its access period. Everything here will be visible to potential customers, so you may want to put some time into writing compelling sales copy for the membership.
When you're happy with the plan, click Publish. If you want to offer various membership levels, you can set them up following the same process.
For example, you might offer cheaper plans for casual members and more expensive ones for more involved users.
4. Establish Your Membership Restriction Rules
Now, you'll establish rules for your content (another way to say "set up your paywall"). These restrictions will determine who can view particular posts and pages, and who can't.
These regulations are essential if you want to separate content between different membership levels.
Start by heading to MemberPress > Rules > Add New. Then you can create access conditions for your restricted content:
You can choose content according to posts, pages, categories, tags, or groups. Then you can establish access conditions for memberships, members, or roles.
For example, you may establish that only content with the category "beginner" is available to your cheapest membership plan.
Once you're happy with your access conditions, click on Save Rule. You can create as many restrictions as you need, and edit them later if your plans change.
5. Add Your Members-Only Site Registration Link and Login Page
Your users need a way to sign up for your membership site. As such, you'll need to add a registration link to your website menu.
In your WordPress dashboard, head to Appearance > Menus > Manage with Live Preview. Scroll down and select Menus > All Pages > + Add Items.
Click on the drop-down arrow next to Memberships, and select your plan to add it to your menu: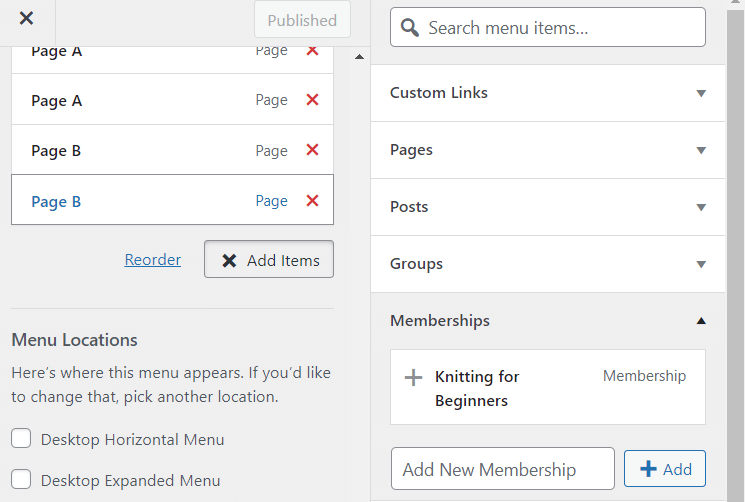 Finally, your existing members need a way to access their accounts. You can enable this by setting up a login page for your subscribers.
Go to MemberPress > Settings > Pages. Select the drop-down menu next to MemberPress Login Page and choose Auto Create New Page:
If you want to adjust the login page, you can click on Edit, and you will be directed to the WordPress Editor. Once you're happy with it, select Update Options to save your changes.
That's it. Now you have a functional membership site for hobbyists!
Conclusion
Many people are dedicating more time to hobbies and niche interests. If you're passionate about a particular activity, you can monetize it and create an online community with a members-only site.
To recap, you can turn your hobby into an online business by following these steps:
Create your members-only material.
Install and set up the MemberPress plugin.
Set up your hobbyist membership plans.
Establish your membership restriction rules.
Add your members-only site's registration link and login page.
Do you have any questions about how to turn your hobby into a business online? Let us know in the comments section below!
If you liked this article, be sure to subscribe to the MemberPress blog!