Creating a successful content marketing strategy is key for any online business. If done right, content marketing can build a following, attract new members, and help you retain old ones.
So what does a successful content marketing strategy look like, and how do you create one?
In this post, we'll talk about what content marketing is and how it can help your site grow. We'll take a look at the main components of an effective content marketing strategy, show you how to approach each one, and share a few tools and tips to help you get the job done. Let's do it!
What is Content Marketing?
First, content marketing is the creation and distribution of relevant and valuable content designed to help you achieve your marketing goals.
Content can be all kinds of things – emails, blog articles, landing and product pages, social media posts, videos, webinars, podcasts, online courses… you name it.
Whatever form it takes, the content you produce should be carefully thought out and planned to help your business grow.
Successful content marketing can help you accomplish any or all of these goals:
Drive traffic to your site
Improve SEO
Generate leads
Engage with your audience
Promote your brand
Increase returning visitors
Get new customers
Keep existing customers
Sell products. services, and subscriptions
Content marketing isn't just for the big guys. All online businesses, whatever the size, should have a concise strategy to manage content creation and promotion. This strategy should give a purpose to everything you do. That is, it should help you meet your business goals.
Set Achievable Content Marketing Goals
The first step in a successful content marketing strategy is to set achievable goals. Think carefully about what you're trying to accomplish with your website, then consider what smaller objectives you'll need to focus on to get there.
For a membership site or online course, your key objectives will be something along the lines of turning a profit by gaining new members and holding on to existing ones.
Next, take a look at the steps involved to meet these goals. These steps may include improving SEO, driving more traffic to your site, collecting emails, and/or creating a thriving online community. Whatever your content marketing goals, make sure they're…
Meaningful to your business
Measurable so you can track your progress
Know Your Audience
If you want to create a purposeful and focused content-marketing strategy, you'll need to do your market research well before you start creating or publishing content.
Identify Your Target Audience
Implementing a powerful content marketing strategy means knowing your audience. You've got to first identify who your target audience is, then come to understand their behavior.
Google Analytics and social media metrics can help tremendously with this. Demographics such as age, sex, location, interests, etc., will give you a picture of who your audience is.
And once you know your audience, you can analyze their behavior and determine what appeals to them – which sites, forums, blogs, and social media channels do they frequent, and when are they most active?
What Content Attracts Your Audience?
Knowing the type of content that attracts your audience is important. Use your competitors' sites to learn how to relate to your key demographic. Look at what their visitors are viewing, sharing, and commenting on, then focus in on the topics that interest those visitors and the style of writing they respond to.
Also study the type of media that appeals to your audience. Do they prefer to read articles, view videos, watch webinars, or listen to podcasts? When you know what attracts your audience you can tailor your content-marketing strategy accordingly.
Plan and Organize Your Content Marketing Strategy
Planning and organization are the keys to success when it comes to monetizing your content. Keep the following tips in mind.
Know what your content should look like
Of course, your content creation should be based on your market research. Be sure to include the different topics and media styles that appeal to your audience.
You can use Google's Keyword Planner to determine which keywords will help your content rank in the search engines. And always refer back to your content-marketing goals to help you stay focused on the outcomes you're hoping to achieve.
To come up with topics, we recommend you use a good content research tool. Buzzsumo is one of our favorites, because it makes figuring out trending topics in your industry super easy.

A membership site or online course site will need two main types of content…
The first type is promotional. The aim of this content is to spread brand awareness, market your site, and attract new signups.
The second type is retentional. This content is designed to retain existing members and should be interesting and relevant to them.
To hold members' interest, you'll also want to offer a variety of media. In addition to your written content, consider including videos, webinars, and podcasts.
And always keep your focus on quality. When it comes to search engine ranking, quality is definitely king. Check out the post below to learn more about the importance of high quality content.
Use an Editorial Calendar
It's important to be intentional about when, how, and where you publish and promote your content.
For this, we recommend Strive Content Calendar. This next-level plugin takes your entire content strategy and makes it accessible right on the WordPress backend. Its drag-and-drop interface makes moving posts around, changing status, and keeping track of things super simple.
The best thing about Strive? They let you try before you buy. You can sign up for their 30 day free trial, and give it a test run before you commit.
Consider Outsourcing and AI
We all know that creating content is time-consuming. Outsourcing your content to freelancers enables you to focus on other aspects of your membership site.
And this isn't the only reason to outsource. Professional writers do their research to ensure content is informative and up-to-date, they can alter their tone and style according to audience, and they deliver on time. You can find high-quality freelancers fast on sites like Fiverr and ProBlogger.
Artificial intelligence (AI) is becoming a more and more viable timesaving option these days. While AI copywriters definitely can't replace the real thing, these platforms can save you from time wasted staring at a blank page. They're also great for coming up with ideas.
If you're ready to give bots a try, we recommend checking out the Jasper AI copywriting platform (formerly known as Conversion.ai/Jarvis).
Promote Your Content
Once you've created your content, you'll want to let people know about it. Whether to a wider audience or to your paid members, you'll need to promote your content in a variety of ways and places. Following are three great places to start.
Social Media
Social media is essential for growing a following, increasing brand awareness, and creating a community of engaged potential customers. It's also a good way to connect daily with current members.
Take time to interact with and build a following on your chosen social media channels. This will give you an audience to share your content with. Add new content to social media, and encourage likes, shares, and comments with incentives, such as competitions.
Also, consider using sharing buttons and tools on your website to encourage viewers to share and engage with your content.
Email
Email marketing is still as important as it's ever been. Because it allows you to reach followers quickly and efficiently, email is a great way to promote new content, keep in contact with your audience, and entice them to return to your site.
Be sure to set up a landing page or pop-ups on your site to collect the email addresses of prospective members. You can also send promotional content directly to those who've already expressed an interest in your membership site to encourage them to sign up.
Emailing newsletters, relevant content, and updates on what's been newly published on your site will help maintain current members' interest and encourage subscription renewals.
Just make sure you choose the right email marketing platform. Three of our favorite tried-and-true platforms are ActiveCampaign, ConvertKit, and Constant Contact.
Advertise
Speaking of what's tried and true… advertising will always be an effective way to promote your content. Google Ads, Facebook/Instagram, and Twitter all offer affordable options.
These platforms also allow you to reach highly targeted audiences, which is critical. You always want to point your ad dollars in the right direction. Marketing to a non-specific audience (or the wrong audience) is not only a waste of money, it can be bad for business. No one likes being fed ads for stuff they care nothing about.
Track Your Analytics
Your content marketing strategy should be continually evolving based on the behavior of your audience. By tracking your analytics, you can see what content is working and what needs improving.
Be sure to monitor the time your members spend on different types content and what they engage with. Find out what's bringing new visitors to your site and where they're coming from. Look closely at what type of content is attracting the most views. If a particular type of content is making a big impact, produce more of it.
MonsterInsights is hands-down the WordPress world's most awesome tracking tool. It takes all your Google Analytics data and makes it available through your WordPress dashboard. And it gives you actionable insights to help you make informed content marketing decisions.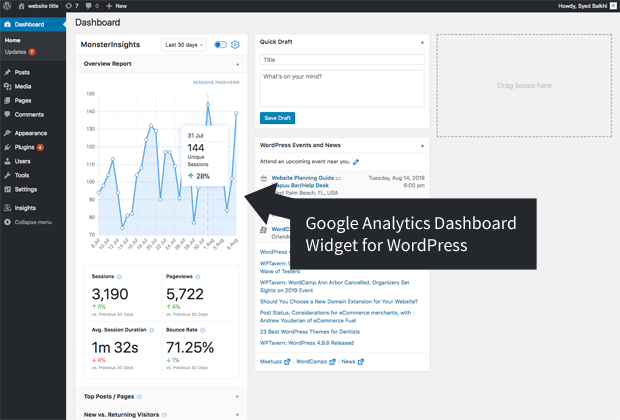 Remember to always refer back to your content-marketing goals to determine whether your content is helping you achieve them. If you aren't quite where you want to be, that means it's time to alter your strategy.
Final Thoughts
Setting up a successful content-marketing strategy may seem a bit overwhelming at first. But it's worth its weight in gold. With the right tools, all your time and effort will be very well spent.
What top tips have you got for creating a successful Content Marketing Strategy? Please share in the comments below.
If you liked this article, be sure to subscribe to our newsletter in the box up to your right!