There are a lot of ways you can sell courses online. You can sign up as an instructor on third-party platforms, charge students for one-on-one coaching sessions, or even set up your own virtual learning website.
Which approach you choose should depend on your goals and the tools you want to use.
As far as learning management systems go, you have options. By knowing what each platform offers, you'll be able to make the right decision for your needs and those of your students.
In this article, we'll compare three popular platforms: Teachable vs Skillshare vs MemberPress. We'll go over key features, ease of use, support, and pricing. We have a lot of ground to cover, so let's get to it!
An Introduction to Learning Management Systems
A Learning Management System or LMS is a type of software that enables you to create, share, and sell online courses. Features vary a lot from one platform to another.
However, the best LMSs share some key functionality, such as:
Providing you with tools to create and upload course content
Curriculum organization to help you list individual lessons and pre-requisites
Support for multiple instructors
Enabling student registration
Student progress tracking and quizzes
Payment integration and content restrictions to help you generate revenue from your online courses
A lot of the most popular LMS platforms on the web are third-party services where thousands of students and teachers can find each other.
As an educator, these platforms can help provide you with a built-in audience for your classes. Plus, they can handle payments for you, so all you need to do is focus on your lesson plans. However, third-party platforms mean third-party fees.
There are other types of LMSs that provide you with more freedom in terms of how you structure and price your courses. MemberPress, for example, enables you to configure every aspect of your learning platform, as well as decide who can upload classes. And it doesn't charge any third-party fees.
Throughout the rest of this post, we'll help you choose between Teachable, Skillshare, and MemberPress. More importantly, we'll help you decide whether using a third-party LMS or setting up your own will be the most effective route to achieve your goals.
Teachable vs Skillshare vs MemberPress
Teachable, Skillshare, and MemberPress are three of the most popular solutions for creating and sharing educational content. However, each one provides a drastically different experience, both for students and educators.
Before we dive into the specifics of what makes each platform unique, here are the basics…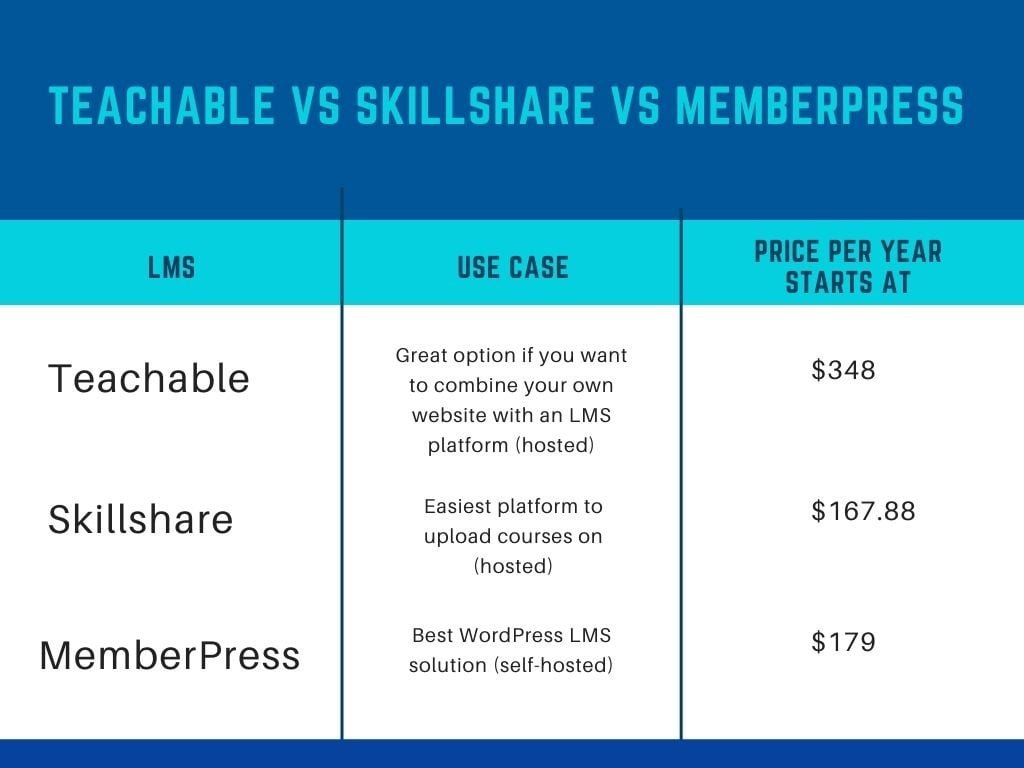 This should give you a rough idea of what to expect from each LMS. However, if you want to make an informed decision, you'll need to know more, starting with what features each platform offers.
Features: Teachable vs Skillshare vs MemberPress
The features your LMS includes dictate what types of classes you can offer, who can access them, how you get paid, and much more. Let's review the key functionality provided by each of the platforms we're examining in this post.
Teachable Features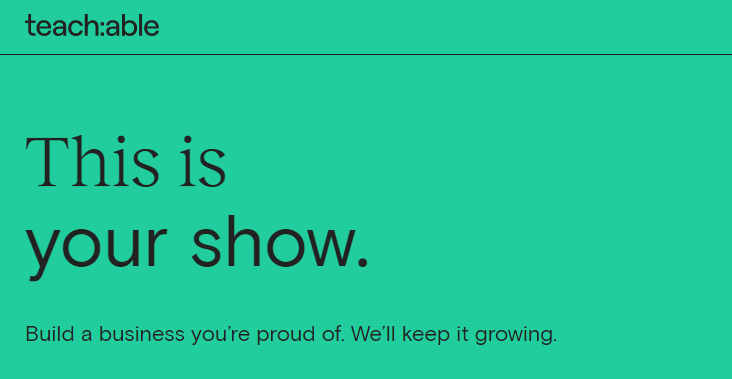 Teachable enables you to use its platform to create and upload courses. You can then connect your online classroom to an external website using a subdomain. That means you get to take advantage of all of Teachable's features but use your own branding.
Teachable provides you with a powerful lesson editor that can help you create video classes and multimedia lectures. The platform also lets you provide live coaching sessions.
You can use Teachable to manage subscriptions and sales for your courses, as well as access analytics to monitor how your online business is doing. Plus, you can set up multiple roles within your learning website, so that other teachers, team members, and contributors have access.
Features Summary:
Connect Teachable to an external website
Use the platform's editor to create multimedia-rich lessons
Conduct coaching sessions with your students
Manage payments for online courses
Access analytics for your entire learning platform
Set up multiple roles for students and contributors
Get paid daily, weekly, or monthly
Although Teachable doesn't offer any direct integration tools for WordPress, it's easy to use alongside any popular content management system (CMS). You can use WordPress to create all the other web pages for your online academy and rely on Teachable for publishing and managing lessons.
Skillshare Features

Skillshare is sort of like the YouTube of online learning. It's a contained LMS that provides you with tools to promote self-guided courses.
One of the most significant advantages of Skillshare is that it makes it easy for anyone to create online courses and share them with the platform's built-in audience.
With this solution, you don't have to worry about search engine optimization (SEO) or creating your own website to host or promote your content.
You can use Skillshare as an educator to create courses that consist of several lessons. Students who sign up for your class will gain access to a discussion board, and any resources that you upload. They can even leave reviews.
As for payments, Skillshare uses a subscription model. Students pay a recurring fee for access to all of the courses hosted on the platform. Instructors earn money based on how many people watch their video lessons.
Feature Summary:
Create courses consisting of multiple video lessons
Upload student resources
Interact with students via Skillshare's discussion boards
Encourage reviews from students to help promote your class
Use Skillshare's built-in community to find students
Get paid on a monthly basis depending on how many views your video lessons receive
The main drawback of Skillshare in terms of features is that it doesn't enable you to hold synchronized classes in real-time. You have to film your lessons and then publish them for students to access independently, which isn't the best format for every subject.
MemberPress Features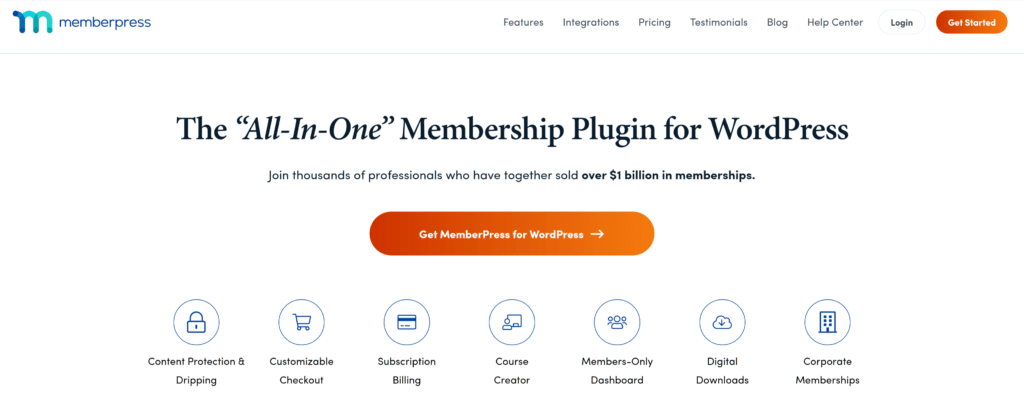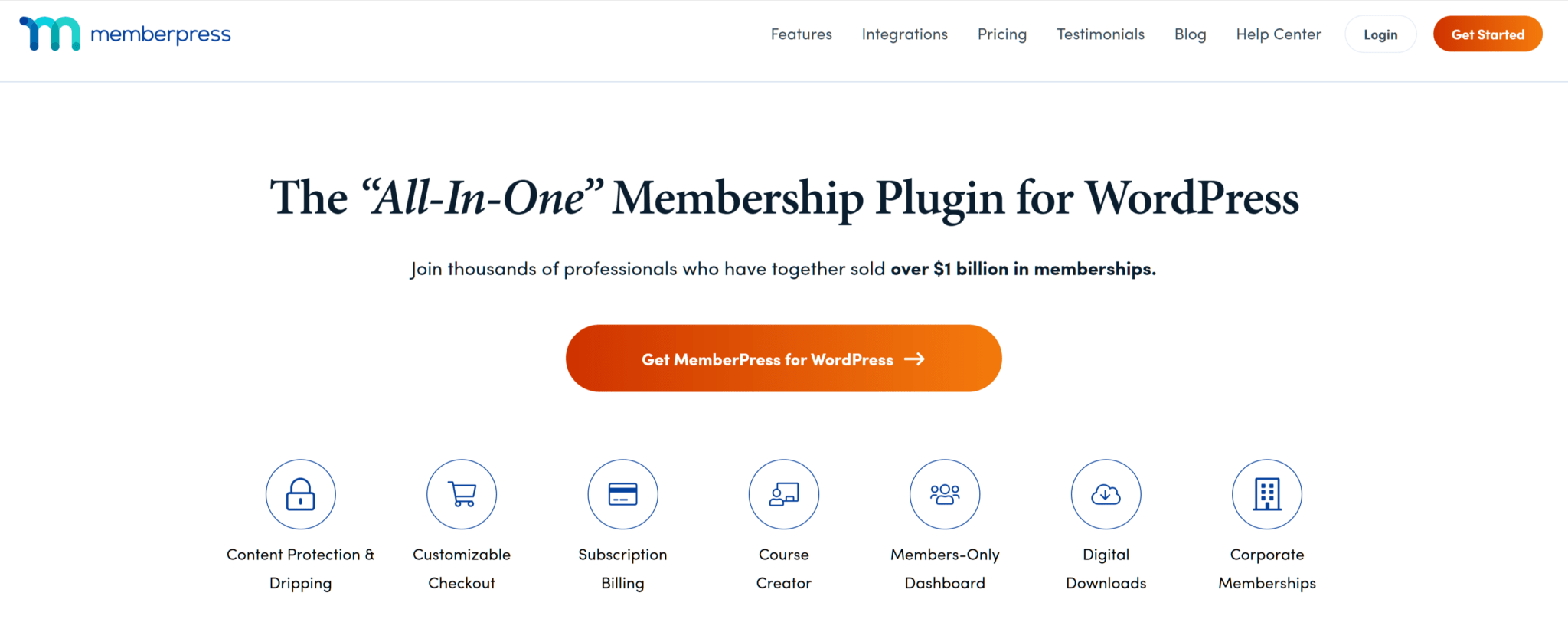 MemberPress offers a very different approach to online learning than the other platforms we've seen so far. It's a WordPress plugin that enables you to add advanced membership functionality to your website.
Using Memberpress, you can set up multiple membership levels, process payments, manage subscriptions, and decide what content users can see. With the MemberPress Courses add-on, you can also develop a curriculum, publish individual lessons, track student progress, and more.
Features Summary:
Use a drag-and-drop builder to create lessons and courses
Access custom post types for your educational content
Set up and manage multiple types of subscriptions for your courses
Enable one-off payments for specific courses
Use MemberPress' content protection functionality to restrict access to your lessons
Using MemberPress, you can create an online classroom where you're 100% in control of every aspect. That means you…
Don't need approval from a third-party platform to upload courses
Won't have to wait for payments
Won't have to pay out any third-party fees
Ease of Use
Learning a new platform always involves a bit of a learning curve. However, you don't want to have to spend a ton of time figuring out your technology when you're trying to launch your virtual courses.
Below, we've assessed how easy Teachable, Skillshare, and MemberPress Courses are to use. This will hopefully give you an idea of quickly you should be able to figure out their key features and get your classes up and running.
Teachable Ease of Use
If you want to use Teachable, you'll need to sign up for an educator plan. Options vary in price and functionality, but the Basic tier enables you to create as many courses as you want, which makes it a decent starter choice.
Once you sign up for Teachable, you'll be able to create a "school", which will be the website that hosts your courses:
Teachable enables you to set up multiple pages for your school, including a home page, product pages, terms of use, and more.
Once your school is ready, you can start writing and uploading content for your courses. The Teachable editor supports multiple file and media types, including video, audio, PDF, and more.
You can add multiple files, text, and code alongside each lecture or lesson: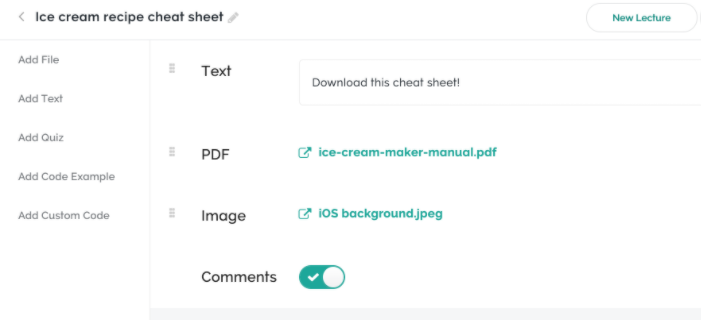 Designing courses on Teachable is relatively simple. Its lesson editor is easy to pick up, although it's a bit lacking when it comes to advanced functionality.
Skillshare Ease of Use
The whole point of Skillshare is to make publishing online classes as easy as possible. Creating a course is as simple as recording a video lesson, uploading it, adding instructions for any student projects you want to provide, and filling out information for a landing page:
Skillshare also gives you some options for how to categorize your lessons to help students find relevant content. Plus, you can specify if your courses are paid or free and indicate their difficulty level.
If you're looking for an LMS that's extremely user-friendly, Skillshare is an excellent choice. However, the platform is built around video lessons, so if that's not the format you want to focus on, then it won't be a good fit.
MemberPress Ease of Use
If you've been using WordPress for a while, getting started with MemberPress Courses should be simple. Once you purchase, install, and activate the MemberPress plugin, you can enable the Courses add-on at any time from the WordPress dashboard: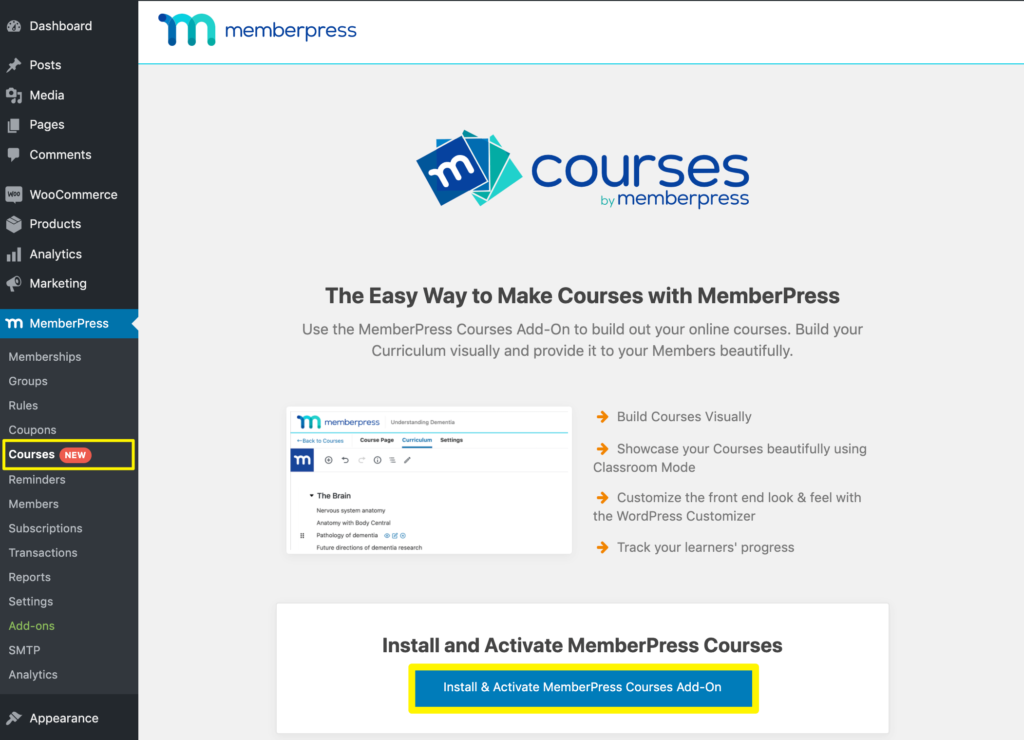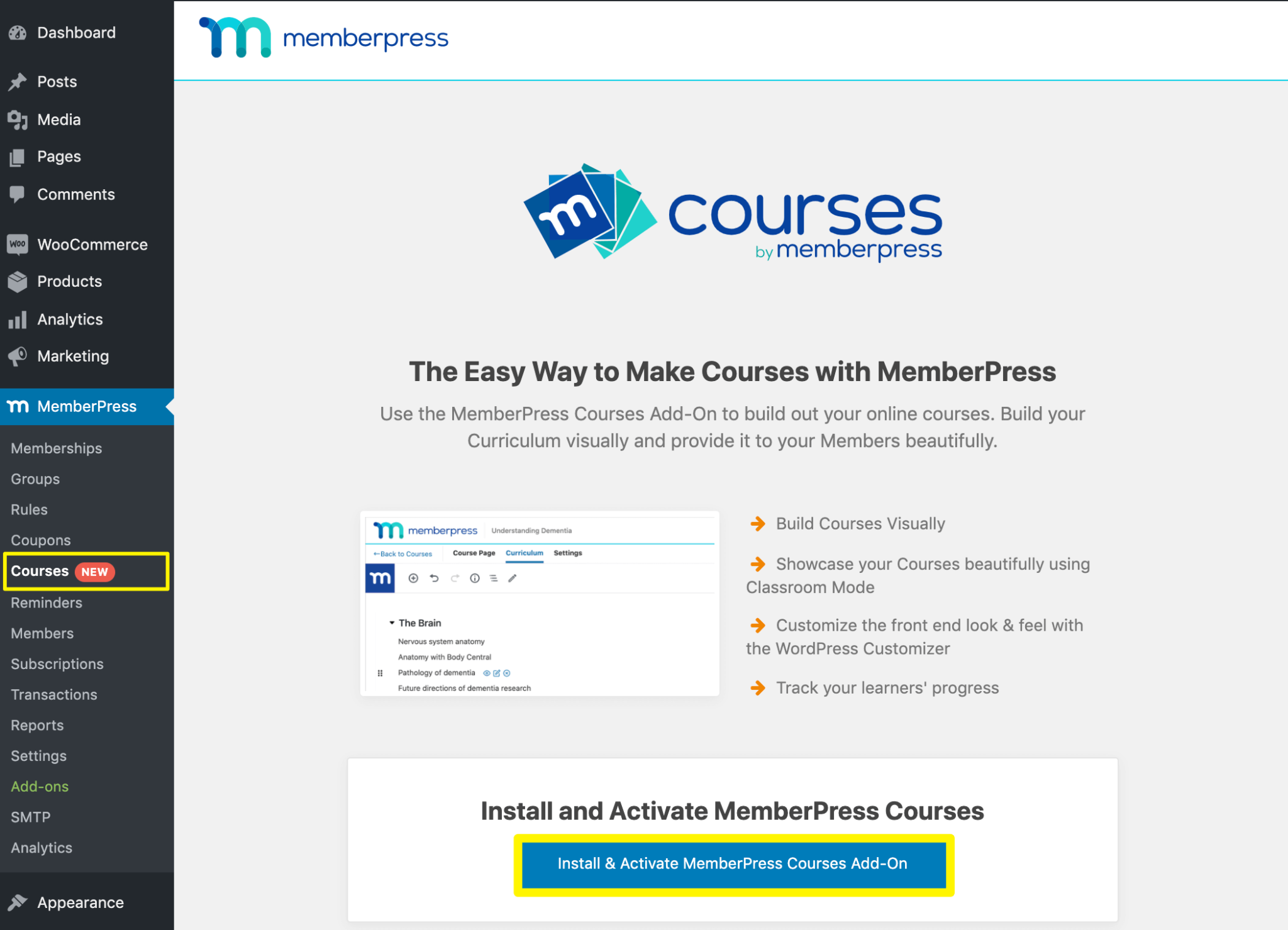 Once you activate Courses, you'll gain access to a new custom post type. If you want to add a new course, you'll be able to use the Block Editor to create its content: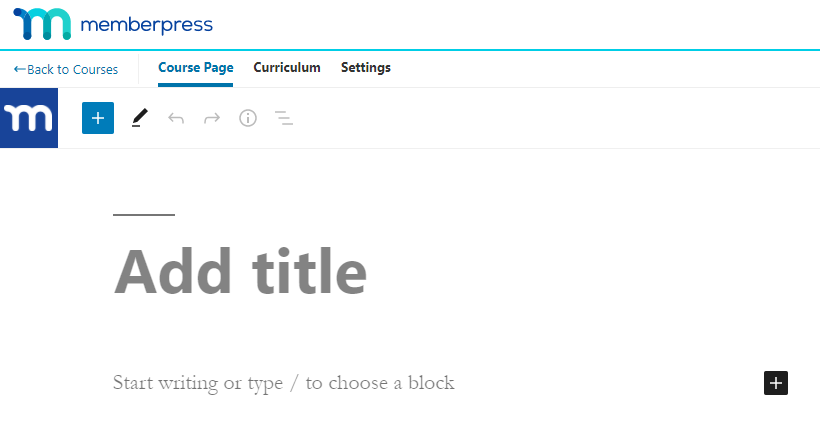 You can create course pages and publish your curriculum. Then you'll be able to use the editor to add the individual lessons and quizzes that make up each course.
Thanks to MemberPress' core functionality, you get full control over how you want to protect and market courses. You can sell access to your materials for one-time payments or use a subscription model with multiple tiers.
Configuring all of those settings is easy if you're already familiar with WordPress. However, since MemberPress gives you so many more configuration options than Teachable or Skillshare, the initial setup might take a bit longer.
Support for Teachable, Skillshare, and MemberPress
At some point, you may need help setting up courses or dealing with technical issues related to the LMS you choose. If that happens, you want to have access to the best support options possible. Here's how each platform fares in that aspect.
Teachable Support
Teachable offers expert assistance for all of its publishers. However, the level of support that you have access to varies depending on which plan you sign up for.
The more expensive plans give you access to "priority support", while the Basic tier offers standard product support. This likely means that those who don't opt for the higher-priced options will have longer wait times when trying to get in touch with someone from the Teachable team.
If you like to troubleshoot problems yourself, Teachable does have an incredibly thorough knowledge base that you can refer to. These guides should be enough for you to figure out how to use the platform and resolve minor technical issues.
Skillshare Support
Although Skillshare is easy to use, it's a bit lacking when it comes to publisher support. The platform enables you to submit support tickets for general, technical, or billing questions.
However, there are no contact options via live chat or phone for educators. As far as its knowledge base goes, most articles are a bit more superficial than we'd like to see.
MemberPress Support
If you're a MemberPress user, you can submit a support request through our website at any time:
If it's a weekday, you can expect our team to get back to you within a couple of hours. If it's a weekend or US holiday, we'll get in touch first thing the next business day to help you resolve your problem.
Our plugin also offers a comprehensive knowledge base that includes a ton of in-depth articles, videos, and tutorials to help you out.
If you keep up with the MemberPress blog, you can also gain access to more resources and tutorials. We publish new info several times a week.
Pricing for Teachable vs Skillshare vs MemberPress
Budget is a major concern for any online business owner, especially if you're just getting started.
Although your LMS is an important investment that you won't want to skimp on, it's important to carefully weigh how much it will set you back before you commit to a platform.
Teachable Pricing
Teachable offers access to its platform using a subscription model. You can choose if you would like to pay monthly or annually. However, note that you'll receive a slight discount if you're willing to pay for a full year up front.
The Basic Teachable plan starts at $29 per month billed annually ($348 per year). It provides you with access to all of the features we've talked about so far but limits you to two admin users. You'll also have to pay a transaction fee of 5% for each sale in your school.
The more expensive Pro and Business tiers waive the transaction fee and provide advanced features such as graded quizzes, more detailed analytics, priority support, additional admin users, and more.
However, they're also significantly pricier at $99 and $249 per month billed annually, respectively.
Skillshare Pricing
If you want to publish classes on Skillshare, then you need to pay for a subscription to get started. However, it's relatively cheap.
Skillshare Premium plans start at $13.99 per month, billed annually ($167.88 per year). There are also Team plans available, but these are more geared toward businesses looking to help their employees upskill, rather than those on the educator end.
MemberPress Pricing
MemberPress is a premium WordPress plugin that follows an annual licensing model. There are multiple MemberPress plans to choose from, with the Basic tier starting at $179 per year.
Our Plus and Pro plans come in at $299 per year and $399 per year, respectively. That means our most expensive option is more affordable than Teachable's Basic plan.
Plus, with MemberPress, there are no transaction fees outside of your payment gateway of choice. You have complete ownership and control of all your content.
Every MemberPress plan provides you with full access to all of the Courses functionality and enables you to create unlimited lessons.
Which Is the Best LMS: Teachable vs Skillshare vs MemberPress
Teachable, Skillshare, and MemberPress all enable you to create and publish engaging online courses and share your knowledge with thousands of students. However, each platform approaches course management differently.
To summarize our comparison of these platforms:
Teachable is an excellent option for those who have limited technical ability and don't want to spend a lot of time building and maintaining their online courses. However, that ease of use comes at a steep price.
Skillshare is an affordable solution for online instructors who want to enable their students to access self-guided video courses.
MemberPress Courses gives you complete control over your online learning content and enables you to create your own pricing structure.
Do you have any questions about how to use MemberPress to sell online courses? Let's talk about them in the comments section below.
If you liked this article, be sure to subscribe to the MemberPress blog!