How to Start a Community on Your Website (In 5 Easy Steps)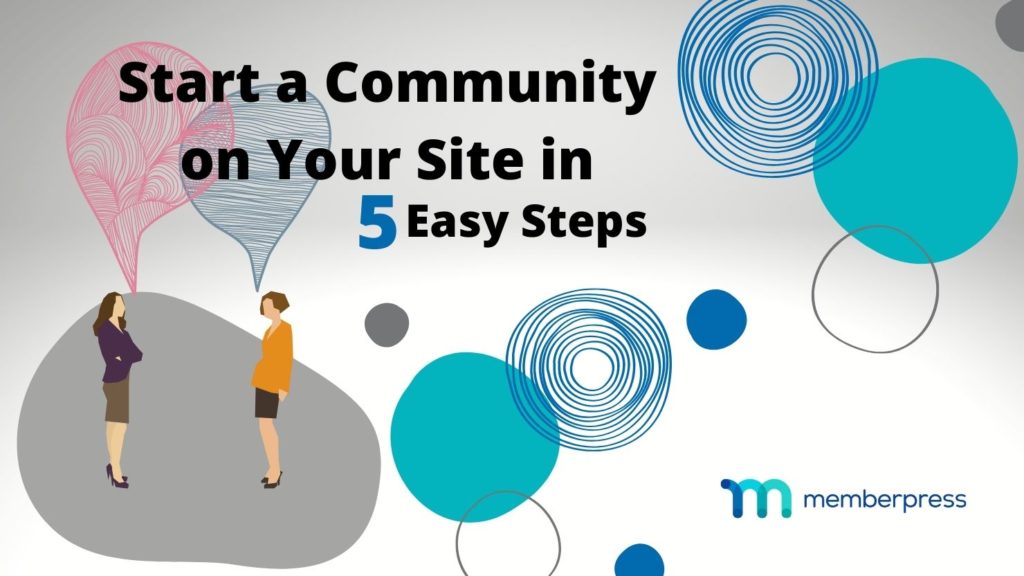 It's important to keep communities together for them to thrive. However, in the current climate people are more disengaged than ever before. Unfortunately, this can be disastrous for organizations and online businesses.
Fortunately, by taking your organization online or adding a community to your online business website it's easy to bring people together again. Membership plugins offer a unique solution for businesses and organizations looking to engage their members and customers.
In this post, we'll look at what a membership site plugin can do and how one can benefit your organization or business. We'll also explain how to start a community on your website in five easy steps using the MemberPress plugin. Let's get to work!
The Benefits of Online Communities
A membership community requires users to register in order to access specific content. Some sites charge a fee to access members-only content, while others are offered for free with registration. However they're structured, online communities are useful tools for businesses and groups.
They can be handy for churches, housing associations, local parenting groups, non-profit organizations, councils, and even online stores and educational sites. For example, the Corporate Volunteer Council of Atlanta has a website to organize volunteer projects in the Atlanta area:
MemberPress Website Example: Bellabeat
However, online communities aren't just for organizations. More and more online businesses are adding communities to their offerings. Take Bellabeat, for example:
This women's tech products company uses MemberPress to create and manage an online community that provides a highly personalized experience for customers (and gives Bellabeat access to valuable user data). Through the subscription-based community, customers can access personalized content tailored to their life goals.
Benefits of Adding an Online Community Membership to Your Site
They provide an easy way to share information. Having a place where local groups can share information can be extremely helpful. It's easy for different community members to update and contribute to the site. Also, everyone can access relevant details easily, even those who struggle to get out of the house.
They make it easier to collect funds. Collecting money for community events can often be a difficult task for organizers. With a membership site created using a membership plugin, you can collect funds and donations online in a secure way, making life easier for both accountants and group members.
They offer privacy. For some groups, such as parenting and church organizations, it may be necessary to share sensitive information that you wouldn't want to be accessible to all internet users. With online communities, you can be sure this data is only available to registered members.
They boost customer retention and data collection. When an online business offers access to premium content, special sales, and other VIP benefits through an online community, they increase customer loyalty. At the same time, these businesses gain exclusive and unique access to customers.
As you can see, membership plugins can be a useful tool for group organizers and online businesses. Now we'll take a look at how you can easily start a community on your website using the MemberPress plugin.
How to Start a Community on Your Website (In 5 Easy Steps)
Community memberships can be beneficial and easy to set up, even for beginners. By following the five simple steps below, you can set up a website for your own organization using the MemberPress plugin.
Step 1: Install the MemberPress Plugin on Your WordPress Site
If you don't already have one, you'll first need to create a basic website. We recommend WordPress – a customizable platform that's free to use and doesn't require much technical know-how. Plus, it's easy to get started with.
Once your WordPress site is up and running, you can install the MemberPress plugin. This is our own tool, which can help you create your community membership website.
To start, visit the MemberPress website and choose a pricing plan that suits your needs. Once you've signed up for a plan, you'll be prompted to download a .zip file containing the plugin.
Then head over to WordPress and log into your site's dashboard. To upload the plugin, click on Plugins > Add New > Upload Plugin > Choose File:
Once you've uploaded the .zip file, you can click Install Now and then Activate Plugin.
Step 2: Customize Your Membership Plans
The next step is to create your membership plans. These give users different options for signing up to your site. Depending on your needs, you can make one plan or a range of options with different access levels that cater to various groups within your community.
To set up a new membership plan, navigate to the MemberPress plugin in the WordPress dashboard and click on Memberships. Then select Add New at the top of the page. You'll then see the Add New Membership page:
On this page, you can name your membership plan and customize a variety of other elements. You can set parameters such as pricing plans, billing types, and levels of access.
Also, you can scroll down this page to customize settings such as payment methods, button text, thank-you messages, and more:
Once you're done customizing your membership plans, click on Publish to save your changes. If you need to alter your plans in the future as your community grows, you can always go back and make changes.
Step 3: Create a Registration Page for Your Community
For users to be able to register for the community, they'll need a registration form. Fortunately, setting up these forms using MemberPress is straightforward.
To start, choose Appearance in the menu on the left side of your WordPress dashboard. Then click on Menus > Manage with Live Preview:
This will then direct you to the Customizer. Click on Primary Menu > Add Items > Memberships. You can then select the menus you'd like to add by clicking on the plus symbol. This will add your membership options to the page and allow community members to register.
Step 4: Set Up Your Site's Rules and Permissions
If you have more than one membership plan, you may wish to give different groups access to various content. For example, if your community group is aimed at local families, you may have different pages for children and adults. To ensure that each group has access to the right information on your site, you can use the MemberPress Rules function.
To create rules, go to the MemberPress plugin in your WordPress dashboard and click on Rules. Then select Add New:
On this page, you can customize who can access what content by setting access conditions. Once you're done setting up your rules, click on Save Rule.
Step 5: Create a Community Login Page
The final step in the process is to create a login page so users can sign in to the site and access member content. To do this, go to MemberPress > Settings > Pages. Then select Auto-Create New Page from the MemberPress Login Page drop-down menu:
You can then click on Edit to customize the page and make sure it has all the fields required for your members to log in. After that step is complete, you're ready to start receiving visitors at your new online community!
Bonus – Adding a Community Forum
Although optional, adding a forum to your site's online community is a great idea. It gives members a place to share ideas and information. And it can significantly increase engagement. To learn how to add a forum to your community, check out this post:
>>How to Add a Forum to Your WordPress Membership Site with the bbPress Plugin
Conclusion
Nurturing a close-knit community isn't always easy. However, a membership plugin like MemberPress can give people another point of contact that will help them stay connected. Fortunately, creating a members-only community with MemberPress is simple, so any organization can enjoy the benefits of having one.
Here's a recap of how to start a community membership site in five steps:
Install the MemberPress plugin on your WordPress site.
Customize your membership plans.
Create a registration page for your community.
Set up your site's rules and permissions.
Create a community login page.
Do you have any questions about starting an online community on your site? Let us know in the comments section below!
Get started with MemberPress today!
If you liked this article, be sure to follow us on Facebook, Twitter, Instagram, and LinkedIn! And don't forget to subscribe in the box.
16 Comments
jeffhester

December 10, 2021

I'm a big believer in the power of online communities in general, and online discussion forums in particular. Of course, Facebook and Reddit have drained some of the attention away from niche forums, I believe we are beginning to see a resurgence of these more personal communities. Having your own online community with an area for members to interact via a discussion forum like bbPress means that your members aren't getting distracted by the "shiny, angry objects" found on FB and its ilk. Getting users to go there regularly remains a challenge (that's where FB shines for now), but I see more and more people quitting FB. The tide is turning.

Neil Harris

December 11, 2021

Thanks, I am just getting started with my first membership. This was a great help in getting it set up.

Michael Saelee

December 12, 2021

Great content! This plug is super easy to use. I'm planning to build a strong local hub to help others build wealth and looking forward to using Member Press to achieve these things. Have done a lot of research, watched a lot of youtube reviews, and made the decision to go with Member Press based on all the positive feedback and rich features. Thank you!

Laurel LaFramboise

December 17, 2021

Hey, this helped a lot! I just bought a starter MemberPress and will be installing it myself. I was a bit nervous but it looks pretty easy, and I'll refer back to this while installing. Also, I liked the link to the forum setup with bbPress plugin as that's on my agenda, too!

Gabriel Bahnareanu

December 23, 2021

Thanks for sharing - this is been very useful. I'm building an intranet and I've started using Memberpress to organise who has access to what content. Memberpress makes it super easy and I found the documentation contained so far answers to all my questions.

capela

December 28, 2021

I was already using memberpress to sell my online course through launches, but it was when I decided to create a membership comunity that I realized its power. The abbility to have a evergreen business with constant cashflow, and the work is almost the same as the launch of a big online course. Thanks memberpress!

chrisvconley

December 31, 2021

Fostering a community on your own site is critical in building an audience that you can nurture and help develop. When you use other people's sites for your community, you're building their assets , not you own. I use MemberPress and Buddy Boss to have an amazing, easy to use platform for supporting my tribe!

Nolan Martin

December 31, 2021

Great article! Using MemberPress to nurture my media client's customers has been a game changer! Building a paid community and being able to manage subscribers has been great.

Beau Bridges

December 31, 2021

Perfect! I've built up an audience in various places but to control and manage it on my site is the next evolution to it. Bellabeat is a great example of this. I think the long-term affects of adding a community on your site will pay dividends in way of retention and revenue.

David Olson

December 31, 2021

Sweet. As a recent convert from Kajabi to Wordpress, this is one of the next things on my list to build out!

Nathan Lampe

December 31, 2021

Thank you for this article! I have been using memberpress and love how it integrates with other systems like buddyboss. Overall its a powerful tool that is simple to set up. I've used quite a few other membership plugins but the features and ease of use will keep me using memberpress on my community.

December 31, 2021

Built a community already with memberpress & highly recommend it!!

egauvin

December 31, 2021

I'm so grateful for Memberpress's robust access and identity management capabilities. It really is this easy to to get set up, but one of my favorite things about Memberpress is the support and training docs. Everyone at Memberpress has been so friendly and helpful. Thanks!

December 31, 2021

Hey gang, first off, thanks for what you do and Happy New Year! I'm a customer getting ready to launch a massive community called zindolabs.com using Buddyboss, LearnDash and you guys. Super seamless to put together and works like it was intended to be a match. What I'd add to the benefits above is that you own the community. Having your members on a platform you can control speaks volumes in today's online environment. The days of only having the option to build a Facebook Group, etc is no more with tools like yours. Thanks again! Audra
Syble Harrison

January 4, 2022

Hey Audra :) Thanks for sharing what you've got going with Zindolabs. Keep us posted on the development of your awesome project! Syble
Jason
December 31, 2021
Thanks for the informative post, MemberPress team! I would also add the value of your integrations with email services. For example, we are able to communicate with our communities based on membership level through ConvertKit. This can be helpful for delivering targeted emails directly to each community based on the membership tier. Keep up the good work!