With all the challenges involved in raising children, it's no surprise that the old adage "it takes a village" remains relevant. A membership website where parents can connect and access resources can be extremely valuable. However, knowing where to start can be tricky.
Fortunately, having a plan can make the process a little easier. By focusing your efforts on a few vital parts of your membership site, you can prepare yourself to launch a successful site that people will be willing to pay to access.
In this article, we'll introduce you to the basics of a membership site. Then we'll take you through three critical considerations to help you create a successful membership site for parenting. Let's dive right in!
An Introduction to Membership Sites
Any website with a membership element is a "membership site". Really, it's any type of site that offers premium, protected content to its participants. This content may include digital products, online courses, articles, videos, an online community, or any other kinds of content you might want to protect. While there's more to the model, that's the basic concept.
There are several advantages to running a gated-content group. For one, it can be a lucrative way to capitalize on your expertise. Technology has made it easier for people with similar interests to meet up and learn from each other.
By the same token, a popular membership site can help establish you as a thought leader in your niche. This can be particularly valuable if the site isn't the only place you have an online presence. For example, it might also drive more traffic to an affiliate website.
Additionally, membership sites are fairly simple to set up. You don't need extensive technical knowledge to succeed. With a content management system (CMS), such as WordPress, you'll have access to an extensive library of useful plugins to customize your site.
How to Start a Membership Site for Parenting (3 Tips)
While the technical aspect can be simple, figuring out your website's content can be a bit trickier. Here are three tips to consider when you're starting your membership site for parenting.
1. Find Your Target Audience
Parenthood can be a lively niche. However, the term is a bit vague. Therefore, we recommend trying to figure out a subset of parents to target with your content.
For example, a single mother of three might have different needs than a first-time father trying to adopt. Some content may be relatable to both, but creating a buyer persona can help you generate more effective content. For instance, Fab Working Mom Life focuses specifically on working mothers and the challenges they face: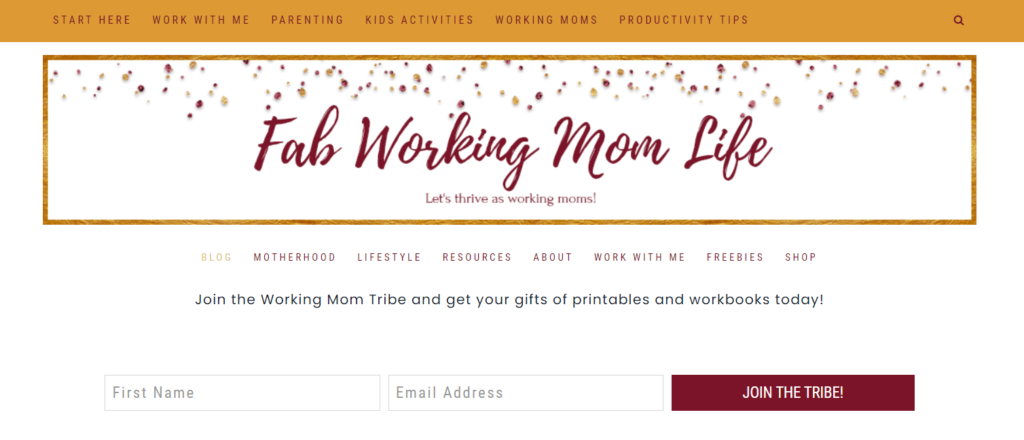 Additionally, a focused audience may help you form a more cohesive community. If your site will include ways for members to interact, having common ground may foster better discussions and provide more value.
If you're working from personal expertise, you may already have a target audience in mind that reflects your own experiences. At first, it might be smart to lean into your existing knowledge and save branching out for later. Casting too wide a net when you're just beginning could lead to burnout over time.
2. Decide How You'll Offer Value to Your Members
Membership sites can provide any number of benefits to their users. Getting started might be less complicated if you know how you'll offer value. For example, let's say you're planning on delivering physical subscription boxes. Knowing this ahead of time could help you budget better.
It can also be easier to market a site that has clear benefits. If you can present a simple breakdown of what members will gain from your organization, they may be more likely to give it a try.
If you're not sure where to start, consider checking out your competition. Assess the value currently being offered by other sites, and see if there's a gap you can fill. This approach may also provide information about the typical pricing range for your target audience.
You could also begin planning for the future. It may seem counterintuitive to do this before you've even started, but it can give you a more solid base to build on. For example, if you know you'd like to provide resources as children grow, you might want to initially focus on the parents of newborns.
3. Choose a Powerful Membership Management Software
Once you have a more complete picture of your site's content, you'll want to decide on software to help you distribute it. Choosing an effective plugin can be difficult. Nevertheless, there are a couple of ways to determine if a tool is right for you.
You may want to start by considering what elements you'll need at the very beginning. Let's say you've already gained a following on a popular website. You might want to choose a plugin that changes as few elements as possible, in order to retain your brand image. On the other hand, you might be looking to build a new site from the ground up, and require extensive customization capabilities.
Our own MemberPress plugin can help you do either.
MemberPress offers a famously easy setup process. You can simply add the plugin to your WordPress site to get started. It provides granular access controls, password-protected community discussions, and seamless integration with virtually any theme.
Also, there are probably features you'll be interested in down the road. MemberPress integrates with all kinds of business-boosting plugins to expand the functionality of your site.
Conclusion
Launching a membership site for parents can be a daunting task. With all the decisions to be made, getting started can be a challenge in and of itself. Fortunately, you can save yourself some frustration by mapping out your plans in advance.
In this article, we covered three tips to help you start your parenting membership site:
Settle on a distinct target audience.
Clarify the ways you'll offer value to your members.
Choose membership management software that will grow with you, such as MemberPress.
Do you have any questions about starting a membership site for parenting? Let us know in the comments section below!
If you liked this article, be sure to follow us on Facebook, Twitter, Instagram, and LinkedIn! And don't forget to subscribe in the box below.