If you want to sell courses as part of your business, choosing a quality learning management system (LMS) is key. It's important to make sure the platform you use has everything you need to set up engaging lessons, promote your classes, and collect payments.
Fortunately, if you've narrowed your options down to Thinkific vs Teachable vs MemberPress, you're on the right track. Each of these LMS solutions provides valuable features that can help you succeed.
In this article, we'll discuss the differences between Thinkific, Teachable, and our own MemberPress Courses add-on. We'll talk about their features, the course creation process, and pricing, to help you decide which solution is best for you. Let's get to it!
Features for Thinkific vs Teachable vs MemberPress
There are many factors to consider when deciding which LMS is right for you. However, it's crucial that your chosen solution has all the features on your wish list.
Since available options are so important, let's start by taking a closer look at the options each LMS has to offer.
Features: Teachable
Teachable is a platform that enables you to create and upload online courses for an unlimited number of students. Using Teachable, you can set up a branded or unbranded membership website for your online classes: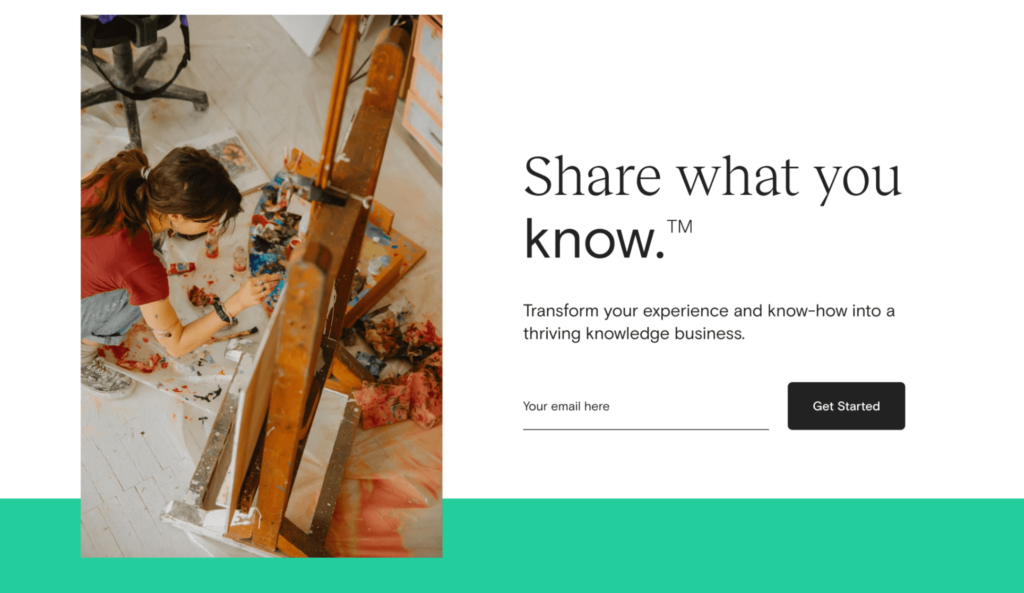 This solution enables you to build courses that include as many individual lessons as you want. You can also upload videos, text documents, audio recordings, and more. You can even design quizzes and certificates for graduating students.
Features:
The ability to link your custom domain to Teachable
Unlimited students and courses
Class scheduling and calendar integrations
Sales tracking
Support for multiple team members or instructors
Integration with form and survey tools to gather feedback from students
However, Teachable's primary selling point is that it provides lots of tools to promote your courses and process payments.
The Teachable platform also enables you to set up an affiliate program for your site, and accepts over 130 currencies (including PayPal payments).
Every Teachable plan offers built-in email marketing functionality. This LMS also promotes its members' courses through its own website, which can be a nice bonus, depending on your needs.
All in all, if you're looking to sell classes as a part of your business, Teachable is a solid solution.
Features: Thinkific
Thinkific is an LMS that enables you to set up a membership website and then publish your online courses to that site. The Thinkific platform stands out due to its user-friendly approach to course design: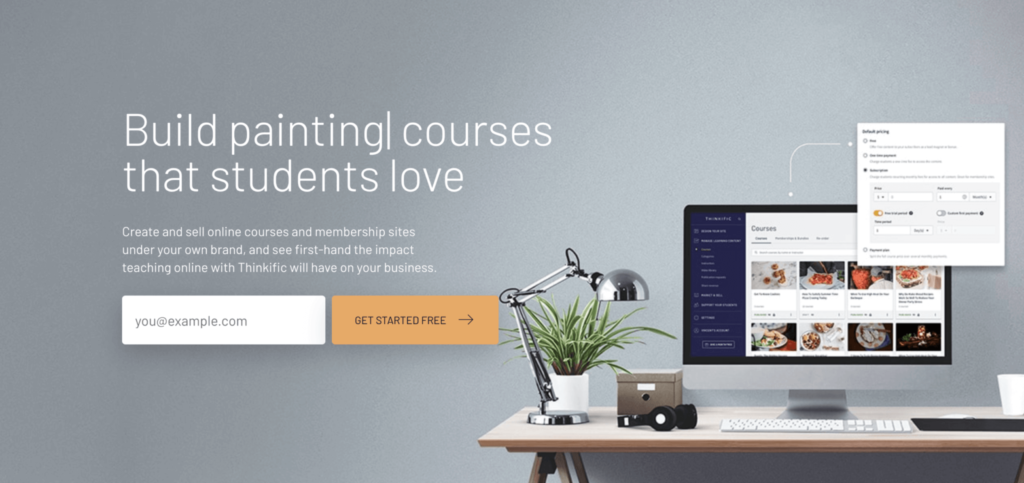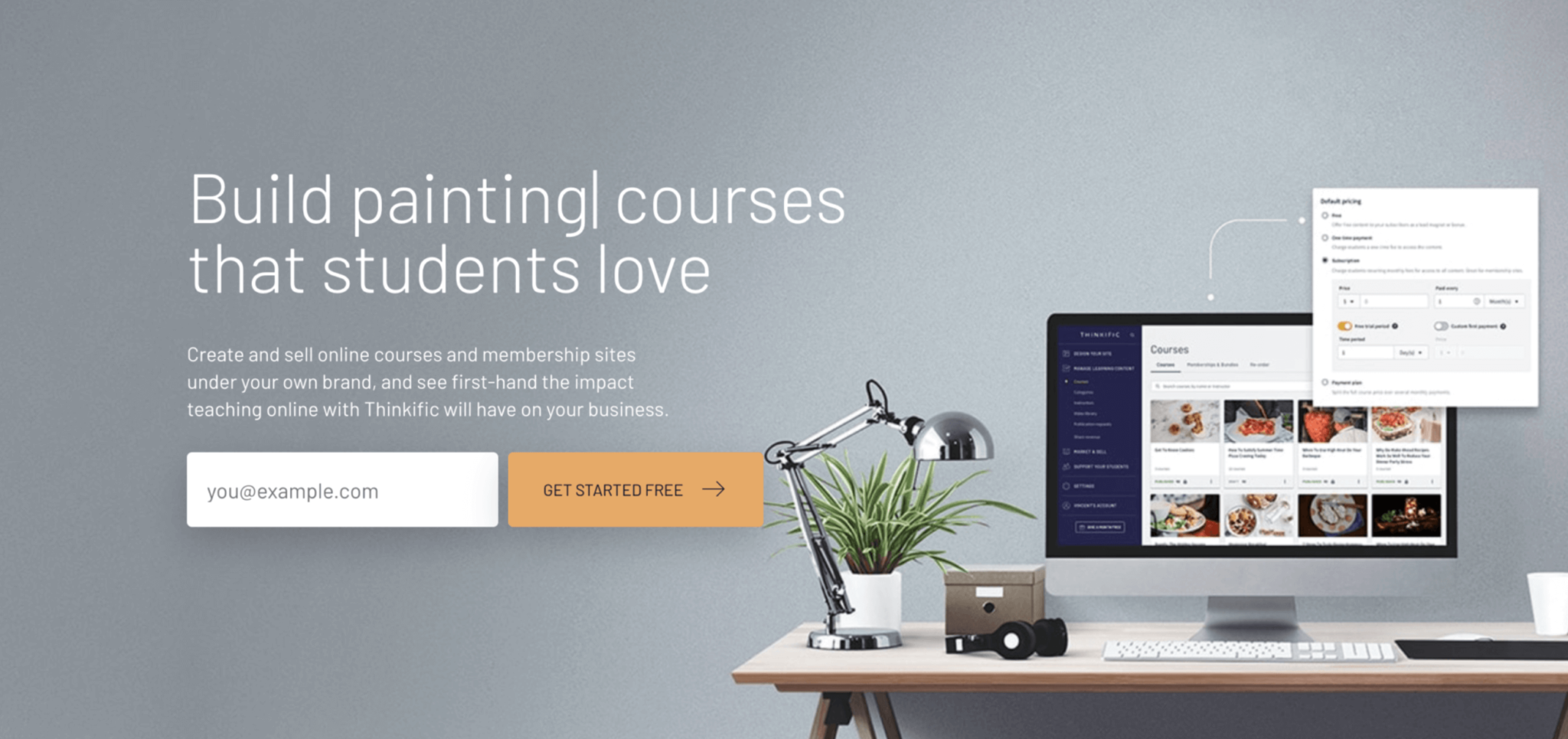 With Thinkific, you can create classes and design a curriculum using an intuitive drag-and-drop builder. You can also create and upload multiple types of content for your lessons, including videos, quizzes, surveys, Google Docs, and Typeform forms.
Features:
Free video hosting
Prerequisite lessons to ensure that students progress in the right order
Drip scheduling for courses, so you can release them over a specified period of time
Full access to your site's code, so you can incorporate custom HTML and CSS
Advanced data tracking for ad campaigns
Support for coupons and other promotional features
Thinkific also includes built-in affiliate functionality and integrates with a broad range of third-party platforms. For example, you can connect your account to most email providers and then promote your courses via email marketing.
As far as payments go, Thinkific can process transactions in over 100 currencies. It also supports all major credit cards, including PayPal.
Features: MemberPress
MemberPress is a bit different from the LMS solutions we've explored so far. Instead of a standalone platform, the MemberPress Courses add-on enables you to take any WordPress website and transform it into a learning portal.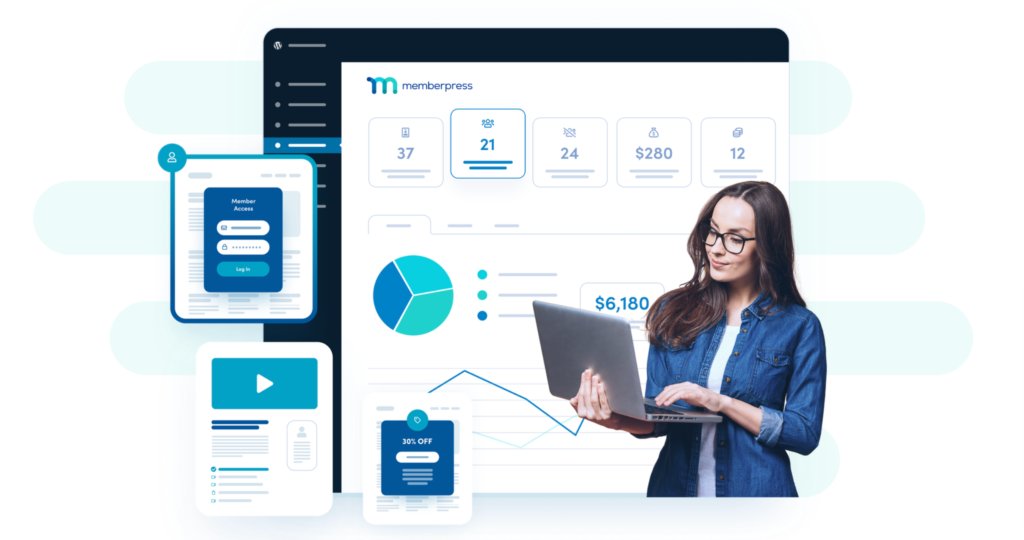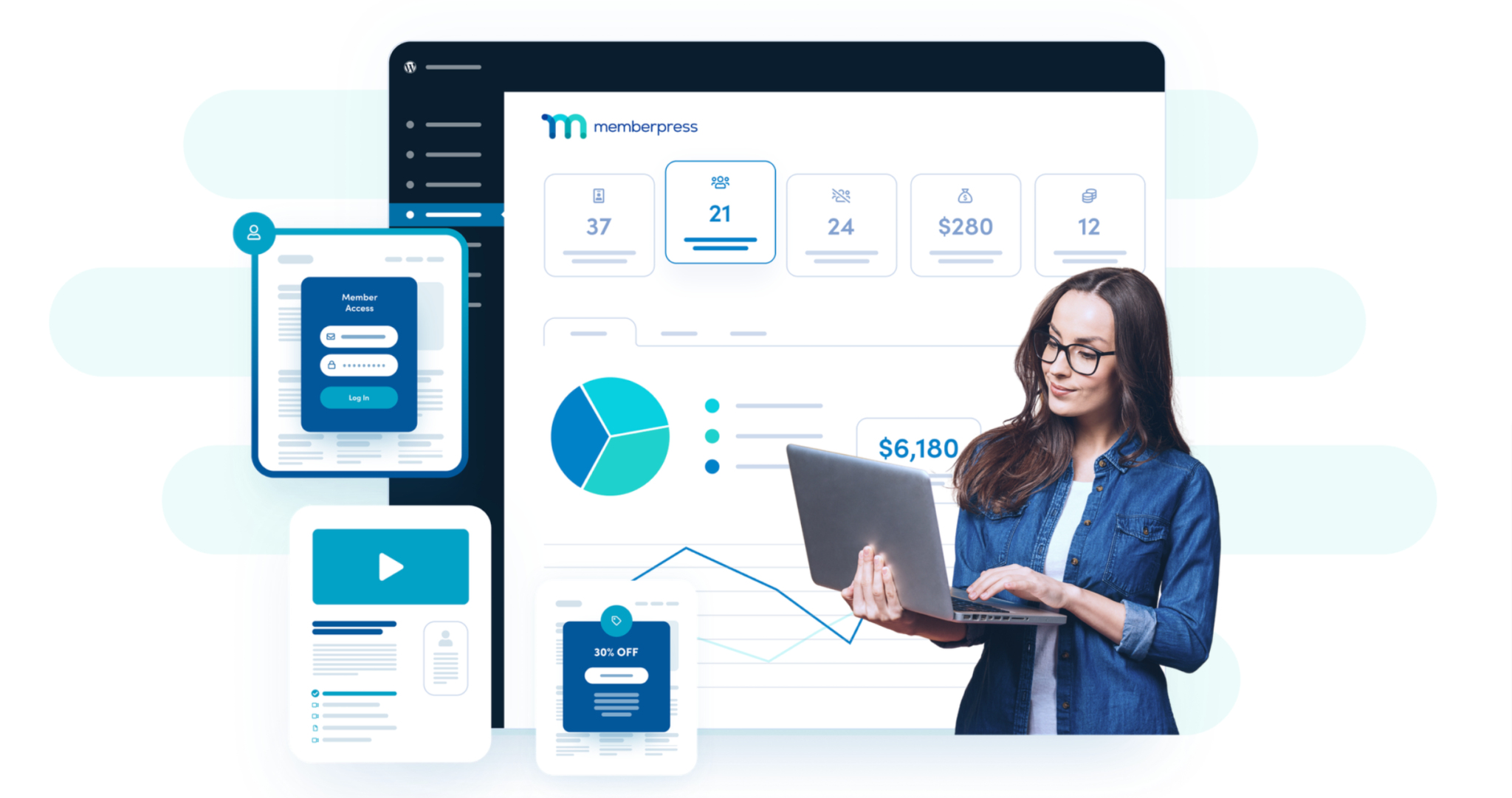 Using this tool, you can design classes and craft a curriculum using WordPress' familiar post editor. You can then publish this content to your existing WordPress website (or a brand-new site).
Since this is an add-on to the MemberPress plugin, it's easy to restrict access to your content based on a subscription model. That means you can control who has access to your online courses.
You could even turn your creator knowledge into profit by selling subscriptions to your e-learning content.
Features:
A "Classroom Mode" to provide styling for your course pages
Built-in quizzes
Custom access rules
Course progress tracking, so students can see how much they've accomplished
Subscription options for paid courses
Plus, you're building your LMS in WordPress. So you also have all the advantages that come along with the internet's most popular content management system (CMS). Things like adding custom code, access to themes and plugins, and the WordPress Customizer.
Moreover, WordPress gives you full control over every part of your website and online classroom. If you feel that other LMS platforms are too restrictive, or you're not too keen on paying third-party fees, then MemberPress Courses is a fantastic alternative.
Ease of Use for Thinkific vs Teachable vs MemberPress
Now that you know what each LMS has to offer, let's look at how easy they are to use! In the following sections, we'll show you how to create a simple course using Thinkific, Teachable, and MemberPress.
Ease of Use: Teachable
When you sign up for Teachable, your first task is naming your school. This school is the main website where all your courses will be hosted. You can change its name at any point: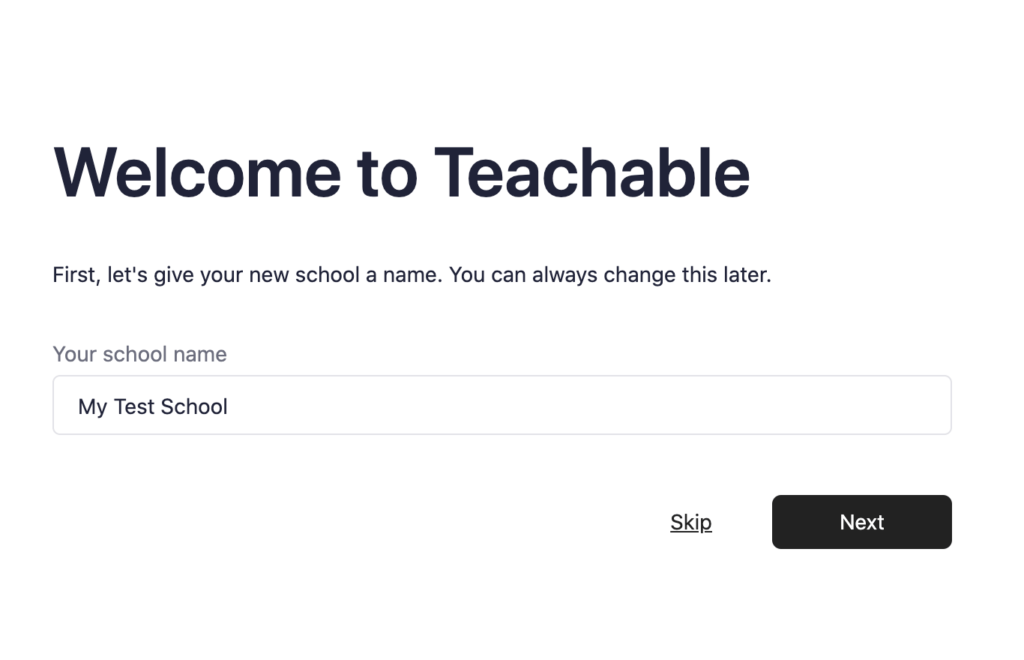 After answering a few questions about your business and the kind of content you want to create, you'll be transported to the main Teachable dashboard. From there, you can select New course: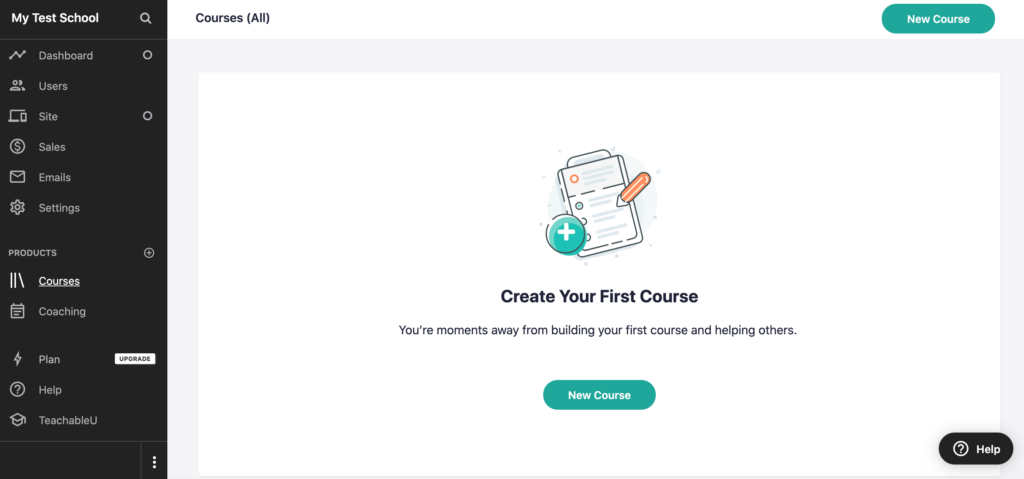 You can then enter some basic information about your course, such as its title. After that, give the Create course button a click, and Teachable will generate your online course: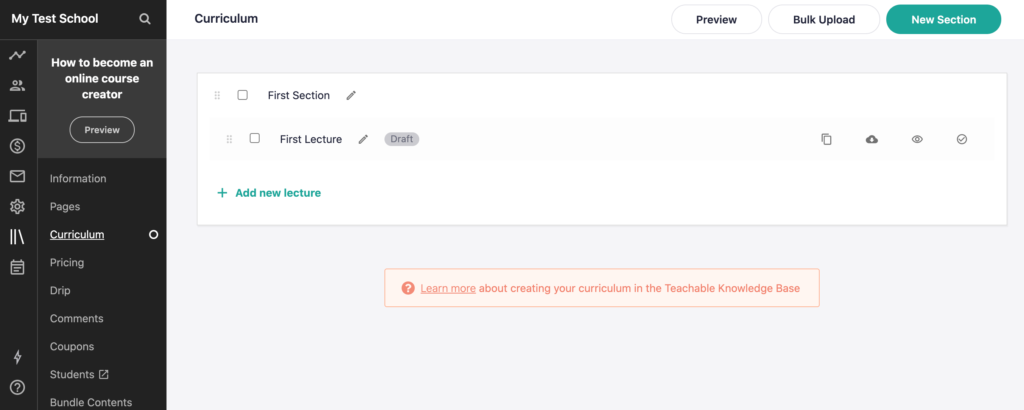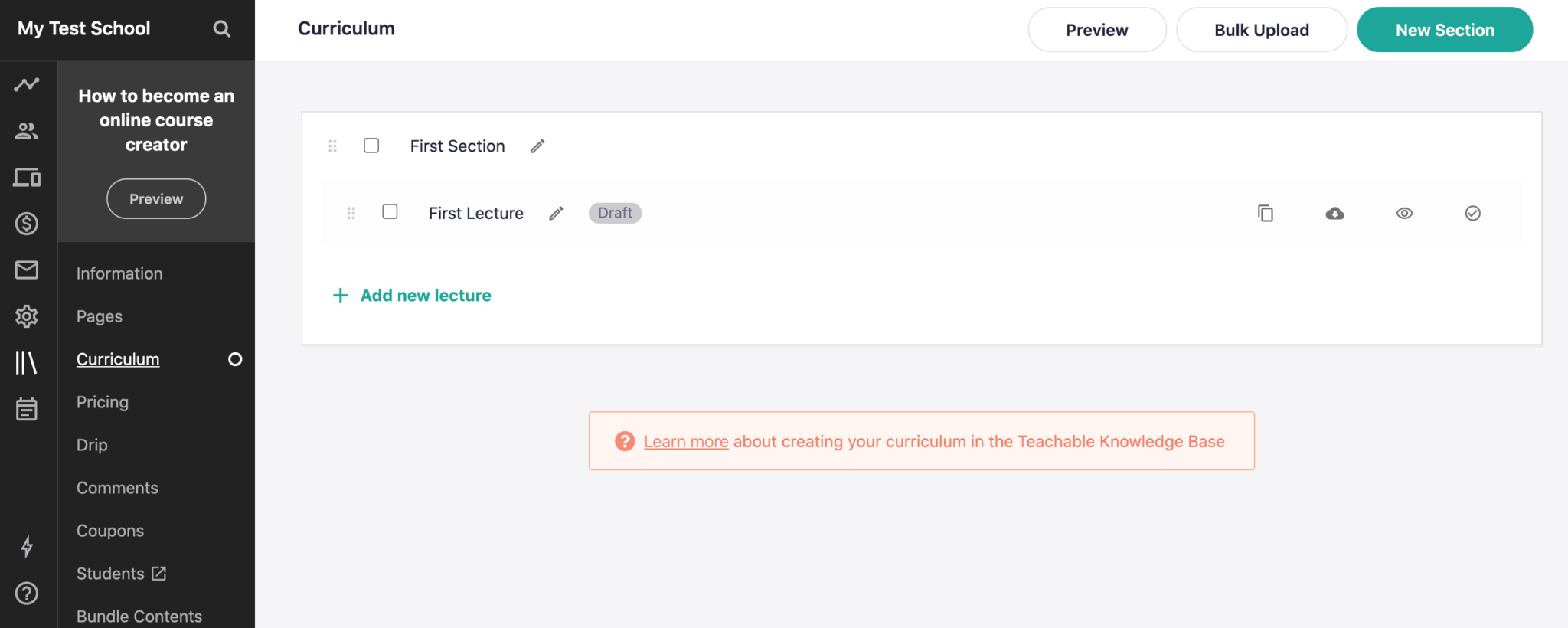 On the next screen, you can start adding sections and lectures. You can also mark components of your course as downloadable, or release them as free previews.
If you select your First Lecture, Teachable will launch an editor where you can start adding content to this lesson:
And that's it! You can repeat these steps to build a complete online course. As you're adding components to your course, you can check to see how the finished product will look by clicking on the Preview button.
Ease of Use: Thinkific
After signing up for a Thinkific account and answering some questions about your business, you'll be taken to the main Thinkific dashboard. This dashboard displays a helpful checklist that you can work through, in order to build your first course: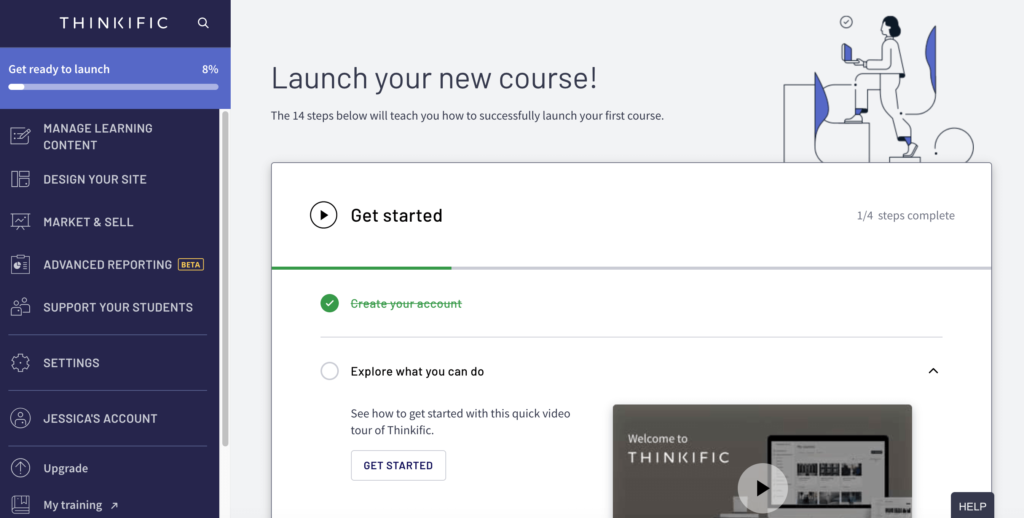 As you work your way through this list, Thinkific will offer step-by-step instructions and video tutorials. This ensures that you have access to all the information you need, without having to exit the dashboard: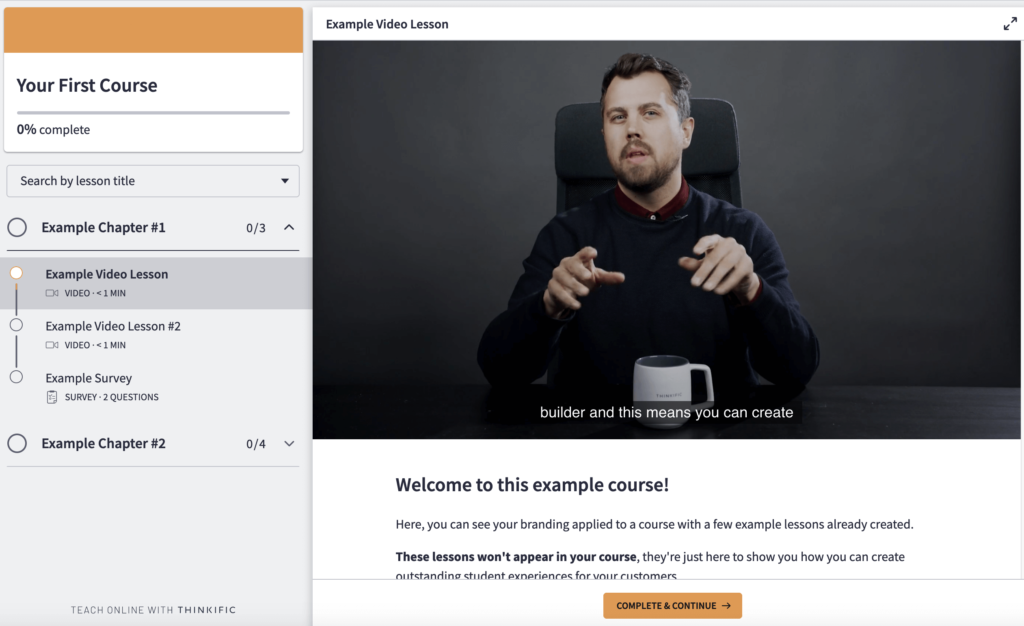 This dashboard provides access to advanced customization settings that you can use to brand your online materials. If you don't already have a website, Thinkific also has an integrated website builder.
You can use this drag-and-drop tool to create an entirely new site where you can promote your learning materials: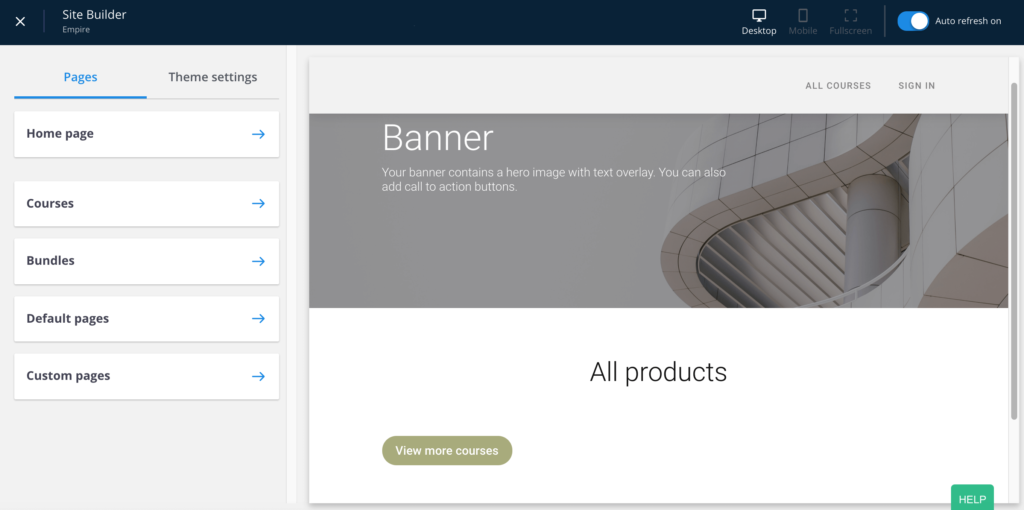 There's a lot to explore, so these settings may seem overwhelming at first. However, the clear checklists, progress bars, and video tutorials should keep you orientated as you explore Thinkific's packed course creation dashboard.
Ease of Use: MemberPress
After activating the MemberPress plugin and MemberPress courses add-on, you're ready to create your first course. In your WordPress dashboard, navigate to MemberPress > Add New > Add New.
This launches MemberPress' course editor, where you can craft your welcome page:
Next, select the Curriculum tab. There, you can define your course's structure using MemberPress' drag-and-drop curriculum builder. After adding sections, lessons, and quizzes (optionally), you can add content to your lessons.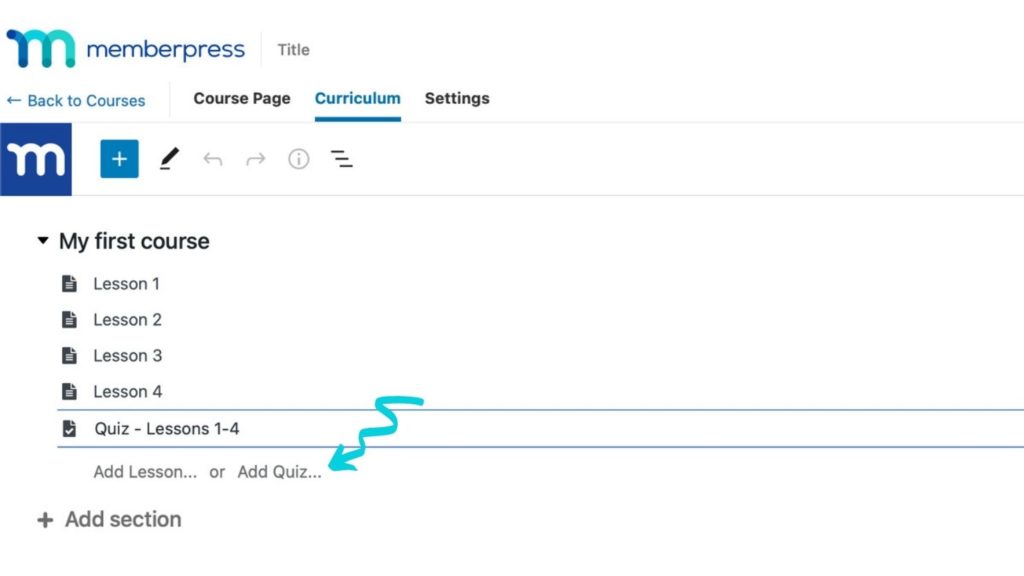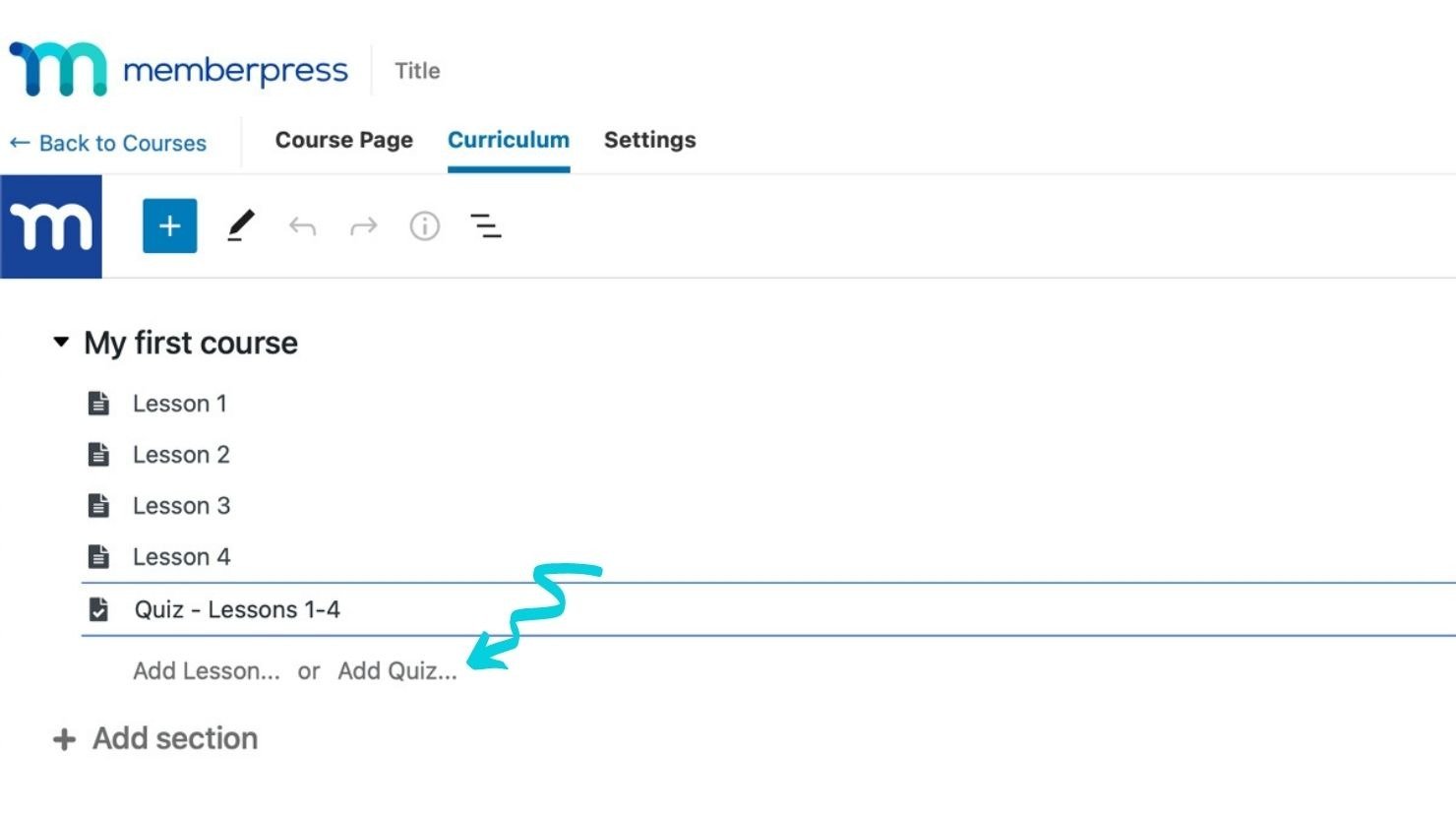 As a WordPress plugin, MemberPress integrates seamlessly with the familiar WordPress editor.
That means you can create rich, multimedia e-learning lessons using tools you're already familiar with: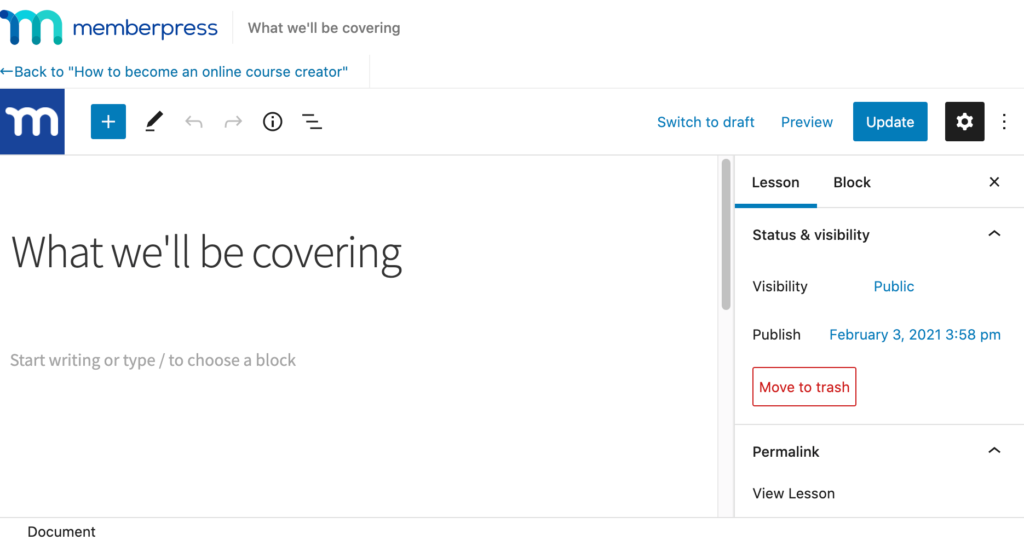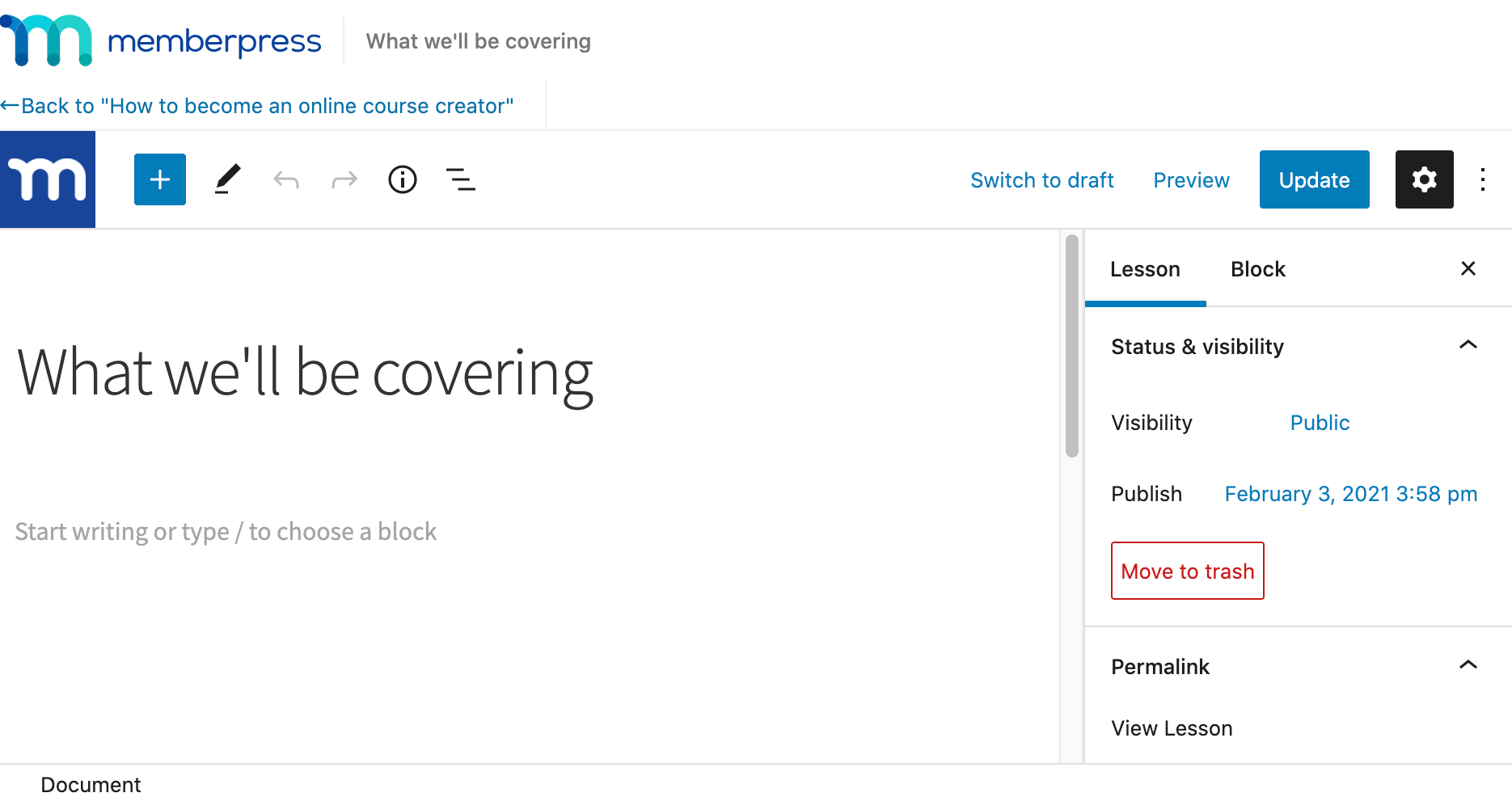 As an add-on component for the popular MemberPress plugin, it's easy to restrict access to all your e-learning content. This enables you to monetize your courses by linking them to paid membership levels: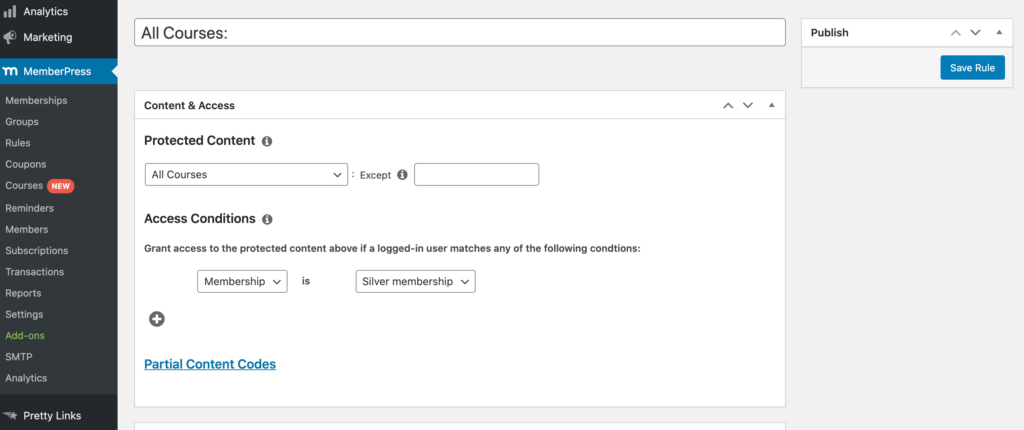 Watch our full MemberPress Course tutorial:
You can even use MemberPress' detailed content protection rules to control access to individual lessons within a particular course. This can help drive conversions by offering select e-learning content as a free trial.
This does require you to spend some time configuring the plugin's MemberPress > Rules settings. However, these features can prove invaluable for encouraging course sign-ups and paid conversions.
Learn more about MemberPress Rules:
Support for Thinkific vs Teachable vs MemberPress
Setting up an LMS can be complicated. Even with the right tools, you may run into a few problems or have questions you can't find the answers to. That's why it's crucial that your chosen solution has some support options you can rely on.
Support: Teachable
Teachable offers support to customers primarily via email. It does not offer phone support, but does provide a live chat option on higher-tier plans.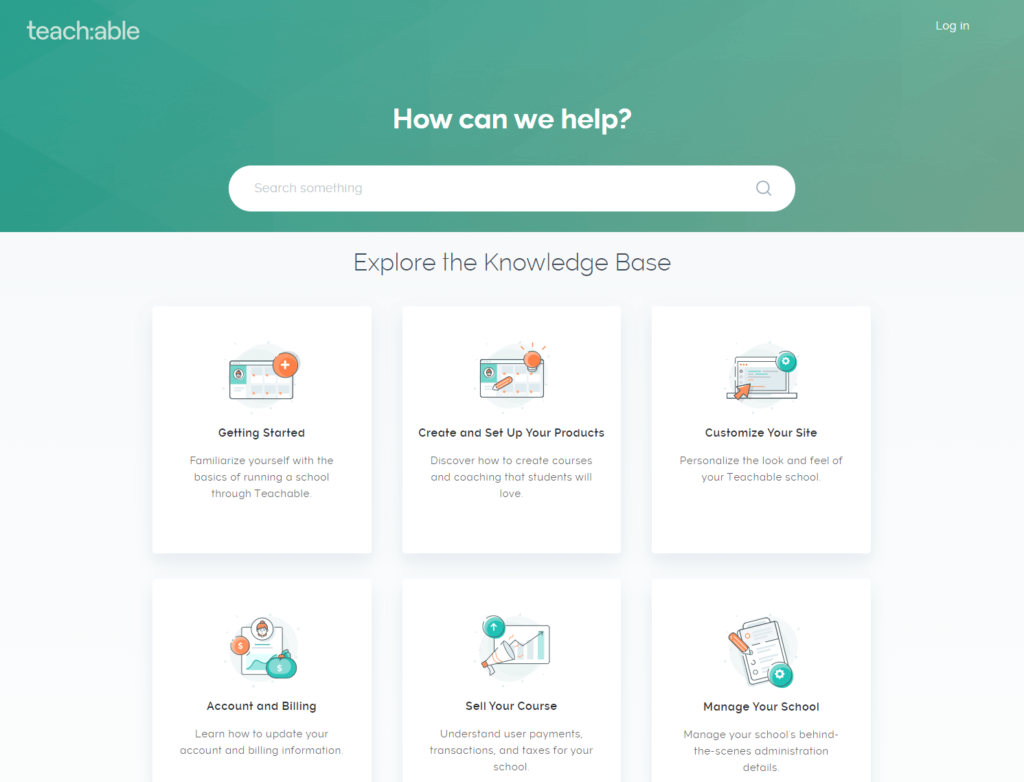 There's also a fairly comprehensive knowledge base where you can find a number of resources. This ranges from 'getting started' materials and how-tos to troubleshooting guides.
Support: Thinkific
With Thinkific, you get a variety of support options. You can reach out for help via email, phone, or support tickets.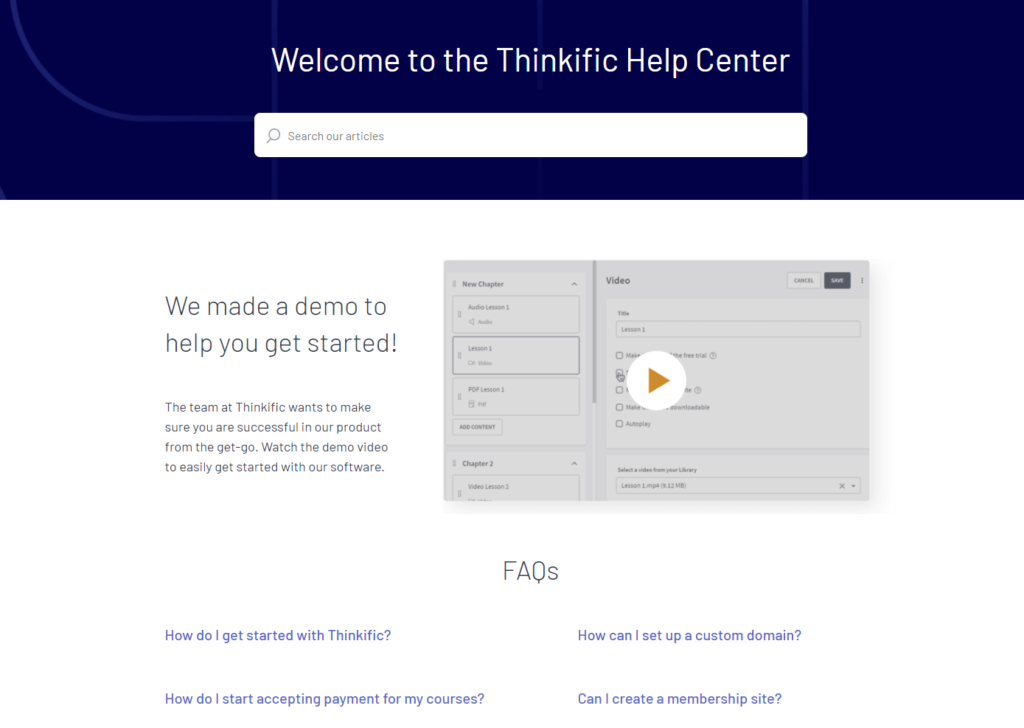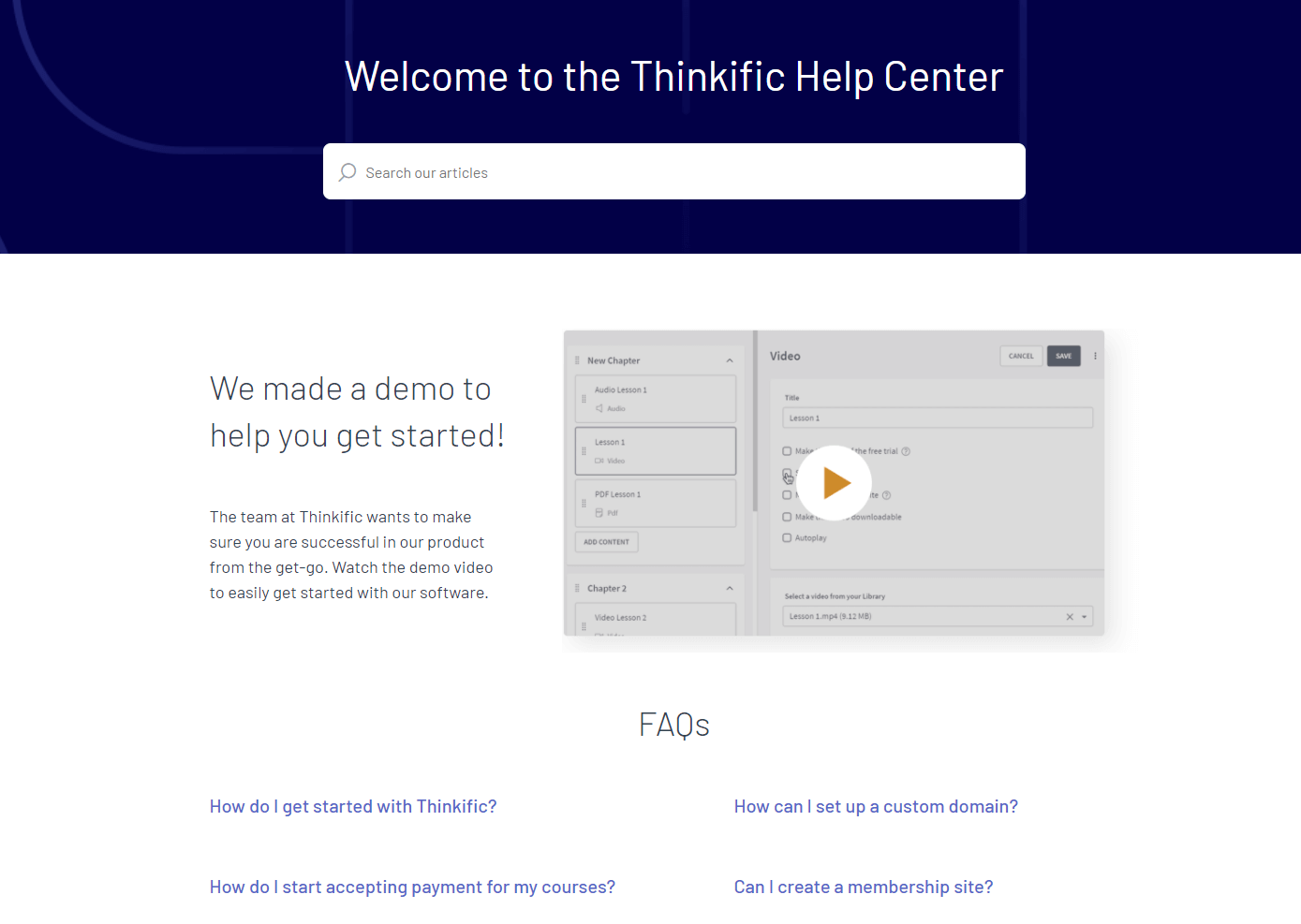 You'll also find a number of do-it-yourself support resources. That includes a help center, a blog, and even some training courses designed to help you set up an effective LMS.
Support: MemberPress
MemberPress is dedicated to providing top-quality support to all of our customers. You can reach us via email and support tickets, and even hire a MemberPress expert to help you out if you have more complex needs.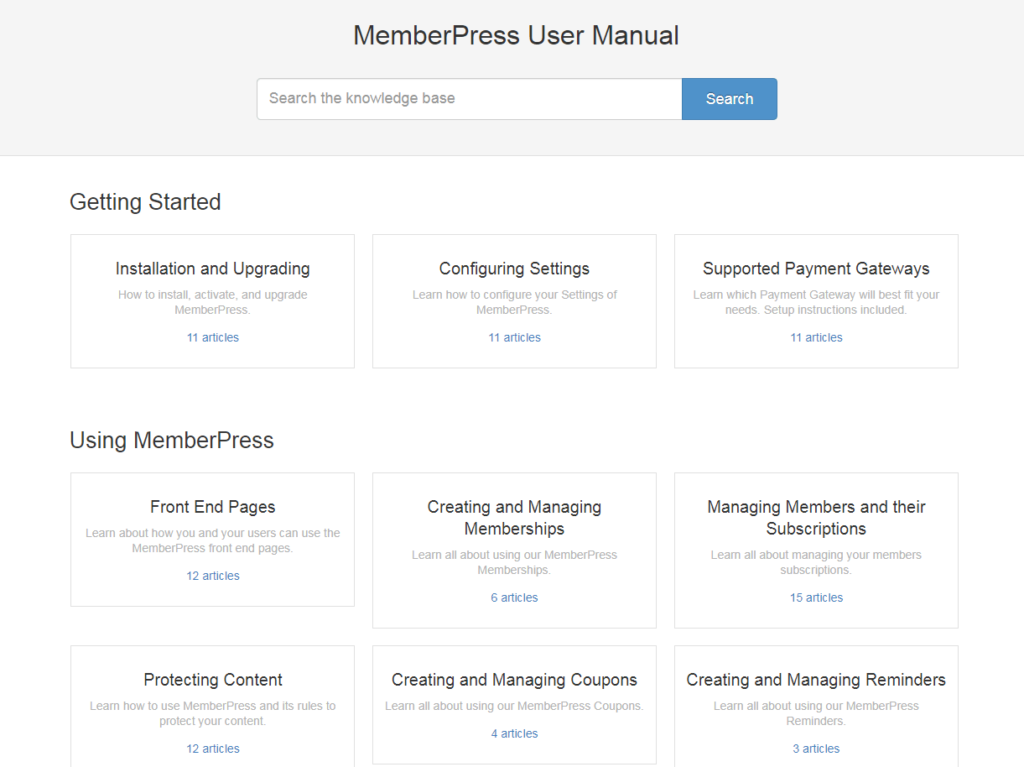 You'll also find many useful resources in our knowledge base, covering everything from getting started to advanced developer resources. Of course, there's also lots of useful advice and tutorials on our blog.
Pricing for Thinkific vs Teachable vs MemberPress
If an LMS has exactly the features you need, is easy to set up, and offers strong support, the only thing left to discuss is the cost! Here's what you can expect to pay for each of the solutions we've looked at.
The prices we quote assume that you're signing up for an annual plan. If you're unsure, all of these platforms also offer a free trial or money-back guarantee. For example, we offer a 14-day money-back guarantee for all MemberPress subscribers.
Pricing: Teachable
Teachable plans start at per month. The basic plan enables you to set up unlimited courses, and host as many students as you need.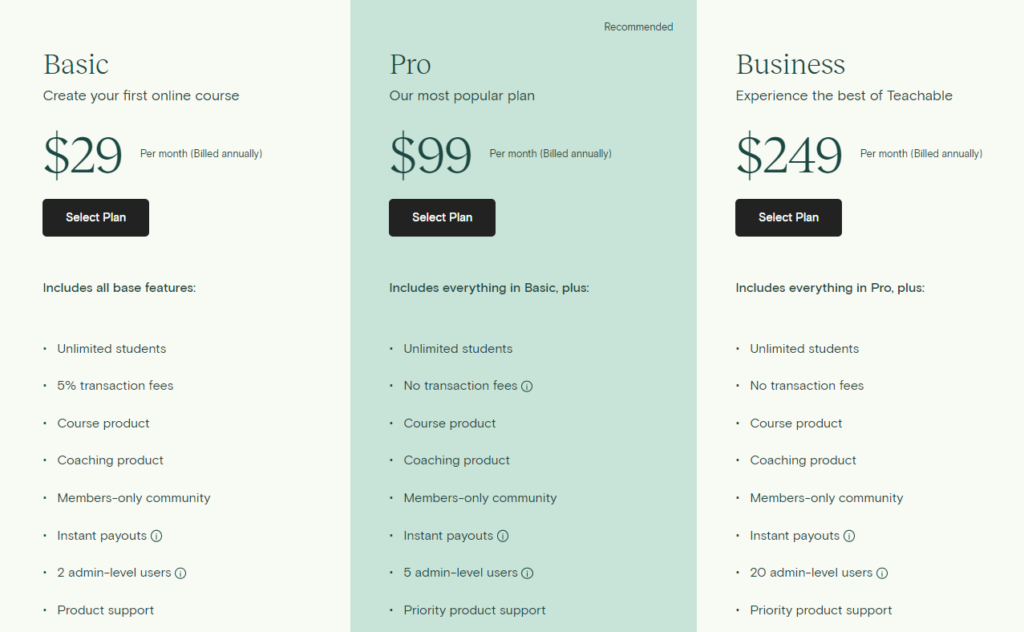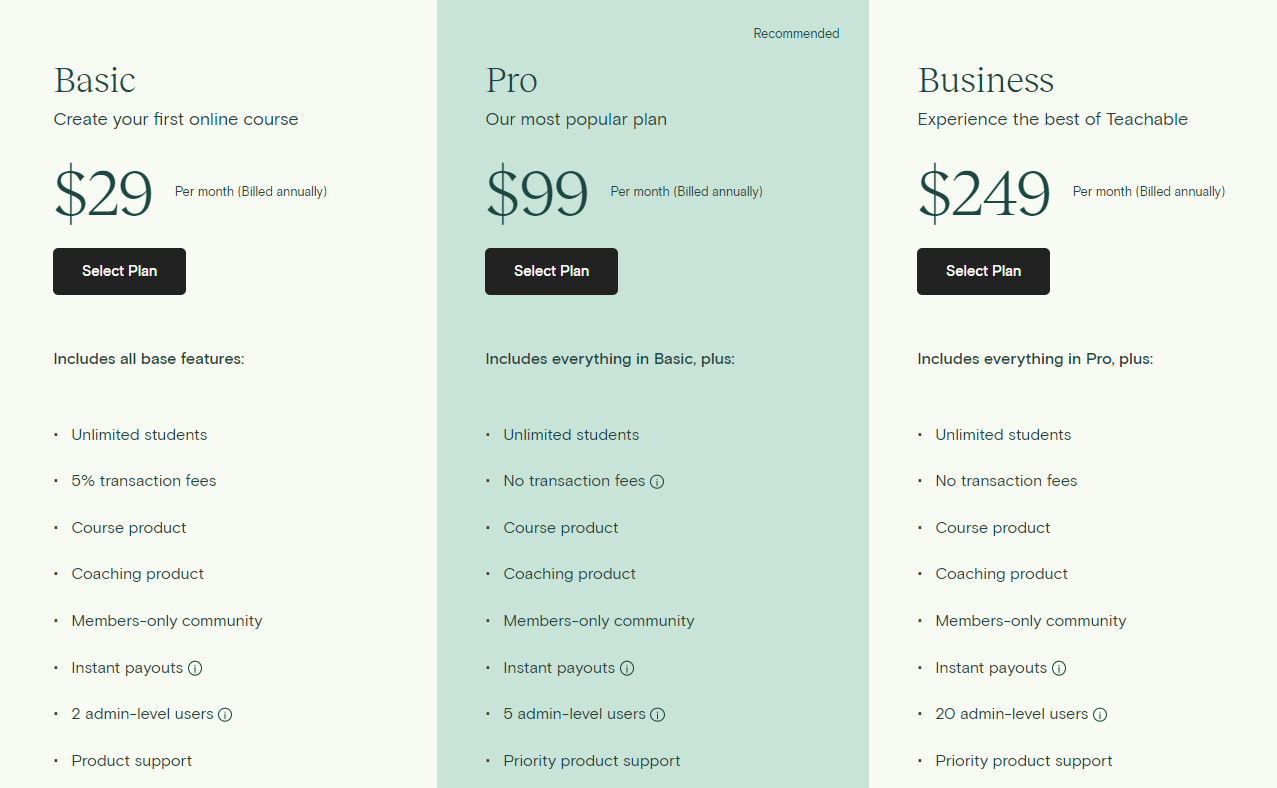 Higher-level plans remove the transaction fees, offer more admin users, and include a handful of extra features. The Pro plan will cost you $99 per month, and the top-tier Business plan is $249 per month.
Pricing: Thinkific
Thinkific offers a free plan that supports up to three courses with unlimited students. If you want access to the platform's full suite of features, the Basic plan costs per month.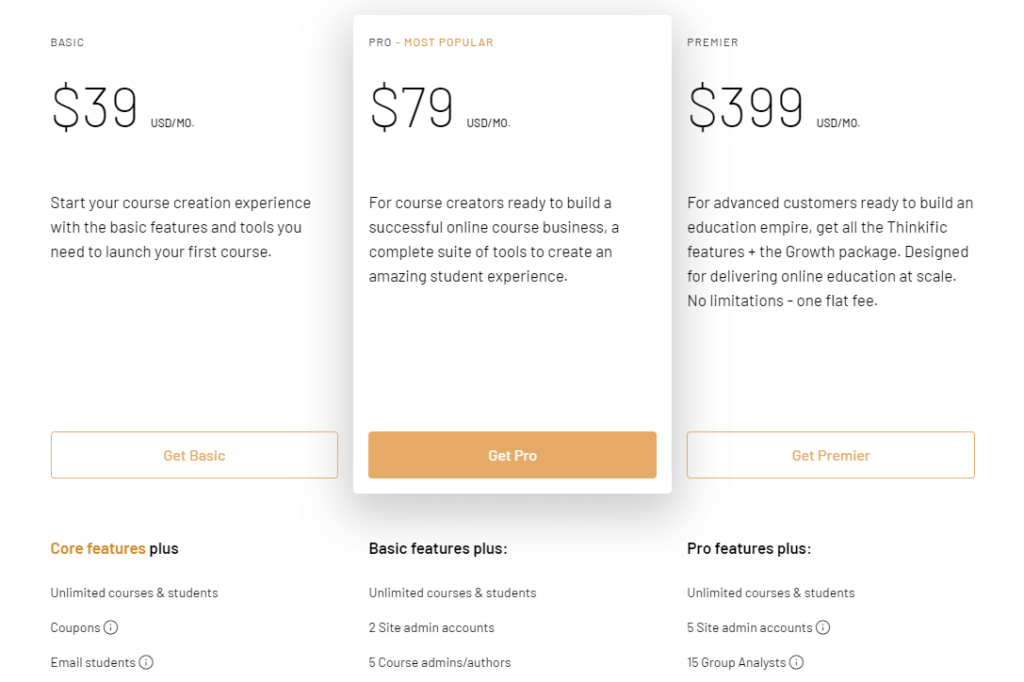 The next step up is the Pro plan, which costs $79 per month and offers extras like additional admin accounts, private and hidden courses, and membership features. Finally, the Premier plan is $399 per month and is designed for large-scale educational websites.
Pricing: MemberPress
MemberPress' Basic plan costs $179 per year. For this, you'll get the MemberPress plugin itself, as well as the Courses add-on, a selection of other add-ons and integrations, and a year of support and updates.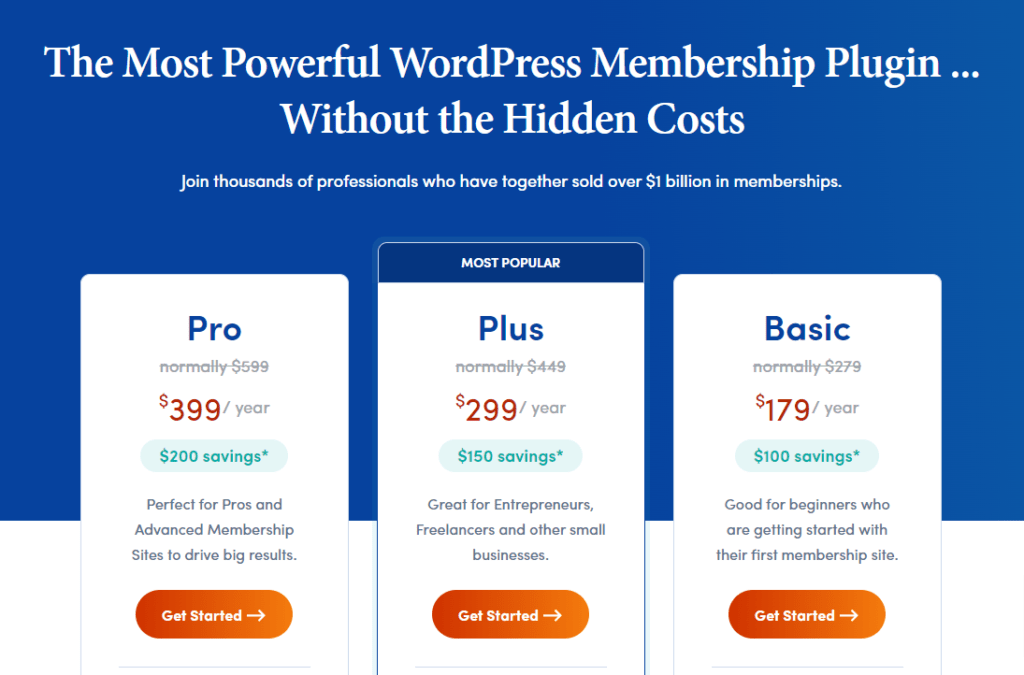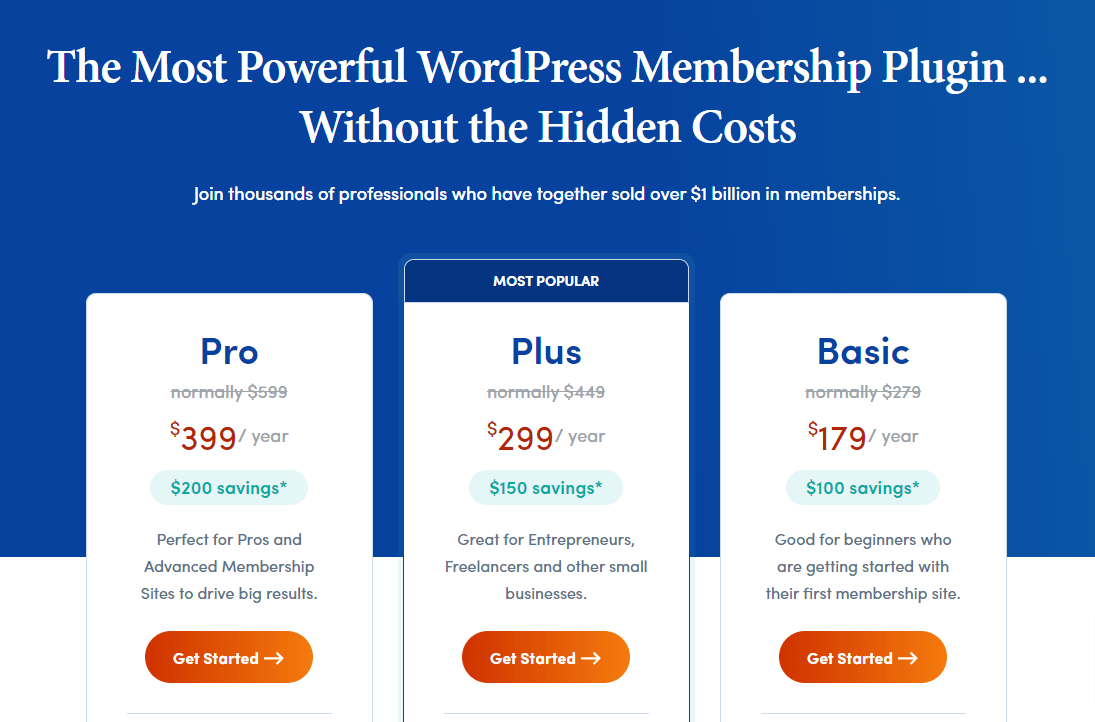 If you want to use the plugin on multiple LMS sites, you can pick up the Plus plan for $299 per year. The final option is the Pro plan, which lets you use MemberPress on up to five sites and even includes the Easy Affiliate plugin.
Conclusion
There are a lot of different approaches when it comes to creating and selling online courses. You can set up your own website, or use a platform that hosts and promotes your classes for you.
However, before you can focus on planning the perfect curriculum you need to consider which solution will fit your needs the best.
When it comes to Thinkific vs Teachable vs MemberPress, here are the key differences to keep in mind:
Teachable: Provides access to powerful marketing tools, and is useful for small businesses looking to boost their revenue.
Thinkific: Enables you to design highly-interactive courses and schedule them for release to students.
MemberPress: A highly-affordable and flexible alternative to a traditional LMS, which includes a visual curriculum builder with quizzes and multiple subscription options.
Do you have any other questions about how to choose the right LMS for your online classes? Let's talk about them in the comments section below.
If you liked this article, be sure to subscribe to the MemberPress blog!