Online coaching websites have become incredibly popular within the last few years. As more people turn to remote work and learning, this industry has become a fantastic way to earn additional income from home.
Moreover, offering online mentoring can help position you as an authority in your field.
If you want to offer online coaching, the best approach is usually to do so through your own coaching website. With MemberPress, you can…
Enable trainees to subscribe to your content
Create coursework for them
Meet one-on-one with them, and
Track their progress
All from one central, online location.
In this article, we'll talk about the difference between online coaching and courses. Then we'll show you how to build a successful online coaching business using MemberPress in just 3 steps. Let's get started!
The Difference Between Online Courses and Coaching
First off, it's important to understand the difference between selling online courses and coaching.
With virtual classes, there's often little to no direct interaction with your students. You create the lessons, upload digital materials, and students go through them at their leisure.

In some cases, instructors may grade assignments or hold sessions over video chat, but these are by no means requirements for a successful online course.
Although that approach works for some people, others prefer a more personal touch. When it comes to coaching, students usually expect access to digital materials and resources, but they also expect to receive personalized direction and feedback from you.
There are a lot of ways you can connect with students online. You can schedule one-on-one calls, ask students to join private chats using platforms such as Slack or Telegram, and more.
In a nutshell, online coaching often requires a more significant time commitment on your end. The upside is that since you're selling a more personalized, premium service, you can charge more than you would for self-guided courses.
The promise of coaching is that students will have access to you if they have any questions and that you'll be available to them as a mentor. Using MemberPress, you can create a WordPress website that enables you to offer such services.
Example MemberPress Coaching Site: MBSC Nutrition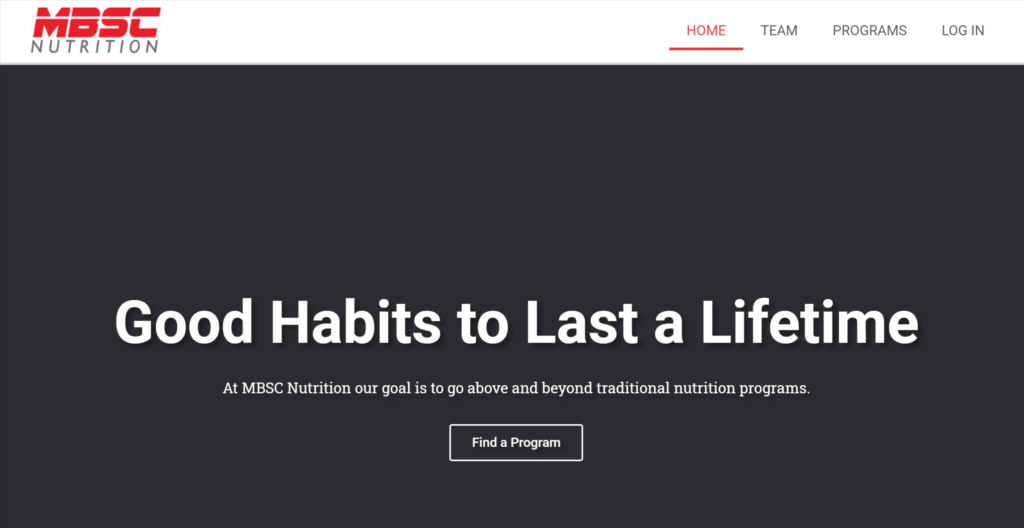 Mike Boyle Strength and Conditioning (MBSC) is a nationally recognized brick and mortar gym serving elite and professional athletes, as well as the general population. Men's Health Magazine has voted it #1 Gym in America, and Women's Health Magazine has called it one of the best gyms in the country.
MBSC Nutrition is MBSC's online nutrition coaching program that falls under three banners: Lifestyle, Sports, and Personal Coaching.
The company uses MemberPress to operate this online coaching program, which includes premium access to webinars, coaching sessions, and a VIP community among other benefits.
How to Build a Successful Online Coaching Business with MemberPress (In 3 Steps)
Before you get started, you'll need a live WordPress site. If you don't already have one, don't fret! WordPress is super easy to work with. Check out this article on how to get started with WordPress for helpful guidance.
You'll also want to choose a theme for your online coaching website. One of the greatest things about WordPress is that there are thousands of great themes for virtually every kind of business in existence.
For this tutorial, we'll be using MemberPress and our Courses add-on. These tools enable you to create and publish full-blown classes as well as one-on-one sessions your students can take part in.
However, since we're talking about providing coaching services, let's start by discussing subscriptions. If you want to follow along with the tutorial, go ahead and install and activate MemberPress before proceeding to the steps below.
Step 1: Create Coaching Packages Using MemberPress
MemberPress enables you to design membership subscriptions that provide users with access to protected content in a range of packages. When you combine that with the Courses add-on, you get a fully functioning learning management system (LMS) built on top of WordPress.
Before you get to work, you'll want to think about how to price your coaching packages. This will depend on how many sessions you want to offer to students and any additional courses or materials they'll have access to.
For example, you might want to offer subscriptions that provide students with access to your courses and a specific number of one-on-one coaching sessions per month:
If you're not interested in a subscription model, you can offer individual coaching sessions for one-time payments instead: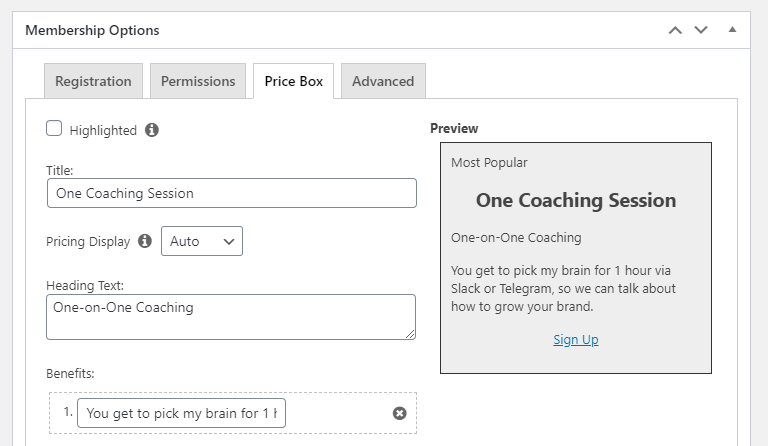 MemberPress enables you to design any type of membership plan and process user payments. To create a membership plan, go to MemberPress > Memberships > Add New in your WordPress dashboard.
Then, scroll down to the Membership Options section. Here, you can create and customize the registration form for the membership you want to offer: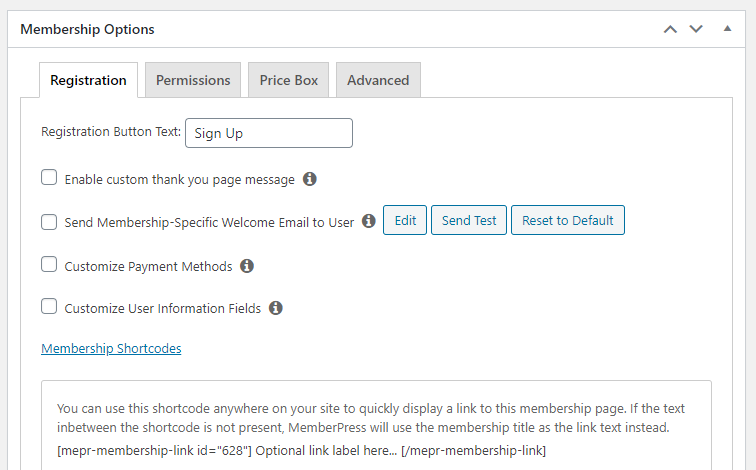 Then, go through the rest of the membership options tabs and customize the required settings accordingly:
Permissions: Define who can access your coaching services.
Price Box: Design pricing displays like those shown in the examples above.
Advanced: Create a custom access URL, set membership pricing terms, and more.
How many plans or packages you offer is up to you. You'll need to create separate memberships for each one.
Step 2: Coordinate Coaching Sessions with Students
Since coaching comes in many forms, you have the freedom to decide how you want to offer mentorship sessions to your students. MemberPress functions as an umbrella/paywall over all of these functions, monitoring access based on membership-based rules.
To put it another way, MemberPress enables you to "gate", or protect, your content from non-paying visitors. So, you can place access to your chosen communication solution within a protected page only available to subscribers and members.
Following are some of the most popular options for online coaches.
Online chatrooms
Using platforms such as Slack, you can set up private groups for clients and talk to students one-on-one to answer their questions.
Member-only forums
Forums are a solid alternative to chat if you want to provide asynchronous coaching sessions. Plus, in a forum, you can have multiple coaches answering questions and moderating discussions.
Video calls and consultations
Video or voice calls are perhaps the most engaging channels for online coaching sessions. The downside to either approach is that you'll have to carve out enough time for one-on-one calls. But, again, you can safely charge a premium for services at this level.
As your number of students grows, coordinating coaching sessions will start to take up a lot of your time, so maximizing efficiency is key. Simply Schedule Appointments together with its Zoom integration is an excellent time-saving solution.
Jitsi Meet and GoToMeeting are also both great video consultation platforms you might want to look into.
Step 3: Provide Complementary Coaching Materials on Your Website
The sky's the limit when it comes to complementary online coaching materials. Plus, adding a variety of materials can help differentiate your various membership levels, adding extra value to your more expensive plans.
Consider things like…
A Note on Courses
When you use MemberPress on our Basic, Plus, or Pro plan, you get automatic access to our LMS add-on, MemberPress Courses. That means you can publish comprehensive courses to complement your coaching services.
These courses can include multiple lessons, quizzes, and any materials you want to share:
Whether you want to offer coaching as an add-on to standard online classes or make it the focus of your membership plans is up to you. In any case, the Courses add-on gives you full flexibility to create lessons and restrict them to paid members only.
Its drag-and-drop visual builder also makes it incredibly easy for anyone (non-techies included) to create a course.
To use the Courses add-on, you'll need to activate it separately. In your WordPress dashboard, navigate to MemberPress > Courses and click on the Install & Activate MemberPress Courses Add-on button: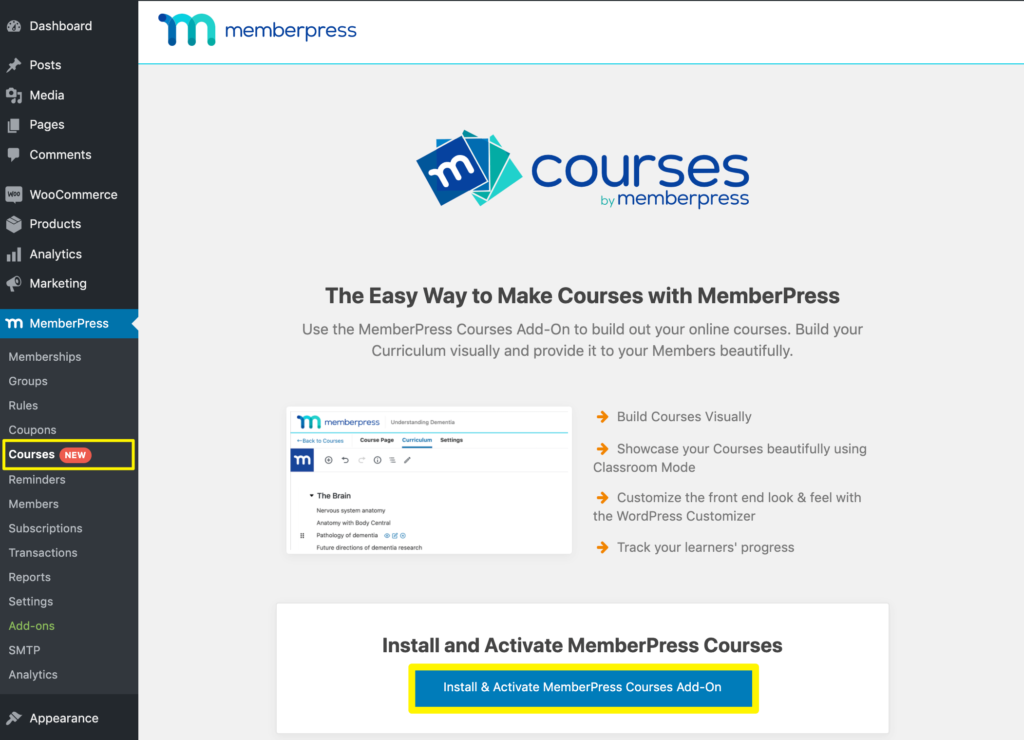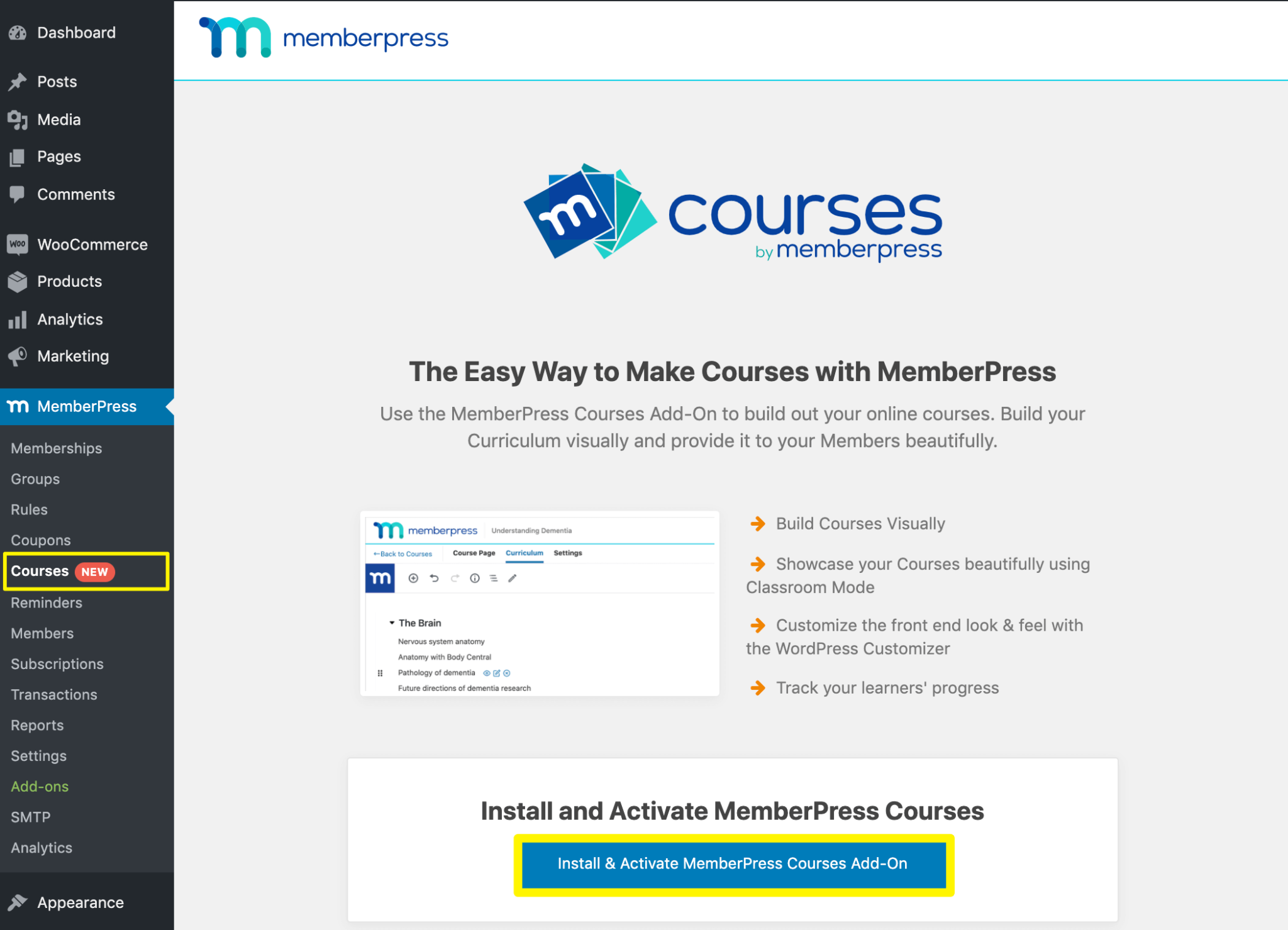 If you're serious about adding online courses to the mix, you ought to check out our full video tutorial on MemberPress Courses (below).
Conclusion
If you're an expert in your field, online coaching can be a fantastic source of revenue. Creating a membership site makes it easy to sign mentees up for sessions, process payments, and share key materials with students.
Using MemberPress and its Courses add-on, you can offer online coaching via your own website in three steps:
Create coaching packages using MemberPress.
Coordinate coaching sessions with students.
Publish complimentary coaching materials on your website.
Do you have any questions about how to build a successful online coaching business using MemberPress? Let's go over them in the comments section below!
If you liked this article, be sure to subscribe to the MemberPress blog!