How to Monetize Your Blog by Offering Online Courses (In 3 Steps)
There are a lot of ways to monetize a blog. However, few of them can be as lucrative as offering online courses. If you have the expertise to break down a topic people care about, the sky's the limit. All you have to do is figure out how to use your blog to sell those courses.
If you're using a WordPress membership site, there are plenty of easy solutions. With the right plugin, you can enable users to enroll for classes, process payments, and get your online academy off to a great start. If your courses are a hit, they may even bring in income passively.
In this article, we're going to talk about why online courses can be a better option than other monetization methods for your blog. Then we'll teach you how to offer those courses using WordPress. Class is in session!
Why It's Smart to Monetize Your Blog Using Online Courses
There are plenty of ways you can monetize a blog. However, online courses are one of your best options for several reasons, such as:
There's no limit to how many students you can have.
You can set up different membership levels for your courses.
It can earn you a semi-passive income.
The profit margins are significant.
With an online course, you also don't need to pay for shipping, procure products, or perform any of the tasks involved with running an online store.
Of course, creating an online course that people want to pay for isn't as easy as it sounds. There's a lot of free content available online, so in order to attract students, yours needs to be better. Moreover, you'll need a website that looks professional to reel in new students.
How to Monetize Your Blog by Offering Online Courses (In 3 Steps)
For this tutorial, we're going to break down the process of offering online courses into two parts and three steps. First, you'll need to tackle the planning and course preparation stage. Then it will be time to get your courses online. Let's walk through how this all works!
Step 1: Develop Your First Lesson
This step is highly personal. What your first course is about will depend primarily on two things:
What subjects you're passionate about
What subjects you know inside and out (enough to teach other people about them)
Ideally, you'll also want to focus your course on a subject for which there is demand, and that you can teach comfortably about.
Once you have a general subject in mind, it's time to outline the contents of your course. The best online courses usually offer a mix of video and written materials. At this stage, we recommend that you check out platforms such as Coursera or Lynda, and look for courses that cover similar topics: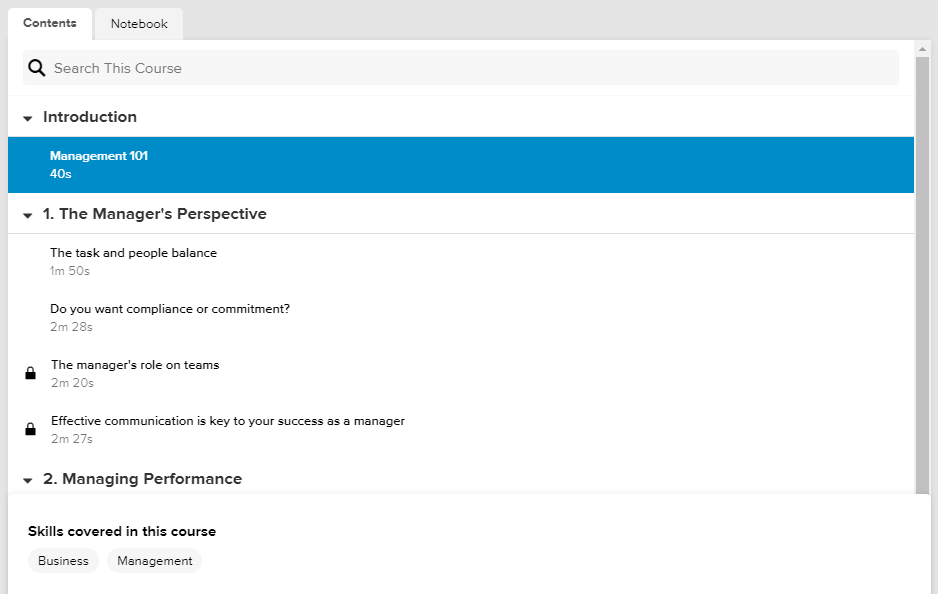 Knowing how others approach their courses will give you an idea for what content to include and in what order. You can also use this research to consider how your course will stand out from other options, such as by covering aspects that are often overlooked.
Since you'll be offering your course directly through a membership website, you have a unique advantage. You can provide highly-personalized support to your members, and develop any kind of lesson plan you want. Online courses on platforms such as Lynda tend to be very rigid, but with your own website you'll have full creative control.
Step 2: Enable Student Enrollment and Set Up Subscription Plans
Once your course materials are ready, you'll want to enable student enrollment on your website. To do that, you can use our own MemberPress plugin, which enables you to create multiple subscription plans, process payments, and choose which content you want to be private.
First install the plugin, and then move to the MemberPress > Memberships > Add New section. There you can create a new user group called Students and set a description for it:
To the right, you'll notice options to configure payments for enrollment. What price you set is up to you, but you'll want to set the Billing Type to recurring unless you plan to make your course available for a one-time fee: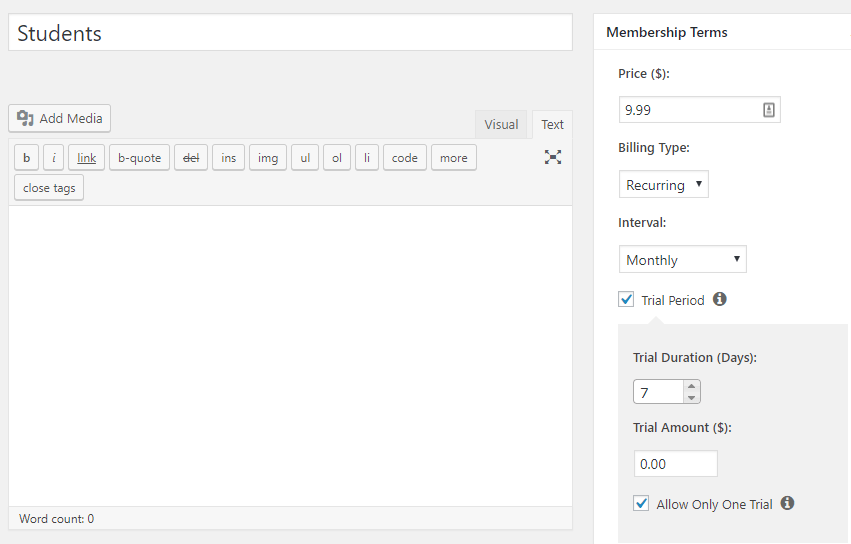 In our example, we also went ahead and set the payment interval to Monthly and enabled a week-long trial period. A trial can be a great way to onboard students who may be hesitant, so we recommend doing the same.
When you're ready, save the changes to your user group and MemberPress will generate a new sign-up page for it. You can access that page from a dedicated URL that will appear underneath the Memberships tab.
Before moving on, keep in mind that you can configure what payment gateways and sign-up fields your enrollment page includes from MemberPress > Options. For now, though, let's focus on adding the last key functionality your online course website needs.
Step 3: Set Up Private Content for Your Students
Now that you have a dedicated user group for students, you'll want to configure your website so that only they can access courses. You can do that with MemberPress by setting up 'rules'.
Go to the MemberPress > Rules page, and click on Add New. On the next page, you can create a rule that hides all content in a specific category from anyone else except your student group. Here's what that will look like:
Keep in mind that there are a lot more conditions and options you can use to protect your content as well:
Using the category setting is the simplest option, however. That way, you can publish your course content as either pages or posts, set a unique category that encompasses all of the relevant content, and you're good to go.
By default, users who don't meet the criteria to access that content will see a login page instead. Go ahead and save your new rule, and then you're ready to go and find your first paying students!
Conclusion
Offering online courses takes a lot of work. You have to plan out lessons, create class materials, develop high-quality assets for your students, and more. Fortunately, if you're using WordPress, the technical side of offering online courses is a lot simpler.
With MemberPress, you can transform your blog into an online classroom in just three steps:
Develop your first lesson.
Enable student enrollment and set up subscription plans.
Set up private content for your students.
Do you have any questions about how to offer online courses through your blog? Let's go over them in the comments section below!