Many online businesses are now expanding their brands through podcasting. And although it may take a bit of footwork, you can easily get up and running with your own podcasts in no time!
But, in order to get started on the right foot, you need to have a few tools for success in your arsenal.
In this post, we'll share with you seven of the best WordPress plugins you can use to get your podcasts up and running before you know it. Let's get started!
Create an online business you can be proud of with MemberPress!
1. PowerPress by Blubrry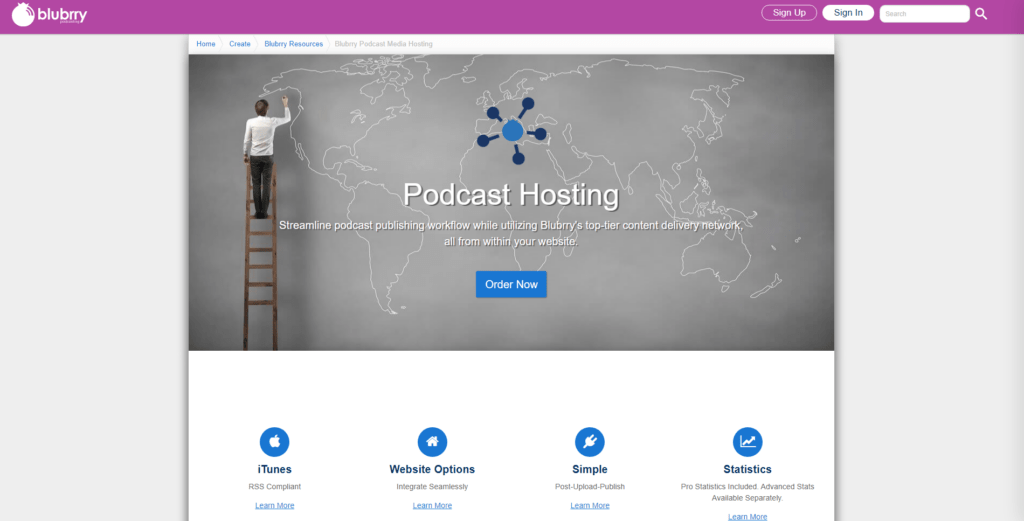 One of the best-known WordPress podcast plugins is PowerPress by Blubrry. This tool has everything you need to create the podcast you've always wanted quickly and without any fuss.
Using PowerPress, you can submit your podcast to different platforms such as Apple, Stitcher, and more. This plugin also features SEO tools to help improve the discovery of your podcasts on these directories. Additionally, if you opt-in for Bluburry Podcast Hosting, you can submit your podcast to Spotify.
PowerPress also offers multi-podcast support, meaning it gives you the ability to create more than one podcast. Plus you can create subscribe pages for your podcasts by using shortcode and an integrated HTML5 media player for YouTube, which allows you to embed your video podcasts on your WordPress website easily.
This plugin even has multi-language support.
PowerPress is a free plugin and doesn't have to be used with Bluburry hosting if you currently have a podcast host elsewhere. However, if you choose to host your podcast with Blubrry, hosting plans start at $12 per month.
2. Libsyn Publisher Hub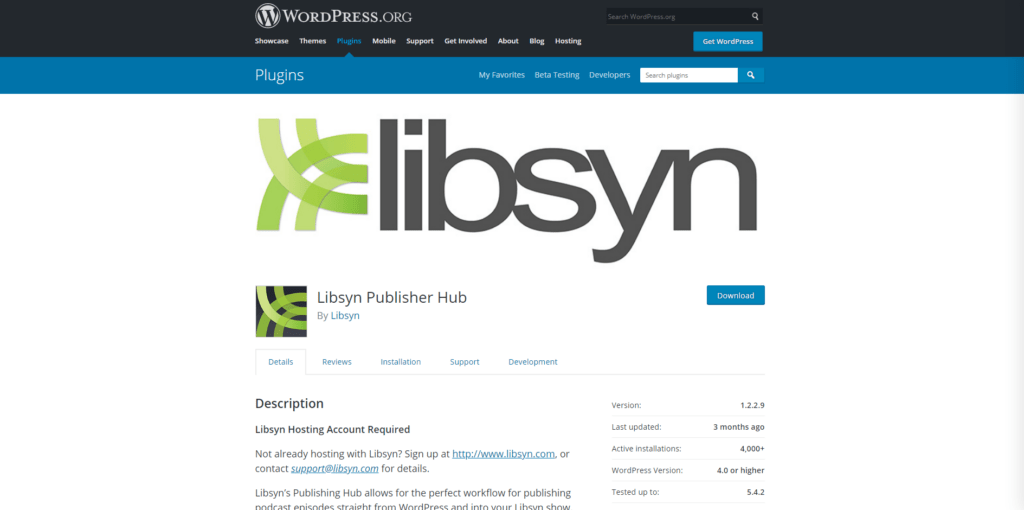 If you're using Libsyn as your podcast hosting platform, you'll be happy to know that they also have a WordPress plugin!
With this plugin, you can create podcast drafts and episodes, schedule posts, and connect your audience on all of your favorite podcast platforms, all right from your WordPress dashboard.
It might seem like all this functionality comes at a cost to your WordPress host, but all of your media files remain hosted on Libsyn. That means your hosting server isn't bothered whatsoever. Libsyn can also host and distribute your videos, text posts, audio files, and PDFs without affecting your hosting server.
Libsyn Publisher Hub includes monetization options, such as opt-in advertising and premium content subscriptions, as well as detailed statistics so you can closely monitor how your podcast presence is growing.
3. Seriously Simple Podcasting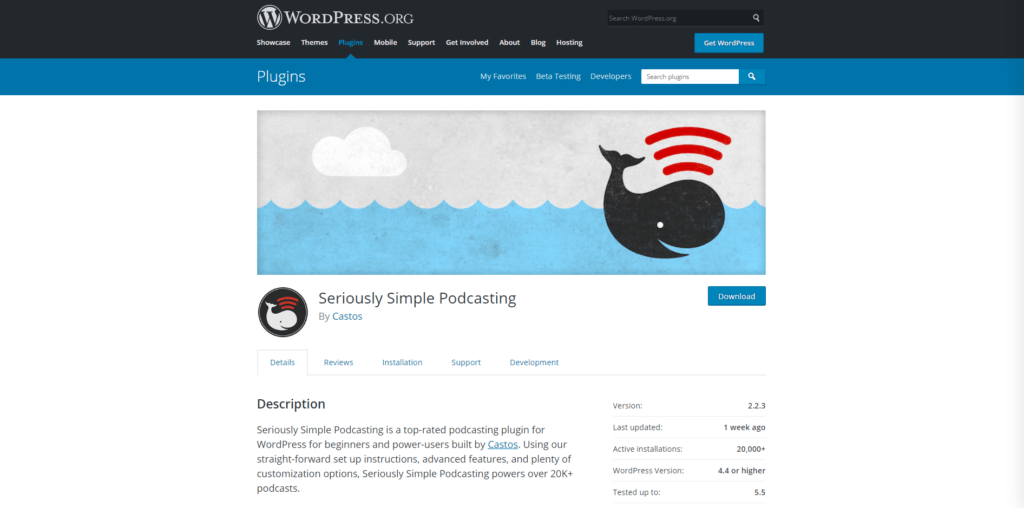 This WordPress plugin is one that definitely lives up to its name. With Seriously Simple Podcasting, you can get your podcast up and ready to go in a flash.
It allows you to run and manage multiple podcasts on one website, each having its own RSS feed. This plugin also allows podcasts in both video and audio form. You can easily share your podcast episodes in multiple formats, then share the podcasts anywhere on your site using a shortcode or widget.
If you'd like to monitor your listener stats, all you have to do is download the plugin's free stats add-on to get started.
Seriously Simple Podcasting is totally free and is operated by Castos, though you aren't required to host with them. However, if you'd like to host with Castos, plans start at $190 per year.
4. Fusebox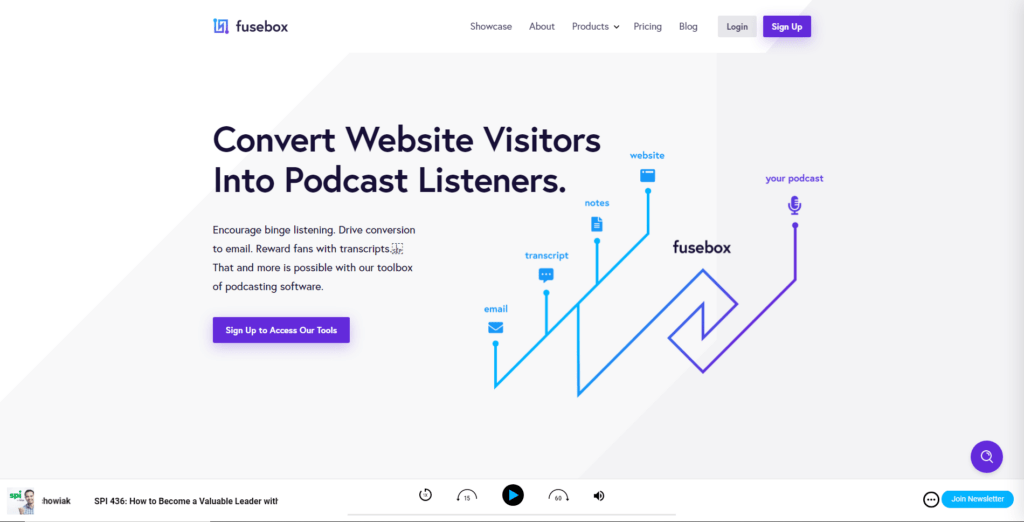 Fusebox is another WordPress plugin tool that, like Seriously Simple Podcasting, is easy to use yet comes packed with features.
One of the best of these features is Fusebox's sticky player, which lets your website visitors see your latest podcast episode right on the page.
The Fusebox interface is fully customizable with a web player that allows you to download, subscribe, and share episodes. You can also collect email addresses using this tool.
Ready to start with Fusebox? Pricing starts at $8 per month if you opt-in for the annual plan.
5. Podlove Podcast Publisher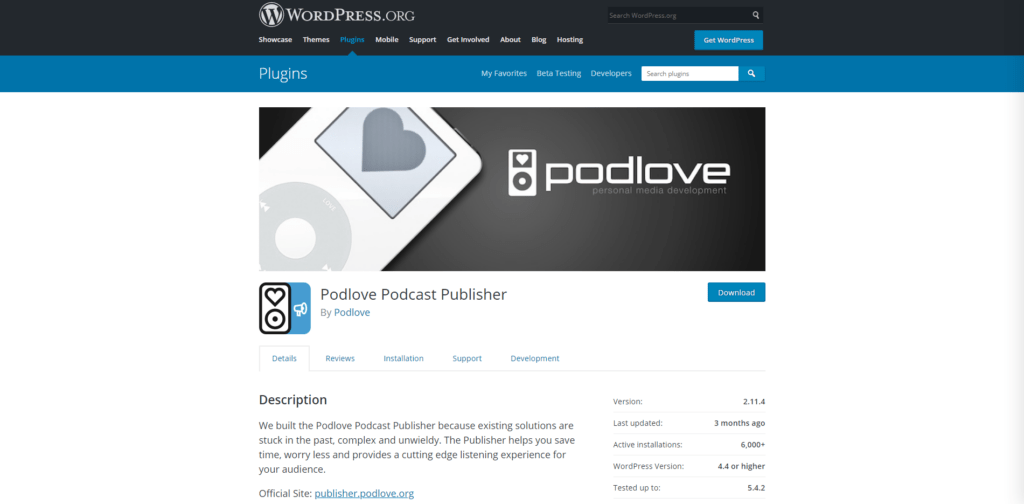 Podlove Podcast Publisher is another easy and effective podcast WordPress plugin. It supports both audio and video podcasts and features an HTML5 player you can use to share your episodes.
One cool thing about this plugin is that it allows you to add chapter information to episodes, meaning you can link directly to any part of a podcast on your site with playback.
When it comes to analytics, this plugin is great. It provides information such as how many people listened to one episode and how many used the web player instead of downloading, as well as which podcasting clients are popular with your audience. You can also use Podlove Podcast Publisher's custom templating feature to build podcast pages.
This plugin doesn't include hosting, but it's 100% free!
6. As Heard On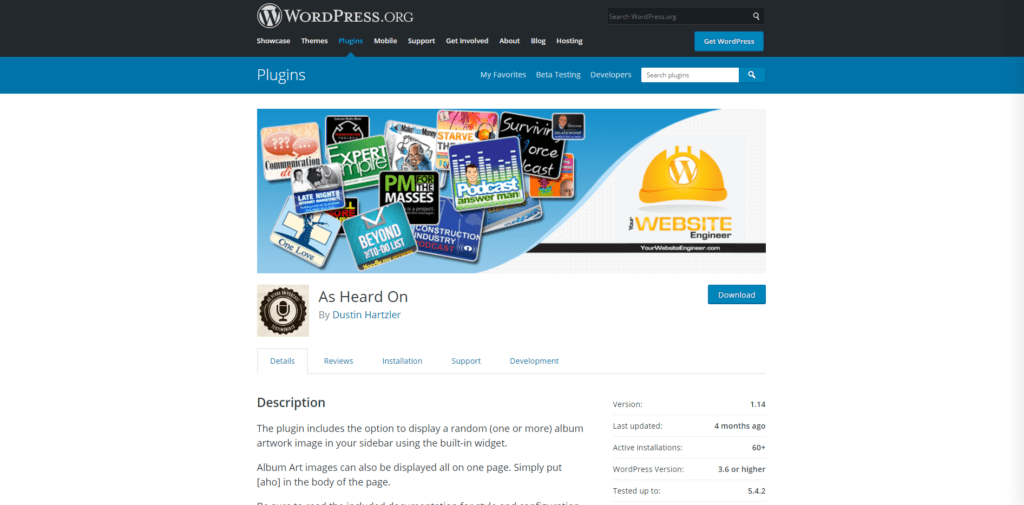 Let's say you don't necessarily have a podcast, or you do have one but you've also been featured on a number of other podcasts. As Heard On is a WordPress podcast plugin that allows you to take outside podcast episodes in which you've been featured and publish them on your website for your audience to see.
Not only is publishing podcasts you've been featured in a great way to publicize the episodes, it also helps other podcasters get additional exposure, and it could even make more people want to invite you to participate in their podcasts.
To add outside podcasts to your website, all you have to do is add the album art for the podcast you want to show, then upload the podcast. You can also add the podcast's name, hostname, episode link, and more.
Once you've added this information, you can display the media any way you'd like — in your sidebar, in your blog posts, or on any page of your website you choose.
This plugin is also totally free and available in the WordPress plugin directory.
7. BuzzSprout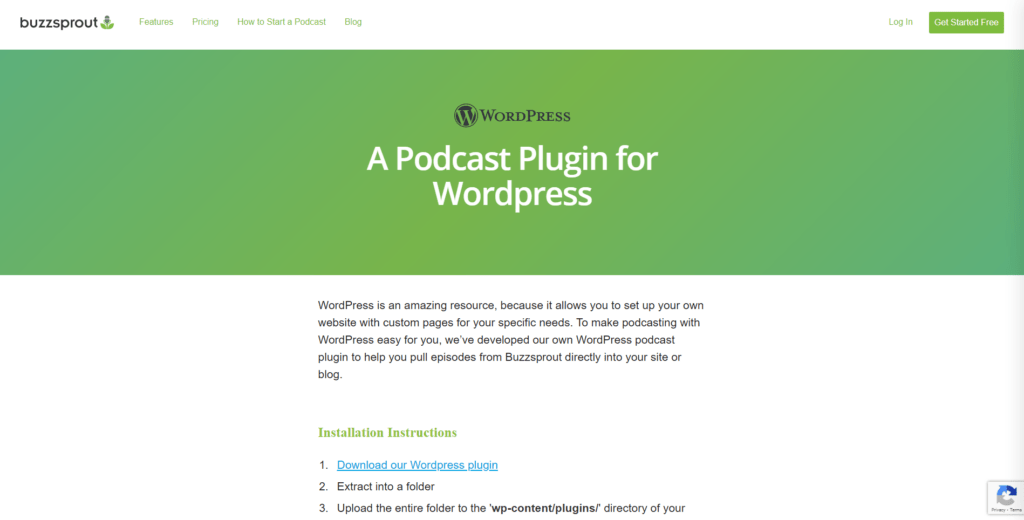 Buzzsprout is probably one of the most popular podcast hosts on the internet. But did you know they also have a WordPress plugin?
If you already host your podcast with Buzzsprout, all you have to do is download and install the plugin, then share your podcast URLs, and the system will automatically load your episodes for you. From there, you can embed your episodes anywhere you'd like on your website.
Buzzsprout also has plenty of bells and whistles when it comes to features, including detailed podcast analytics, automatic optimization, and the ability to list your podcast on all of the major directories, like iHeartRadio, Spotify, and Apple Podcasts.
The Buzzsprout WordPress plugin is free, however, you do need to have a hosting plan with the company to use it. Buzzsprout offers a free plan that allows two upload hours each month. Paid Buzzsprout plans start at $12/month.
Start your own online business today! Try Memberpress!
In Conclusion
Starting a podcast for your online business is a huge step toward bolstering your brand and increasing engagement with your customers. If you use one of the WordPress podcast plugins above, you should be able to easily and quickly start taking advantage of this great way to build your online presence in no time flat.
Which podcast plugin do you use? Let us know in the comments! Also, be sure to read our posts about how you can create a successful podcast and a few podcasts that every business owner should check out.
If you liked this article, be sure to follow us on Facebook, Twitter, Instagram, and LinkedIn! And don't forget to subscribe in the box below.