Video can be a core component of a successful MemberPress site. It's a medium you should definitely consider using if you aren't already.
Adding video content to your membership site or online course has a ton of benefits. For starters, adding video can…
Increase the perceived value of your course

, product, or service

Make it easier for visitors to process your content
On the other hand, video production can be a lot of work, which makes it very valuable content. For example:
You've got to make sure you have the right equipment.

You need to write scripts and get comfortable in front of or behind the camera.

You have to make sure your videos are optimized (if videos make too great a demand on your members' internet connections or max out your web hosting allowance, you've got problems).
Because they're worth so much time and effort, you've got to make sure your videos are protected from unauthorized viewing.
In this article we'll address that point by looking at the types of video security you might need. We'll also list a few platforms you can use to protect your video content in WordPress (YouTube and otherwise).
Choosing the Best Video Security Solution for Your Membership Website
Basing your business on a solid combination, like WordPress and MemberPress, is your first line of defense when it comes to protecting every kind of content.
However, when it comes to multimedia like video and audio, things get a bit trickier. When you consider that your video content is often one of your most valuable assets, the concerns around protecting it are understandable.
Membership Video Content Security Concerns
First let's go over the two most common concerns membership website owners have when it comes to protecting their multimedia content:
Video Downloading
Video Hotlinking
Downloading
Once a video is downloaded from your membership website, it's accessible long after a member cancels or requests a refund. In two worst-case scenarios, your video could…
Get posted on download websites and become widely available for free.

Get repurposed as part of someone else's content and sold as their own work.
Hotlinking
Hotlinking is when someone links to your video from outside your site. Not only can it devalue your membership site, hotlinking can also cause your bandwidth usage and hosting costs to increase.
In some cases, your video content might be shared innocently enough, perhaps through a hotlink in an email. But if it goes viral, it could crash your website due to excessive bandwidth usage.
If you weren't worried about adding video content to your membership website before, you probably are now!
But don't worry! There are some solid security measures you can take to help protect the video content on your membership website or online course.
How to Choose a Video Protection Solution
Considering the security concerns above, there are three important features you should look for when choosing a solution to protect your site's video content:
Password protection

Domain-level security

Link sharing protection
If you're using MemberPress, you don't have to worry about password protection on your site. However, additional protection can come in handy when sharing your videos outside your protected area.
In this case, domain-level security can be very useful. That's because it ensures your videos are displayed only on a website hosted on a specific domain. This prevents your videos from being inserted anywhere else on the internet.
Link sharing protection is also important, as it can prevent your video's URL or location from being shared outside your membership area.
Now that you know what features to look for, here are some great solutions to check out.
Vimeo Plus & Pro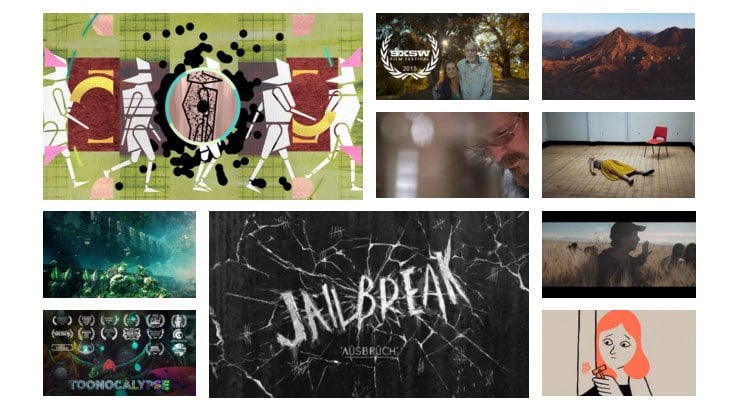 Vimeo Plus and Pro are easy, effective options for securing your videos. First, the interface for uploading and managing videos is very user-friendly. Second, the platform's options include some super robust security measures.
With Vimeo Plus and Pro you can protect your videos with the help of:
Password protection

Domain-level privacy

Private link sharing

Private, unlisted review pages (Pro only)
The Pro version also allows you to monetize your videos by selling or renting them out.
The Plus package is available for $59.95 per year, while the more densely featured Pro plan costs $199 annually. A risk-free 30-day trial is available for both options.
The best thing? If you're running a MemberPress site, you can use the Vimeography integration to manage your video content.
MemberPress AWS for WordPress
Amazon Web Services (AWS) is another excellent option. And this external file hosting service will also integrate seamlessly with your MemberPress site.
WordPress plus MemberPress gives you a flexible, powerful way to manage the protected areas and content of your site. However, due to performance and security issues, hosting video files inside your WordPress Media Library isn't always the best option.
Also, hosting your video content externally and then inserting it into the protected pages of your membership site can cause security risks if implemented incorrectly. While the membership pages of your site will be protected with a plugin like MemberPress, the embedded video content may not.
The MemberPress AWS Add-on is an awesome way to secure your video (and audio) content effectively. It gives you the opportunity to host your videos with Amazon's affordable cloud service and display them securely inside your membership area.
Additional AWS Add-on features include:
Secure the files hosted on the Amazon S3 servers, including videos

Make use of expiring links

Enable download prevention

Disable viewing outside your membership area
Other Video Security Tools to Consider
The above options make it easy to secure your video files a number of different ways. Unfortunately, those who are committed to stealing your video content may still be able to find a way around your security measures.
The good news is there are some additional tools you can make use of to further strengthen the security of your membership site, especially when it comes to video.
One option is the CopySafe Web tool from ArtistScope. This product claims to protect your website and its content from all print screen and screen capture software. CopySafe Web isn't cheap, but if you're serious about security, it could be a price worth paying.

For even greater levels of protection for your membership site, you may want to consider the Site Protection System tool, also from ArtistScope. This software protects not only your video but all the content on your website.
Final Thoughts on How to Protect Your Video Content
Once you get over the hurdles of getting started, you might find that producting video content is quicker. And it can really increase the value of your membership site. So definitely give video some consideration if it fits into your project.
Keep in mind that no security solution is 100% secure. But by choosing from the above options, you should be able to do enough to prevent the majority of your users from making your video content available outside your membership area.
How do you plan to protect video content in your membership website? Please share your thoughts in the comments below.
If you liked this article, don't miss out on the next one! Subscribe in the box up to the right.