If you've ever wanted to create a membership site with a login page in WordPress, you're not alone.
A membership platform can help you share quality content while also generating income. However, building this type of site can seem intimidating.
Fortunately, you don't have to be a tech expert to set up your own membership site. By using MemberPress and tweaking a few settings, you can start building an exclusive community for your biggest fans.
In this article, we'll start by exploring a few of the ways you can benefit from a membership site with a login page. Then we'll walk you through the three basic steps for launching your own. Let's dive right in!
Why You Might Want to Build a Membership Website
Websites have always been an effective medium for sharing information. Whether you want to advertise your accounting services or simply find like-minded people and start a community, the open forum of the internet can help.
However, you might not want everything you create to be open to the general public. There are plenty of reasons to create a website with membership and user login rules, including:
Wanting to ask for payment in exchange for your content
Curating a specific audience of hand-picked people
Selling specialized services and experiences to a limited number of customers
Whatever your reasoning might be, a membership site can help you create a community on your own terms. You might also find that membership adds more value to your site.
Members often find a sense of community with each other, especially if the site is based on a common interest or need. By requiring users to log on, you'll be encouraging them to build more connections through your website.
Fortunately, reaping these benefits doesn't have to be a struggle. By choosing the right software and establishing some simple settings, you can get your membership site off the ground quickly.
How to Build a Membership Site with a Login Page in WordPress (In 3 Steps)
Without further ado, let's dive right into starting your own membership website. Make sure you have a WordPress website up and running before you begin.
Step 1: Set Up MemberPress on Your WordPress Website
First things first, you'll need a dependable tool to create your membership infrastructure. This can be the difference between a frustrating experience and a fast, effective launch. We recommend our MemberPress plugin for this purpose: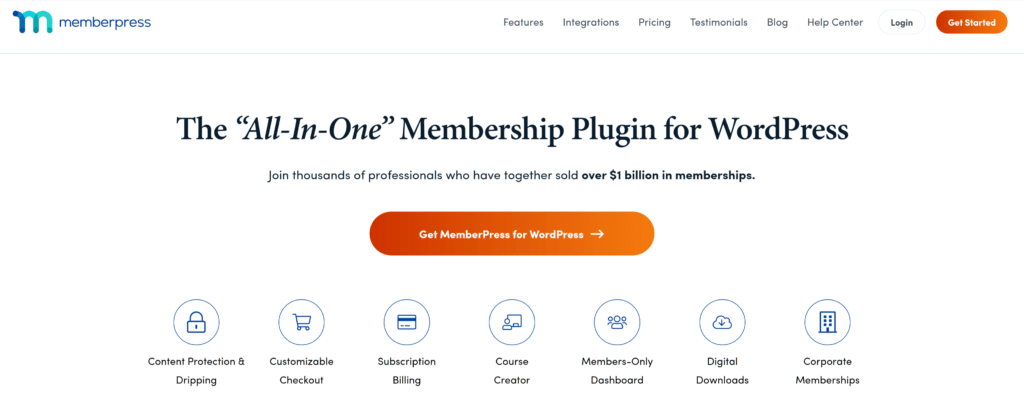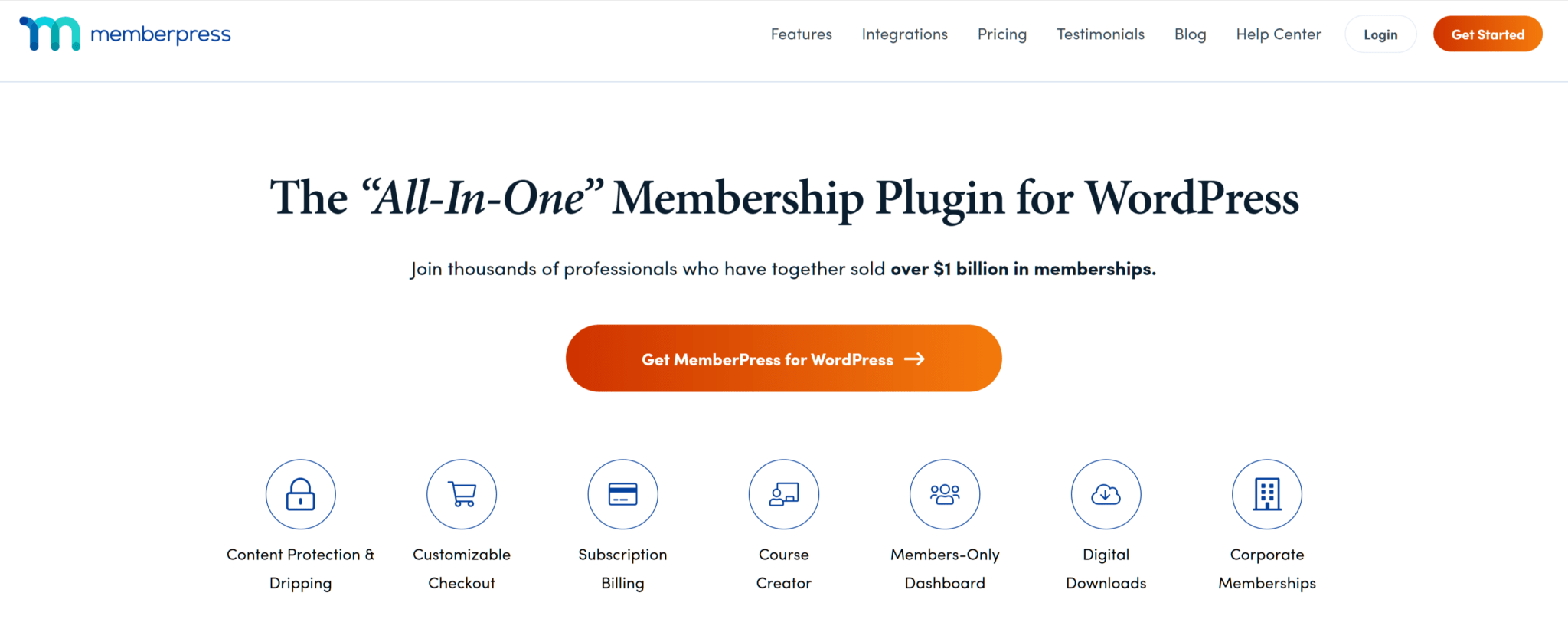 MemberPress is a powerful piece of software that's easy to use. We've designed it to be as streamlined as possible. That way, you can start taking advantage of your membership site's benefits right away.
You can begin by checking out a few of our pricing plans. Whether you're looking to support a single basic site or several advanced ones, there's probably an option for you.
After you've downloaded your copy, install and activate it on your site. If you want to spend some time exploring your options, now might be a good time to do so.
However, if you're ready to build your new membership site with login features, you can jump right in.
Step 2: Create Your Membership Levels
Now that the program's all set up, you can start creating the building blocks for any limited community site: membership plans. These tiers can control anything from how much your users pay to what kind of content they can access. Thus, they're worth spending a bit of time on.
Start by going to MemberPress > Memberships > Add New. You should see the following screen: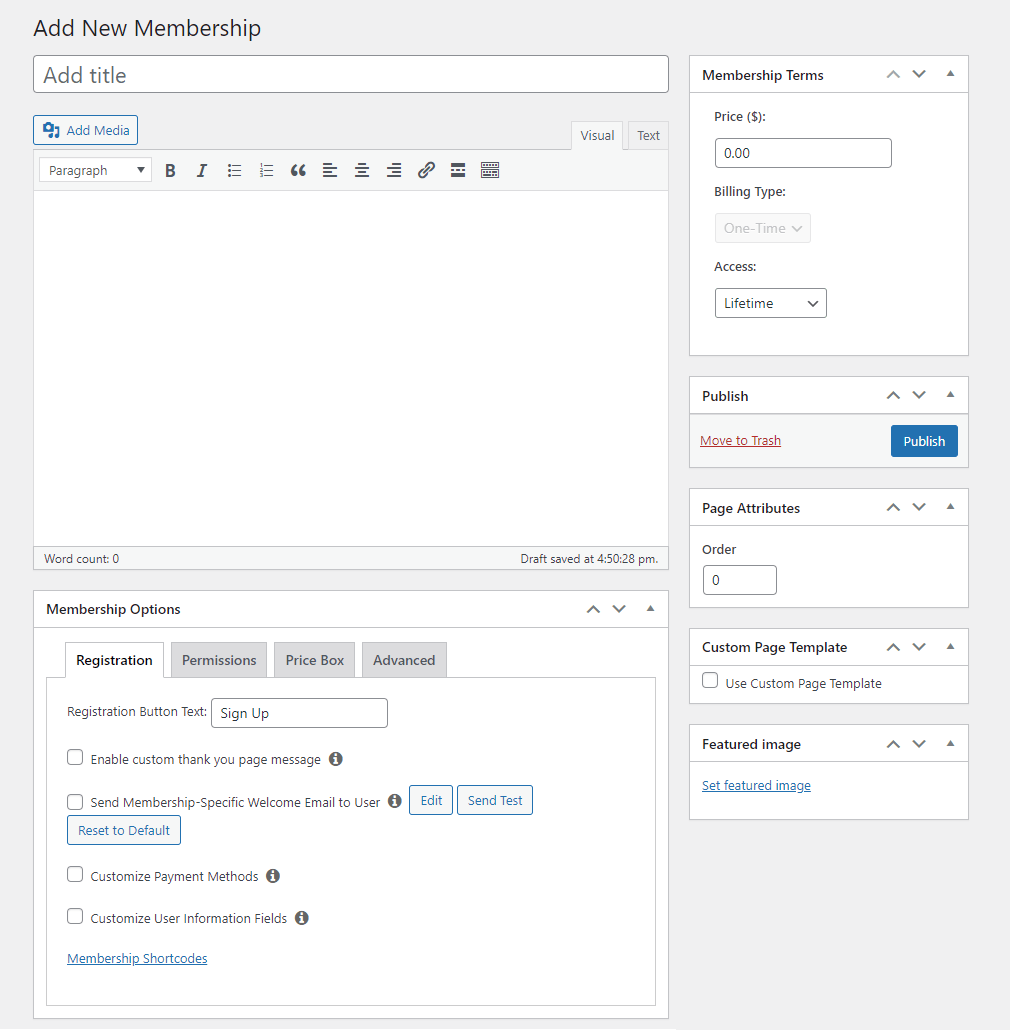 From here, you can fill in the fields to fit your needs. First up is the membership title. This will be the main way that users can identify your plans, so we recommend keeping it short and effective.
You may also want to adjust the pricing settings. If you just want to restrict access to your site for registered users only, you can simply create a free plan. Otherwise, go ahead and choose the billing cycle and total cost.
After that, you can scroll down to find a few other membership options. For example, you might choose to provide newly registered users with a custom thank-you or welcome email. We recommend that you take advantage of these features, because they can help personalize the membership experience.
You might also want to fill out the Price Box tab. This can be an easy way to highlight what you have to offer. As a bonus, it can also be a useful resource for influencers you might work with, who can easily display this information on their own pages.
When you're all done, save your work. Then repeat this step as many times as you need to in order to create a full suite of pricing plans. After you have your tiers set up, you can continue on to the last stage.
Step 3: Customize Important Membership Pages
A website with membership and user login features is a bit different from its open-access counterparts. As such, there are a few important pages that you may want to pay attention to before you go live.
Fortunately, MemberPress comes complete with some pre-made pages already. Just go to MemberPress > Settings > Pages: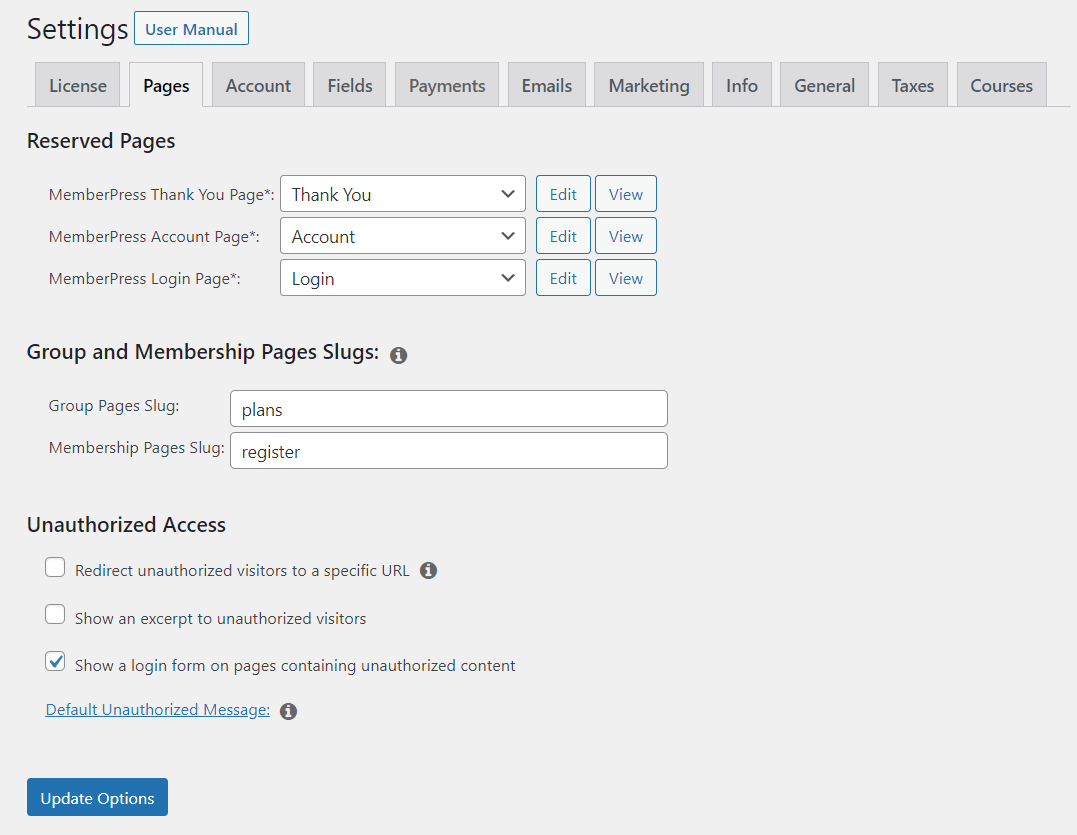 From here, you can choose which pages MemberPress uses as your thank you, login, and account areas. These should have been automatically generated. However, you can always visit those pages to change them, or use your own custom pages instead.
As for the other settings, the defaults will work just fine for most sites. However, there are a few features that you might want to enable.
For example, your site will normally show unauthorized users a default message and a login screen. This can be convenient for your already signed-up members who just need to enter their information.
However, you might want to check the Redirect unauthorized visitors to a specific URL box instead. This will enable you to show visitors something specific, such as your pricing page (to encourage signups).
You might also want to take this time to create a members-only page with information on your affiliate program. That way, you can advertise influencer opportunities to users who are already invested in your content.
Optional: Set Up Some Access Rules
As we said, the default settings should get you up and running just fine. But you'll eventually want to customize access to your content. You can do this sort of drilled-down paywalling with MemberPress Rules.
To find Rules, navigate to MemberPress > Rules > Add New: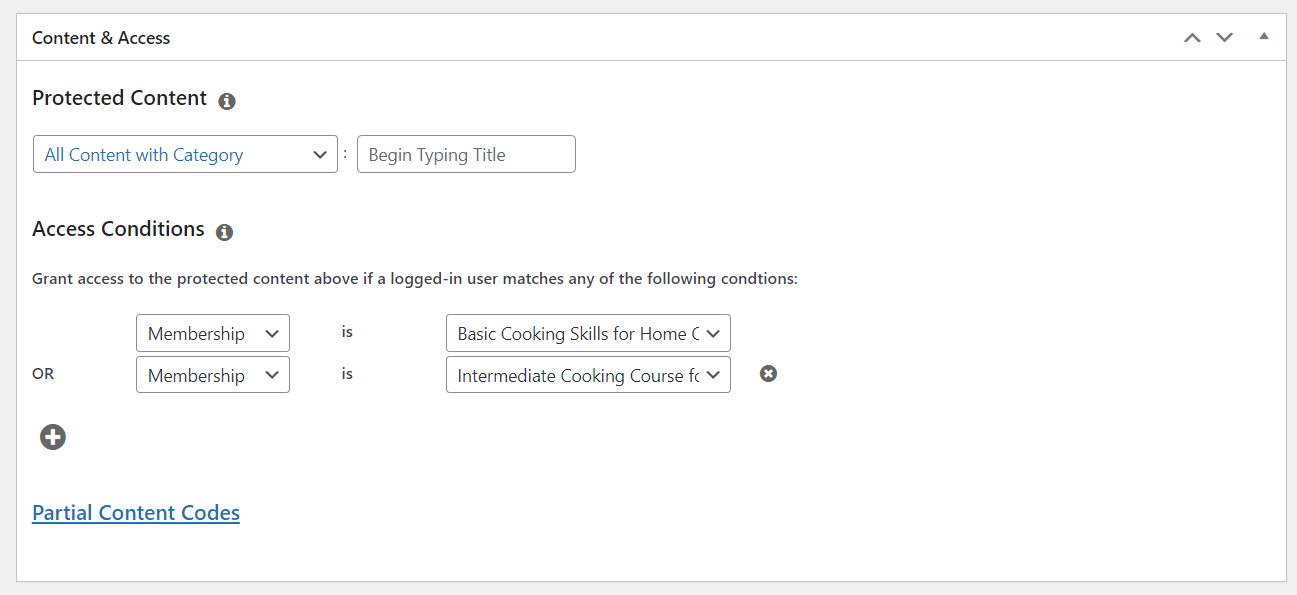 Here, you can choose the content you want to protect. Just click on the drop-down and choose from the various options (things like categories, tags, page types, and post types).
Next, you'll select the membership category or specific members that'll have permission to access the content you selected. When you're ready, click on Save Rule.
For example, you could restrict your online course content to members on higher-level subscription packages.
Anytime you want to adjust your paywall or add new rules, just head back to this page and make updates.
Conclusion
Membership sites can be an excellent way to control who has access to your content. Fortunately, you can get started without too much trouble. By using MemberPress, you can create a website with membership and user login features in no time at all.
In this article, we showed you how to launch a website with membership and user login requirements in just three steps:
Install and activate MemberPress.
Establish your website's membership levels.
Customize your essential membership pages, such as the login screen.
Later on, be sure to maximize your paywalling power by setting up Rules.
Do you have any questions about starting a membership site with login features? Let us know in the comments section below!
If you liked this article, be sure to follow us on Facebook, Twitter, Instagram, Pinterest, and LinkedIn! And don't forget to subscribe in the box up to your right.