Restricting content access? You'll need a login page for that. Thankfully, there's an easy, no-code way to create a login page on your WordPress site, and it's as simple as 1, 2, 3.
Want to make sure the right people are accessing your content? Or do you want to transform your WordPress site into a user engagement powerhouse?
Either way, it all starts with the login page.
Creating a login page is a cornerstone feature that can boost user engagement and help you better manage access to your content.
And a membership plugin is the easiest way to do just that.
In this guide, we'll explain why a well-designed login page is so crucial and how you can effortlessly set one up without touching a line of code.
By using a membership plugin like MemberPress, you can build a secure login page, manage memberships, protect content, and even set up payment gateways.
We'll walk you through the key steps, from installation to customization, so you can get your login page up and running in no time.
Let's jump right in!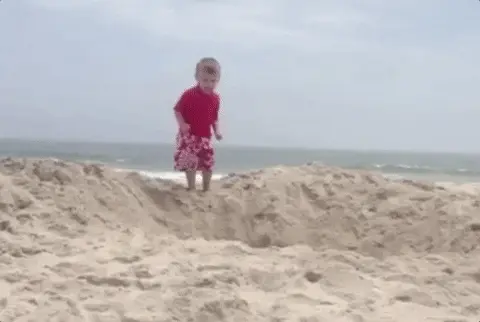 Why Login Pages Are Important
There are a whole bunch of reasons why you might want to add a login page to your site – probably more than you might think.
Let's explore a few of the opportunities adding a login page can bring to your WordPress site:
1. Keep Out Unwanted Guests ⛔
You don't want just anyone waltzing in and rifling through your digital drawers, right?
A login page is your digital bouncer, helping you restrict access so only the right people can get to the good stuff.
2. Put a Lock on Your Treasure Chest 🔒
If you're storing any kind of sensitive data – like customer info or proprietary content– a login page acts like a safe.
Only those users with the right combination (username and password) can get to it.
3. Unlock New Revenue (And Keep It Rolling In) 🤑
If you've got killer content worth paying for (and we bet you do), a login page is your golden ticket to extra income.
This isn't just a one-off. You can offer subscription plans that keep the revenue flowing in month after month.
The subscription economy is booming, and projected to be worth an astounding $1.5 TRILLION by 2025 (yes, that's trillion with a tr).
Consumers love the convenience of subscription services, and it's fast becoming the norm.
From online courses to workouts, and even food and drink, customers are seeking out subscription services for all kinds of things. And this is great news for business owners.
That's because subscriptions and memberships keep people coming back and keep your revenue stream healthy and consistent.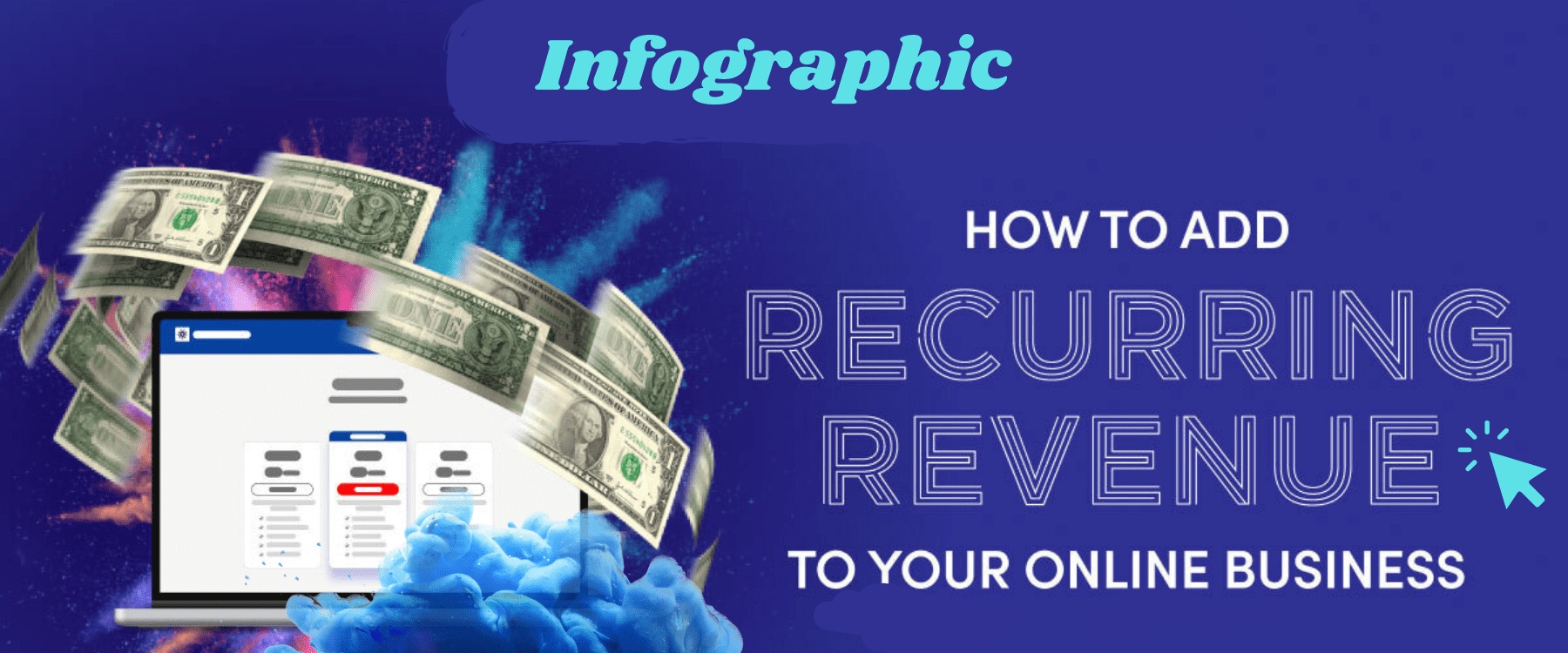 Setting up a well-planned login page is your first step toward turning your WordPress website into a revenue-generating dream machine!
4. Personalize, Don't Generalize 👤
With a login page, you can tailor the user experience like never before.
Want to greet your visitors by name, or suggest content based on their history? A login page lets you roll out the VIP treatment for anyone and everyone.
5. Reward Loyalty Like Never Before 🤝
Turn one-time visitors into loyal fans.
How? Through loyalty programs, special offers, and members-only content. All made possible by – you guessed it – a login page.
6. Better Analytics 📊
Once you know who's visiting and what they're interested in, you can glean actionable insights to better target your audience.
A login page enables more accurate tracking of user behavior, helping you make data-driven decisions.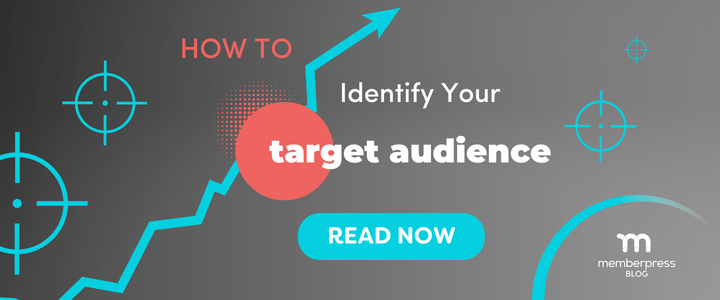 7. Create Targeted User Journeys 🗺️
Got a diverse audience, like customers and employees? No sweat. A login page allows you to guide these different user types so they head out on their individual journeys.
For example, say you have a clothing store that sells in-store and online. And you're looking to set up an onboarding hub for your employees on your website.
With a login page, you can easily separate your customers from your employees, and create totally different user experiences for the two groups.
The more focused the journey and content, the happier your users all the way around.
---
Whatever your main aim with a login page, you can tap into any number of these benefits.
A login page is the gateway to a more secure, personalized, and profitable WordPress site.
Fortunately, reaping these benefits doesn't have to be a struggle. By choosing the right software and establishing some simple settings, you can get your membership site off the ground in next to no time.
---
How to Build a Membership Site with a Login Page in WordPress (In 3 Steps)
Without further ado, let's get your login page set up! Make sure you have a WordPress website up and running before you begin.
Step 1: Set Up MemberPress on Your WordPress Website
First things first, you'll need a dependable tool to create your membership infrastructure.
Your tools can be the difference between a frustrating experience and a fast, effective launch.
For solopreneurs and 7-figure creators, MemberPress is the #1 WordPress monetization, LMS, and membership plugin.
And that's simply because…
it's the most user-friendly, and
it's the most feature-rich membership plugin out there: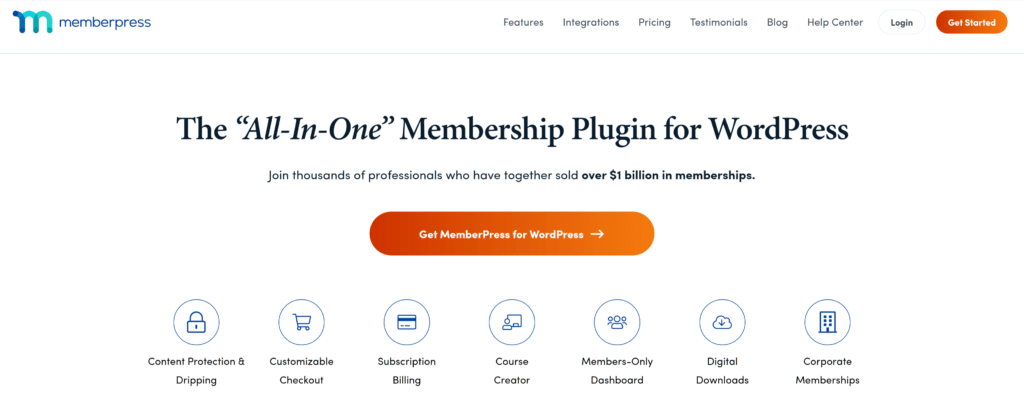 Whether you want to sell courses on your site, paywall blog content like the NY Times, or simply create a community on your site, you can make it happen with MemberPress.
Even better, it's designed for super streamlined setup. That way, you can start taking advantage of your membership site's benefits right away.
Here's how to set it up on your site:
And look at that, you're a third of the way there already!
Step 2: Create Your Membership Levels
Simply put, Membership levels are your way of managing who has access to what.
The simplest way is to add just one level to distinguish between members and non-members.
Or instead, you can put on your strategic cap and go all out by creating multiple tiers.
This gives you more fine-grained control of content access. But there are a lot of other benefits to multiple membership tiers. You can…
Offer different benefits, features, or premium content to different membership levels, from basic subscribers to VIPs.
Give your users choices that fit their needs and budgets
Maximize revenue opportunities
If you run the MemberPress setup wizard, you'll be guided through the process of adding membership levels.
But if you skipped this step, don't worry, here's how it's done:
Start by going to MemberPress > Memberships > Add New. You should see the following screen: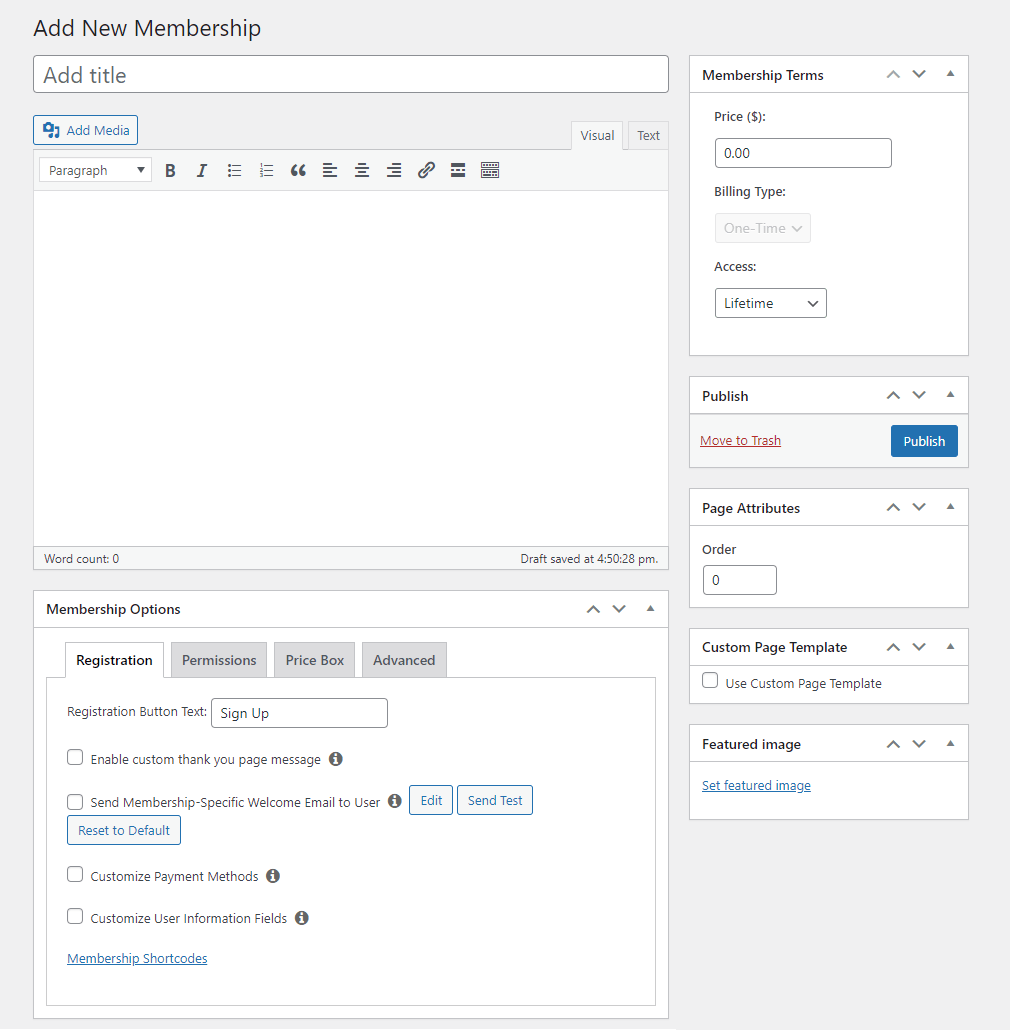 From here, you can fill in the fields to fit your needs.
First up is the membership title. This will be the main way that users can identify your plans, so we recommend keeping it short and effective.
You may also want to adjust the pricing settings. If you just want to restrict access to your site for registered users only, you can simply create a free plan.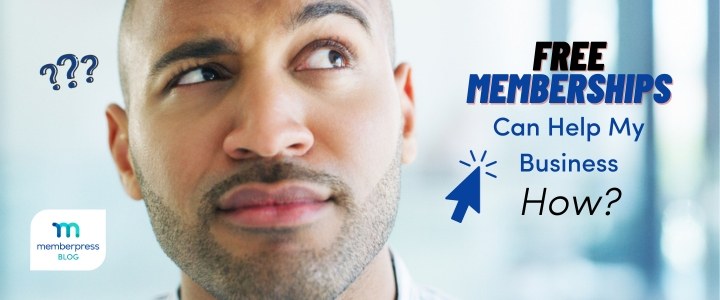 Otherwise, go ahead and choose the billing cycle and total cost.
After that, you can scroll down to find a few other membership options. For example, you might choose to provide newly registered users with a custom thank-you or welcome email.
We recommend that you take advantage of these features to personalize the membership experience.
You might also want to fill out the Price Box tab. This can be an easy way to highlight what you have to offer.
As a bonus, it can also be a useful resource for influencers you might work with, who can easily display this information on their own pages.
When you're all done, save your work. Then repeat this step as many times as you need to in order to create a full suite of pricing plans. After you have your tiers set up, you can continue on to the last stage.
Step 3: Customize Important Membership Pages
A website with membership and user login features is a bit different from its open-access counterparts. There are a few important pages to consider adding/editing before you go live.
Fortunately, MemberPress comes complete with pre-made pages all ready to go. Just go to MemberPress > Settings > Pages: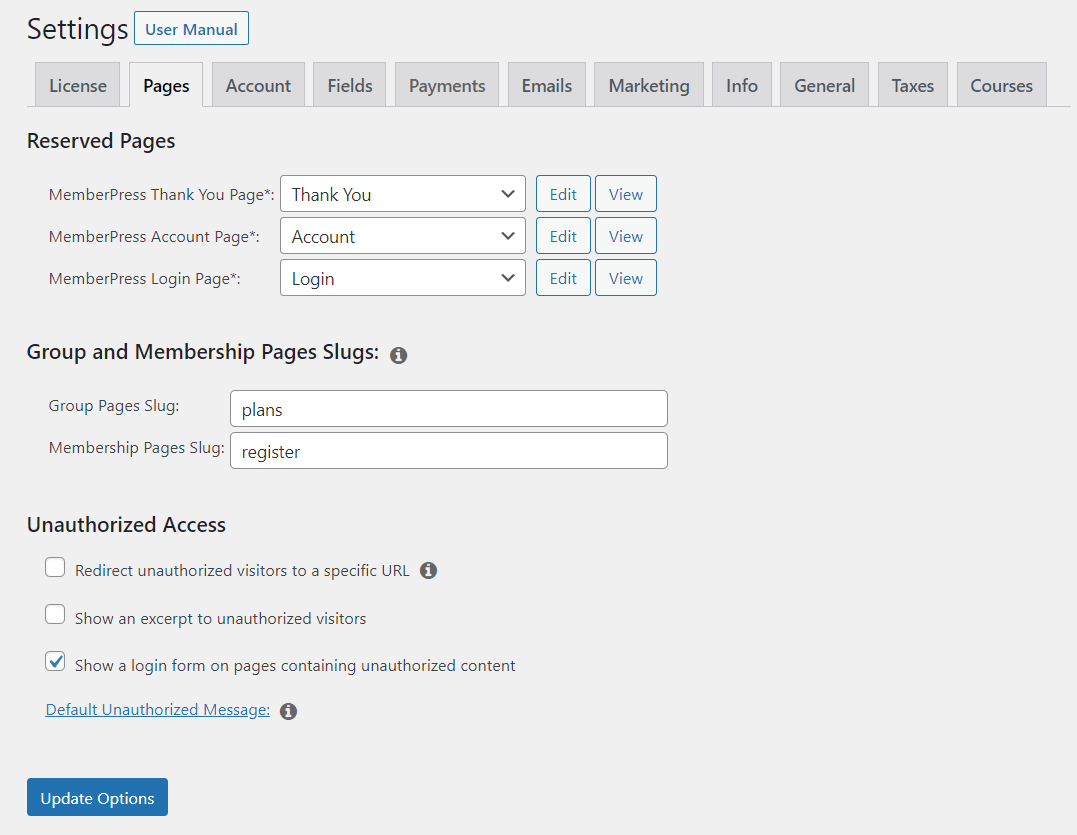 From here, you can choose which pages MemberPress uses as your thank you, login, and account areas.
These should be automatically generated. However, you can always visit those pages to change them, or use your own custom pages instead. More on that later.
As for the other settings, the defaults will work just fine for most sites. However, there are a few features that you might want to enable.
For example, your site will normally show unauthorized users a default message and a login screen.
This is convenient for your already signed-up members who just need to enter their information.
However, you might want to check the Redirect unauthorized visitors to a specific URL box instead.
This will enable you to show visitors something specific, such as your pricing page (to encourage signups).
You might also want to take this time to create a members-only page with information on your affiliate program. That way, you can advertise influencer opportunities to users who are already invested in your content.
Optional: Set Up Some Access Rules
As we said, the default settings should get you up and running just fine. But you'll eventually want to customize access to your content.
You can fine-tune your paywalling with MemberPress Rules.
To find Rules, navigate to MemberPress > Rules > Add New: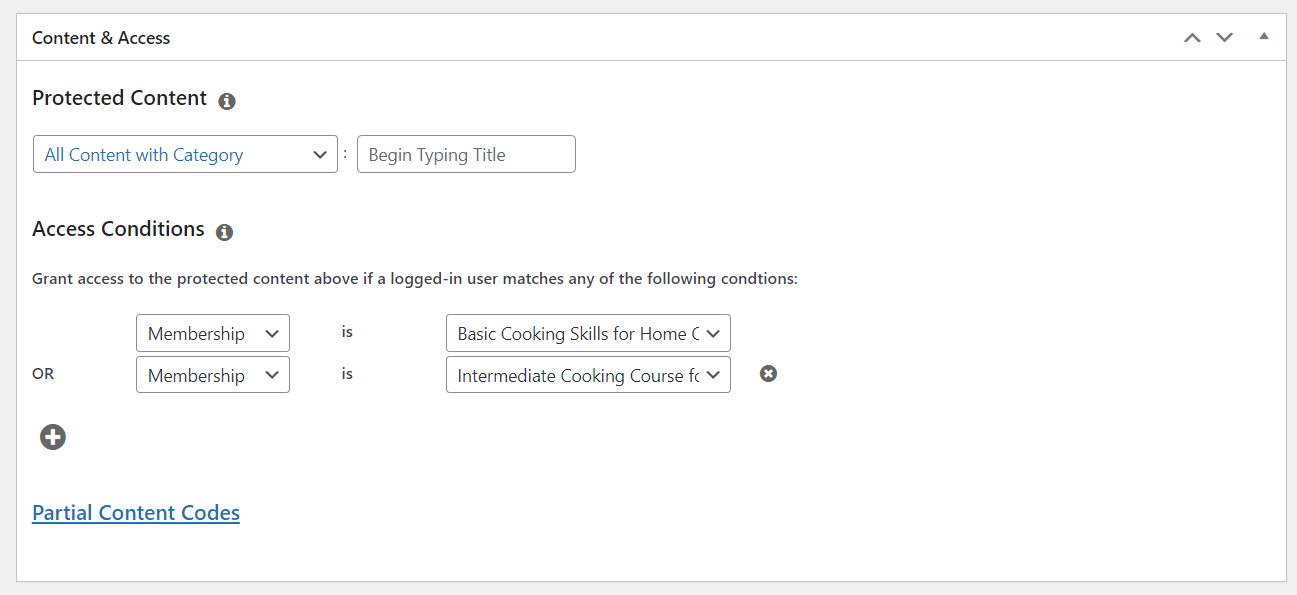 Here, you can choose the content you want to protect. Just click on the drop-down and choose from the various options (things like categories, tags, page types, and post types).
Next, you'll select the membership category or specific members that'll have permission to access the content you selected. When you're ready, click on Save Rule.
For example, you might want to only allow higher-level members to access your online courses.
Anytime you want to adjust your paywall or add new rules, just head back to this page and make updates. It's easy!
Get There Quicker With ReadyLaunch™
So far, we've looked at how to add a login page to your existing WordPress site, but what if you're starting your website from scratch?
ReadyLaunch™ is designed to get you from no-site to site-ready in minutes.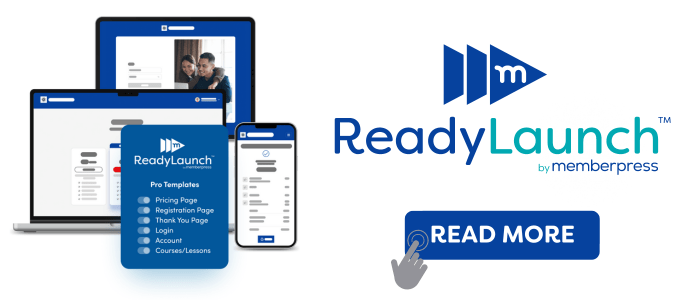 Designed with ease of use in mind, this feature empowers you to create mobile-responsive, branded pages (including a login page) STAT!
All you need to get started are your brand's logo, signature color, and some optional photos.
Here's how it's done:
Like everything with ReadyLaunch™, customizing your login page is a breeze.
With ReadyLaunch™, your brand color is automatically set as the page background and your logo serves as the login form header.
However, these settings are fully adjustable, and you even have the option to add a welcome image for a more engaging user experience
Go to MemberPress > Settings.
Choose the ReadyLaunch™ tab, and
Click the Customize link next to the Login option.
From this point, you'll be able to upload your welcome image and adjust other settings to align with your brand.
And you're ready to go!
More Login Page Tips & Best Practices
Got time to spare? We've covered the basics of adding a login page to your WordPress site, but if you really want to ace user experience, here are some extra tips and best practices.
Add a Login/Logout Menu Item
Streamlining user access is key to a great user experience. By adding a login/logout menu item, you make it effortless for your members to log in or out from any page on your site.
This not only adds to the convenience but also makes the site navigation feel more fluid and intuitive.
Watch our video tutorial to find out how to add a login/logout item to the navigation menu on your site:
Redirect Users After Login
User flow is crucial in retaining engagement and directing traffic where you want it to go.
Redirecting users to a specific page after login can serve multiple purposes, such as taking them straight to new content, special offers, or a personalized dashboard.
This adds an element of automation to the user journey, making it smoother and more focused on achieving specific outcomes for both the user and your business.
To do this, from your WordPress dashboard navigate to MemberPress > Settings and click on the Account tab.
Scroll to the Login & Logout section and paste the URL of the page you want to direct members to after login in the corresponding field.

Don't forget to scroll down and click Update Options to save the changes.
You can also configure redirects depending on membership level. For example, your VIP, top-tier users can be directed to a page with special offers.
Go to MemberPress > Memberships and click on the level you want to edit.
Scroll down to Membership Options and click on the Advanced tab.
Check Custom Login Redirect URLs
Paste the URL you want to direct members of this membership level to after login in the Default Login Redirect URL field.
Personalize Your Login Page
First impressions matter, and your login page is often the first thing your users see.
Modifying this page by adding a special message can make users feel welcome and valued. This reinforces your brand's identity and sets the tone for the kind of high-quality, tailored experience your site offers.
We've already mentioned that MemberPress automatically generates a login page. It's super easy to personalize this page with your own messaging.
Just go to MemberPress > Settings > Pages then click Edit next to the MemberPress Login Page field.
You'll then be redirected to this page.
To add text above the login fields, simply type it in the text box.
You might also want to add text below the login field. For example, it's good practice to add a "subscribe" link under your login page to invite non-members to sign up.
To add text at the bottom, you'll need to check the box under MemberPress Settings that says Manually place the login form on the page.
Doing so will reveal this shortcode:
If you have redirect after login enabled, you'll see this shortcode instead:
Copy and paste this shortcode into the textbox to place it where you want within your text. You can also use this shortcode on any page or post on your site.
Add a Login Widget
Versatility is a valuable asset in user experience design. By incorporating a login widget, you provide an alternative way for users to access their accounts.
This is particularly useful for those who want to log in quickly without navigating to a separate page.
The MemberPress Login Widget is super easy to add, but how you do it depends on which version of WordPress you're using.
To add widgets in WordPress version 5.7 or earlier, follow these instructions.
To add widgets in WordPress 5.8 using Gutenberg Blocks, follow these instructions.
Conclusion
Membership sites can be an excellent way to control who has access to your content.
Fortunately, you can get started easily. By using MemberPress, you can create a website with membership and user login features in no time at all.
In this article, we showed you how to launch a website with membership and user login requirements in just three steps:
Install and activate MemberPress.
Establish your website's membership levels.
Customize your essential membership pages, such as the login screen.
Later on, be sure to maximize your paywalling power by setting up Rules, and you can get even more precise by following our further tips and best practices.
Follow these steps and start reaping the benefits of content restriction and monetization for your business.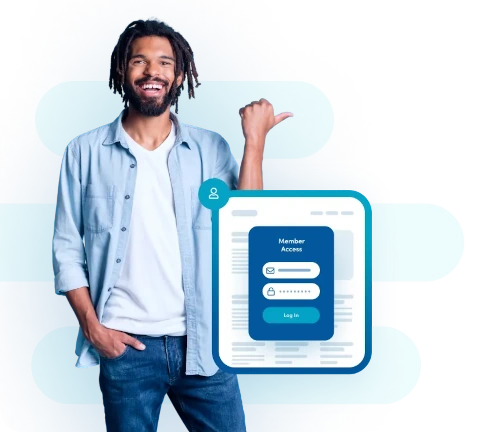 Get MemberPress Today!
Start getting paid for the content you create.
Get MemberPress Now
See All Features
Do you have any questions about starting a membership site with login features? Let us know in the comments section below!
If you liked this article, be sure to follow us on Facebook, Twitter, Instagram, Pinterest, and LinkedIn!