Converting your high-quality blog content into a steady stream of income is more straightforward than you might think. Whether you're just getting started or already have an established site, finding the right approach to monetization is the key to success.
You've probably run into the paywalls on sites like The New York Times and The Wall Street Journal. Traditionally, setting up these kinds of heavy hitting content gates has meant complex coding and significant expense.
Those days are over. Thanks to the MemberPress plugin, creating paywalls like those you see on big name publications is affordable – and code free.
In this article we'll talk about when you might want to set up content protection on your blog. Then we'll show you how to set up your own powerful paywall (just like The New York Times') right on your MemberPress site, step by step. Let's do it!
An Introduction to Paywalls
A paywall may sound intimidating, but you run into them more often than you realize.
If you've ever purchased an online course, signed up for a Patreon membership, or subscribed to any of the big news websites, then you've encountered a paywall.
Paywalls are a way to monetize digital content by requiring a user to make a payment before they can access the content. Access can be given in the form of a subscription, membership, or one-time purchase.
Often, a smart strategy is to put some content behind a paywall while providing other content for free (to draw users in).
You see this with The Wall Street Journal and other online newspapers – where you're only allowed to view a limited number of free articles before subscribing: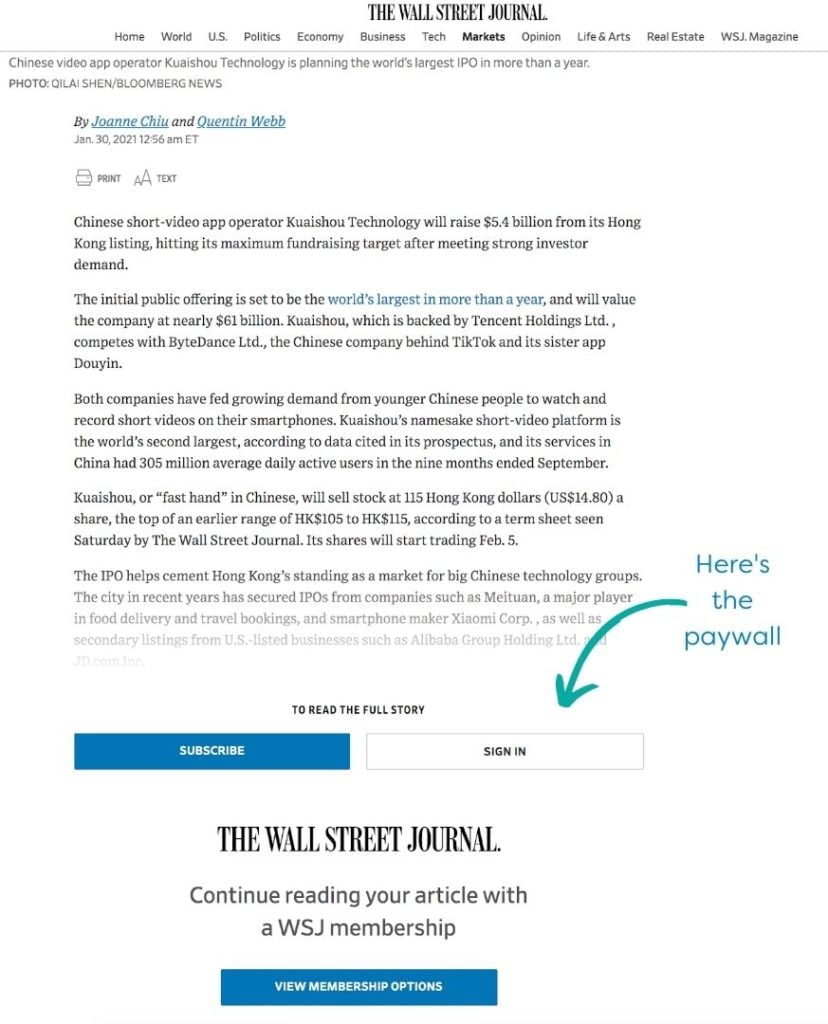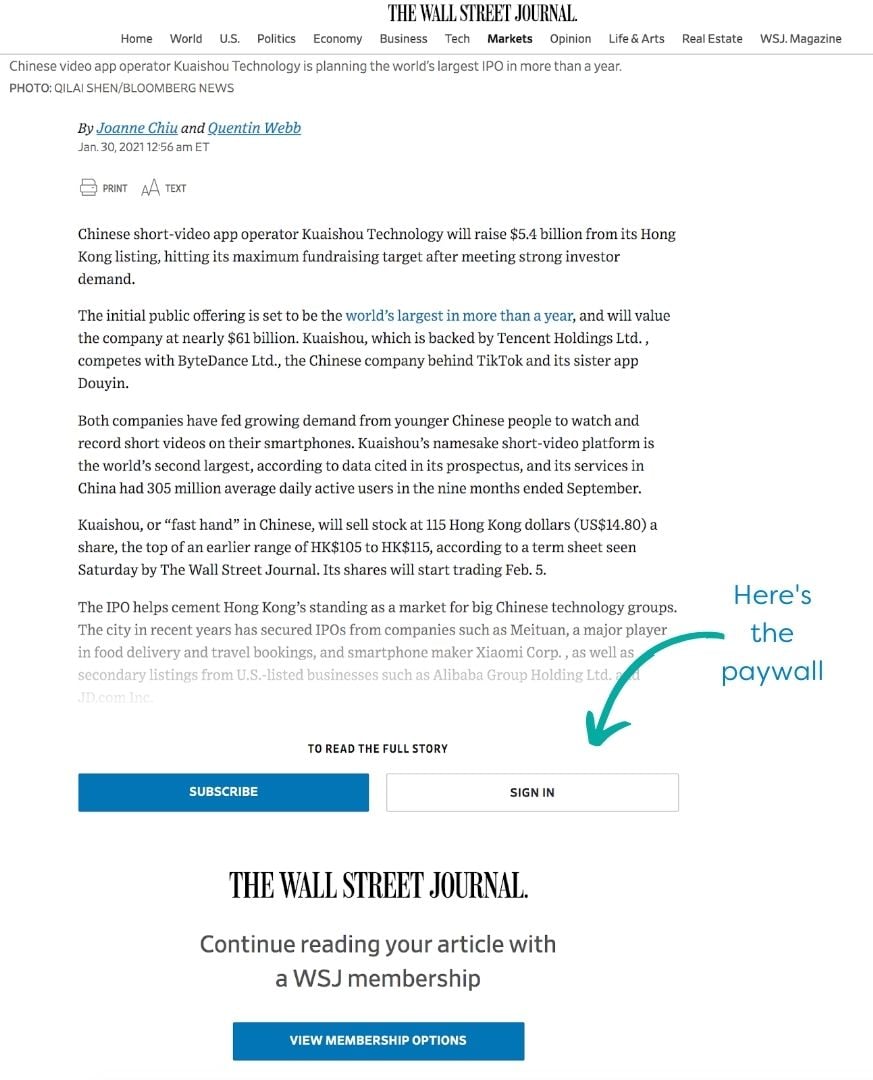 Patreon features another example of a paywall. With this type, fans of artists and other content creators can pay for memberships that allow them access to restricted content: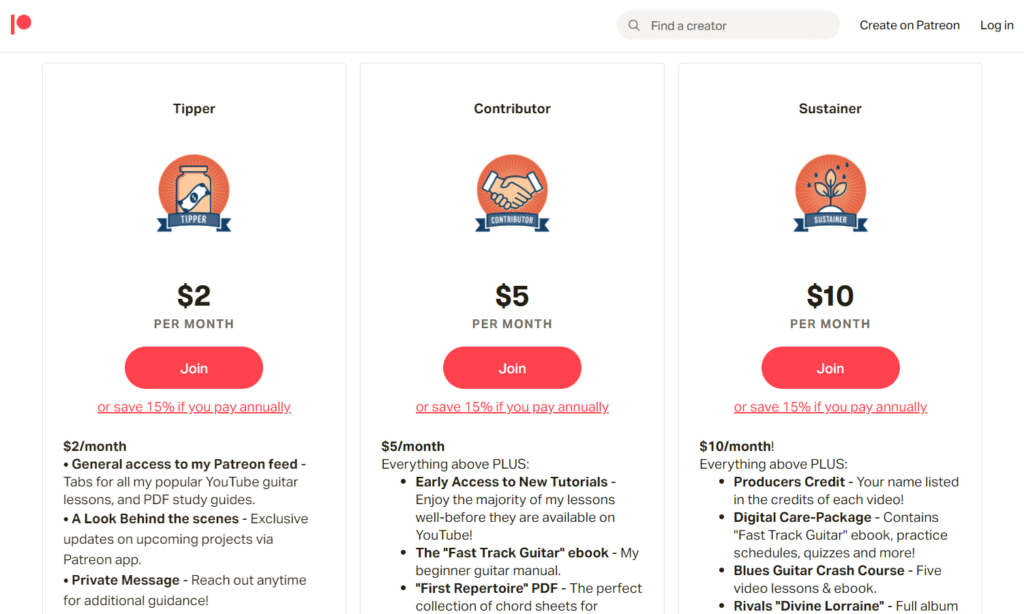 Tiered models are common on Patreon, where paying more grants access to additional content.
There are many different ways to set up a paywall. So your strategy will depend on the type of content you're providing, as well as its quality and the demand for it.
Why You Might Want to Paywall Your Blog
If you run a small personal blog, there may be no need to monetize it just yet. But keep in mind that adding a paywall can increase the perceived value of your content and give you access to customer data.
MemberPress has totally customizable paywalling. So you can set your price wherever you like. For example, your "required payment" could be something as simple (and free) as providing an email address.
With that approach, your paywall would be doing double duty – making your content seem higher-end while helping build your email list.
In regard to larger, longer-standing blogs, you might be looking for a way to make sure your blog pays for itself (or even makes a profit).
While there are a lot of ways to monetize your blog, many of them can be intrusive. Readers may not respond well to paid ads and affiliate sponsorships. Those programs also come with requirements, meaning that you may need to sacrifice some creative control if you decide to go that route.
A paywall, on the other hand, lets you make money from your blog in a way that's completely under your control. In addition, you won't need to distract readers with ads or try to convince them to buy third-party products.
In other words, by using a paywalled subscription or membership model, you can…
Generate a steady stream of revenue in a less-intrusive way.
Increase the perceived value of your content.
Grow your email contact list.
Even better, you can create a strong community around your content, with audience members who have "bought in" and are more invested in what you're offering.
How to Paywall Your Blog With MemberPress (In 3 Steps)
Trying to set up a paywall on your blog manually is complicated, time consuming, and requires some serious technical know-how. Fortunately, MemberPress takes care of the hard work and complications, and makes the process simple.
We'll show you how, step-by-step.
Step 1: Install the MemberPress Plugin
The first thing you'll need to do is select and purchase a MemberPress plan. If you want to add a paywall to a single blog, the Basic option should be just fine. Once you complete the checkout process, you'll get access to the plugin's .zip file, as well as your license key.
Then head over to your WordPress dashboard, and go to Plugins > Add New. Select Upload Plugin at the top of the screen. Then click on Choose File and locate the .zip file on your computer.
In a few moments MemberPress will unpack and install itself to your site:
Once the installation process is complete, you'll want to click on the Activate Plugin button. Don't forget to activate your plugin license as well. Once you do that, you'll be set up and ready to go.
Step 2: Create Your Membership Plan(s)
Next, you'll need to create the subscription or membership plans that readers will purchase in order to access your protected content. To do that, go to MemberPress > Memberships > Add New: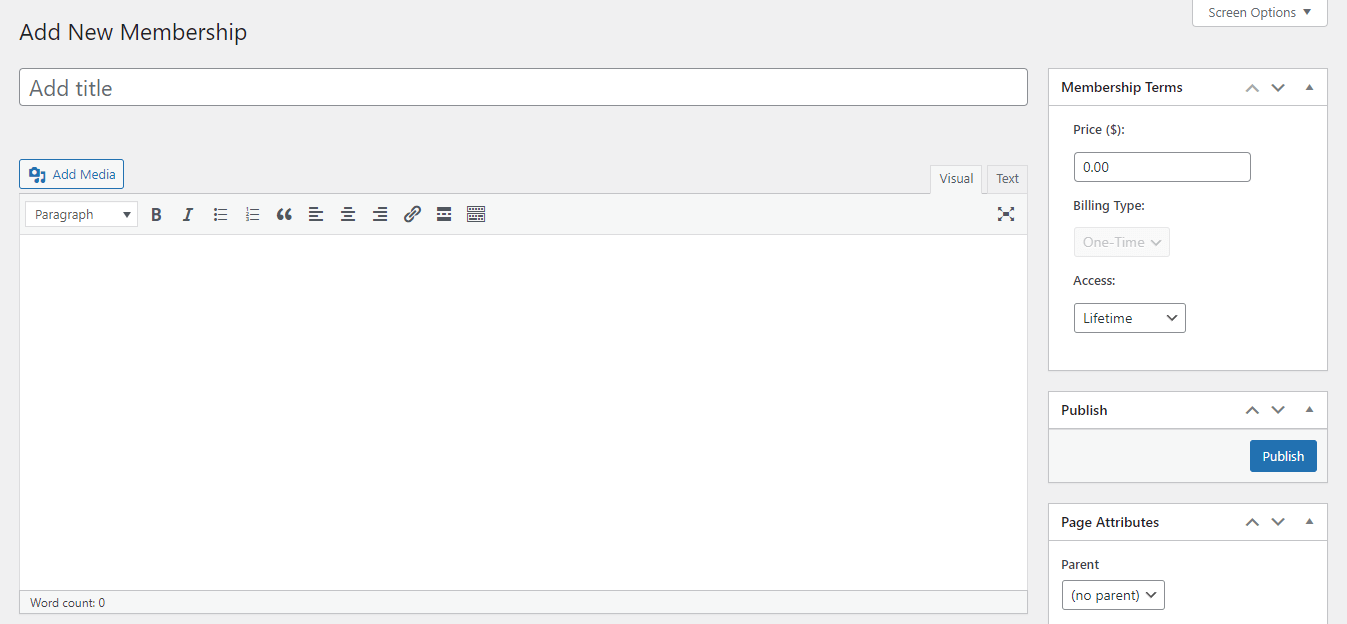 On this page you can fully customize your membership plan. You can give it a name, determine its pricing, configure whether the payment is one-time or recurring, and even create a trial period.
You'll also find additional settings in the Membership Options box below the main editor: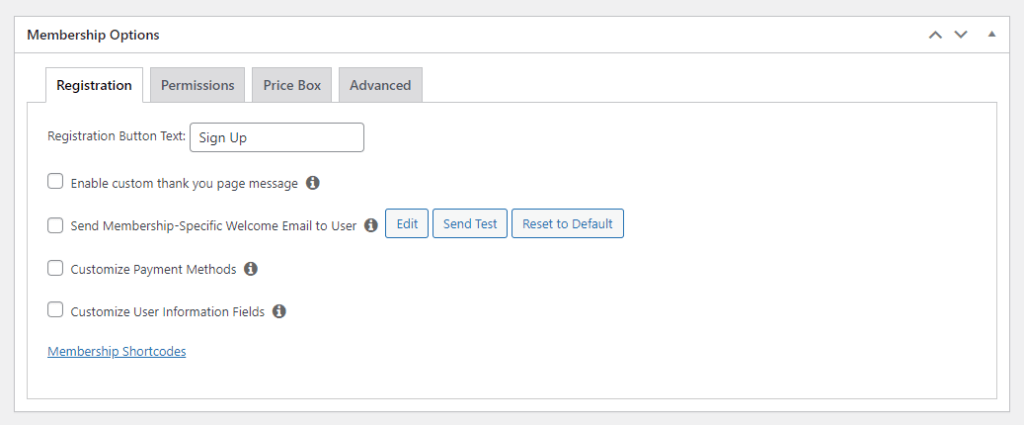 Here you'll be able to create a unique thank you message, customize the payment methods that will be available to readers, and so on.
When you're done configuring your membership or subscription plan, go ahead and publish it.
You can repeat this step if you'd like to create multiple tiers of access. Finally, don't forget to make your payment plans easily available on your site, so readers can sign up for them.
Step 3: Paywall Your Content
Now that you've given readers a way to purchase access to your premium content, you just need to set up your paywall. To do that, head to MemberPress > Rules > Add New: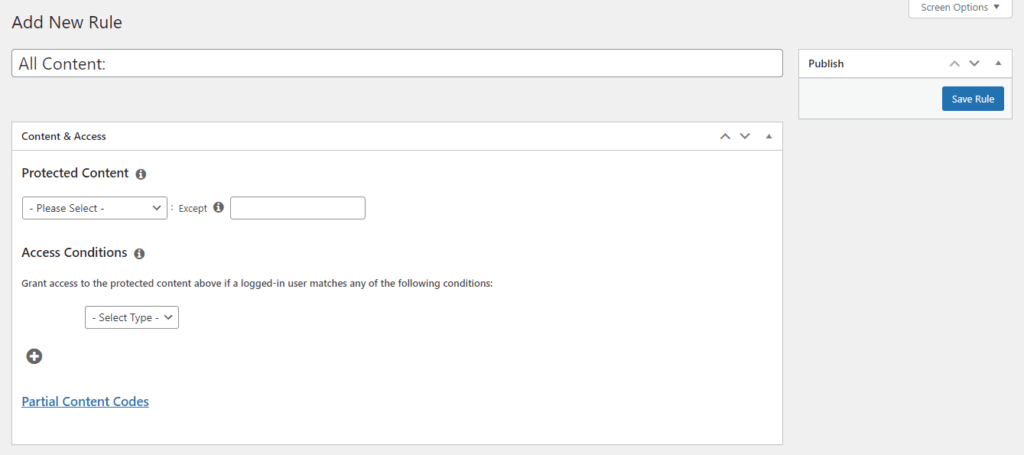 Under Protected Content, you can determine what parts of your blog will be locked behind the paywall.
For example, you could simply choose All Posts if you want to restrict access to all of your content. Alternatively, you could choose A Single Post, and lock away only particular articles: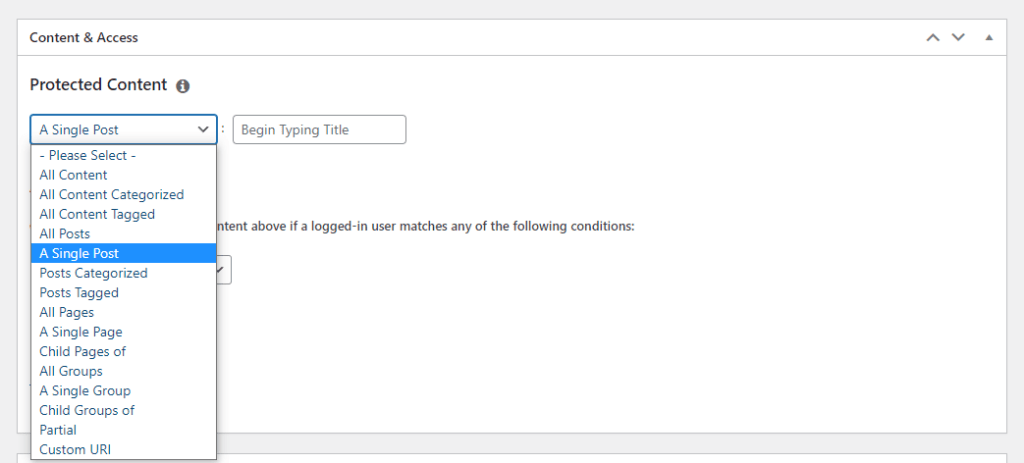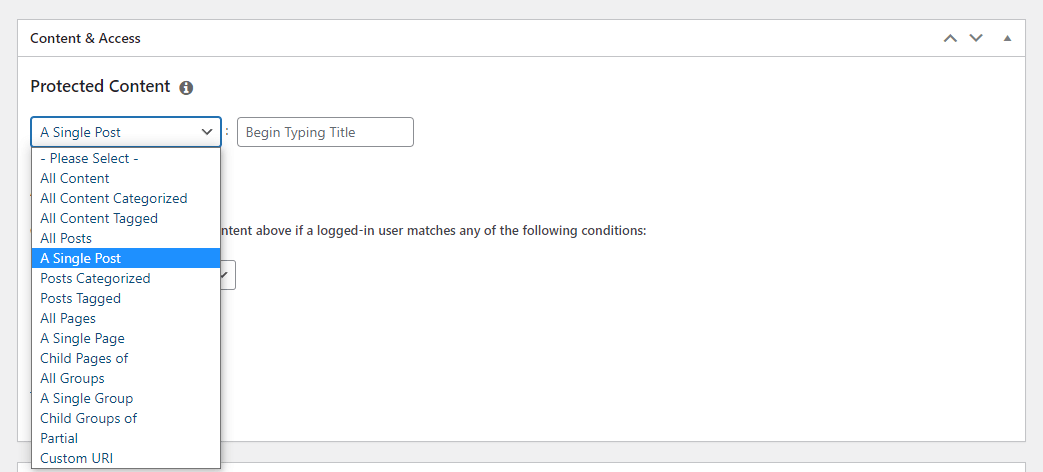 Whatever your selection, next you'll want to choose Membership from the drop-down menu under Access Conditions. In the new field that appears, select the membership or subscription plan required to gain access to the paywalled content: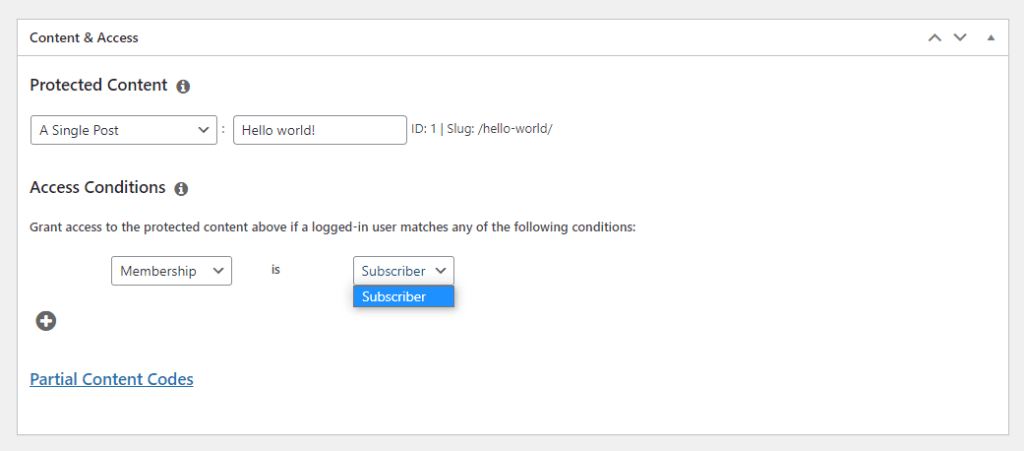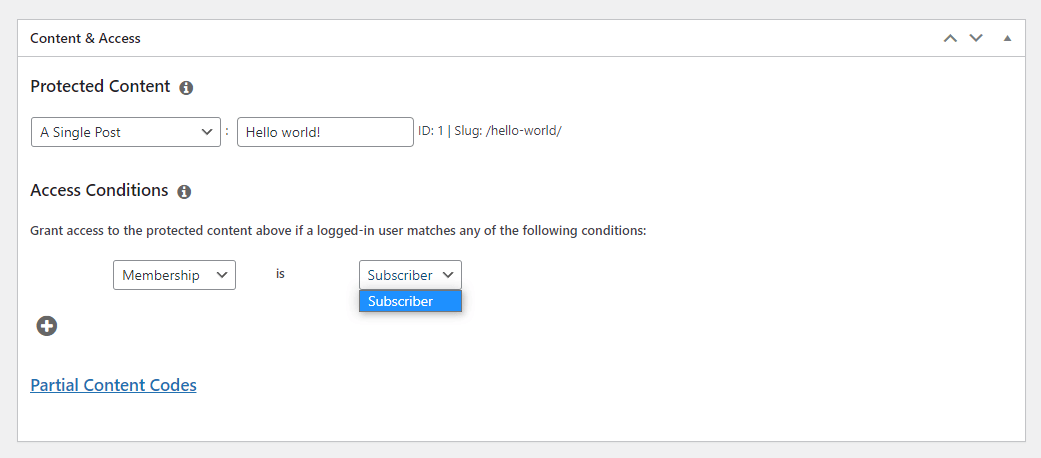 After that, you can save your rule, and repeat this process to paywall as much of your blog as you'd like.
If you want to learn more about MemberPress paywalling, check out this post.
Paywalls and SEO
Paywalls can present a bit of a challenge when it comes to SEO. After all, when you put content behind a gate, Google can't see it.
Fortunately, there's a cool thing called "flexible sampling" that fixes this issue 100%. Check out this article for an in-depth look at flexible sampling, paywalls, and SEO:
Also, the video below shows how the SEO and Paywalls option in MemberPress makes it easy to get your gated content indexed:
Conclusion
Finding a way to make money from your blog can be tricky. If you aren't selling a product or generating ad revenue, it might not be obvious how you can turn your hard work into cash.
A paywall can be the perfect solution, letting you generate money from your audience in exchange for access to your content.
Fortunately, MemberPress makes it easy to paywall your blog by following these simple steps:
Install the MemberPress plugin.
Create your membership plan(s).
Paywall your content.
Are you unsure which paywall model is best for your situation? Tell us more about your blog in the comments section below!
If you liked this article, be sure to subscribe to our newsletter in the box up to your right!