First of all, what is a paywall?
If you like reading big online magazines and newspapers, you've probably come across a website that requires you to become a paid member to read its articles.
There are many examples of this business model in place: The Wall Street Journal, The New York Times, and even Medium.
Here's an example from The Wall Street Journal: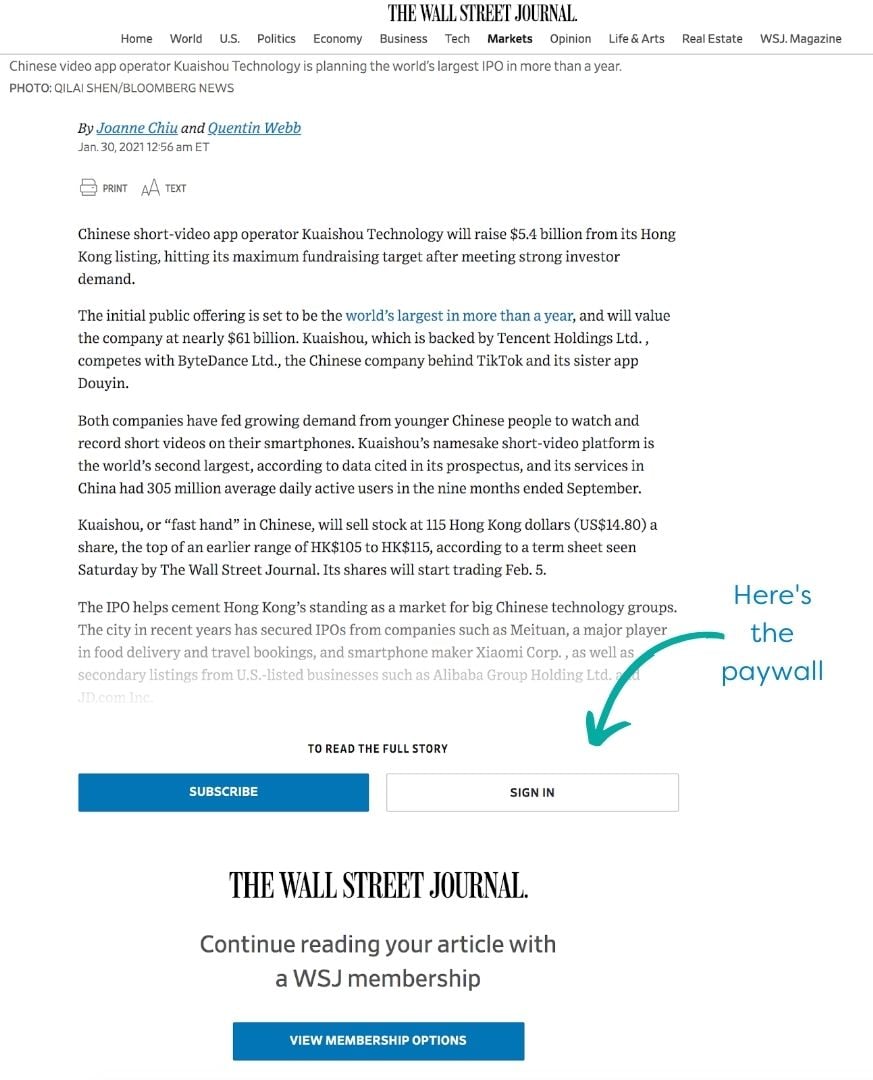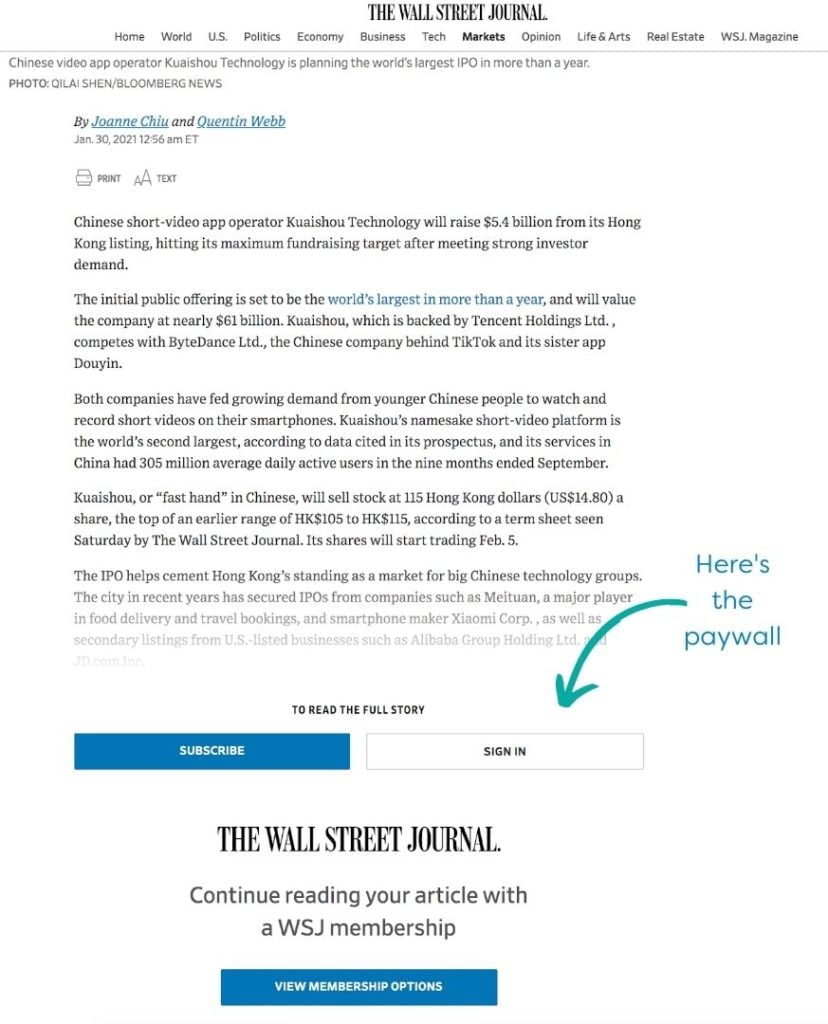 This point in the content where the reader is required to make a purchase to continue reading is called a paywall. It locks the content until the user signs up.
There are different types of paywalls, and businesses adopt varying methods for allowing visitors to access protected site content.
On some sites, an upfront payment is required, while others provide give for limited-period access. That is, after a certain amount of time, users have to make a payment to access the content.
Using a paywall is an excellent idea when you want to monetize high-quality content and make money through your website.
Main types of protected content
There are two main types of paywalls used on the internet. These are…
Pay per view
With the pay per view paywall model, you charge readers to access any article or blog on your site. It's an ideal choice when you don't want to follow the monthly subscription model and instead want to give visitors the option to buy what they want.
Subscription-based access
The majority of large magazines use the subscription-based paywall model. It allows the user to access any content they want as long as they pay a recurring subscription fee (usually monthly).
Subscription-based access is basically an online version of the well-known physical newspaper subscriptions of yesteryear.
Subscription-based models often offer a free trial to the user. The trial usually allows access to a certain number of pieces of content or gives users access to everything on the website for a set number of days. After the trial expires, the user has to become a paid subscriber.
Paywall-protected content and search engines
Putting content behind a paywall does have its own set of problems. Since the content, or at least a part of it, isn't accessible to general users, you'll have to make sure that these pages aren't ignored by search engines.
That is, you'll need to make sure all the content on the page can be indexed.
To fix this problem, Google introduced the First Click Free (FCF) policy years ago. To comply with this First Click Free (FCF) policy, you needed to make some parts of the content accessible to general users, whereas the other sections could be kept hidden for premium users.
However, most publishers were against this policy. So, it wasn't too surprising when Google abandoned this practice in 2017. A new policy code named Flexible Sampling was introduced.
As the name suggests, Flexible Sampling gives publishers fine-grained control over how much content they want to make accessible to general users.
QUICK TIP >> For in-depth advice on SEO and paywalls, check out this awesome guest post by SEO expert Nick Brown
About Flexible Sampling
There are three main types of flexible sampling…
Lead-in
The lead-in model is the most common method of flexible sampling. Here, visitors are allowed to read a portion of the article while the rest is kept hidden.
If a reader wants access to the entire article, they'll have to pay a subscription fee or sometimes provide an email address.
Top news websites like The Times and The Economist use this type of sampling. It can be a great money-making strategy if…
You've got a high conversion from viewer to subscriber, or
You find a way to convert visitors to purchase on the backend through email marketing
Metered
Metered access is another popular flexible sampling model. With this method, users are allowed to read an entire piece of content – with a catch. They can access only a specific number of articles within a given timeframe.
Once the reader reaches that threshold, they'll have to subscribe to gain access to new articles. New York Magazine and The New York Times use the metered model.
Hard Paywalls
Some sites have what are called hard paywalls, which means they offer no free samples whatsoever. On these sites, only paid members are allowed to access the content.
As mentioned, this type of paywall presents a major drawback. The content on a site with a hard paywall isn't crawled or indexed by search engines. And that means the content will remain largely invisible in the webosphere (not a good thing).
How to Set Up a Paywall on Your WordPress Site
MemberPress makes the process of setting up a paywall on your WordPress site about as simple as it gets.
First, you'll need to set up the MemberPress plug-in and activate it. Go to the Settings > License page, where you'll be prompted to enter the license key.
Once you've pasted in the license key, click the Activate license key button.
After activating, you'll want to set up your payment methods. The nice thing is MemberPress has built-in integrations with a number of popular payment gateways, such as Stripe and PayPal.
It's also possible to add multiple payment methods. Just click the Payments tab under the Settings page and refer to the dropdown menu.
Now, you'll be prompted to fill in the payment method details. For example, when you choose PayPal, you'll want to enter in the PayPal email address.
Once you've wrapped up the payment settings, click on the Update Options button to save the settings.
Now, it is time to create a paywall and subscription plan. Go to the MemberPress > Memberships page. Then, select the Add New button located at the top.
Next, you'll want to name your membership plan and set a price for it.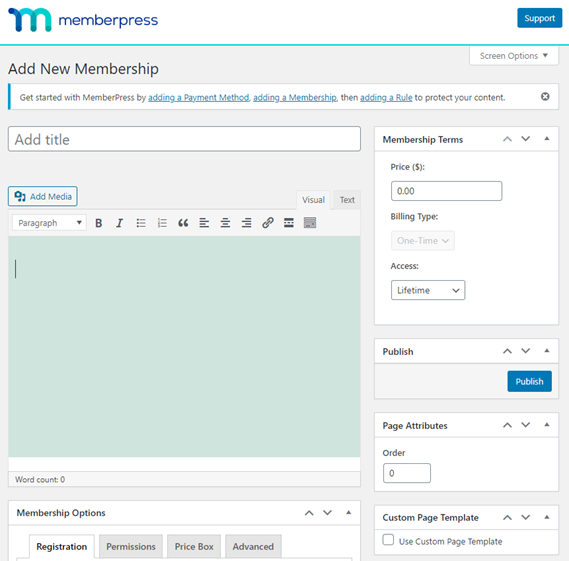 You can also set free membership options. You can choose from one-time as well as recurring subscription types. Under recurring payments, choose a custom interval or weekly, quarterly, monthly, or yearly options.
You can further customize your membership plan using the Membership Options box.
In most cases, going with the default settings would be just fine. When you're sure everything is in place, click on the Publish button to complete creating the membership plan.
Its also possible to set up multiple membership plans using varying subscription levels. You may, for example, create a VIP plan to cater to selected viewers and offer them more exclusive content.
Now that the membership plan is in place, you can add content. You'll need to pick the content that the paywall will cover. MemberPress offers you several rules, which you can use to restrict content to certain membership plans.
To set up content rules, visit MemberPress > Rules page. Then click on the button Add New button.
Now, you'll want to pick the type of content the paywall will safeguard. Use the first drop-down menu to choose the content type.
You can select content using tags, categories, individual posts, and more. Next, you'll choose the membership plan. Then, click on the Save Rule button to save your rule.
Next, go to MemberPress > Settings > Pages and make sure the "Show a login form on pages containing unauthorized content" is selected under Unauthorized Access:

Now, any person trying to view premium content without a subscription will see this message:
You can customize the message while editing your rule. Just go to the Edit Post page, scroll down, and locate the Unauthorized Access section. Then pick Custom from the dropdown Unauthorized Message and enter your message.
You can also add images and links, and format text.
Now, if you check the Posts > All Posts section in the dashboard, you'll find that posts matching the protection rule you've set up are marked as only accessible to a membership titled "Membership" in the Access column.
There are also ways to offer non-members limited content access. This can be good for your marketing strategy, as it allows you to give your users a preview of what your content is like.
You can set up limited access under MemberPress > Settings > General in the WordPress dashboard:
Once there, scroll down to the section SEO & PayWall. Now, select Enable PayWall. Here, you'll need to choose the number of free views per user.
Configuring this option will also allow search engines to access and index your content. As mentioned, this can help bring more traffic to your website from search engines.
For this feature to work properly, be sure to disable any caching plug-in that could slow down your WordPress website.
And lastly, don't forget to save your changes by clicking on Update Options.
Conclusion
Setting up a Paywall for your WordPress site is simple if you use the right plugin, like MemberPress. And if you execute this strategy properly, it can be a great way to monetize your content and grow your business.
Do you have questions about creating a paywall protected membership site using MemberPress? Let us know in the comments!
If you liked this article, be sure to subscribe to the MemberPress blog!