If you want to start a membership site, or any type of website for that matter, you'll need to sign up with a web host.
Doing so gives you access to a piece of server space where you can store your website and make it available to the world.
However, as there are countless web hosts out there, it can be difficult to find the right package for your project. While it's great to have so many options, it can complicate the process of finding a web host to sign up with and trust with your membership site.
But by the time you've read this guide to the best web hosts for membership sites, you should be able to confidently choose a plan that's right for your website that also matches your budget.
Let's get started…
What to Look for
Before we get to the recommended web hosting providers and plans for membership sites, it's worth figuring out your requirements.
If you've yet to launch your membership site, then low-cost shared hosting is a good option. However, if your membership site is already live and you need a new host for it, then it's a good idea to find out how large it is, in terms of file size, and how many people are visiting it.
As most web hosts give you a storage and visitor allowance, having these numbers on hand will help you find the right plan.
A good analytics service, such as Google Analytics, will let you see how many people are accessing your site. When it comes to finding out how much storage you'll need, it's probably best to contact your current hosting provider and ask them how big your site is.
When choosing a web hosting provider and plan for your membership site, some things to consider include:
Support options, such as telephone support, 24/7 live chat, and email support
Included extras, such as premium WordPress themes and plugins
Features, including automatic WordPress updates, website backups, and uptime monitoring
Uptime guarantees, such as 100 percent uptime or less, and refunds for downtime
Discounts for purchasing one year or more, upfront
Most of the best web hosts for membership sites vary in exactly what they offer their customers. So it's important to work out what's important to you, then choose the provider who offers more of the features you require.
With that in mind, here are the recommended hosting options for membership sites of all sizes.
Low-Cost Shared Hosting
If you're new to creating websites and choosing hosting providers, you might be surprised to learn that you can get good quality, entry-level web hosting for just a few dollars a month.
Furthermore, many of the best value entry-level hosting plans include unlimited storage as well as unlimited access to other essential resources, such as bandwidth.
So if you can get so much for so little, why even consider the more expensive types of hosting, such as managed WordPress hosting or custom enterprise hosting (more on those shortly)?
Well, the truth is, despite there being some reputable and great value low-cost hosting options out there, if your website does start getting popular and begins consuming too many resources, you'll be asked to upgrade to a more expensive plan or take your site elsewhere.
However, this doesn't mean you should overlook low-cost hosting, which is almost always shared hosting (called shared hosting because you're sharing server space and resources with other customers).
If you're just starting out and want to test the market with a minimum viable product, and see if there really is a demand for your membership site, then keeping costs low with entry-level shared hosting is certainly an option.
There are definitely some impressive packages out there, including hosts with plans that are aimed at WordPress users – our membership site platform of choice – so there are lots of companies to choose from.
However, to narrow your search, here are some of the best low-cost shared hosting providers out there:
While these hosts are some of the most affordable options around, just be aware that if the size or user base of your membership site grows, you'll probably have to upgrade your plan at some point.
Which brings us on to the next option in our guide to the best web hosts for membership sites….
Professional Managed WordPress Hosting
If you outgrow your low-cost hosting, or you want to start your membership site on a plan that is more capable, then managed WordPress hosting is what you need.
With this type of hosting, your website is hosted on servers optimized for WordPress. That, combined with more generous access to server resources, means that your website will load faster, be able to handle more simultaneous visitors, and hopefully experience less downtime while also being more secure.
As part of the managed hosting service, your WordPress website software will be updated for you, as will your plugins, depending on which host you choose.
This all comes at a price though, and most good managed WordPress hosting plans start at around $30 a month.
However, some plans, such as those from WP Engine, include access to premium WordPress themes, or as is the case with the WordPress.com Business plan, access to lots of useful premium features, such as the powerful VaultPress backup system. These extras help make it easier to justify the higher price of managed WordPress hosting.
Some managed WordPress hosts are now using the Google Cloud Platform service for their infrastructure, which means you get access to almost infinitely scalable server resources.
Thanks to this, it's highly unlikely that your membership site will outgrow your chosen managed WordPress hosting company. Although you will have to move up the plans, and increase your monthly subscription fees, to keep your website running smoothly if your site does become very popular.
Some examples of popular entry-level managed hosting plans include:
If your budget can accommodate it, you won't be disappointed with the above managed WordPress hosting plans for your membership site.
Custom Enterprise Web Hosting
If your membership site really takes off, or you find that you need to create a custom platform to deliver your membership content or build integrations with other services, you might need to turn to enterprise web hosting.
With enterprise plans, you not only get even more generous allowances, such as storage, processing power, visitors, and bandwidth, but you also get more control over how you use your webspace.
This extra freedom can enable you to install custom scripts on your hosting account to facilitate integration with third-party services or customize the WordPress software to make it more suitable for your membership site.
However, this greater freedom to do what you want with your webspace does come with increased responsibility. Depending on your plan and what you do with it, it might be up to you to ensure everything is running smoothly, with less assistance available compared to the managed hosting packages covered earlier.
It's unlikely that you'll need this type of hosting from the outset, if at all, but if you do require enterprise hosting, here are some of the best-known providers in this space:
Cloudways: high-powered enterprise managed WordPress hosting.
Pantheon: elite hosting for all types of projects.
SiteGround: custom-made enterprise hosting crafted for your website.
If you check out the plans, you'll see that this type of hosting isn't cheap, and in most cases, managed WordPress hosting will suffice once you've outgrown entry-level shared hosting.
Final Thoughts
If you choose WordPress for your membership website, your hosting options won't be limited. Almost all hosting plans support WordPress, and there are also some excellent WordPress-only packages out there to ensure your website is fast loading, always available, and fully secure.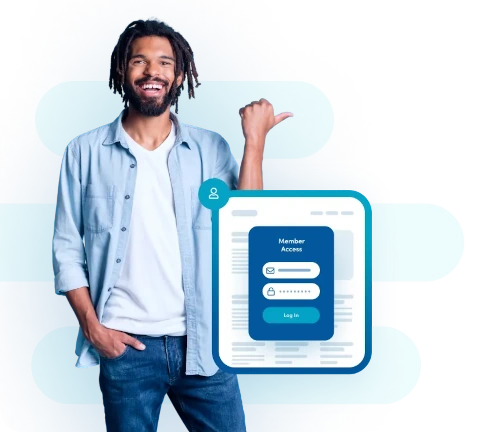 Ready to Start Your Membership Site?
Go with the best. MemberPress is the world's #1 paywalling, subscription, membership, and online course plugin for WordPress.
Get MemberPress Now
See All Features
With shared hosting prices starting at just a few dollars a month, there's no reason not to sign up with a reputable company and start your membership site today.
If you'd like to start out with premium managed WordPress hosting, or you want to upgrade your existing hosting arrangements, then you'll end up paying around $30 a month, but the higher prices usually come with lots of extras and benefits that make it a worthwhile investment for your membership site.
Which host will you choose for your membership site? Please let us know in the comments below.
If you liked this article, be sure to follow us on Facebook, Twitter, Instagram, and LinkedIn! And don't forget to subscribe in the box below.
Image credit: Any IP Ltd.