Learn about the new game-changing feature that lets anyone create beautiful, mobile-responsive MemberPress pages that are set to sell – in minutes.
---
Imagine going from no-site to sale-ready in under a day…
With all new ReadyLaunch™ by MemberPress, that's exactly what you can do.
MemberPress has always been easy to use, but ReadyLaunch™ just put your startup into all-systems-go mode.
You don't have to be a total techie, a design extraordinaire, or a trustafarian with tons of time on your hands to turn your idea into an online business. Not anymore.
With ReadyLaunch™ you get beautifully designed MemberPress pages that…
Are mobile-responsive
Optimized to sell
Branded, and
…actually look good. All with zero coding.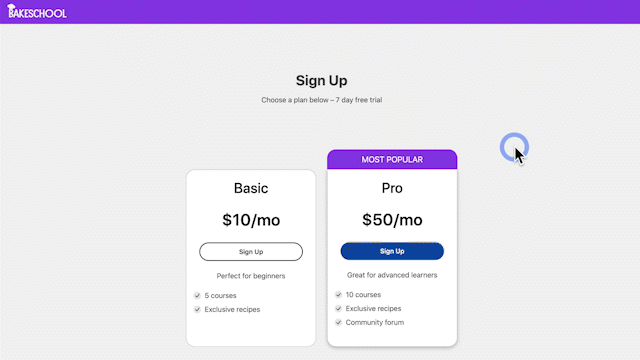 Keep reading to see how our all new, built-in MemberPress page maker is changing the online-business startup game forever.
---
Why ReadyLaunch™ is a Game Changer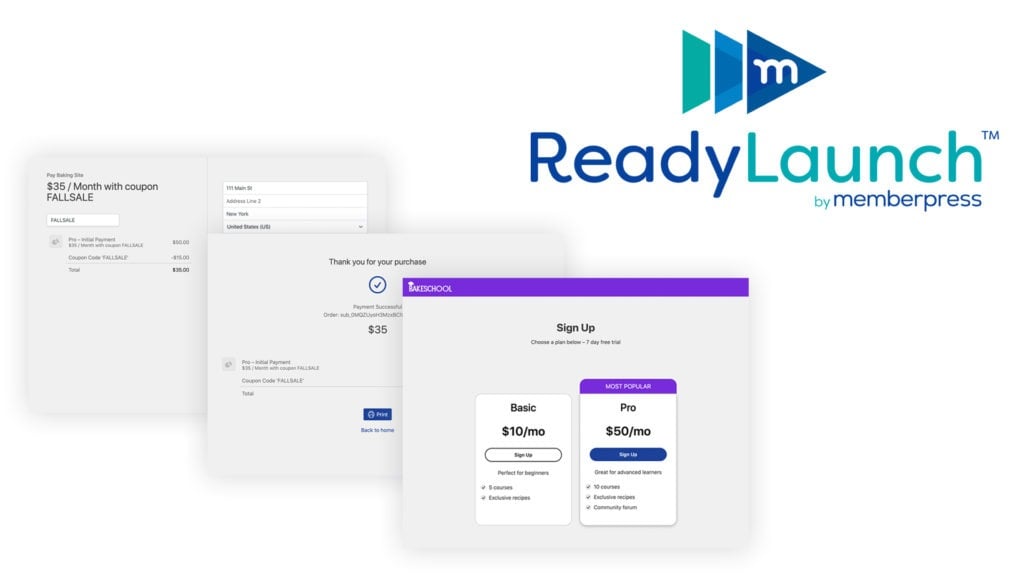 In a nutshell, ReadyLaunch™ by MemberPress levels the playing field for small online business entrepreneurs.
You can come in with minimal startup capital and absolutely no coding or web design experience. Then, in less than 1 day, create a fully functional WordPress business site that hits it out of the park.
Go from No-Site to Sale-Ready in less than a day
It's hard to believe, right? That's why we put together the video below.
Watch it and you'll see how MemberPress – now with ReadyLaunch™ – lets you style all your MemberPress pages in literally 1 minute.
And get your business off the ground in less than 1 day.
Say goodbye to glitches
Not many things can be as frustrating as page design.
Even when you're working with a WordPress theme, there's always some annoying glitch on the frontend that refuses to reveal itself in the back.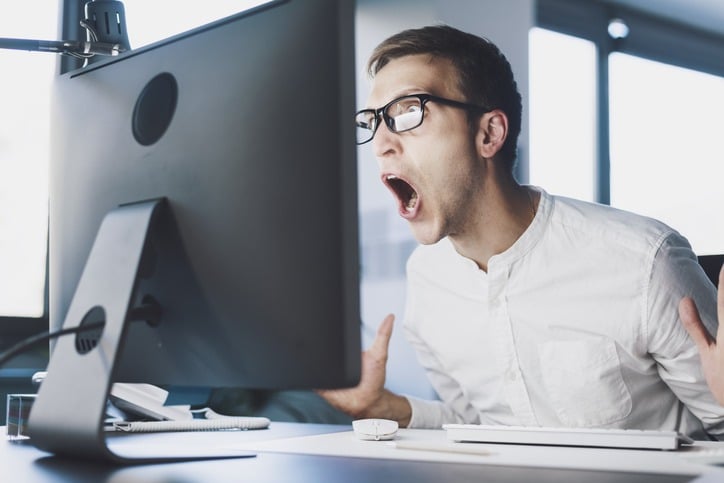 Always.
The good news? Wonky layouts and screwy formatting are just not a thing with ReadyLaunch™.
The settings are enabled by default on MemberPress installation. And all the layout and styling functions are baked right into automatic templates.
Once you've set up your Memberships, Groups, and Rules, just open up ReadyLaunch™.
Then enter your custom images, choose your colors, and voilà – you're ready to start selling.
---
What if I Already Have a MemberPress Site?
If you're already running a business on MemberPress, and you want to use ReadyLaunch™, that's no problem at all. Just update MemberPress.
When you're done, you'll see the ReadyLaunch™ tab in the settings. Click the tab, and enable ReadyLaunch™ on whichever pages you want.

Then get ready to boost your revenue bigtime!
---
MemberPress Courses Add-On Revamp

If you use the MemberPress Courses Add-On, you're probably familiar with its built-in page styler, Classroom Mode.
ReadyLaunch™ replaces the Classroom Mode styler. So you'll also need to update your MemberPress Courses Add-on.
To do that just go to your WordPress Dashboard > Plugins > MemberPress Courses, and update.
Now you're all set for a next-level refresh!
---
If you don't see the update available right away, just wait a few hours and check again. You can always reach out to support for help.
---
How to Use ReadyLaunch™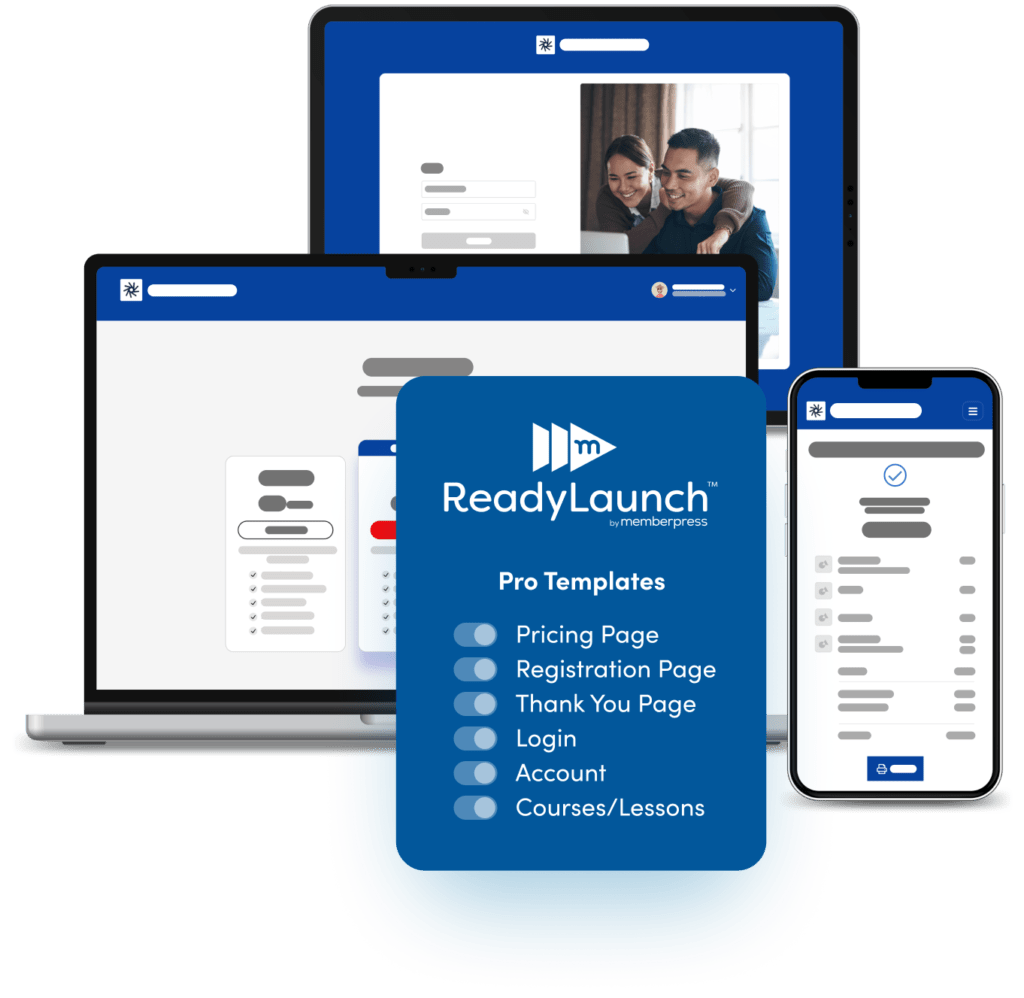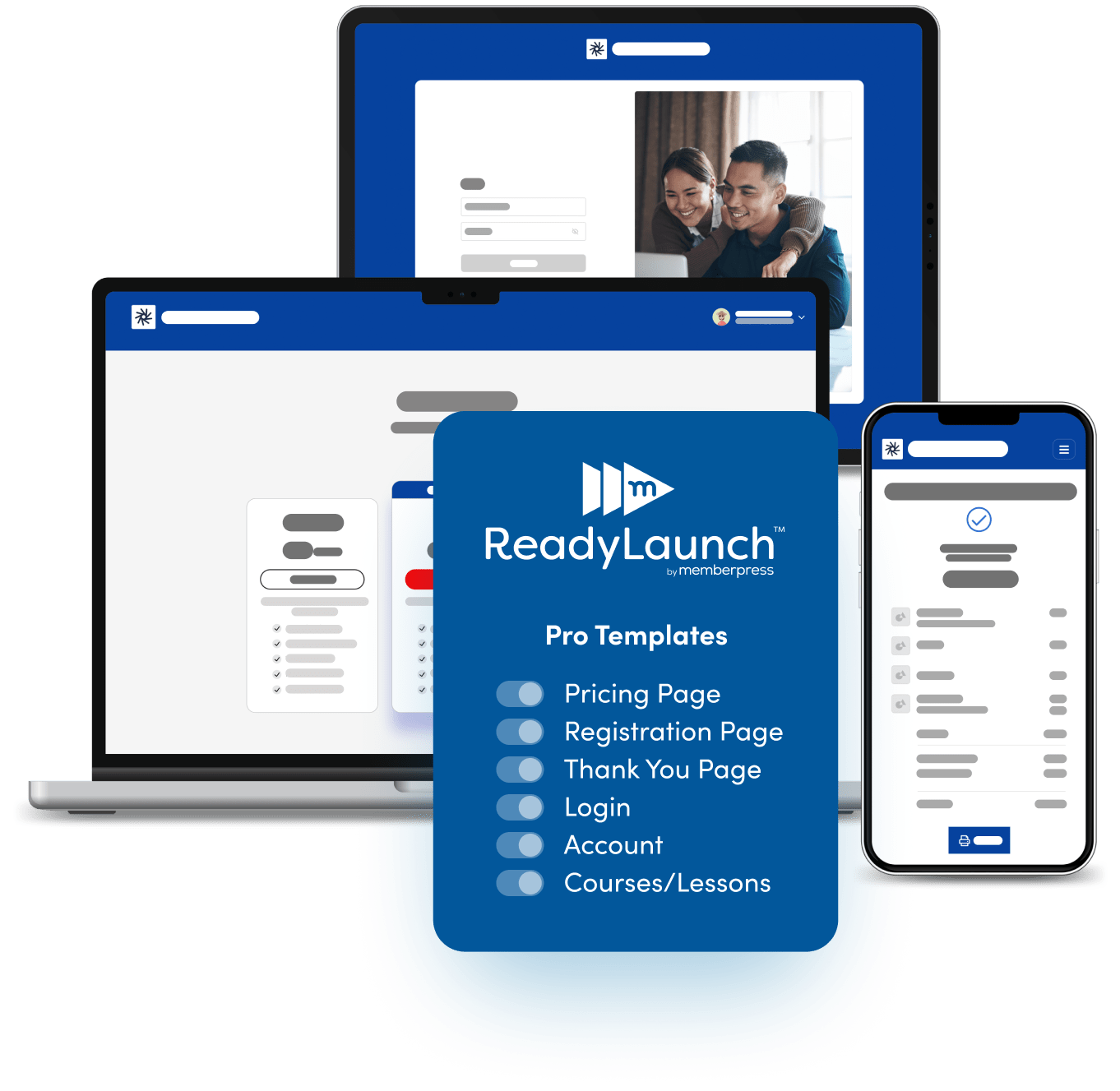 ReadyLaunch™ is built into MemberPress and enabled by default on new installations. Once installation is complete, you just…
Click the ReadyLaunch™ tab
Pick which pages you want styled
Set your customizations
You can apply automatic styling to all the MemberPress pages based on your customizations.
For any other page on your site, just add one or more of the ReadyLaunch™ reusable blocks.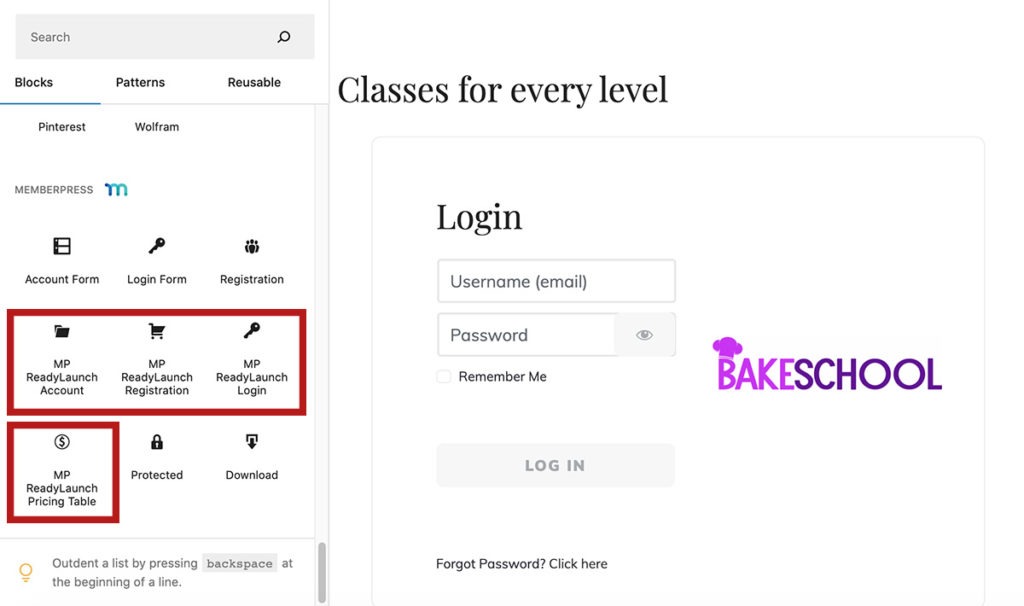 That's the basics. Click the button for step-by-step instructions and a comprehensive video tutorial in the MemberPress Knowledge Base.
But for now let's take a look inside!
---
A Look Inside
Our new feature automatically applies beautiful, mobile-responsive styling to all your MemberPress pages:
Courses
Login
Account
Pricing
Registration
Thank You
Following are some real-life examples of what you can expect to see on the front side with ReadyLaunch™.
---
Killer–Looking Courses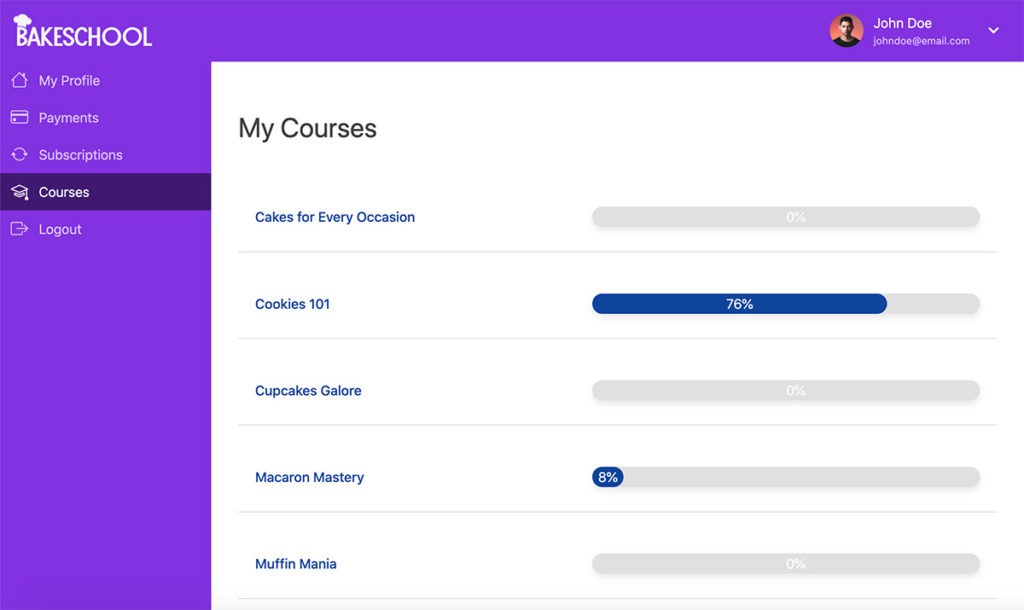 No more scaring your students away with lurky layouts, funky formatting, and off-brand design.
ReadyLaunch™ templates take on your customizations (images, colors, and text), and create great-looking, user-friendly layouts your students will love.
Any new course or lesson you add going forward picks up your styling without a hitch.
---
A Most Lovely Login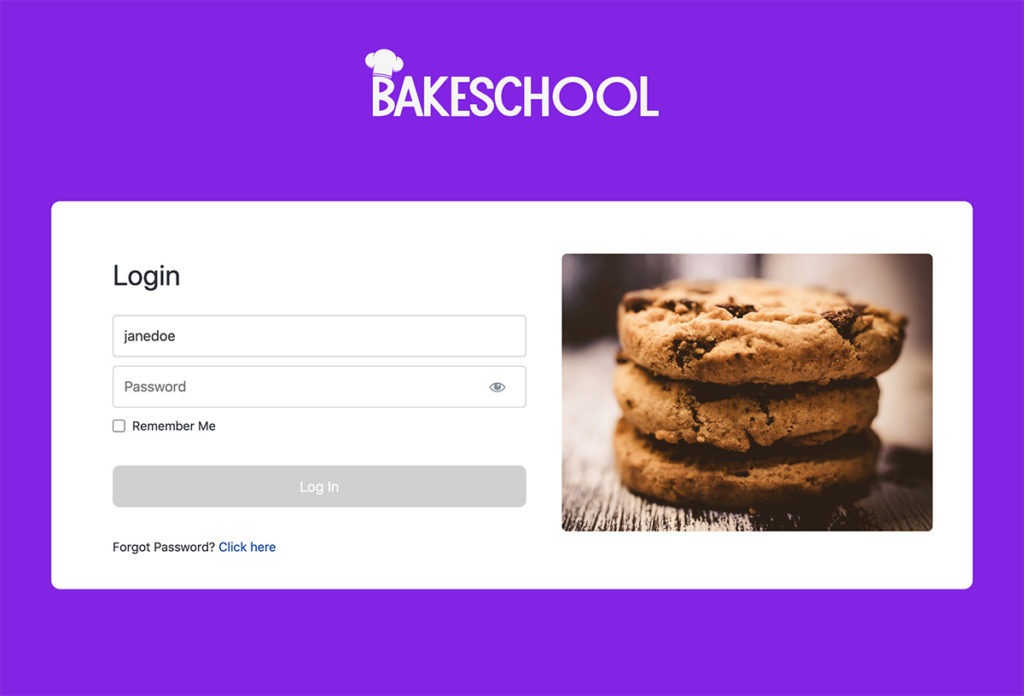 Login is kind of a big deal for online businesses. It's the gateway for getting in. And your members are confronted with it every time they visit.
You definitely don't want that confrontation to be a creepy encounter. And as you can see above, with ReadyLaunch™ it most certainly won't be.
The design is modern and clean and has a trustworthy vibe.
---
Astounding Account Pages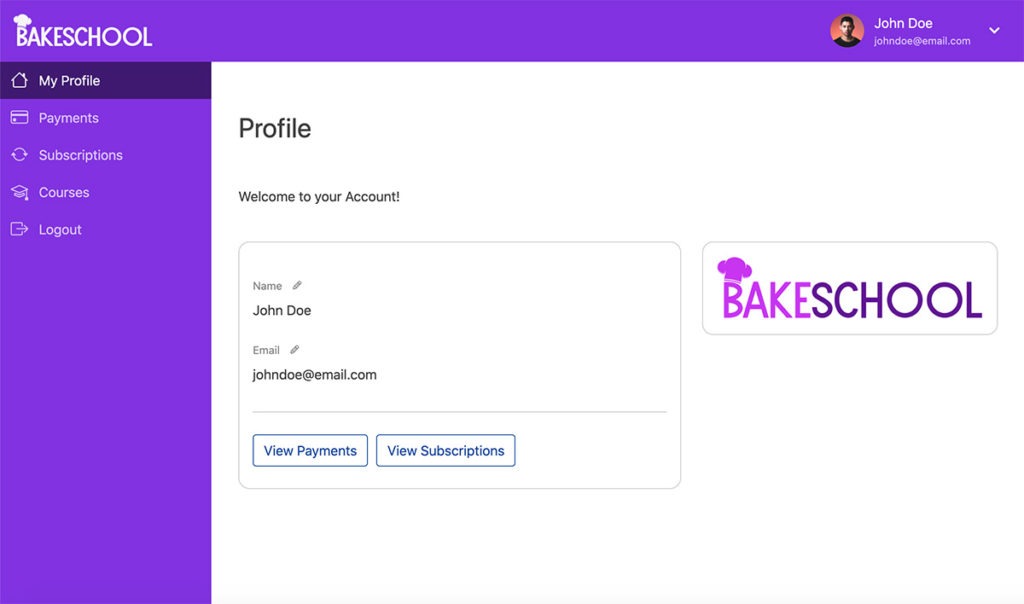 The Account page is your customer hub, so you don't want any buggy business going on in there.
This page needs to look great, work great, and have all the things your users might need.
Our sample Account page has a version of the BakeSchool logo in the optional image area. But you can use that spot for whatever you want – videos, links, calls to action, you name it.
Our page also has all the default links and functions, but you can add way more in the MemberPress Settings.
Thanks to ReadyLaunch™, no matter what or how much you do decide to add, it'll pick up your styling like magic.
---
Purdy Pricing Pages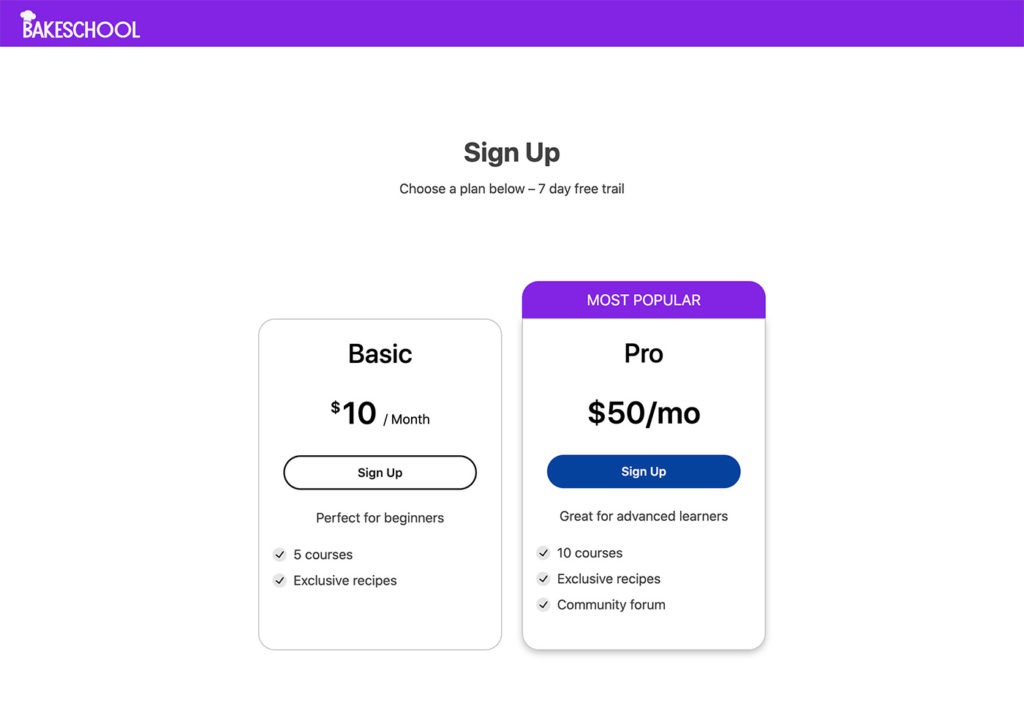 ReadyLaunch™ pricing pages are so darn purdy the urge to buy might just be irresistible.
Okay, maybe not every time. But with this kind of styling, one thing's for sure…
You can be confident knowing that if a customer decides not to make a purchase, it won't be because you've got an outdated, unprofessional looking site.
And there really is more to it than that. ReadyLaunch™ template layouts are optimized to sell – based on years of best practice research.
Another great thing? Once your customizations are set, every new element you add flows seamlessly into your design.
---
Impressive Registration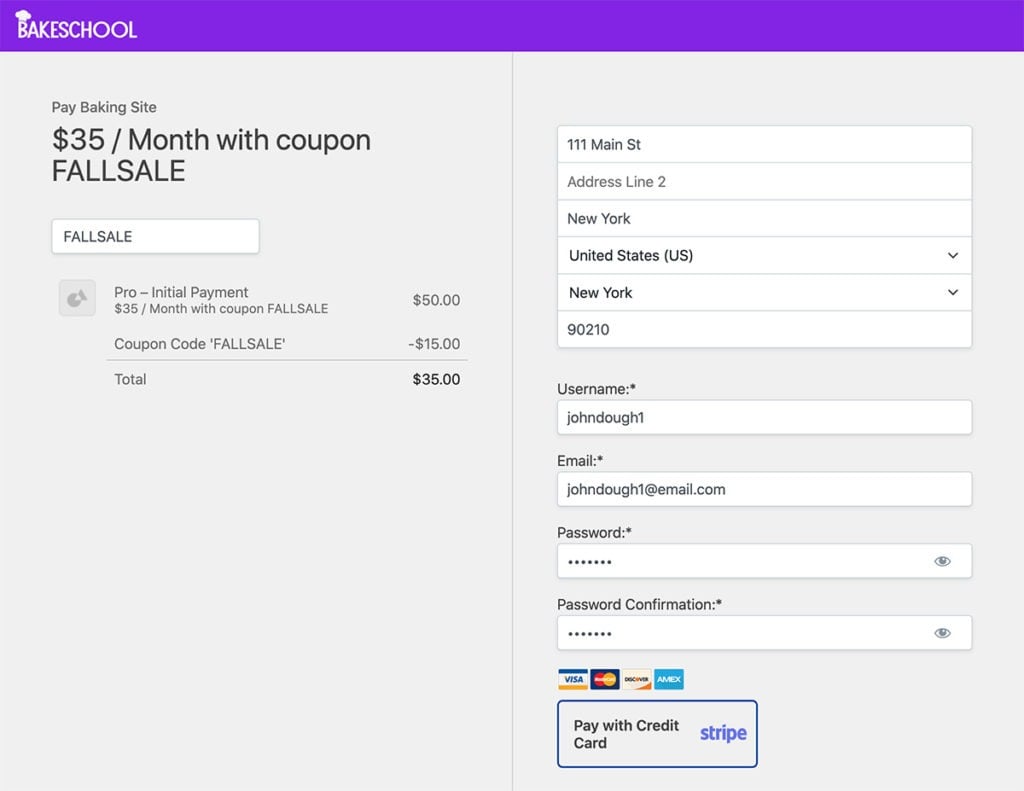 Now we've got the money page. If any page should be dressed to impress, it's this one.
Fortunately, with ReadyLaunch™ trustworthy and professional-looking are not a problem.
Your registration/checkout page info is configured when you set up your payment gateways, memberships, and groups in MemberPress Settings.
To get the look you see in our BakeSchool sample page above, all you do is flip a switch to enable ReadyLaunch™ styling. Easy peasy.
---
Perfectly customizable Thank You Pages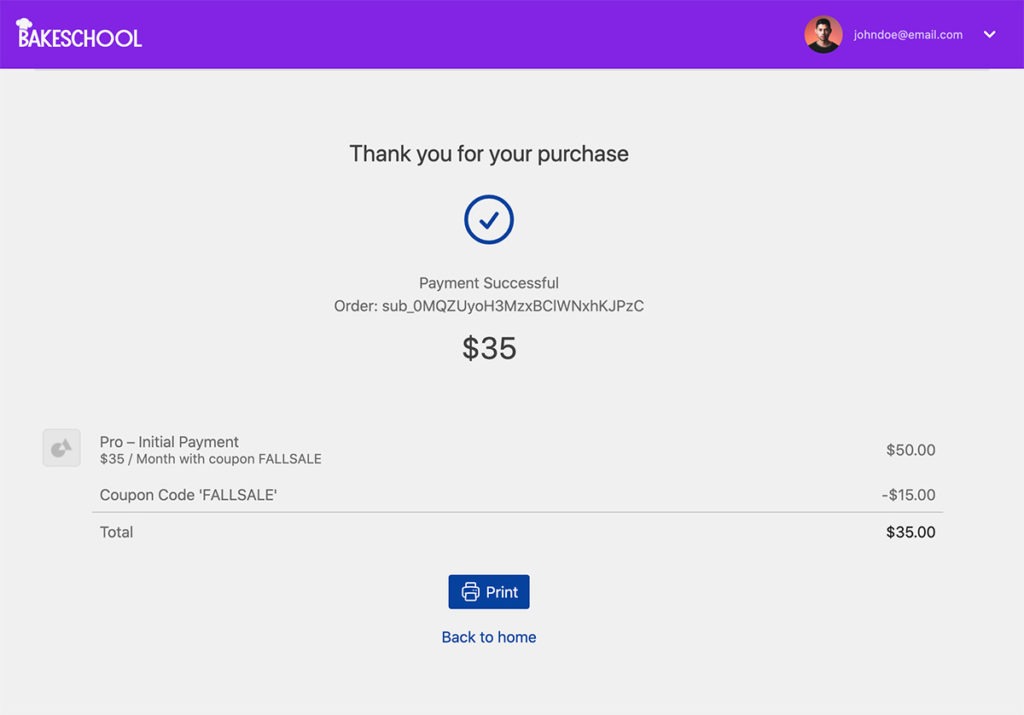 The thank you page is what your user sees right after making a purchase or signing up. In other words, right after deciding to put their trust in you.
To say this page is important is the understatement of the year.
Because the messaging here is so critical, we created ReadyLaunch™ to allow almost endless customizations on this page.
The content in our BakeSchool example page above is formatted to serve as a receipt. But there's a whole lot more you can do here…
Present a sweet and simple thank you message
Add links to other pages or outbound links
Add videos
Use call to action buttons
Whatever!
In addition to all this, with ReadyLaunch™ you get…
---
Beautiful branding for every page on your site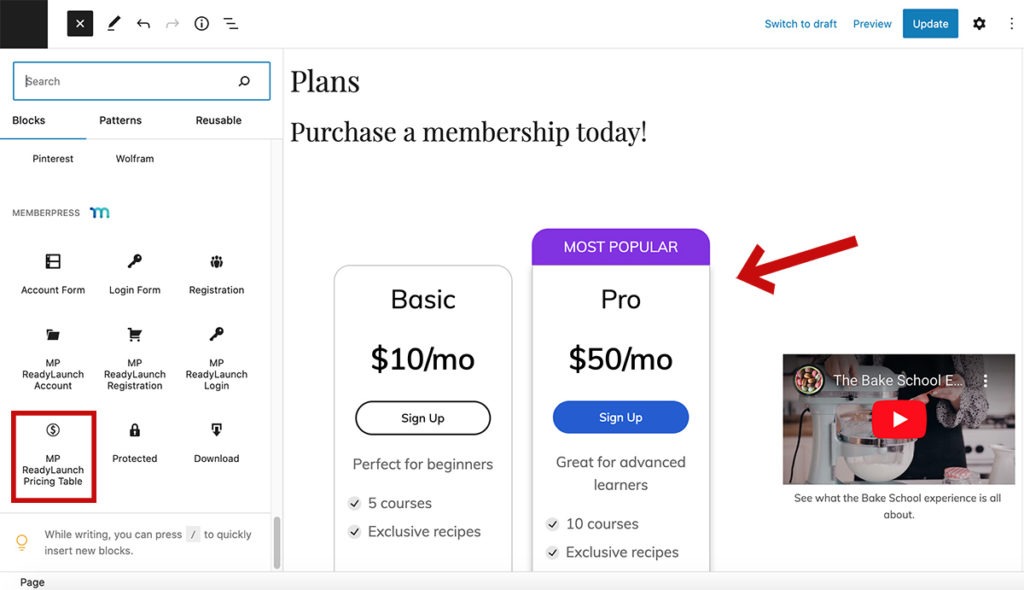 The ReadyLaunch™ built-in reusable blocks let you add branded, pre-styled elements anywhere on your WordPress website.
Got a great testimonials page? Leverage that awesome social proof by adding your pricing table.
Boost user experience by placing logins on a few more pages throughout your site.
Not only that, you can place multiple ReadyLaunch™ blocks on one page.
The customization possibilities are absolutely endless, and your imagination is the only limitation here.
---
Wrap Up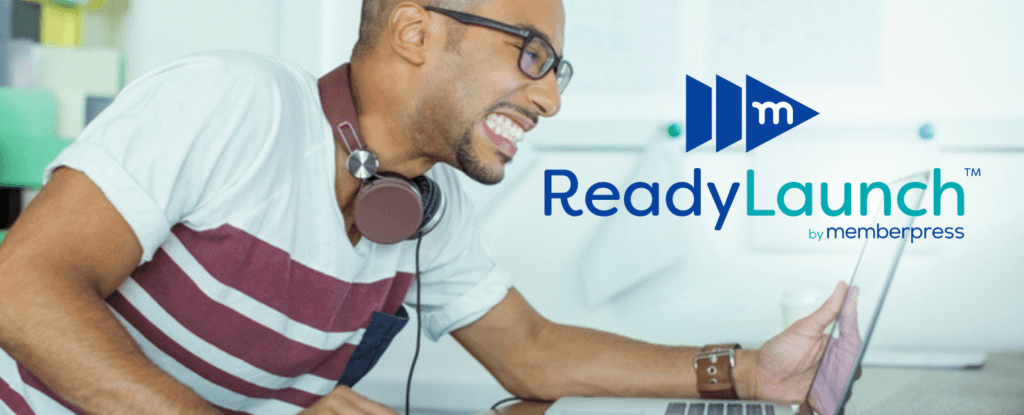 If you've…
Got a killer online business idea
Got a bit of capital to back it up
And you've mustered the motivation to get moving
…now's your time to launch!
ReadyLaunch™ by MemberPress is up, running, and ready to help you transform that great idea into real recurring revenue.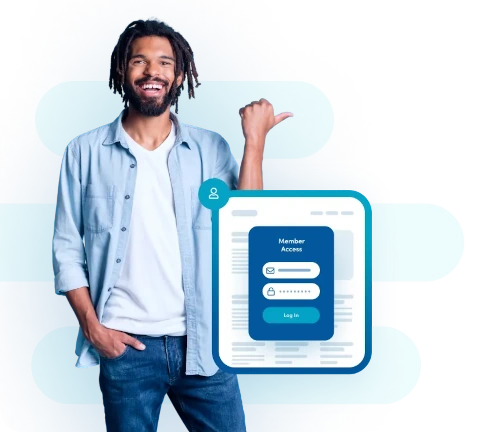 Ready, Set… SELL!
With all new ReadyLaunch™ by MemberPress, you can go from No-Site to Sale-Ready in under a day.
Get MemberPress Now
See All Features
---
If you liked this post, make sure you subscribe to the MemberPress blog!