A COMPREHENSIVE GUIDE TO ReadyLaunch™ – Learn how to make your website look professional without design skills.
In the fast-paced world of online business, success can depend on the ability to adapt, innovate, and overcome common challenges.
Creating a mobile-responsive, website that looks professional can seem daunting for small business owners with limited technical skills.
That's where ReadyLaunch™ by MemberPress comes in as a game-changer.
It's a dynamic solution that simplifies website creation and addresses these challenges head-on.
MemberPress has always been known for its user-friendliness. And ReadyLaunch™ takes it a step further, blasting your startup into action mode.
The best part? You don't need to be a tech-savvy guru or a design virtuoso. And you certainly don't have to work endless hours to make your online business dream come true.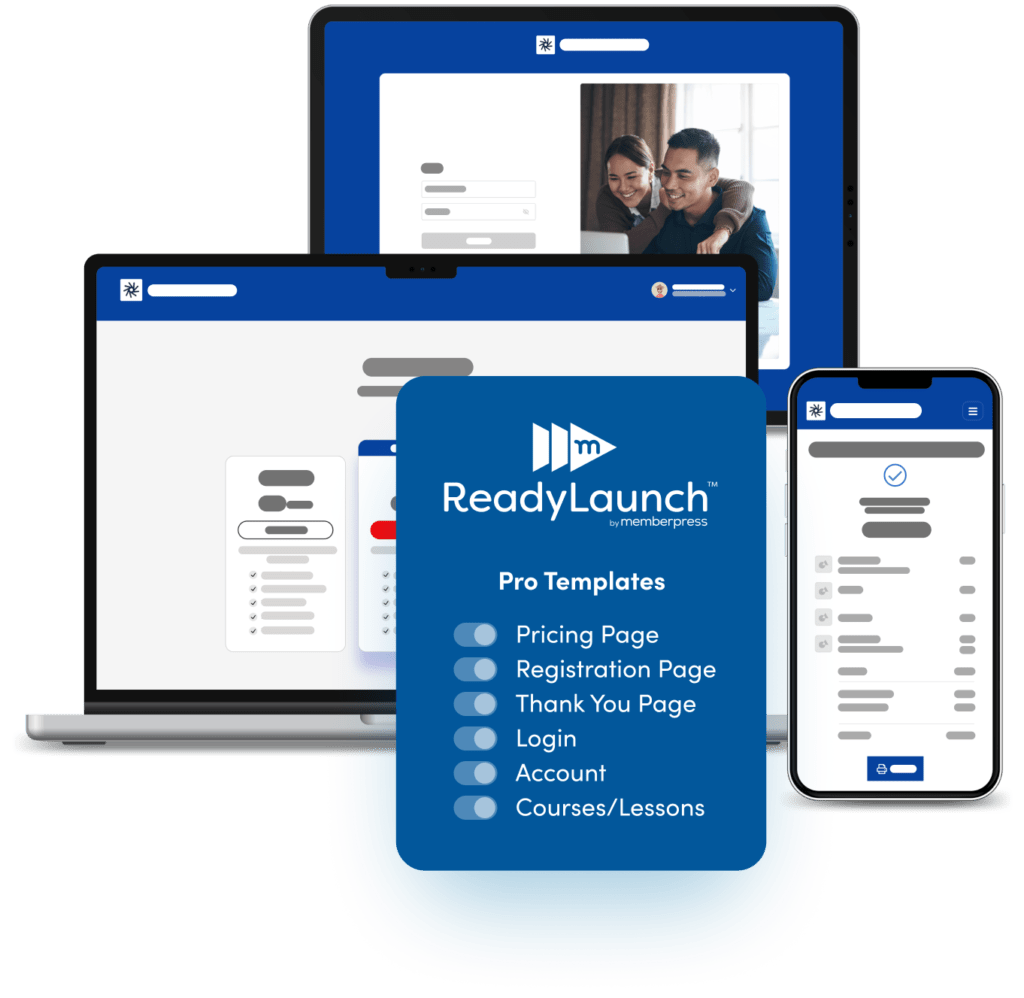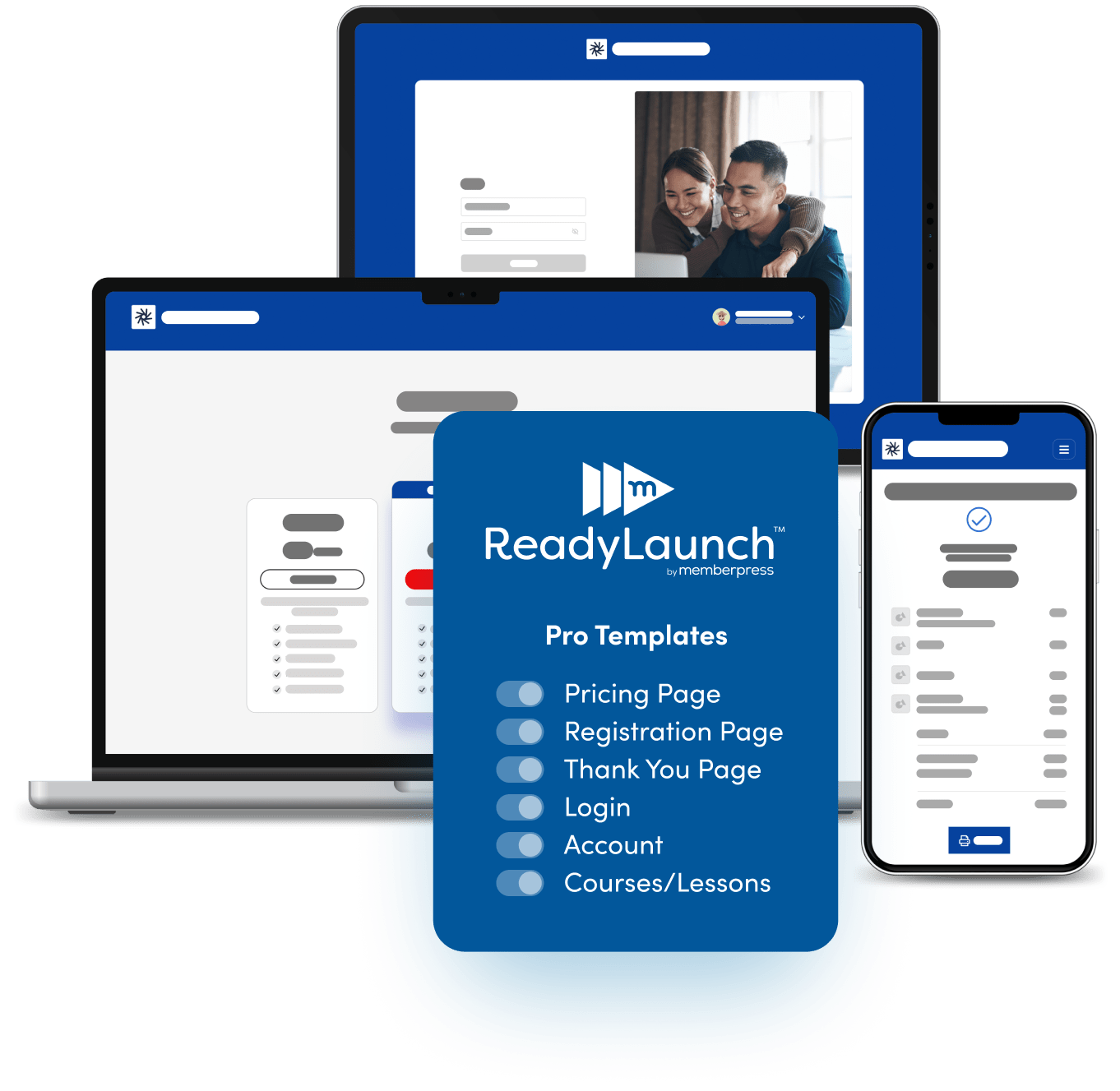 In this comprehensive guide, we get into how ReadyLaunch™ transforms the online business landscape.
From making website creation accessible to people with limited technical skills to offering up time-saving solutions, automatic mobile responsiveness, and simplified page styling, ReadyLaunch™ is your partner in success.
We'll explore how it…
Gets rid of glitches and hassles
Seamlessly integrates with existing MemberPress sites
Revamps MemberPress Courses, and
Sets you up with a step-by-step guide for creating and customizing web pages.
Even better, we'll uncover the key features that enhance your online presence. And we'll give you a closer look at real-life success stories to inspire your journey.
Keep reading to discover how this innovative, built-in MemberPress page maker is reshaping the landscape of online business startups for good.
What is ReadyLaunch™?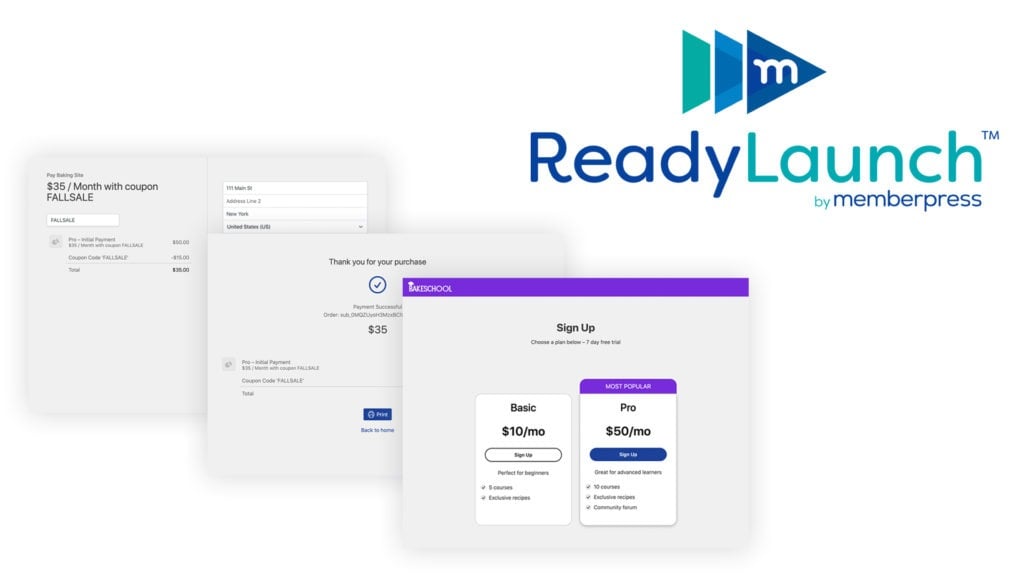 ReadyLaunch™ is the progressive solution that makes website creation fast and easy for small business owners, particularly those with limited technical skills.
As we said, trying to put a professional-looking site together can be challenging and discouraging, especially if you lack technical expertise.
ReadyLaunch™ steps in to bridge this gap. It's not just a tool; it's a pathway to a professional online presence.
With ReadyLaunch™ you get beautifully designed MemberPress pages that…
Are mobile-responsive
Optimized to sell
Branded, and
…actually look professional. All with zero coding.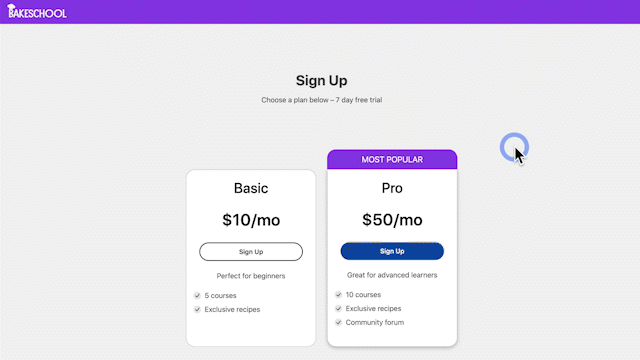 You can come in with minimal startup capital and absolutely no coding or web design experience.
Then, in less than 1 day, create a fully functional WordPress business site that hits it out of the park.
---
Don't believe us? Here's a video to show you just how easy it is to style your MemberPress pages in one little minute with ReadyLaunch™.
---
How does ReadyLaunch™ solve my website creation dilemma?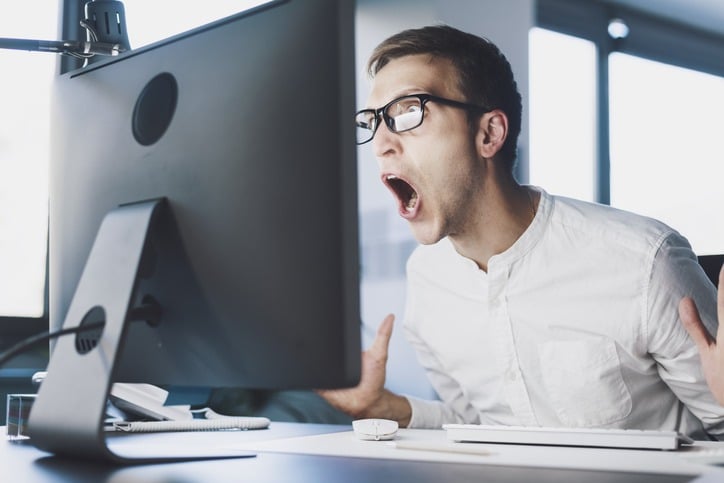 ReadyLaunch™ takes the frustration out of the tech dilemma and empowers small business owners to compete in the digital landscape.
And it does so through the following key features and benefits:
Accessibility
Imagine ReadyLaunch™ as your tech-savvy friend who's always there to lend a hand.
You don't have to be a code master to create professional-looking pages. ReadyLaunch™ has user-friendly tools and pre-designed templates that make the process a breeze.
It's like having a web design expert by your side.
Time-Saving
We get it. Time is precious when you're running a small business.
Fortunately, ReadyLaunch™ values your time and money.
Say goodbye to endless hours of coding and design work.
With MemberPress and ReadyLaunch™, you can have your website up and running in no time, allowing you to focus on what matters most – your business.
Mobile Responsiveness
In a world where we're glued to our mobile devices, having a website that looks good on phones and tablets is non-negotiable.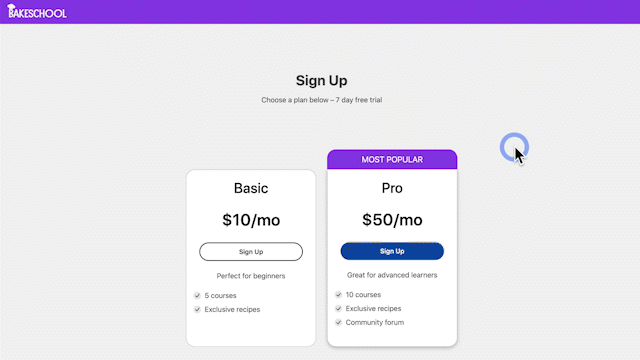 ReadyLaunch™ takes care of this for you.
It applies beautiful, mobile-responsive styling to all your MemberPress pages:
Courses
Login
Account
Pricing
Registration
Thank You
User-Friendly Design
Not everyone has the eye of a graphic designer, and that's perfectly fine. But the question is always looming…
How do I make a professional website with zero design skills?
ReadyLaunch™ answers the question. It equips you with tools that let you create a visually appealing page without the headaches.
You don't need a degree in design to make your site look top-notch.
Eliminating Glitches
Tech glitches can be super frustrating, right?
Even with a WordPress theme, there are still those pesky front-end glitches that are often undetectable in the back-end.
With ReadyLaunch™, you won't have to deal with those annoying layout issues or formatting problems.
---
---
The settings are enabled by default on MemberPress installation. And all the layout and styling functions are baked right into automatic templates.
Once you've set up your Memberships, Groups, and Rules, just open up ReadyLaunch™.
Then enter your custom images, choose your colors, and voilà – you're ready to start selling.
Seamless Integration
If you're already using MemberPress for your website, you might wonder how ReadyLaunch™ fits into the picture.
Well, it's a seamless process for you, too!
Just update MemberPress. When you're done, you'll see the ReadyLaunch™ tab in the settings.
Click the tab, and enable ReadyLaunch™ on whichever pages you want.

ReadyLaunch™ slides right into your existing MemberPress site without causing any disruptions. It's like an amazing upgrade in an instant.
Revamped Courses

ReadyLaunch™ brings some extra pizzazz to course pages. It's like a makeover that gets your course pages looking more engaging and professional.
Your students will love the new look, making the learning experience even better.
ReadyLaunch™ replaces the Classroom Mode styler. So you'll also need to update your MemberPress Courses Add-on.
To do that just go to your WordPress Dashboard > Plugins > MemberPress Courses, and do the update.
Step-by-Step Guidance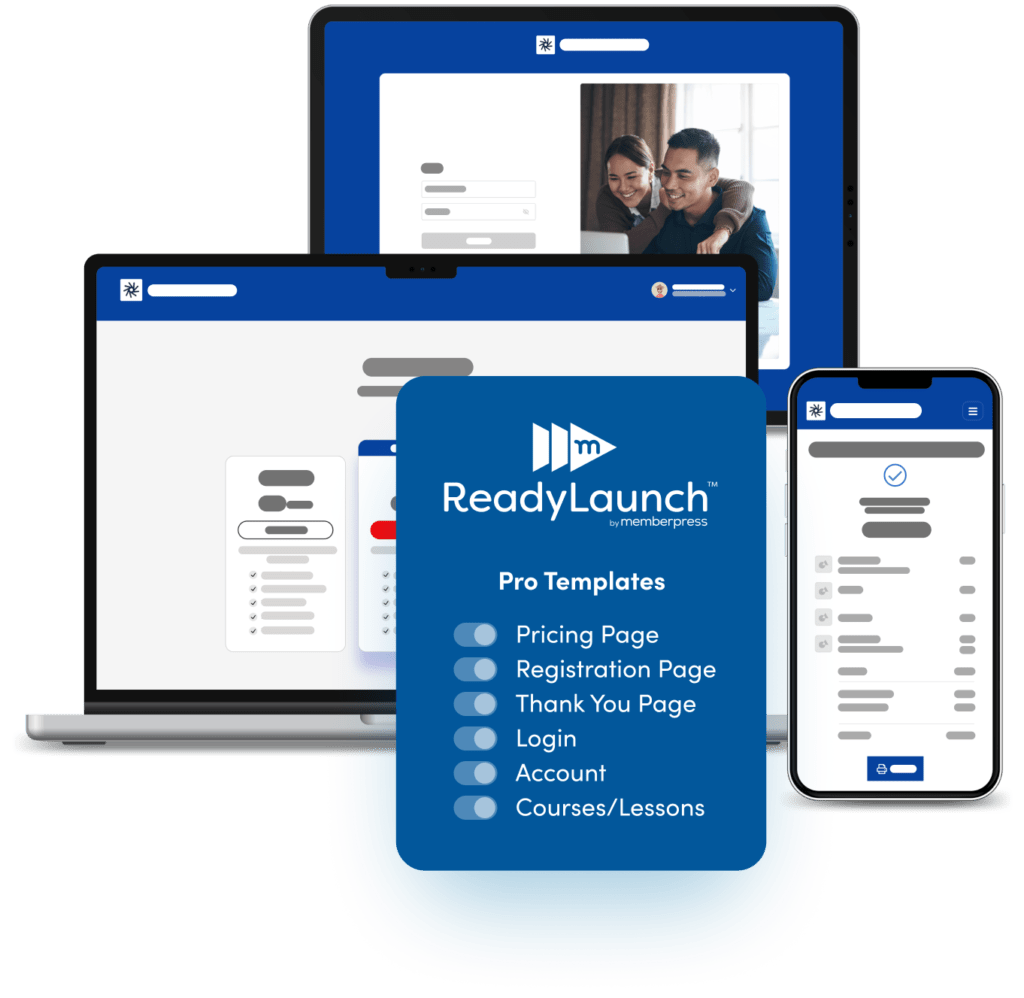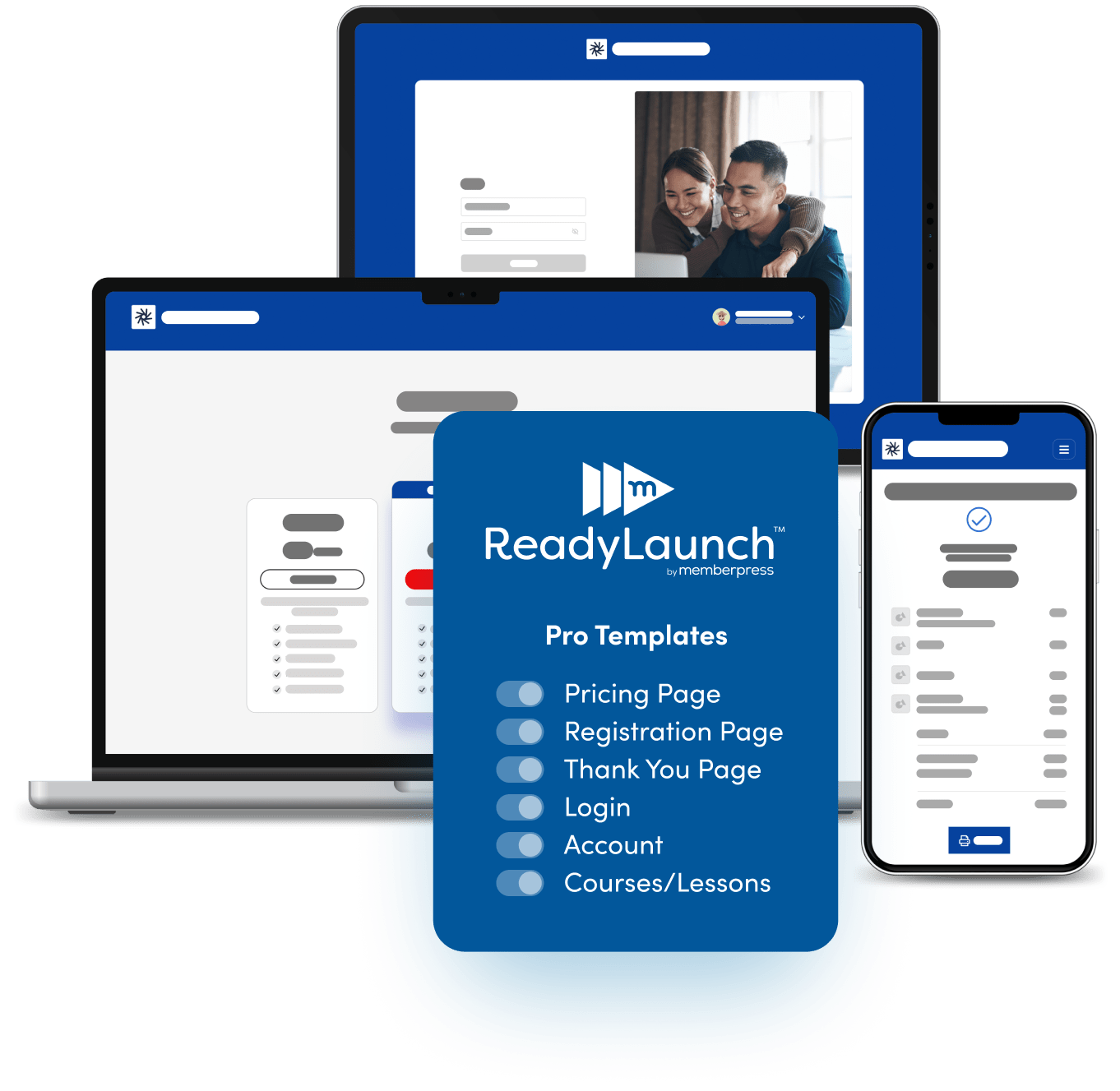 If you're new to web page styling, don't worry. ReadyLaunch™ literally does it for you.
Just install the add-on, then…
Click the ReadyLaunch™ tab
Pick which pages you want styled
Set your customizations
You can apply automatic styling to all the MemberPress pages based on your customizations.
For any other page on your site, just add one or more of the ReadyLaunch™ reusable blocks.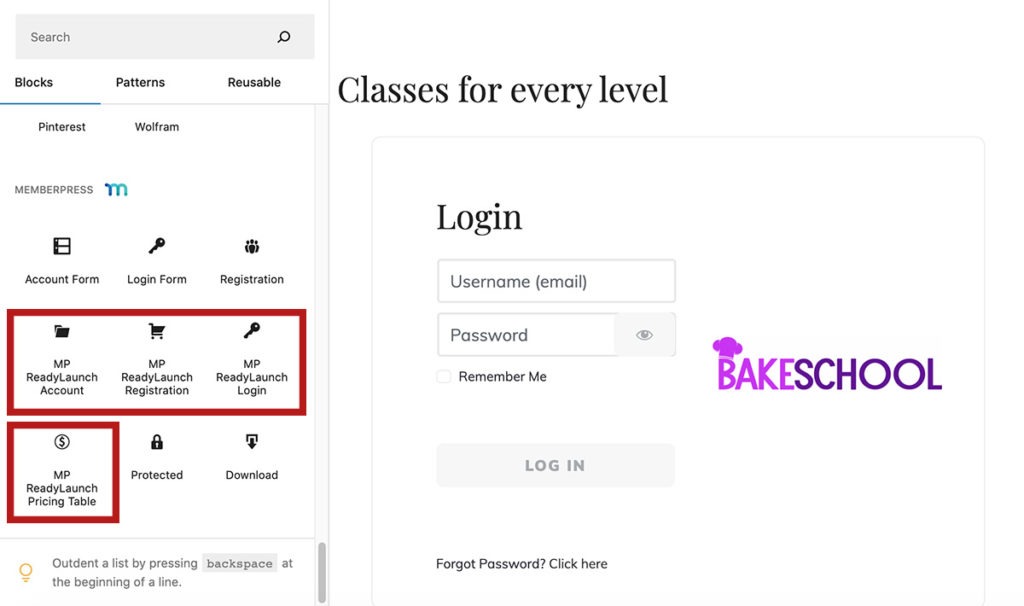 The blocks allow you to add branded elements to any page on your site.
That's the basics. Click the button for step-by-step instructions and a comprehensive video tutorial in the MemberPress Knowledge Base.
Who should use ReadyLaunch™?
Get ReadyLaunch™ if…
👉 You're a small business owner or a start-up entrepreneur.
ReadyLaunch™ is a champion for small business owners who want to establish and grow their online presence. Go from No-Site to Sale-Ready in less than a day.
👩‍💻 You are an online course creator.
ReadyLaunch™ offers a revamped experience for course creators, ensuring your course pages are engaging and professional.
🪴 You are an existing MemberPress user.
If you're already using MemberPress for your website, ReadyLaunch™ seamlessly integrates with it, enhancing your existing setup.
🦄 You are a tech-savvy individual.
Even if you have technical skills, ReadyLaunch™ optimizes your productivity by saving you time and effort with its automatic funtions.
⌛ You are a professional with limited time and resources.
If you're short on time and resources, ReadyLaunch™ is your solution for quick and efficient page styling.
📲 You want mobile-responsive design.
ReadyLaunch™'s mobile-first approach ensures your website looks great on any device.
🫰 You're anyone in need of a monetized website.
It doesn't matter if you've got a blog or online magazine, a coaching business, or a consulting business like a law firm. If you want to use your WordPress website to make money, MemberPress with ReadyLaunch™ makes it faster and easier.
What's inside the ReadyLaunch™ box?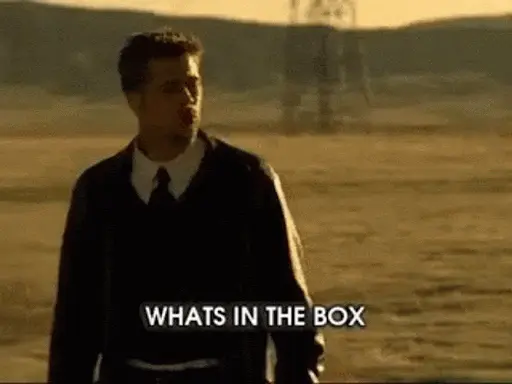 Curious about what makes ReadyLaunch™ tick? Let's take a peek under the hood to explore the inner workings of this powerful tool.
Killer–Looking Courses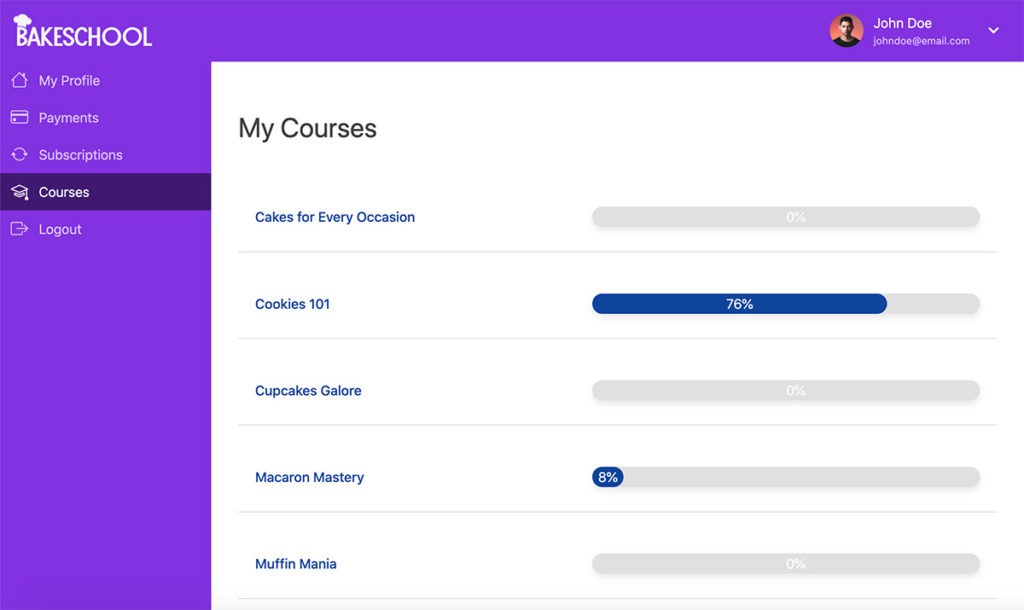 No more scaring your students away with lurky layouts, funky formatting, and off-brand design.
ReadyLaunch™ templates take on your customizations (images, colors, and text), and create great-looking, user-friendly layouts your students will love.
Any new course or lesson you add going forward picks up your styling without a hitch.
User-Friendly Login Experience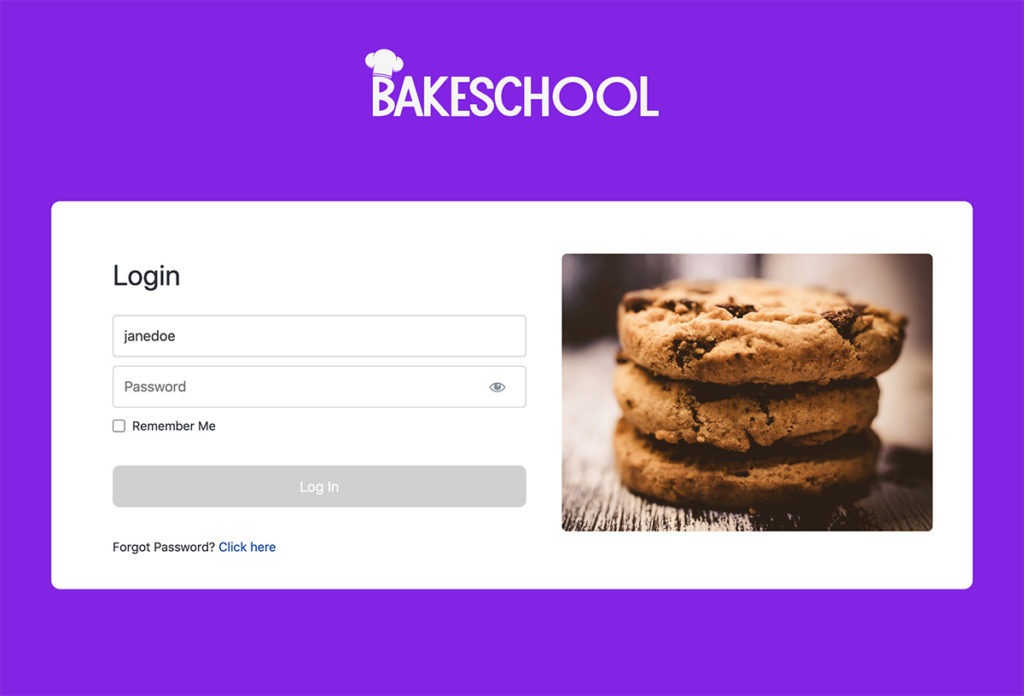 Login is kind of a big deal for online businesses. It's the gateway to getting in. And your members are confronted with it every time they visit.
With ReadyLaunch™, your login design is modern, clean, and inspires confidence.
Astounding Account Pages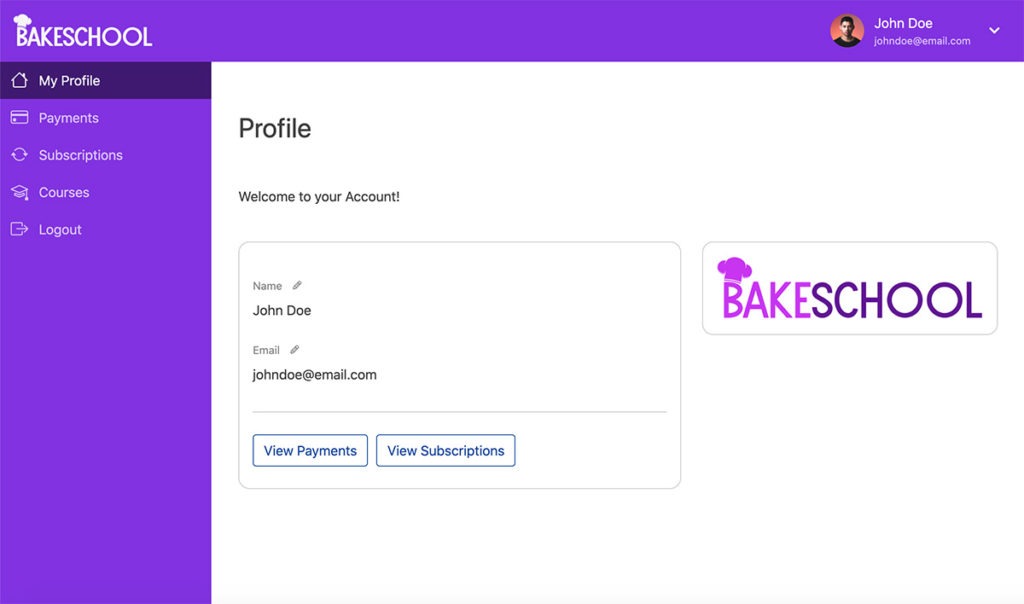 The account page serves as your customer hub. This page needs to look great, work great, and have all the things your users might need.
Our sample Account page has a version of the BakeSchool logo in the optional image area. But you can use that spot for whatever you want – videos, links, calls to action, you name it.
The account page comes with all the default links and functions, but you can add way more in the MemberPress Settings.
ReadyLaunch™ seamlessly incorporates your styling into the page, no matter how extensive your additions.
Irresistible Pricing Pages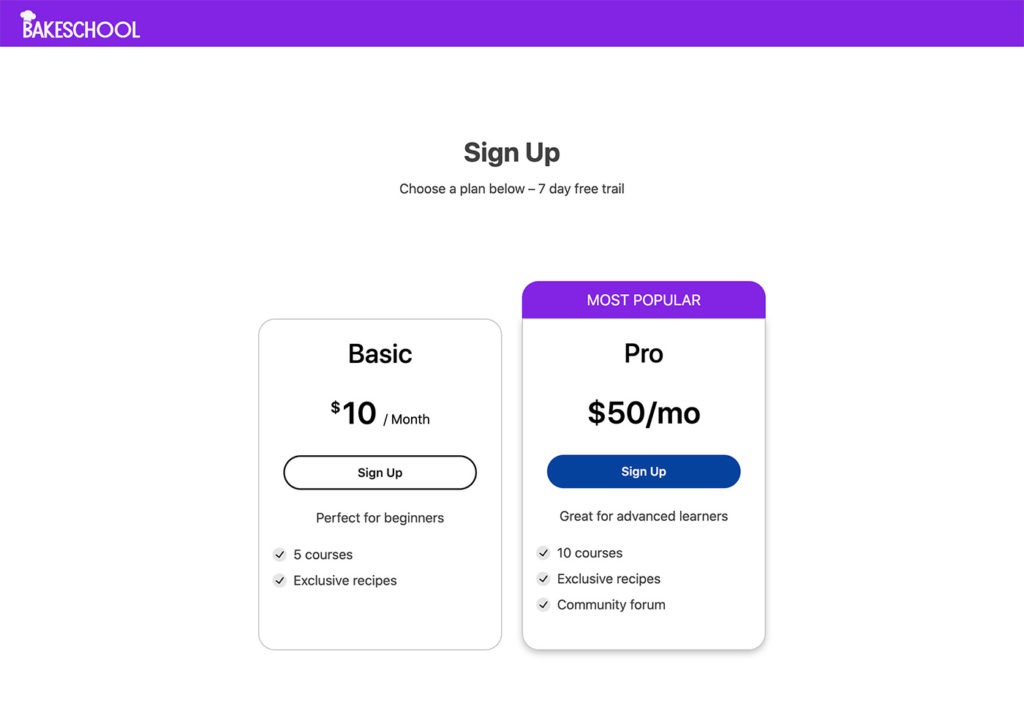 ReadyLaunch™ template layouts are optimized to sell.
The visual appeal of ReadyLaunch™ pricing pages help make the urge to buy irresistible.
And you can have confidence that a purchase won't be deterred by an outdated or unprofessional site.
Another great thing? Once your customizations are set, every new element you add flows seamlessly into your design.
Streamlined Registration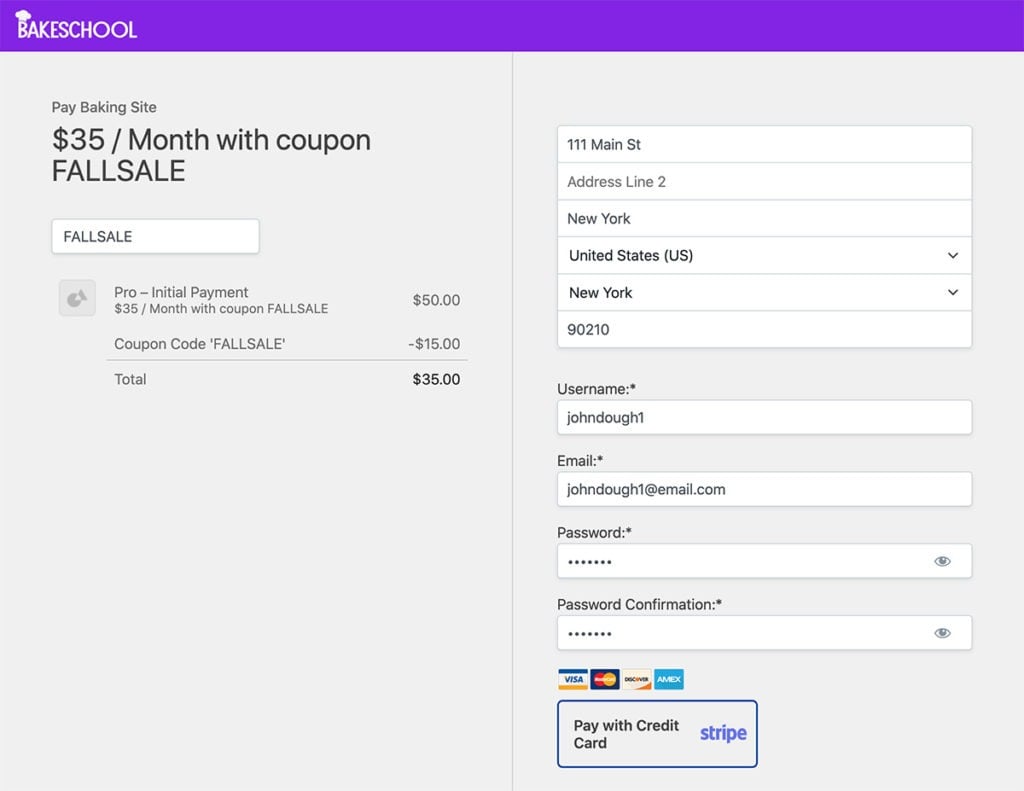 If any page should be dressed to impress, it's this one.
ReadyLaunchTM ensures you look trustworthy and professional.
Your registration/checkout page info is configured when you set up your payment gateways, memberships, and groups in MemberPress Settings.
To get the look you see in our BakeSchool sample page above, all you do is flip a switch to enable ReadyLaunch™ styling. Easy peasy.
Perfectly Customizable Thank You Page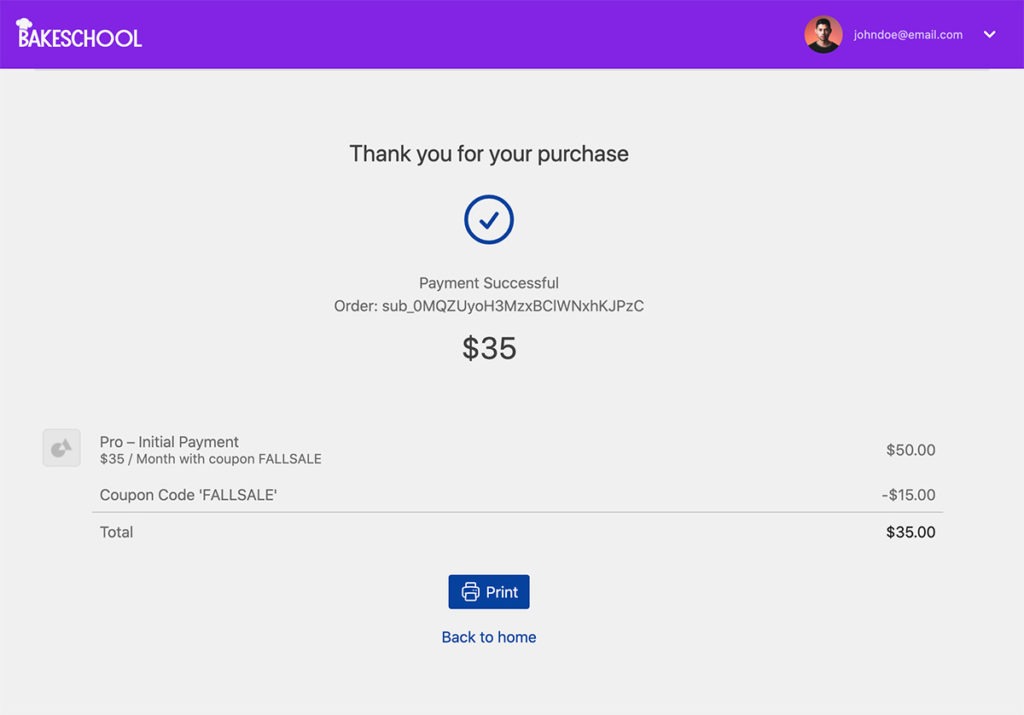 The thank you page is the first thing your user encounters after making a purchase or signing up. In other words, right after deciding to put their trust in you.
And Because the messaging here is so critical, ReadyLaunch™ allows almost endless customizations on this page.
The content in our BakeSchool example page above is formatted to serve as a receipt. But there's a whole lot more you can do here…
Present a sweet and simple thank you message
Add links to other pages or outbound links
Add videos
Use call to action buttons…whatever!
Beautiful Branding for Every Page on Your Site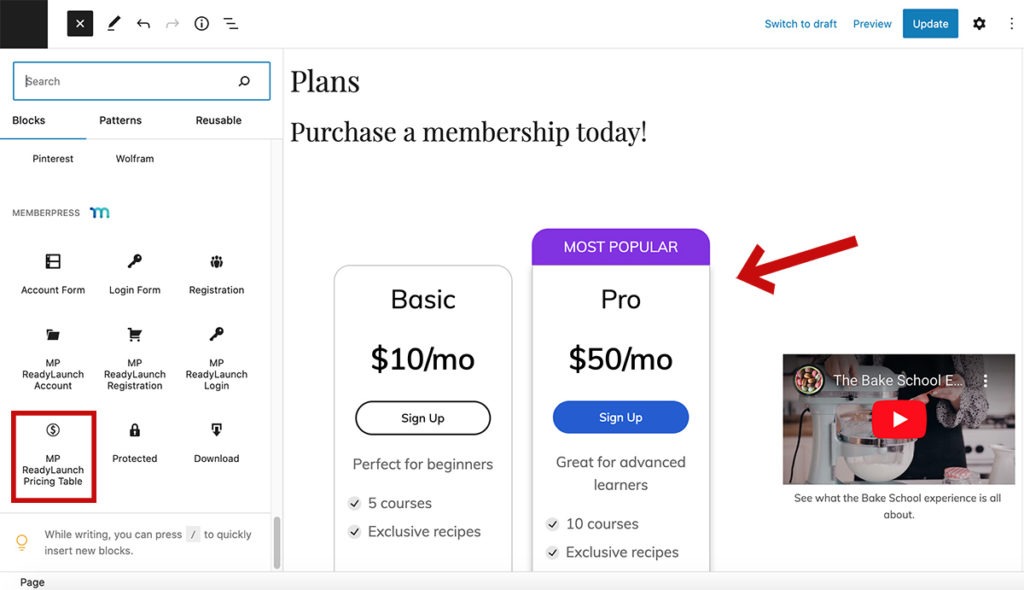 ReadyLaunch™ brings beautiful branding to every page on your site and allows you to incorporate custom elements that enhance user experience and engagement.
The ReadyLaunch™ built-in reusable blocks let you add branded, pre-styled elements anywhere on your WordPress website.
Got a great testimonials page? Leverage that awesome social proof by adding your pricing table.
Boost user experience by placing logins on a few more pages throughout your site.
Not only that, you can place multiple ReadyLaunch™ blocks on one page.
The customization possibilities are absolutely endless. Really. Your imagination is the only limitation here.
So where do you go from here?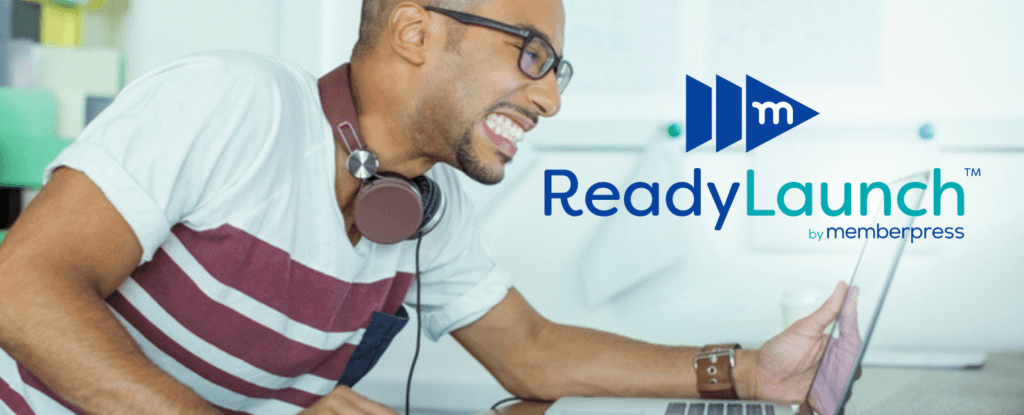 If you've…
Got a killer online business idea
Got a bit of capital to back it up
And you've mustered the motivation to get moving
…now's your time to launch!
ReadyLaunch™ by MemberPress is here to help you make your business website more professional so you can turn your great ideas into steady, recurring revenue.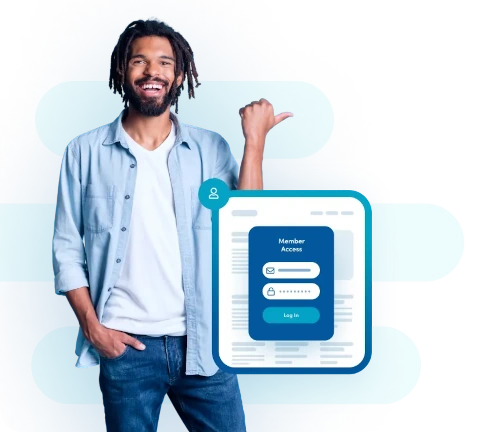 Ready, Set… SELL!
With all new ReadyLaunch™ by MemberPress, you can go from No-Site to Sale-Ready in under a day.
Get MemberPress Now
See All Features