Sell add-on items at checkout automatically, and bump up your revenue with our new Order Bumps feature.
Calling all creators! If you're looking for a way to catapult your profits, get ready to fall in ❤️ with this new feature.
You've probably heard of the "You want fries with that?" strategy. It was a legendary McDonald's marketing move dating back to the mid-20th century.
The strategy was incredibly effective and brilliantly simple:
The customer gives the order
The employee asks, "You want fries with that?"
The customer (invariably) says "yes", and…
CHA-ching! Bigger sale in a heartbeat.
With our new ORDER BUMPS feature, you get that same cross-selling power inside MemberPress.
With Order Bumps, you can put additional, complementary products and services in front of your customers, right at checkout.
Think things like…
Memberships
Courses
Ebooks
Sessions (like coaching or consultations)
Product bundles
…and whatever else you can conjure up.
Just like the marketing geniuses over at McDonald's, MemberPress creators can now capitalize on the proven fact that a buyer is more likely to add smaller items to an order at checkout.
If you're running your business on WordPress and MemberPress, the cross-selling power now available to you is limitless.
More than a bigger bottom line
The potential for increased revenue is awesome, no doubt. But there's more to Order Bumps than a bigger bottom line.
Giving the opportunity to buy complementary products and services at checkout also enhances user experience (UX) and customer satisfaction.
It simplifies shopping, giving your customers a seamless, hassle-free experience where added value is unavoidable.
Order Bumps are a win-win for everyone!
How Order Bumps Work
It couldn't be easier!
Add your additional items or services to the mix as "memberships", and set your prices.
Open up the product or membership you'd like to add additional items to, and click the Order Bumps tab.
Check the box next to the items and services you want to sell alongside your main offering.
You can even write a persuasive heading tailored to make your add-ons irresistible. Click update when you're done, and you're all set.
When your customer reaches checkout, they'll get the option to add these products and services to their order with one-click convenience.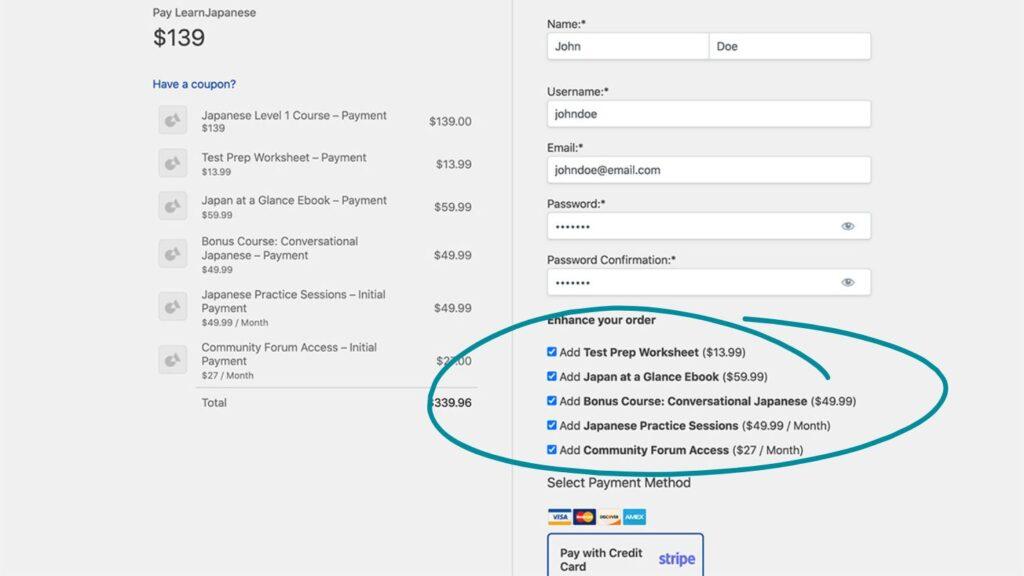 Order Bumps makes it almost effortless to…
✓ Customize the consumer journey
✓ Enhance every transaction with product-bundle benefits
✓ Amplify your income
Basically, 1-click upsells put suggestive selling on autopilot. That means you can sit back and watch your bottom line climb to the sky.
MemberPress Order Bumps in Action
MemberPress has super easy setup, simple site migration, and incredibly powerful features. All this and more make it the #1 WordPress monetization and membership site plugin in the world.
So, as you can imagine, entrepreneurs use MemberPress to monetize their ideas in almost endless ways and industries.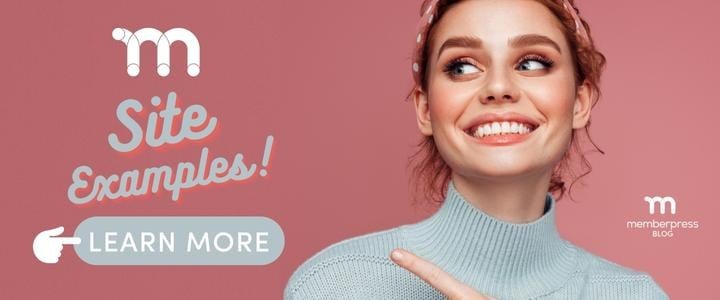 There's no way we could cover them all! But we picked a few Order Bumps use cases you can generalize to whatever business you're in.
Take a look!
Use Case #1: Fitness Trainer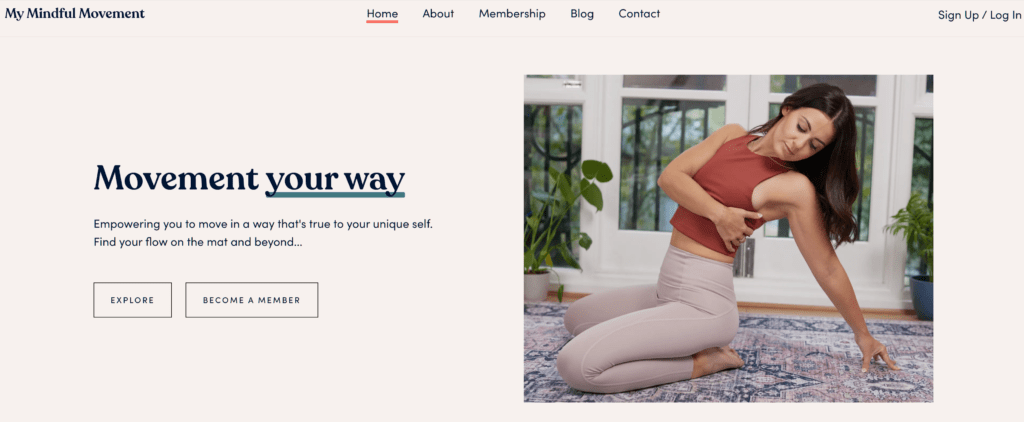 Imagine you're a fitness trainer with an online platform, and you sell memberships for personalized training plans.
With the Order Bumps feature you can offer additional, highly complementary products at checkout. You might consider things like nutrition guides or access to a series of live workout sessions.
Because your client is already investing in their health and fitness, the suggestion of a supporting guide or live session is likely to appeal to them.
Your customer gets an enriched, well-rounded fitness journey and voila! You get increased revenue.
Use Case #2: Online Course Creator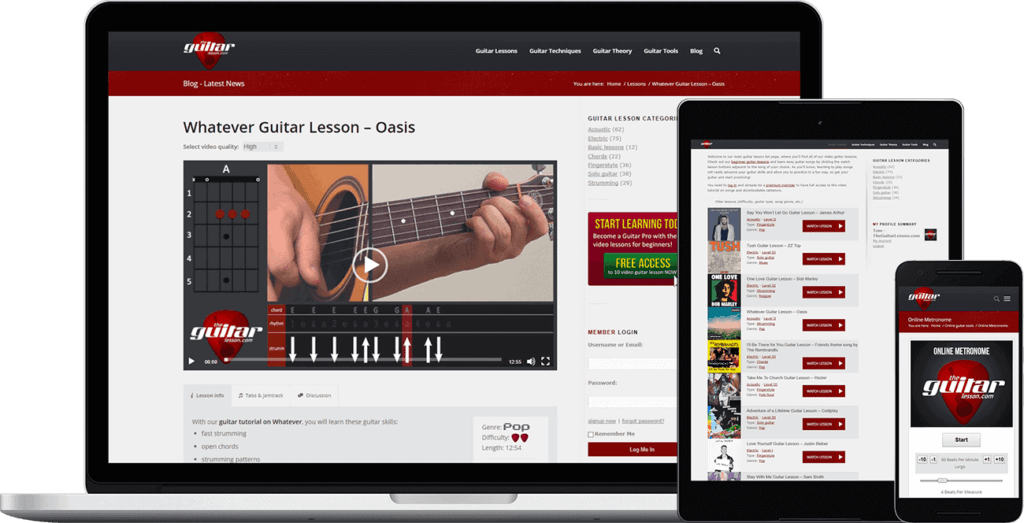 The image above features MemberPress creator Tom Fontana's online music school, TheGuitarLesson.com.
For his students, Tom could offer Order Bumps in the forms of things like private live lessons or digital sheet music downloads.
But, like we said, the MemberPress Order Bumps feature works across any industry – or any online course.
For example, imagine you're a coding-language course creator, and your primary product is a comprehensive course on Python.
With Order Bumps, at the point of purchase, you could offer an exclusive series of webinars about advanced Python concepts. Or you could sell a useful ebook packed with tips and tricks for mastering Python.
This cross-selling approach does double duty. It gives your customers a valuable resource for deepening their learning experience. And it adds a new revenue stream to your business.
Use Case #3: Ecommerce Store
With MemberPress plugged into your ecommerce store, you can offer your users a unique order bump option – the VIP customer Program.
In exchange for a fee, these types of plans give customers things like…
Sneak peeks and early access
Top-secret discounts and promotions
Priority support
Access to premium content
VIP community access, and so on
And, of course, there are the usual cross-sell options too.
For example, an ecommerce shop selling high-quality cameras might include bump ups like camera bags, additional lenses, or even a digital product like a photography tutorial ebook.
---
Whatever business you're in, Order Bumps brings boundless potential to the table. Sell memberships, digital downloads, coaching sessions, VIP community access, physical products, and whatever else you can think of!
Takeaway
Market analysis proves it. The test of time has shown it. And anyone who's done the drive-thru knows it to be true – we all say yes to fries with that.
So expect all new Order Bumps for MemberPress to unveil a wealth of untapped revenue.
And get ready to watch as your simple sales are transformed into shopping sprees, even while you sleep.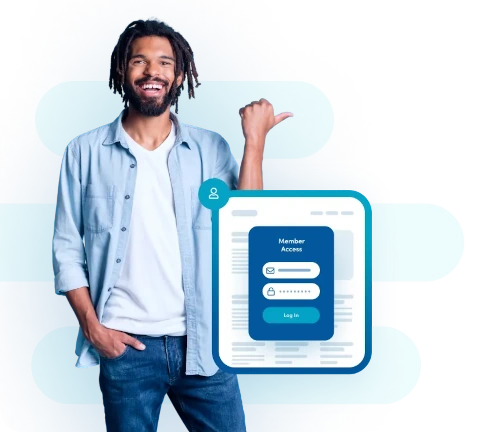 Get MemberPress Today – Now With All New ORDER BUMPS!
Pump up your checkouts, and cross-sell in your sleep!
Get MemberPress Now
See All Features
If you liked this post, make sure you subscribe to the MemberPress blog!