What if you could take the hard work out of finding new and exciting ways to retain your membership audience? Instead, what if you could completely transform the user experience on your membership site by adding a little fun and games.
Gamification has become widely popular in the membership site world. Members enjoy the stimulating game-like experience; meanwhile, membership site owners benefit from the increased engagement and persistent sales.
Gamification can also influence customer loyalty. Studies prove that when members receive recognition and achievement awards through a rewards program, they remain loyal and committed membership holders.
Today, we're excited to share our latest integration with the best WordPress gamification add-on for MemberPress: myCred!
Learn more about how the MemberPress myCred integration can take your membership site to the next level!
What is myCred?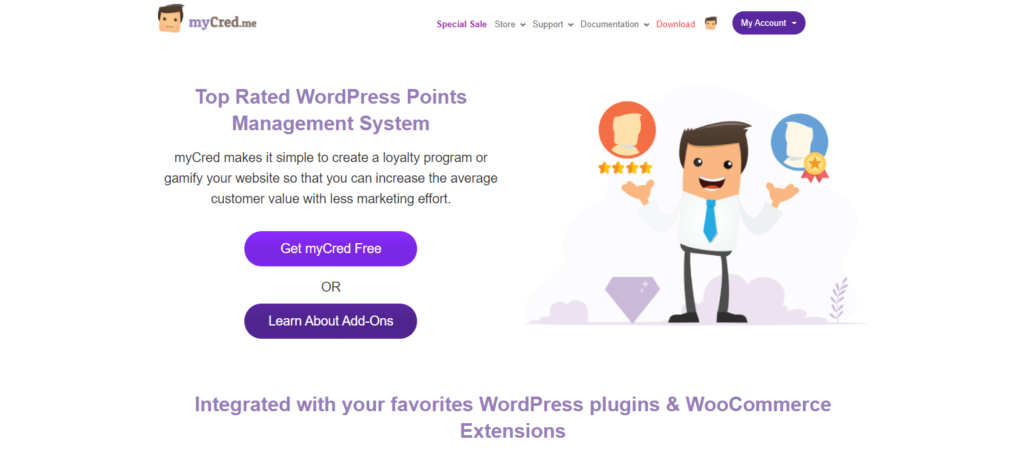 myCred is a dynamic points management add-on that enables MemberPress users to add gamification features to their membership site. With myCred, you can create a customizable rewards program by awarding your members with points, ranks, badges, and more.
myCred is one of the easiest, most cost-efficient points management systems available. With just a few clicks, you can easily install the myCred add-on and start managing your customer loyalty program – completely FREE!
Reward Your Members with myCred
Did you know, nearly 80% of consumers admit that they are more likely to stay with a membership brand that offers a loyalty program? Also, more than 95% of companies report that loyalty program members spend more than non-loyalty members – up to 4 times more!
In other words, when you recognize the loyalty of your members, they feel better appreciated and that their membership is valued. This positivity influences increased spending and engagement on your membership site.
Here are a few basic ways your members can feel rewarded and earn points simply by:
Purchasing a new membership or subscription product. Award points to new members who purchase a membership.
Purchasing a specific level of membership. Award points to members who upgrade to a higher-level membership.
Renewing a membership. Award points to existing members who have renewed their memberships.
With the myCred "Hooks" feature, your members can also earn points when they interact and engage with your membership site by commenting on a post, leaving a product review, attending a virtual event, sharing content, and more.
Additional Gamification Perks
With entertainment aspects, gamification allows site owners to create a structured reward system to encourage user engagement and progression.
There are several ways you can "Gamify" your membership site using myCred.
Award Points, Badges, and Ranks
A "Gamified" membership site motivates members to be the best. And to be the best means that you win with the most points – unless you're playing golf.
When members have earned a set number of points, they can receive badge icons to be displayed with their profile information.
As members earn more points and more badges, they can also grow in ranks until they come out on top.
Create Leadership Boards
Your members have worked hard to earn points – not to mention the content they've purchased to do so. Let them show off their achievement and inspire others to do the same with leadership boards.
You can create leadership boards for all types of categories, for example, most points, most badges, most comments made on a post – the possibilities are endless!
How myCred Rewards MemberPress Users
With myCred, there are plenty of awards to go around! While your members are participating in friendly competitions to earn the most points and become the highest-ranked member, at the same time, you'll win in membership management strategies.
With myCred, you and your membership site can win BIG with features like:
A Points Management System. As the administrator, you'll have full control over your members' point balances. You also have the ability to add and/or remove points with or without a long entry.
View Statistics. myCred automatically converts your log data into easy-to-read charts to help you visualize point usage and how points are being circulated within your membership site.
Join the VIP myCred Membership Club. Gain instant access to the 50+ additional myCred add-ons like WPBakery, WooCommerce, and Zapier.
Most importantly, Customer Loyalty Builds Brand Loyalty. Brand loyalty is when members favor a particular brand over all others without being pressured by heavy marketing. It all comes down to loyal members who truly enjoy their experience with your membership site.
Adding myCred to your membership site is a sure way to keep members engaged, entertained, and always coming back for more.
Install the myCred add-on now! And if you have any questions, let us know in the comments!
If you liked this post, please follow MemberPress on Facebook for more great content. You can also find us on Twitter, Instagram, and LinkedIn.