Marketing can be a tough art. Finding the right way of conveying your brand's message isn't always straightforward. It can help to have a reference point for your audience. And that's where creating a marketing persona comes in.
A marketing persona (or buyer persona) is essentially your representation of the ideal customer. Using this as a reference, you can figure out a lot about your audience as a whole.
In this post, we're going to talk through what it takes to create a marketing persona. We'll also work through how this process will improve the ways you communicate with your customers, and how it'll help grow your business. Let's rock and roll.
What is a Marketing Persona?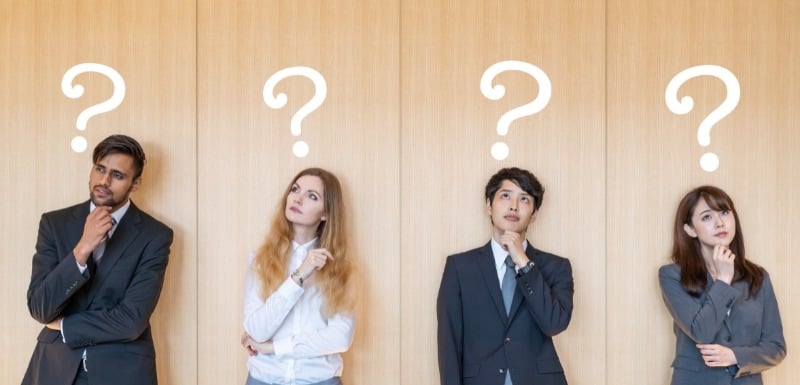 Marketing is storytelling, straight up. And a lot of marketers will judge the punch of their stories by asking themselves if they would be invested.
Big mistake. As a marketer, it doesn't matter quite so much what you are interested in. The most important thing is what your customers are interested in, and your storytelling should align with that.
When you're creating marketing strategies, you need to keep in mind who it is you're trying to speak to. Who is going to be inspired, invested, interested in your story?
That's the key, right there. To make your marketing content meaningful, you need to know who your audience is. And the key to that? Creating marketing personas.
A marketing persona is a combination of facets that make up your ideal customer, from their demographics to the things that make them tick. It's a distilled version of your audience. If done right, it represents them well enough so you know how to speak to them.
How Do Marketing Personas Help My Business?
There's some valid questions about this process. Namely, what good does it do me to take the time to make these personas?
The essence of marketing is understanding your audience. You'll find you have a much easier time doing that if you know…
Who your audience is, and
More importantly, what your audience is about.
If you use a marketing persona when creating marketing content, you'll find you have tremendously higher success than if you're just going off what you would be drawn to.
Marketing personas help you relate to your customers as real human beings.
What does this mean? Well, it means your marketing efforts are more effective. And better marketing is going to mean more customers coming to your website instead of visiting your competitors'.
And speaking of your competitors, some of them might not have their own marketing personas built out. If they aren't making the effort to understand their customers, you could get a quick leg up on them by doing so.
A good marketing persona is built out using market research plus whatever insight you can glean from your customers themselves. You can get this data from things like…
Depending on your business, you might only need one or two marketing personas, especially if you're serving a niche market. But if you have a broader audience, you might need to create as many as 10.
My advice? Start off on the lower end of that scale. Start by envisioning…
Your ideal customer
What they might want out of your product
What might get them to choose you over one of your competitors
And this is where pain points come in.
How Identifying Pain Points Helps You Build a Marketing Persona
Pain points are specific issues your customers face. They're the things that slow them down and rile them up along the journey of life. And they're the things your product or service can help them overcome.
Pain points come in many shapes and forms. The four primary categories of pain points are:
Financial. Exactly what it says on the tin. Your customers are aiming to reduce the cost of a particular solution.
Productivity. Time is money, and customers with this pain point are spending too much of it in all the wrong ways.
Process. Your customers want to improve some step in their process. In the example of a business-to-business (B2B) pain point, this might be a logistical or organizational issue that causes friction and slows things down.
Support. Your customers want better support at some stage in the customer journey or the sales process. If your customers don't know where to turn when they have issues, that falls into this category.
If your business serves a particular niche, many of your customers probably face similar pain points. You can win customer loyalty real easy by showing them you understand their common problems.
That might sound like an easy task. but customers feeling listened to is less common than you think. According to IBM, 78% of customers don't feel understood by the brands they choose to use:
Remember those elements of a marketing persona I was talking about earlier? Well, the pain points your customers suffer from are an element just like any other.
Your customers' pain points tell you a lot about what solutions they need. And that's valuable data for your persona.
8 Questions You Can Ask and Answer to Build Your Marketing Persona
When building out your persona, you might find yourself stuck. Here are some questions you can ask yourself to sketch it out:
What is their demographic profile? Age, gender identity, geographic location. This info is not only the easiest to find, it's also the most critical.
What is their job and level of seniority? This adds more detail to your persona's day-to-day experiences. Plus, if you're focusing on B2B, it's even more important as it explains the need that your service or product fulfills.
What does a day in their life look like? What experiences do they face day-to-day? Do any of these have common issues that your product solves? How often do they face the issue that sends them looking for your product or service?
What are their pain points? As we said above, pain points are incredibly important in building your marketing persona. They paint a picture of what needs your customer has, and how you can fulfill them better than your competitors. Everybody needs to be understood.
Where do they go for information? This data will help you figure out where best to reach your audience. What sorts of sources do they trust – close friends or certified experts? What social networks and platforms do they use most?
What are their most common fears? What do people worry about most when it comes to products or services like yours? Is your industry known for providing poor support? Or are people wary of the way their membership info might be used? Know those fears, so you can address them head on.
What do they value most? What are their goals and needs? Do they have specific desires? This info could come from their own words, or from what problems they're attempting to solve.
What are their expectations? From the buyer's journey to the long-term customer experience – what do your customers expect?
Once you have answers to these questions, you've got a pretty good start on your persona.
How to Create a Marketing Persona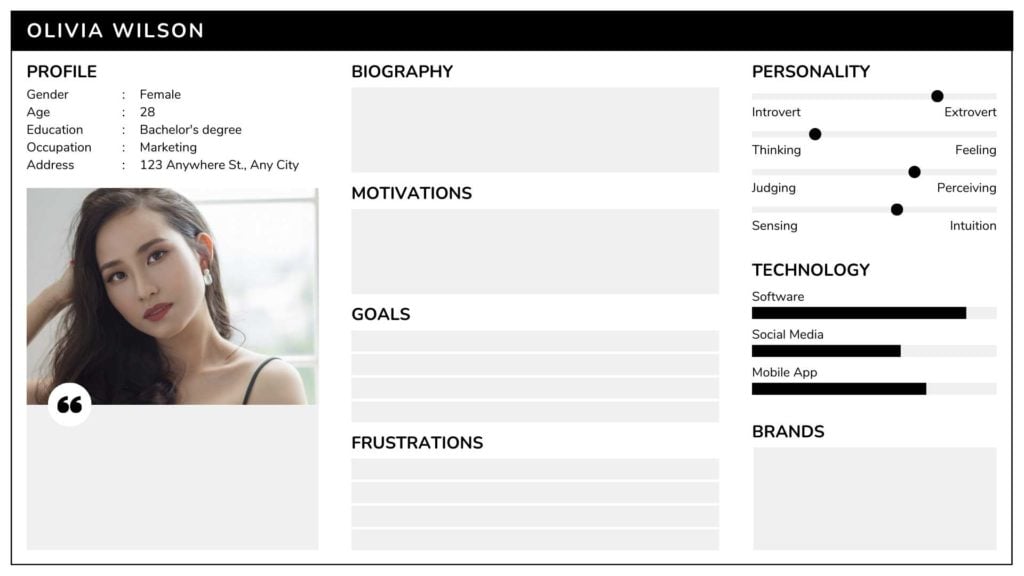 The best marketing person is an accurate one, supported by accurate data. The best way to get that? Talk and listen to people.
Seriously. Talk to everybody. Your customers, your competitors, your partners. You're in your research phase right now, and you need to be getting all sorts of insights from all sorts of places.
And the beauty of the internet is that if there's a will, there's a way. Thanks to Google, all you have to do is find your keywords and you can dig up all sorts of target market info.
Here are a few ways to start gathering data:
Scour your social media feeds
Join popular forums in your industry
Participate in Twitter conversations
Read the comments on popular blogs in your niche
If you have an established customer base, you've already got a good catalog of data to go through. If you're starting out fresh, don't worry. There's tons of research out there you can pull from.
Once you have all your data (and you've sorted it in a way that works for you), you can start the actual creation process.
Elements of a Finished Persona
Now that you have your data, it's time to flesh it all out into a proper marketing persona. Depending on relevance, that might include:
A name
Age
Gender identity
Job title
Significant pain points
Problems that your service/product addresses
Conclusion
Not too hard, right? Like I said earlier, try to build at least one or two personas. Make these different enough that they address two different chunks of your audience.
And with that, bam! Your marketing personas are ready to roll.
This isn't by any means the only way to build a marketing persona. And we'd be interested to know your method. So why not hop down into the comments below and let us know?
If you liked this article, be sure to subscribe to the MemberPress blog!