When starting any kind of online business, you need to know your target audience. Marketing to the wrong audience (or blindly marketing your business to a huge, undefined audience) is like throwing money to the wind.
If you're wondering where to begin, keep reading. This post will get you on the right track fast and for free.
What is a target audience?
Your target audience is the group of people most likely to buy your product, service, subscription, or membership.
Depending on your industry, your target could be…
Moms of three-year-olds
Men in their fifties who like to fish for salmon
German shepherd lovers living in coastal California
Middle-aged maestros of everything makeup
…or anything in-between!
The more specifically you can define your target audience the better.
Why you need to identify your target audience
As mentioned, if you don't know who your target audience is, you are…
At best, missing major conversion opportunities
At worst, wasting your money on meaningless marketing
When you do know your target audience, you can make sure you're putting your promotions in front of people who are interested in what you've got.
Understanding your audience is an ongoing process. Regardless of your site's content, the trends change with the times. And so can your audience. So you'll want to make audience research a regular part of your marketing strategy.
That said, below are the four most basic elements of target market research. You'll refer to these approaches throughout the life of your business.
First, brainstorm your business…
It sounds so simple, right? Well, it is! The first thing you should do to define your target audience is literally think about your business.
Sit down, open up a blank page, and create a brainstorming chart something like this:

Ask yourself these two simple questions, then record your answers in the second column:
What does my site do?
What problems does it solve?
Say you were running a cooking and recipe website. Your answers might look something like this:

Now imagine the people in the world who need the sorts of things you're offering or have the kinds of problems your business solves. Give yourself some time to mull this over. While you brainstorm, take notes in your "people" column:
Now you've got the beginnings of a beautiful target audience! It's still broad, but this exercise will get you started in the narrowing process. And defining your target audience is all about narrowing.
Next check out your competitors…
You might not know who the members of your target audience are, but you can definitely identify your competitors.
So first choose a handful of established websites in your industry. (Sites you're jealous of are a great place to start!)
Then read these competitors' customer reviews. Take note of the types of people writing the reviews. Look for mentions of things that give you clues about age, interests, and preferences.
Next, visit these competitors' sites, take a look around, and ask yourself who they seem to be speaking to.
BrokeAss Gourmet (pardon our French) is a great example for our imaginary cooking and recipe site business owner.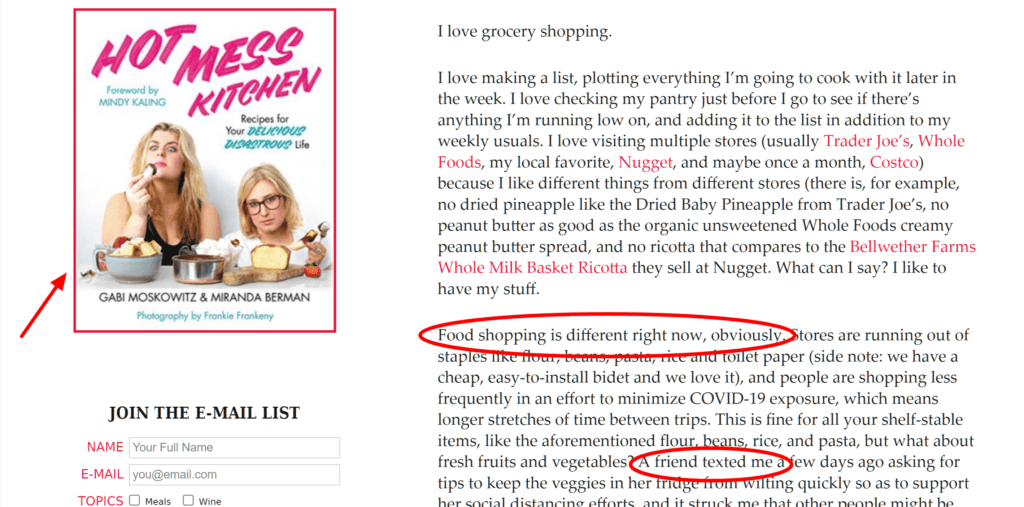 Notice the fun, youthful imagery on this page. Check out the circled text. It's obvious that this site is targeting young, hip people who don't have a lot of extra cash.
Dig a bit deeper into the site, and you'll find even more clues to help you drill down the audience they're shooting for. In this same way, analyze the rest of the sites in your handful, and take notes on your brainstorming sheet.
PRO TIP: If you're not super clear on who your competitors are, do a quick Google search using a common keyphrase related to your business (e.g., cooking and recipe sites). The results you find on the first page are a safe bet.
Check blogs, forums, and social media
If you have even a vague idea about your industry, you and Google can find a wealth of target market info out there. You just have to be willing to look. So get online and get busy digging.
Following are some quick ways to start gathering data:
Search social media profiles
Participate in Twitter chats
Join forums in your industry
Visit popular blogs in your niche, and read the comments
As you look around, make sure to take notes on your brainstorming chart.
Finally, look at your existing customers
We think this one tends to get missed simply because it's so darn obvious. The kinds of people who are signing up and buying your stuff now are the kinds of people you want more of. And the best way to learn about these people is through surveys.
WPForms (which happens to be one of our favorite WordPress plugins) makes creating and sending custom surveys super simple. It's not free, but WPForms is worth its weight in gold. It's billed annually, but if you do the math, it'll only cost you around $16 per month.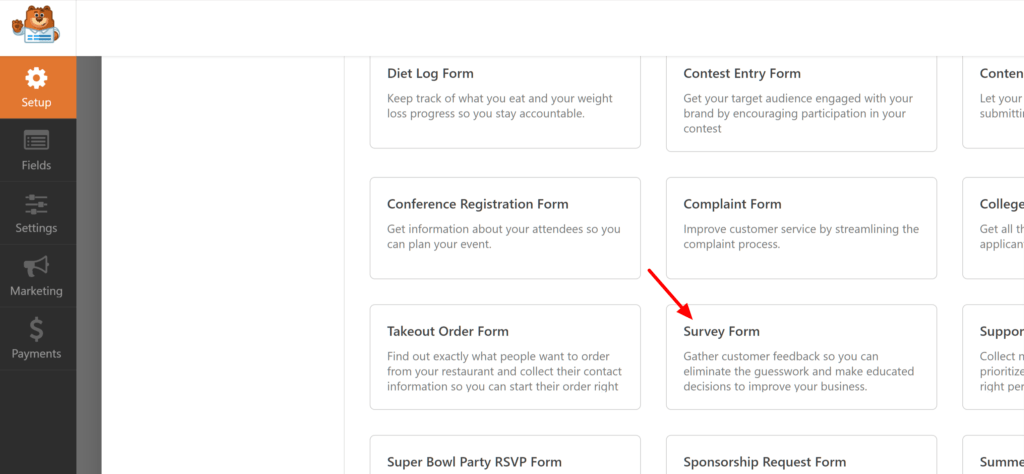 When constructing your survey, add questions that will clue you in on your customers' demographics – things like income level, education, family status, and preferences.
Also, see if you can find out how your customers learned about you and what their favorite social media profiles are.
Running a survey is definitely the ideal way to collect customer data, but it does require an investment in money and time. While you're working on it, you can visit your customers' social media profiles to get some fast facts and insights.
Final Thoughts
Armed with the your brainstorming sheet, you can easily identify your target audience fast and for free. To recap, here's what you need to do…
Brainstorm your business
Check out your competitors
Check blogs, forums, and social media
Look at your existing customers
To maximize your success, you'll want to have an ongoing, long-term relationship with your target audience. That means keeping tabs on what makes them tick over the long haul.
For that, we recommend you invest in a good quality surveying platform like WPForms or Formidable Forms.
Have questions about how to identify your target audience? Ask away in the comments!
If you liked this article, be sure to subscribe to our newsletter in the box up to your right!