Increasing conversions is a goal many businesses set for themselves – and with good reason. A reliable income can enable you to develop new content and products, while also giving your business a clearer budget from month to month.
If you want to ensure a consistent revenue stream, creating a membership website could be the answer. A membership site is one that users are able to subscribe to – granting them access to specific content, such as online classes and services. Membership sites can bring a number of benefits to your business, and are relatively simple to create.
In this post, we'll explain how membership sites work, and introduce some of the tools you can use to create one. We'll also explore the advantages of running your own membership site. Let's get started!

Introducing Membership Sites (And How They Work)
Although running a website can be a fulfilling career, relying on sales doesn't guarantee regular payment. As a result, many businesses seek alternative ways to generate a more steady income. One way of doing this is by setting up a membership site.
A membership site requires an account or subscription in order to access its full content. This can include blog posts, videos, white papers, educational classes and programs, and much more. When creating a membership site, you'll place some or all of that content into restricted areas. Only those who pay a set fee will be able to view them:
This means users will need to become 'members' of your site in order to view exclusive content, take advantage of special offers, and be part of a wider community of other site members. You can lock away your entire site for members only, or just specific parts – it's up to you
Fortunately, creating a membership website is a lot easier than it seems. What's more, this type of site has a lot to offer for you and your business.
4 Reasons to Run a Membership Site
As we mentioned earlier, there are a lot of benefits to be had by starting a membership site. Let's explore four of the most important.
1. You'll Become a Respected Source of Information
If you're offering a membership site based around a certain subject or niche, it's likely you'll already know a lot about that focus. This is crucial, since it's vital that the information you provide is factual and will offer value to your users in some way.
Giving advice that stems from your own experiences (whether personal or as a company) is incredibly beneficial to your audience, as you are able to demonstrate proven success. The credibility your membership site offers can even help you attract other well-known clients – the kind whose support will put your services on the map.
While providing useful information is a great start, there are many ways to boost your professional image even further. You can use a high-quality theme, include customer testimonials, and so on. The more work you do in this area, the better your membership site will reflect on you and your business.
2. You Can Build an Online Community
A strong membership site centers around value exchange. Your members should feel that they are getting a good amount of content or support from your website in return for their patronage.
Going beyond expectations by supplying your users with quality content and ensuring that it is fully accessible increases the level of value you provide. This, in turn, can build your members' loyalty and sense of investment in your business and site.
A loyal member is more likely to convert in other areas, as well as recommend you and your site to their friends and family. This type of strong community can be built in a number of ways, but should always center on the interactions you have with your users. This could be through providing ongoing support and stellar customer service, or even just by ensuring that the content you produce is of a high quality.
3. Your Site Can Earn You a Reliable and Sustainable Income
Starting your own business can be daunting, especially when it comes to budgeting. When you're providing a service or product, sales can vary from month to month – making it difficult to know how much money you'll have at any given time.
Membership on your site doesn't necessarily have to come with a price tag, and in many cases free content is more likely to bring people in. At the same time, monetizing your site can provide a steady, reliable income.
One of the ways you can accomplish this is by setting up a membership fee for your website, either on a monthly or yearly basis. You can also require users to make a payment in order to access certain areas of your site, such as a particular course or service. You can even charge a base membership fee that includes limited access, and make extra content available for an additional fee.
Either way, when setting the costs for your membership site, there are some key factors to consider. These include the amount of content and ongoing support you plan on providing. It's important to settle on a fee that will make running the site worth your while, while also being fair and affordable for its users.
4. You're Able to Simplify the Process Using Plugins
Considering the amount of work that goes into running a membership site, you may assume that creating your own will be a long and difficult task. Fortunately, there are number of useful tools available to help you out – particularly if you're using WordPress.
Plugins like our own MemberPress will aid you in developing your membership site, as well as creating and launching your initial content. This tool can greatly speed up the process, meaning you'll have more time to spend on actually running your site.
The cost of using MemberPress will depend on the plan you opt for, and there are a range of options available: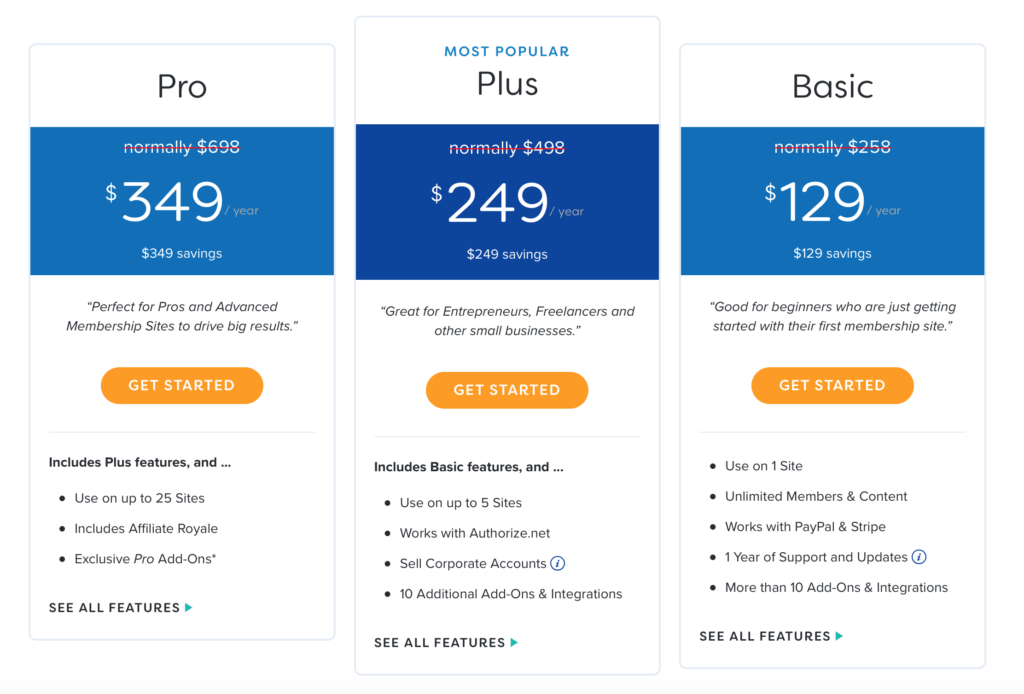 MemberPress also offers plenty of additional features, such as ongoing technical support and simple payment integration. You can even join our affiliate program further down the line, which offers another valuable source of income.
Conclusion
Since the online landscape constantly changes, boosting conversions can be difficult. Fortunately, membership sites are an effective way of securing a more reliable source of income, while enabling you to build an online community and enhancing the reputation of your business.
In this post, we covered four key reasons to consider running a membership website:

You'll become a respected source of information.
You can build an online community.
Your site can earn you a reliable and sustainable income.
You're able to simplify the process using plugins (such as MemberPress).
Do you have any further questions about starting and running a membership site? Let us know in the comments section below!