If you want to start earning money selling online with a WordPress membership site, this post will help you get started. But first, let's answer the most important question…
Why Use WordPress?
Back in 2001, WordPress began as a blogging system. Since then it has grown to become the most popular, easiest-to-use, full-service content management system (CMS) out there. And it works for just about any type of website you can imagine.
Here are a few of the most convincing reasons to go with WordPress:
WordPress is famously easy to learn and use.
In the CMS market, it has a 60.8% market share.
Every day, more than 500 sites are built using WordPress. Only 60-80 per day are built on other platforms.
Its Plugin Directory features over 55,000 plugins.
In 2021, MemberPress membership site owners reached a huge benchmark, having earned over $1 billion in total revenue since the plugin's creation
With the right plugin, you can use WordPress to craft an incredibly profitable membership site – without the need for coding.
What's a Plugin, and Why Do I Need One?
Not only do you need a plugin to create a WordPress membership site, but you'll probably want a bunch of them! A plugin is a software you add – or "plug in" – to your WordPress site. Once in place, plugins add new functions to your website.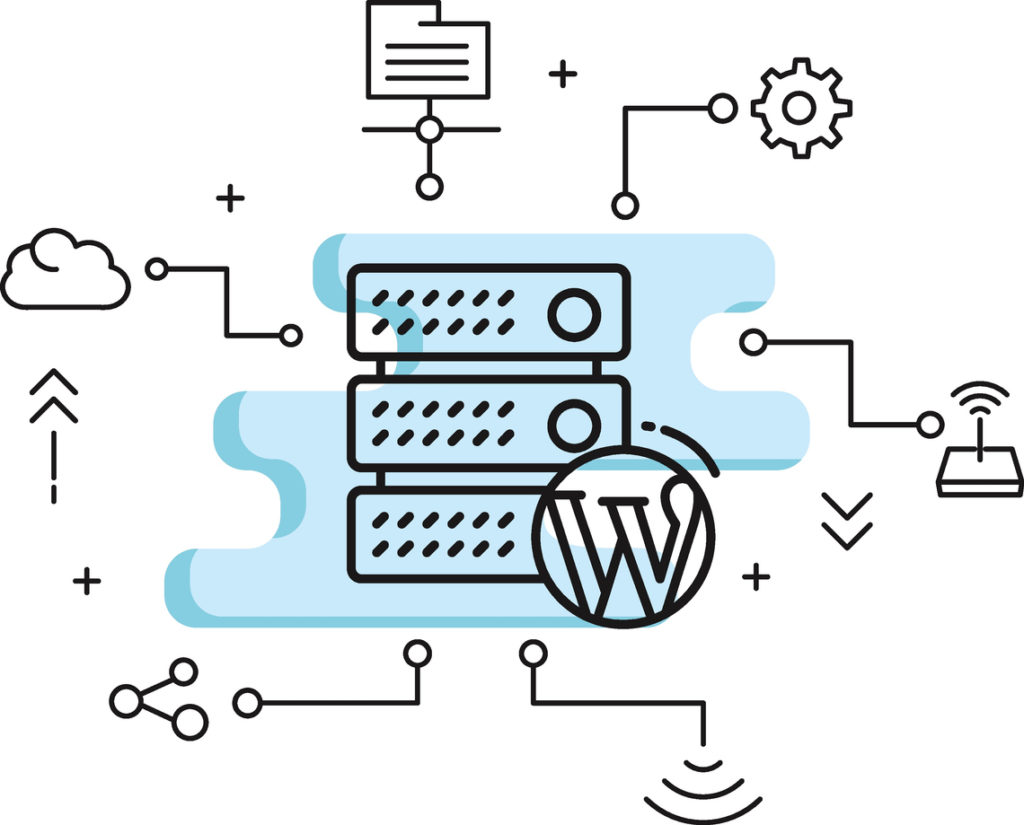 There are tens of thousands of great, free WordPress plugins out there. There are also lots of commercial plugin products that can customize and expand your site in unimaginable ways. If you can think of something you'd like your website to do, chances are there's a WordPress plugin for it.
Bottom line: To build a WordPress membership site, you'll need at least one plugin.
What's a Membership Site?
We get this question a lot! Fortunately, it's really easy to answer. Basically, a website that requires the user to sign up to access content is a membership site. This function is also called a paywall or content gate (gated content).
Protected content can be just about anything…
Subscriptions
Digital products
Physical products
Podcasts
Blog posts
Ebooks
White papers
Images
Audio content
Videos
Online courses
Coaching sessions
Online communities, clubs, and forums
Virtual conferences
Premium deals and promotions
…and whatever else you can imagine!
Here are a few important points when it comes to understanding what a membership site is:
Membership sites can have free or paid content, or a combination of both.
They often combine content types. For example, a photography site might sell digital image downloads, host a VIP forum, and sell "how to" courses – all from one website.
Sometimes, the membership component can be a small part of the overall site. For example, the Norman Rockwell Museum uses MemberPress to manage its patron program. The rest of the site is dedicated to other things related to the museum.
In other cases, the membership component is the framework for the entire online business. For example, Pilatesology uses MemberPress to manage all of its instructional, forum, video, and blog content.
If you'd like a really in-depth introduction to membership sites, you should check out our Membership Sites 101 video below.
4 Membership Site Plugin Must-Haves
So you should know at this point that you'll need a plugin to build a membership site on WordPress. But not all membership plugins are created equal. Following are four must-have features for any membership site plugin. (Spoiler: MemberPress has them all.)
1. Member Registration and Member Log-in
You'll need a place on your site where visitors can register and become members. A membership plugin like MemberPress allows you to build a user-friendly registration page where your clients can do just that. Like Pilatesology's page below.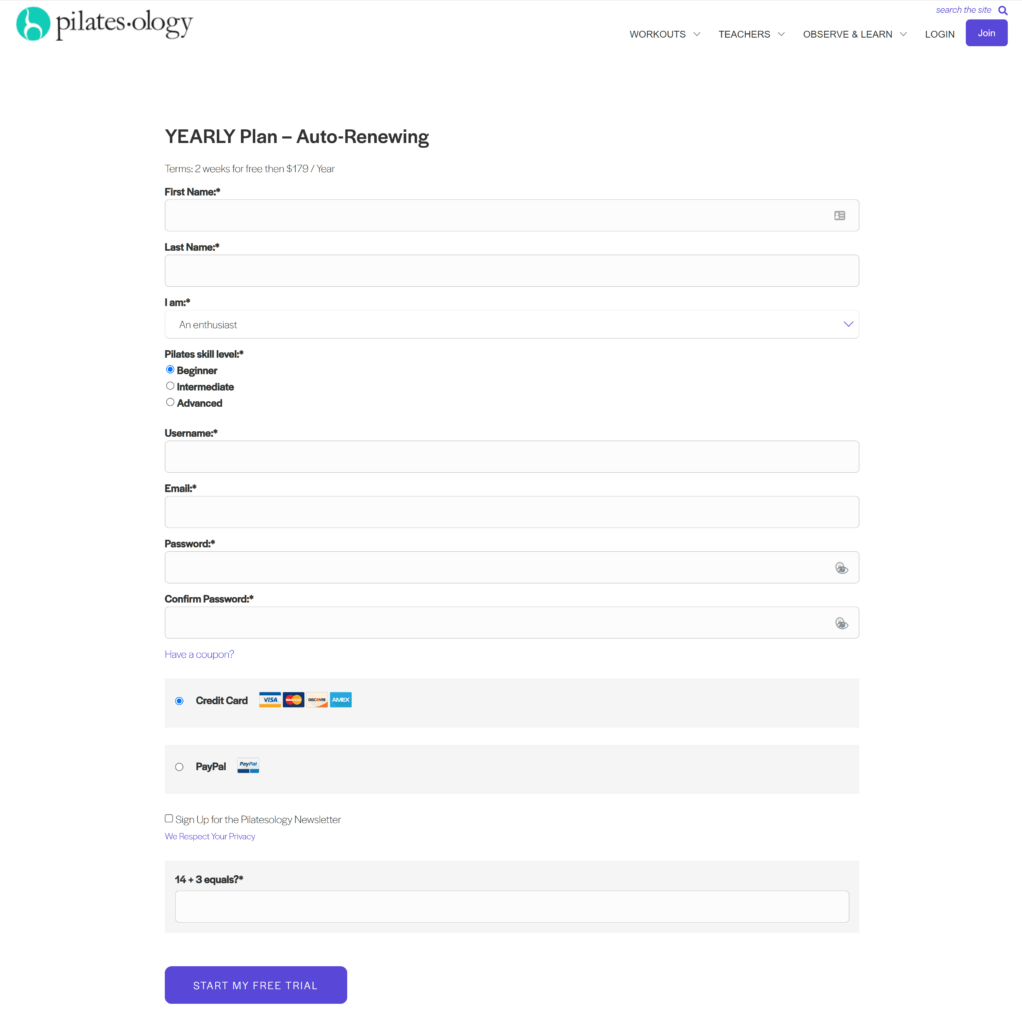 WordPress has built-in default user roles, such as administrator, author, editor, and contributor. Once a new customer registers, your membership plugin will assign member roles.
Once a customer is a subscriber or member, they'll need a place to log in each time they visit your site to access protected content. Below you can see Pilatesology's login page, which acts as a gateway protecting its premium content.
2. Member Profile Editing
In addition to a login and access to content, each member needs a place where they can view and edit their account profile. From the MemberPress Account page, members can edit their profile information, view payment information and history, reset passwords, and update credit card information.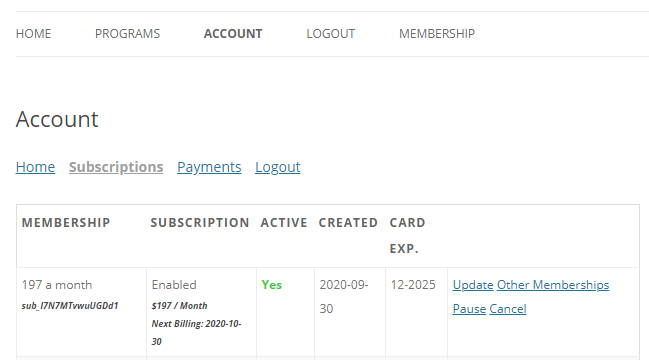 3. Payment Processing
A complicated checkout process is one of the greatest causes of cart abandonment. So, it's super important that your customers can purchase your products quickly and easily, using their preferred payment method. It's also critical that you can bill and invoice accurately and efficiently.
For those reasons, your membership plugin should be able to process payments securely through a payment gateway that supports credit card payments and digital wallet payments like Apple Pay and Google Pay.
Finally, the plugin's payment gateway should be capable of processing both one-time and recurring subscription payments.
4. Site Management Features
Site management features (or lack thereof) can make building and maintaining your membership site a pleasant piece of cake or a chaotic nightmare. While WordPress's default administration is simple to use, your membership site will require additional management features. Things like…
Robust data reporting to monitor performance
Member level and subscription management
Transaction management
Highly granular access management (based on things like posts, pages, categories, tags, feeds, communities, and digital files)
MemberPress takes care of all that for you.
A Few Very-Nice-to-Have Plugins for Your WordPress Membership Site
The following types of plugins aren't necessary to build a membership site on WordPress. However, having them will benefit your marketing in major ways. And, after all, selling your content is the main goal.
Tech Support
Not a plugin per se, but having reliable tech support is vital when putting together your MemberPress site. We suggest you use WP Tech Support, a team of WordPress wizards who are happy to use their MemberPress expertise to solve your issues 24/7.
Popup Tools
Site popups are an excellent way to build your email list and increase leads. Adding a plugin that takes care of the coding for you is your best bet. We recommend OptinMonster, which is endorsed by online marketing expert Neil Patel. Another good option is Adoric, which offers a selection of free templates.
Social and Community Forums
One of the benefits of adding a forum plugin to your membership site is that it allows members to interact with each other. Here are a few additional benefits related to that interaction:
Shared product experiences create buzz
Great source of product feedback
Proven to reduce site churn rate
Churn Rate: the percentage of subscribers who discontinue membership within a specific timeframe
Email Services
Believe it or not, email is one of the most powerful marketing channels. Adding an email service is an excellent way to reach out to your members. You can do things like:
Alert customers to special events or deals
Advertise new feature releases
Market your blog posts
Remind customers of pending membership renewal
etc.
That's why MemberPress integrates with many of the top email marketing systems, such as ActiveCampaign and ConvertKit.
Event Registration
So you've used an email service to notify your members of an upcoming event. Now you need a way for them to RSVP. After all, you need to know the number of attendees, both for the event itself and for your data and reporting services. And you also need a way to get more registrations from prospective members. For this, you'll need an event registration plugin. We recommend WPEventin or Event Espresso.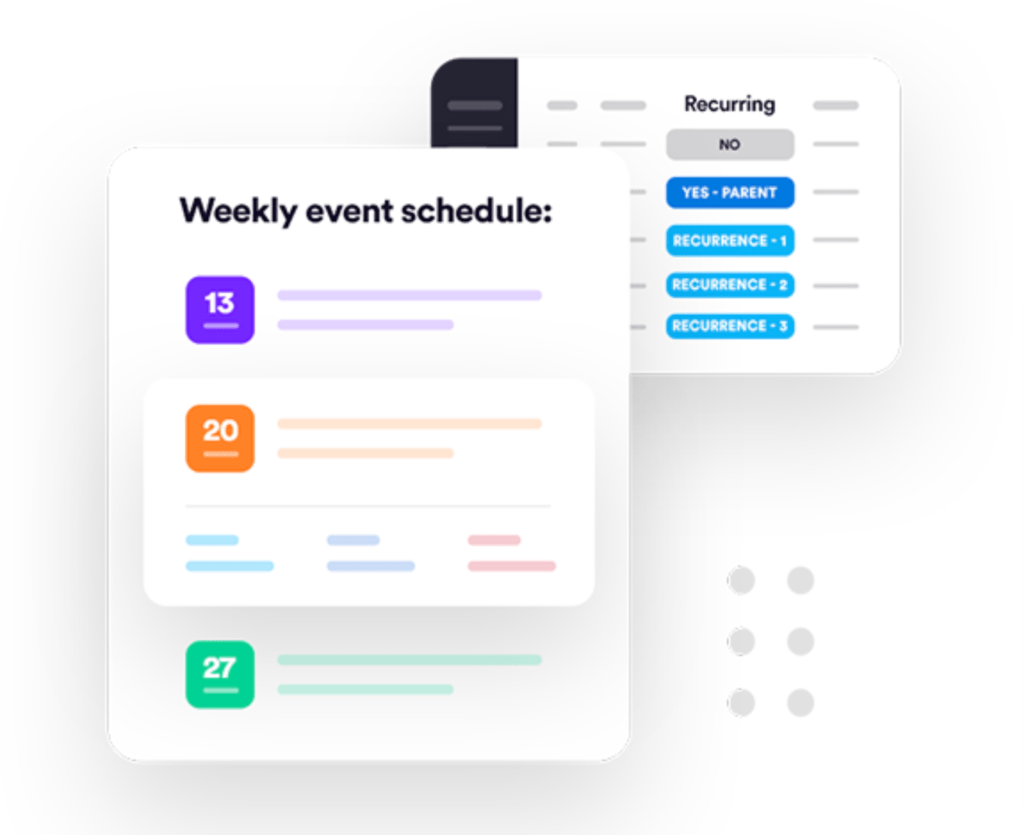 Affiliate Marketing
Affiliate marketing delivers 15% of all digital media revenue and can boost profits by 30%. It is absolutely the most affordable way to market your website. And with an affiliate marketing plugin, you create and manage your own program. Meaning, you get a non-salaried sales team, because affiliates only get paid when they make a sale. It's a total win-win.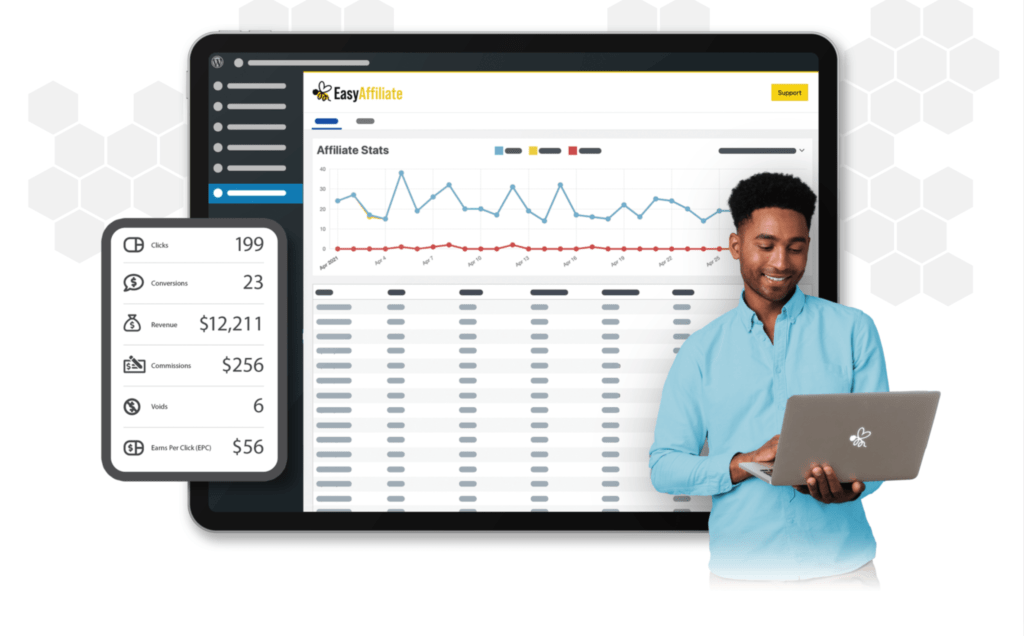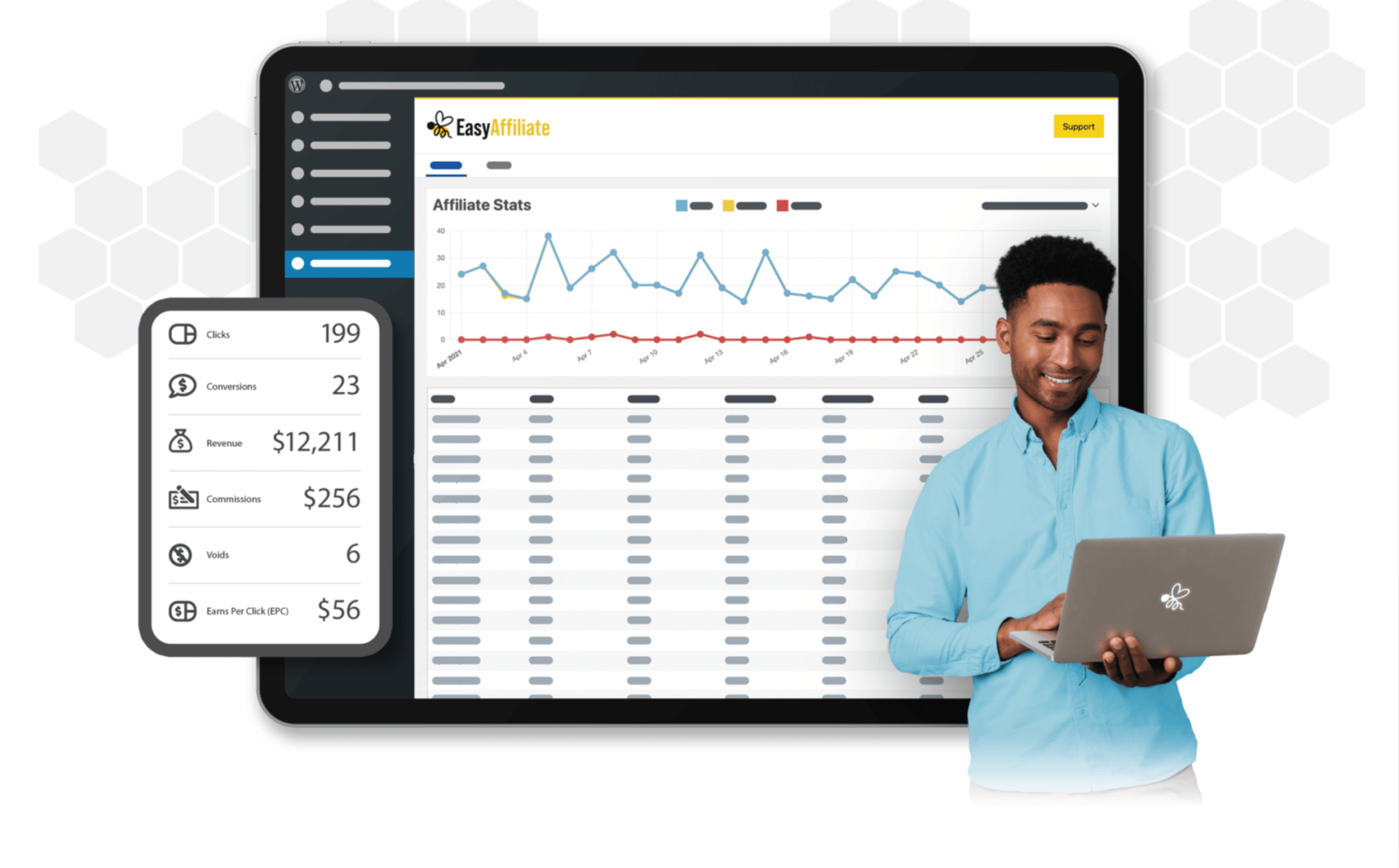 Our team recently developed an affiliate marketing plugin called Easy Affiliate. As you might expect, it works seamlessly with MemberPress. As you might not expect, Easy Affiliate charges zero per-transaction fees. It's a most worthy add-on, and we recommend it for every membership site.
Gamification
This one is especially important if your membership site includes online courses. Gamification plugins do just what it sounds like they do – add game-like elements to your website. Think things like progress tracking, rewards, badges, points, etc.

Gamification does a great job of creating motivation and inspiring engagement. Our top two picks are the myCred and GamiPress plugins.
Form Builders
Form builder plugins do a lot more than build forms. And we'd consider having one almost an essential. First, a good form builder will give you an easy, code-free way to create just about any kind of form your site might need (contact, payment, registration, survey, etc.).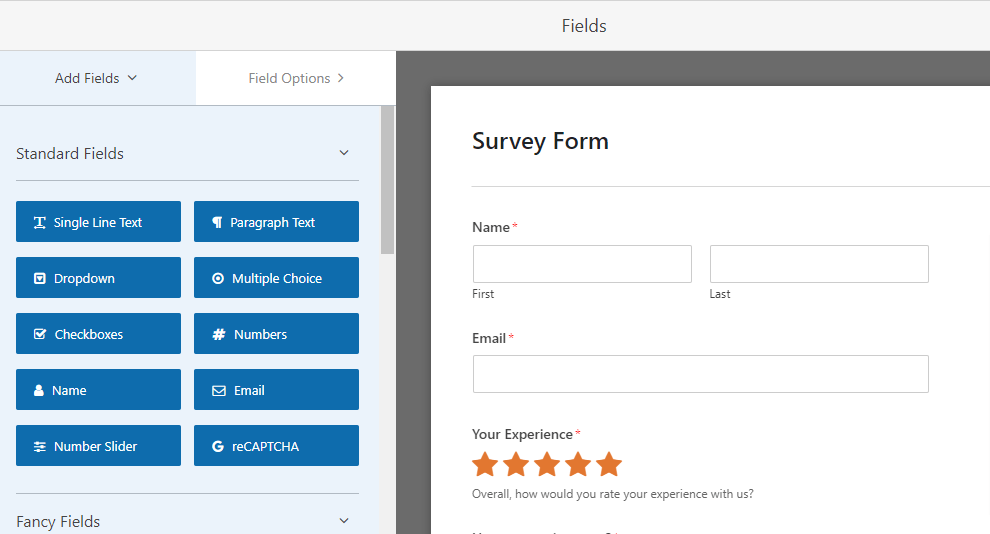 But a solid form builder plugin will also give you incredibly useful things like digital signatures, conversion tools, calculators, and tons of customizations. If you want the best, we recommend you go with either WPForms or Formidable Forms.
Wrap Up
Thankfully, WordPress is an amazingly versatile website platform. To create a WordPress membership site, all you need is a good plugin like MemberPress to get started. Then with all the other incredible WordPress plugins out there, the sky's the limit when you want to expand.
Do you have any questions about building a membership site on WordPress? Ask away in the comments below.
Ready to take the leap? Start selling your content today. Get MemberPress!
IIf you liked this article, be sure to follow us on Facebook, Twitter, Instagram, Pinterest, and LinkedIn! And don't forget to subscribe to our newsletter!