How to Build a WordPress Membership Site
If you're just beginning your journey to generate income selling ebooks, courses, or any other content online with a WordPress membership site, this post will help you get started in the right direction.
Why Build a WordPress Membership Site?
Back in 2001, WordPress began as a blogging system. Since then it has grown to become the most popular, easiest-to-use, full-service content management system (CMS) out there. And it works for just about any type of website you can imagine.
Here are a few of the most convincing reasons to go with WordPress:
In the CMS market, it has a 60.8% market share.
Every day, more than 500 sites are built using WordPress. Only 60-80 per day are built on other platforms.
Its Plugin Directory features over 55,000 plugins.
In 2021, MemberPress membership site owners reached a huge benchmark, having earned over $1 billion in total revenue since the plugin's creation
Given the right plugins, widgets, and tools, you can use WordPress to craft the perfect membership site, where your members can explore your premium content, interact with your business and with fellow members, and access exclusive products.
What's a Plugin, and Why Do I Need One?
A plugin is a software tool you can use to insert, or "plug in" the elements needed to successfully manage and run your site on WordPress. You're probably imagining a plug and its outlet, right?
WordPress has numerous free plugins available, but there are also many commercial plugin products that can enhance your WordPress success and help you build and customize a site specific to your business's needs.
What Your Membership Site Needs
In order to make the most of your WordPress membership site, you'll want to be sure you integrate plugins, either directly from WordPress or from a commercial vendor, that will make your site more efficient and easy to use.
Following are the most important membership site plugin must-haves.
Member Registration and Member Log-in
You'll need a place on your site for your clients to register and become members. A membership plugin like MemberPress will allow you to build a user-friendly registration page where your clients can become site members.
WordPress already has default user roles built-in, such as administrators, authors, editors, and contributors. And once a client registers, your membership plugin should allow you to update them as members.
Once a client is a subscriber or member, they'll need a place to log in each time they visit your site so they can access premium content. The login is a gateway that protects the premium content, courses, and member-only deals from the general public. The MemberPress plugin has a front-end page where users log in and access their account.
Membership levels can also be managed with MemberPress. This is where you can gate content based on the member package a client has purchased.
Member Profile Editing Capability
In addition to a login and access to content, your members need a place where they can view their account profiles. In MemberPress, members have the ability to edit their profile information, view their payment information and history, and update their credit card information.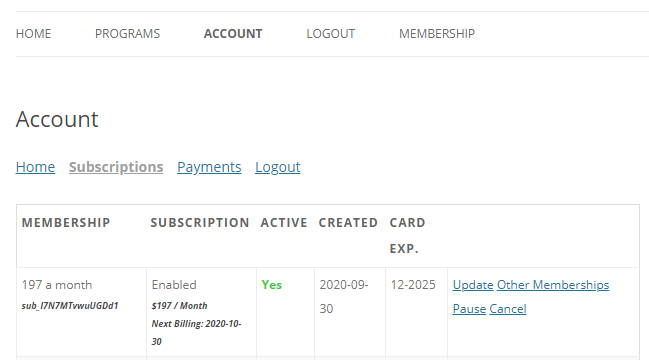 Members can also change their passwords in the profile area, allowing them to protect their accounts.
Payment Processing
Purchasing your products should be easy for users and should also allow you to bill and invoice accurately. For those reasons, your membership plugin should include the capability to securely process payments through a payment gateway that supports credit card payments as well as Apple Pay and Google Pay.
In addition to the ability to simply process one-time credit card payments, your membership plugin should help you create recurring subscriptions for your members so they can receive continued access to your protected content.
Site Management
This is the part that makes building a membership site easy for you — WordPress's default administration is simple to use. And the MemberPress plugin helps you manage members, levels, subscriptions, transactions, as well as grant and revoke access for posts, pages, categories, tags, feeds, communities, and digital files.
MemberPress also offers a data reporting system so you can track your memberships' and digital products' performance.
Other Types of Plugins to Enhance Your Membership Site Experience
Popup Tools
Site popups are an excellent way to build your email list and increase leads. Adding a plugin that takes care of the coding for you is your best bet. We recommend OptinMonster, which is endorsed by online marketing expert Neil Patel. Another good option is Adoric, which offers a selection of free templates.
Social and Community Forums
One of the benefits of adding a forum plugin to your membership site is that it allows members to interact with each other, sharing their experiences with your products and creating a buzz about those experiences. They can also interact with you, asking you questions and giving you valuable feedback about your product.
Email Services
Email communication is still important in today's world. That's why MemberPress integrates with many email marketing systems, such as ActiveCampaign, equipping your WordPress membership site with a top-notch way to reach out to your members and notify them of special events or deals that you might be offering. Emails are also a great way to remind members of when their membership renewal is about to automatically charge them.
Event Registration
So you've used an email service to notify your members of an upcoming event. Now you need a way for them to RSVP so you know how many attendees you'll have, both for the event itself and for your data and reporting services. And you also need a way to get more registrations from prospective members. For this, we recommend Event Espresso.
Wrap Up
There are many other plugins – free and commercial – that are available for you to incorporate into your WordPress membership site. Now that you know a little about building a membership site on WordPress, you should be able to see how it's a versatile platform capable of functioning with plugins that allow you to run a successful and profitable site.
Is there anything we've left out? What are your tips for creating a WordPress membership site? We'd love to know!
If you liked this article, be sure to follow us on Facebook, Twitter, Instagram, and LinkedIn! And don't forget to subscribe in the box below.