In spite of the Coronavirus forcing many small businesses to close their doors, online marketers continue to thrive in ecommerce sales. By the end of 2020, online sales were up 44% as consumers spent over $861.12 billion. Experts say these numbers will only go up from here.
By 2023, ecommerce retail is expected to rise from 14.1% to 22%, with the number of online shoppers jumping to 278.33 million. That's 91% of the US population!
That's why it's never been more vital to have a solid payment gateway for your membership site.
Smart shoppers use extreme caution when it comes to shopping online – as they should. Many will go the extra mile to determine whether a website is safe to avoid credit card fraud, identity theft, and scams.
As an online business owner, it's your responsibility to provide a dependable payment gateway your members can trust to keep their payment methods simple, secure, and protected.
Fortunately, our new Stripe account integration upgrade has made that a cinch. We're excited to announce that our existing Stripe Checkout plugin now supports Apple Pay and Google Pay!
MemberPress is among the few membership plugins that have successfully consolidated Stripe's Apple Pay and Google Pay additions.
Stripe Checkout Adds Apple Pay and Google Pay Digital Wallet Support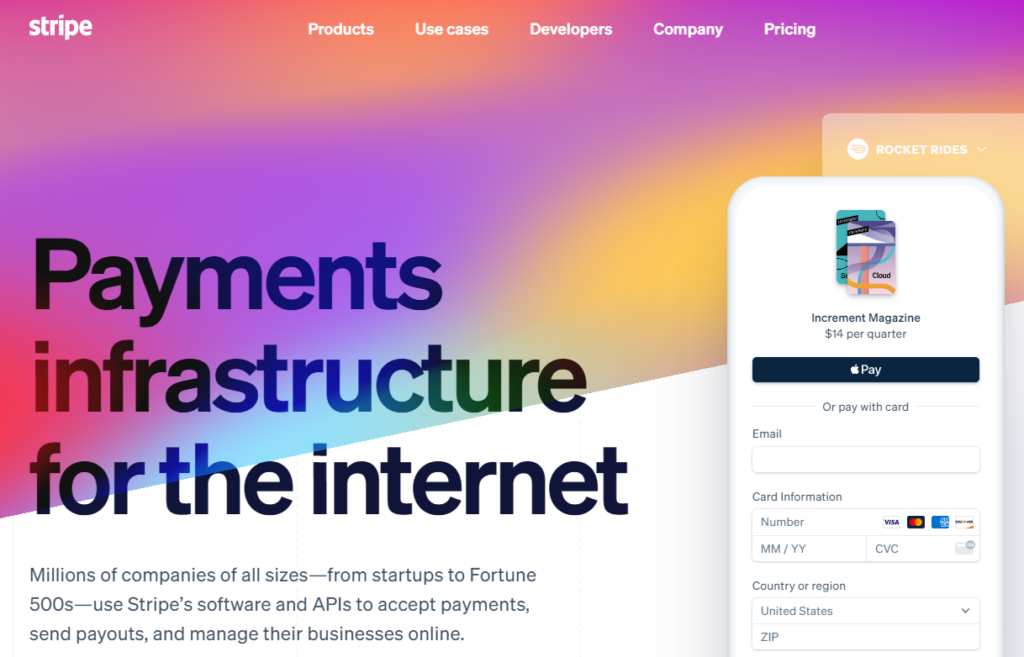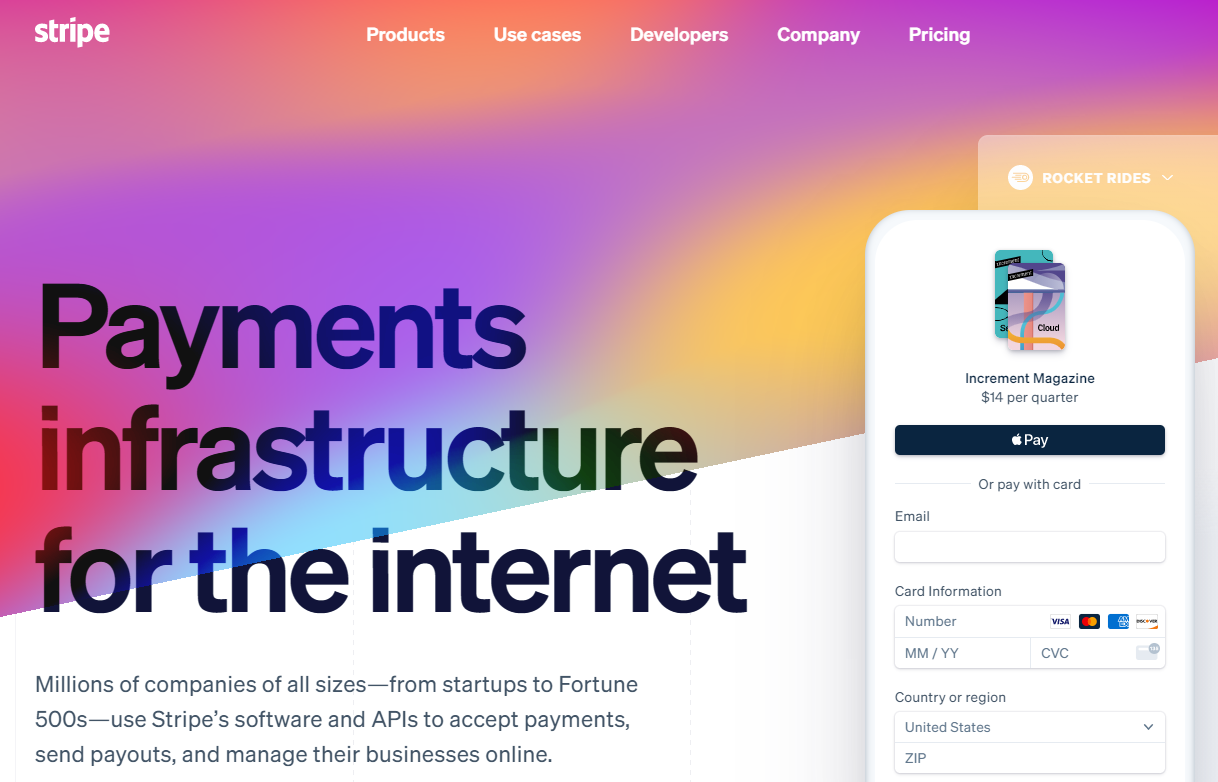 Stripe is a MemberPress favorite when it comes to credit card payment gateways. Being a fully integrated online payment processor, Stripe provides multiple payment products to collect one-time and recurring payments safely, securely, and easily.
Stripe also helps with invoicing, financing, managing expenses, fraud protection, and more.
Until now, MemberPress Stripe users have only been able to accept credit and debit card payments. While this method is both standard and efficient, it can be a time-consuming process for customers.
The rising popularity of digital wallets like Apple Pay and Google Pay has sped up the overall shopping experience.
What are Digital Wallets?
Digital wallets enable users to store their credit and debit card information digitally. While digital wallet software is more commonly downloaded as a mobile app, it can also be stored on a personal laptop or computer.
This payment method offers a quick and convenient way to pay. Instead of having to manually enter their billing information, customers can opt to use a digital wallet for a much faster and more secure purchasing process.
Consumer Benefits of Apple Pay

Apple Pay allows customers to pay using payment methods stored on their Apple Pay products – i.e., iPhone, iPad, iMac, or any device that uses the iOS operating system.
With Apple Pay, users can:
Earn Rewards. Apple Pay users are awarded 2% cashback with daily transactions.
Transfer Money. Apple Pay users can send and receive money from family and friends, and even split expenses with others.
Enable Biometric Security. Apple Pay users can protect their financial details by guarding content behind a facial scan and fingerprint reader.
Feel Secure. Credit card numbers are never stored on a device or Apple Pay Servers. Instead, Apple Pay uses a device-specific number and a unique transaction code. Additionally, Apple Pay doesn't keep transaction information – transactions stay between the user, the merchant or developer, and the bank.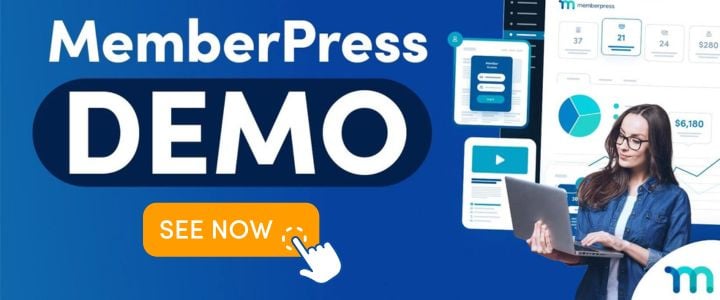 Consumer Benefits of Google Pay
Google pay is a bit more versatile compared to Apple Pay. Users can pay using any device that has their saved Google Pay payment methods.
With Google Pay, users enjoy:
Cashback Rewards. Google Pay users can earn cashback on everyday business purchases.
Money Transfers. Google Pay users can send money to family members and friends, as well as privately request money for split expenses.
Business Connections. Google Pay users can keep track of their expenses at frequently shopped businesses. The platform also saves store loyalty and gift cards.
Security. Google Pay uses a virtual account number rather than personal credit card information. Additional security measures include authentication, transaction encryption, and fraud protection.
In a contactless society, more and more businesses are accommodating the 51% of people who use digital wallets. And it makes sense. Digital wallets are considerably more beneficial to the online shopping experience.
Online businesses are profiting from the benefits and overall convenience of digital wallets to increase ecommerce sales and conquer cart abandonment.
Increase Your Membership Site Sales with Apple Pay and Google Pay
Online businesses lose over $18 billion every year due to cart abandonment.
By enabling Apple Pay and Google Pay on your site, you can improve your members' overall user experience with a quicker and more convenient checkout process.
Mobile Friendly
Perhaps the biggest challenge faced by online marketers is low mobile conversion rates. According to Truelist, the average cart abandonment rate on mobile phones is 85.65%. There's a number of reasons why this is – lower accessibility, smaller screen, customer hesitancy, etc.
The mobile accommodative features of Apple Pay and Google Pay improve the cellular shopping experience by displaying a clear, easy-to-navigate payment page.
Your members can simply opt for the Apple Pay or Google Pay option, and with a single click, purchase a product with confidence and without having to leave their seat.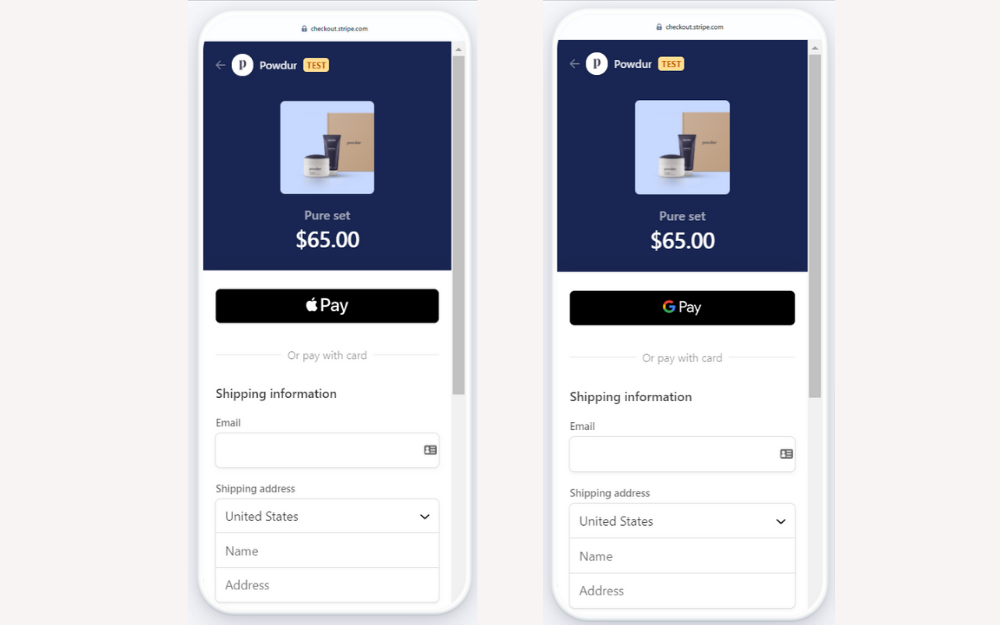 Online retailers who enable digital wallets see an average of three time more mobile cart conversions.
Faster Checkouts
Nearly 30% of consumers fail to complete a purchase due to a long and complicated checkout process.
Before, when a member wanted to purchase your next available course content, they'd first have to find their wallet. Then, they'd have to dig out their credit or debit card and type in their lengthy card number (likely several times due to pesky typing errors).
Next, they'd have to fill in their banking information before finally being able to complete their purchase. How exhausting! Now, with Apple Pay and Google Pay, your members can checkout with just a few clicks!
Upon arriving at your MemberPress checkout page, a member can choose to pay using their Apple Pay or Google Pay account via Stripe Checkout. With a single click, they'll be redirected to their Stripe account where all their information is already pre-filled.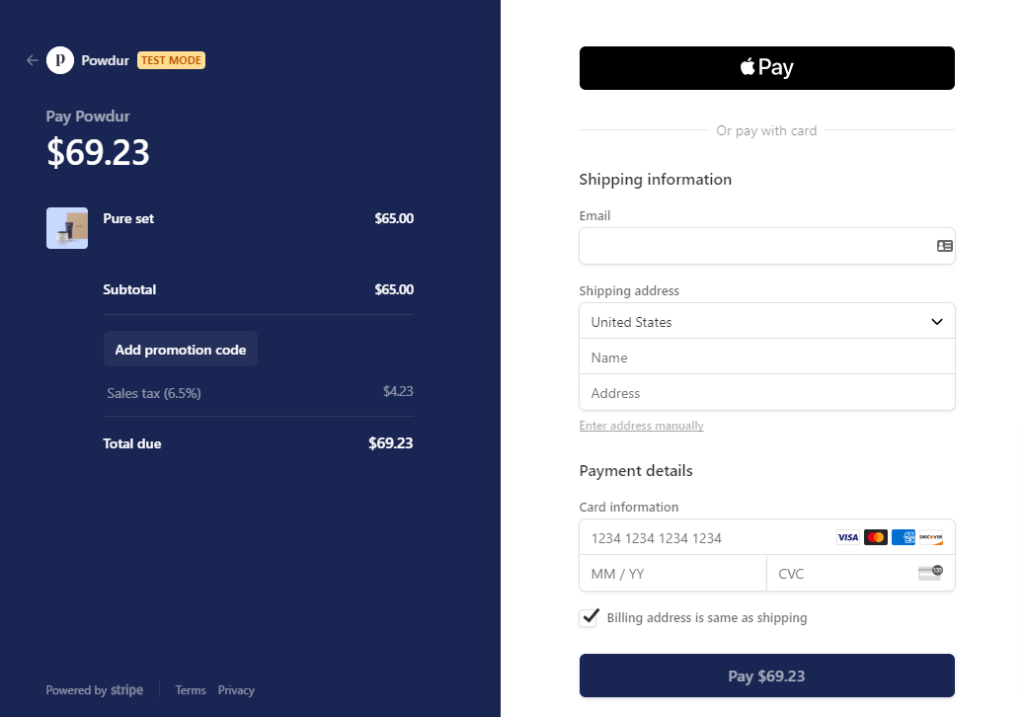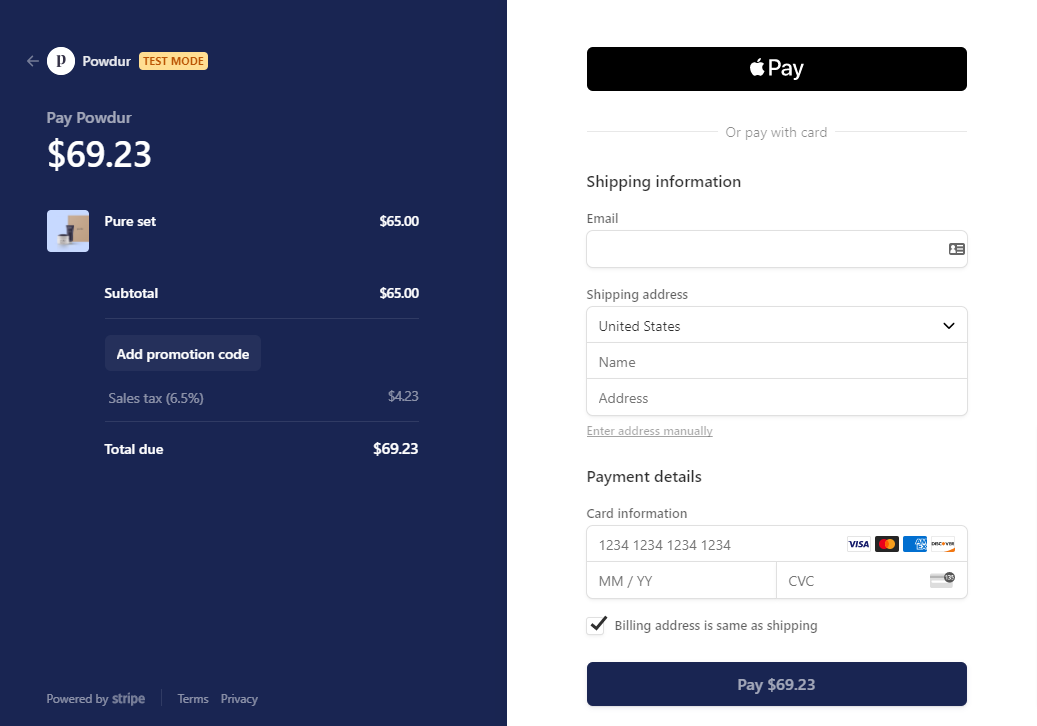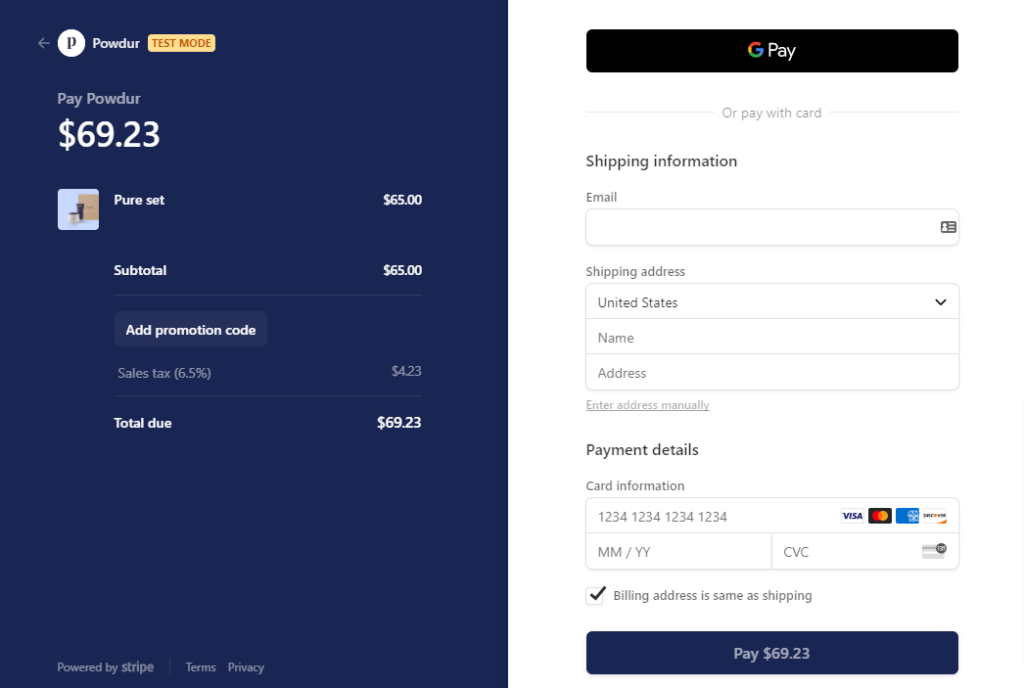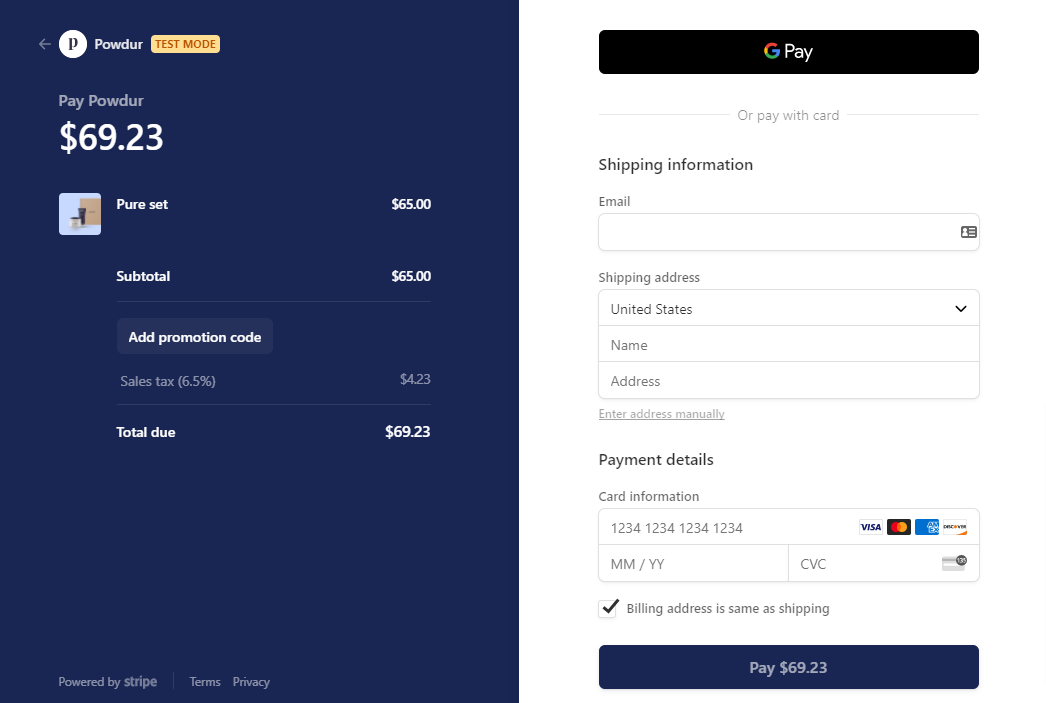 After confirming their payment in Stripe Checkout, the member will be redirected back to your MemberPress Thank You page.
Even More Benefits
Enhanced Security
We've already discussed the advanced security features of Apple Pay and Google Pay. Because these digital wallets are supported through Stripe's secure servers, both you and your members' sensitive financial information is even better protected.
Stripe is a certified PCI Service Provider Level 1, the most stringent level of certification in the payments industry. All transactions through Stripe are Secure Socket Layer (SSL/TLS) protected, and credit card numbers are safely stored in an encrypted format.
With our enhanced Stripe checkout, you'll be among the countless businesses, including Amazon, Pinterest, Slack, and Zoom, who trust Stripe Checkout for all their business' billing needs.
Brandable Checkout
Stripe's customizable checkout guarantees brand visibility from the moment a customer begins shopping on your website, to the final payment confirmation message.
You can upload your company's logo and choose a color scheme that matches your brand's identity. You can also display your business policies to link your contact information, payment terms, return protocols, and more.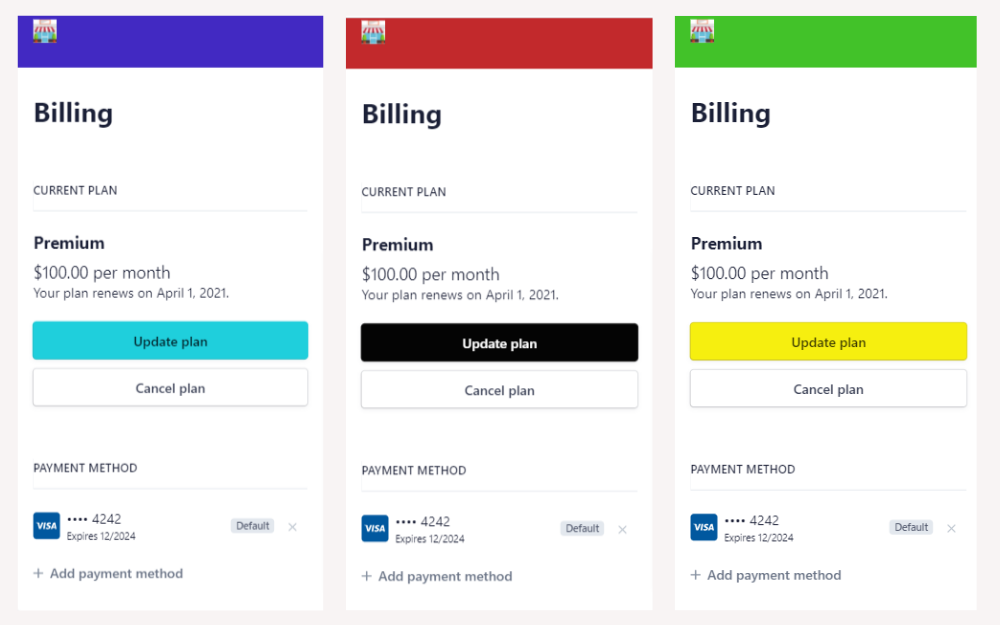 How to Add Stripe Checkout to Your MemberPress Site
Stripe Checkout is a free payment gateway for our MemberPress Basic, Plus, or Pro plans. If you don't already have a Stripe account, you'll need to create one here.
Navigate to MemberPress > Settings > Payments page and add a new gateway. OR, if you're updating your existing Stripe Checkout, skip to step 8 below.
Click on the blue Connect with Stripe button.
Authenticate your MemberPress account by entering your username and password.
Next, you'll be redirected to authenticate your Stripe account. If you're not logged into Stripe, click Sign in at the top right corner.
Select your Stripe Account and click the Connect my Stripe account button.
Note: If your Stripe account has not been fully set up and enabled for "Live mode", you will not be able to connect until you have verified your account.
After connecting, you'll be redirected back to your MemberPress dashboard.
Locate your new Stripe gateway in the MemberPress Settings and check the Enable Stripe Checkout checkbox.
Save the MemberPress Settings.
That's it! You've successfully added (or updated) Stripe Checkout.
To learn more about how to configure your MemberPress site with Stripe Checkout, take a look at our Stripe Checkout Integration Support Docs.
For a great tutorial on using Stripe with MemberPress, check out our latest video:
How to Enable Apple Pay and Google Pay in Stripe
Start accepting Apple Pay and Google Pay on your membership site today with help from these Stripe Support Docs:
To learn more about adding Apple Pay to your Stripe account, please visit this page.
To learn more about adding Google Pay to your Stripe account, please visit this page.
Do you have any questions about the new Stripe account integration? Let us know in the comments!
If you liked this article, be sure to subscribe to our newsletter in the box up to your right!