With the release of MemberPress 1.11.7, all MemberPress widgets also work as Gutenberg membership blocks. Who would've thought 'thinking inside the box' could bring such time-saving possibilities?
Widgets vs. Blocks: The Sloooow🐢Meets the Fasssst 🏎️
Back in the day, widgets were the go-to tools for adding expanded functions to a WordPress website.
And today, depending on your theme, you can still add any number of widgets (having any number of functions) to approximately 3 places on your site:
Your Sidebar
Your Footer, or
Your Header
Easy – but limiting.
Today, you could say widgets have become the rotary phones of WordPress – functional and reliable, but not really built for our fast-paced digital world.
Enter Gutenberg Blocks.
---
---
If a widget's a rotary phone, a Gutenberg block would be your next-gen iPhone.
That's because blocks aren't caged-in like widgets. Blocks can go anywhere your content can. And this freedom puts you in total creative and functional control.
At the risk of mixing metaphors, we could put it another way: Going from widgets to blocks is kind of like swapping your training skates for an electric skateboard.
That being the case, it's time to get rolling! Let's see how Gutenberg Membership Blocks for MemberPress can kick your business into hyper drive! 🛹
But first, check out 5 reasons why…
You're Gonna LOVE These Blocks 😍
1. Their Drag-and-Drop Ease
Like fitting puzzle pieces together, anyone can drag blocks around to build pages. It's so easy, even your dog could do it (that is, if he had hands).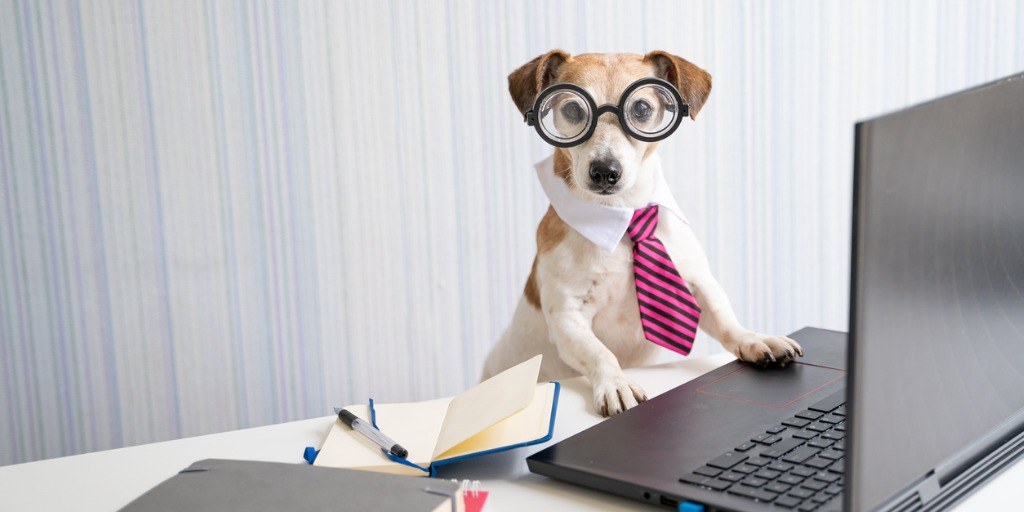 2. They Save You Time on Design
With blocks, you don't have to bother with the back-and-forth between your preview and the backend to see how things are looking.
What you see is what you get. You just design in real-time and watch your changes happen instantly on the page.
3. They Enable Incredible Layout Flexibility
With blocks, you can have sections of text and multimedia side by side, above or below each other, or however your creative mind sees fit.
Really, anyone can unleash their inner designer, and create great looking pages using Gutenberg membership blocks. That's true whether you're a seasoned pro or totally new to the idea of design.
4. The Have Amazing Adaptability
Blocks adapt seamlessly to both mobile and desktop layouts. You don't have to mess with settings or code. It just happens like magic!
With blocks, you could be the most understated underling imaginable, and your site will still look fancy and oh-so pro.
---
---
5. You'll Future-Proof Your Presentation
Gutenberg is the future of WordPress. Because of that, its blocks are constantly updated with new features.
So when you use blocks to design your site, you're making sure your hard work evolves with the times. You're not just staying current; you're staying ahead of the curve.
And "ahead of the curve" is where we always strive to keep our creators.
Introducing Gutenberg Membership Blocks for MemberPress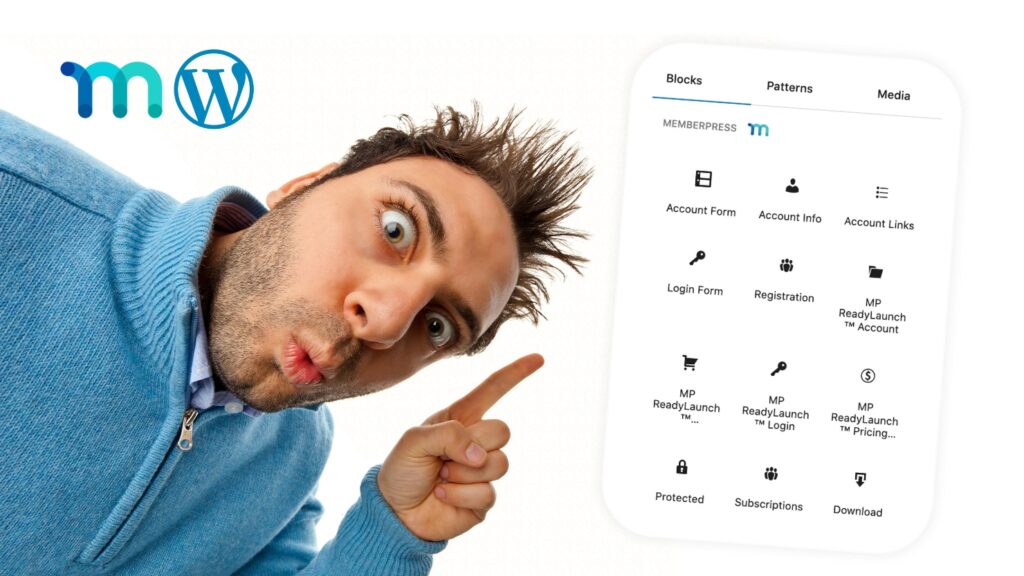 First off, you may or may not know what you can do with MemberPress. In a nutshell, it's the world's #1 monetization, LMS, and membership plugin for WordPress.
The power behind its popularity is two-fold:
MemberPress is incredibly easy to use and requires zero coding ability.
Despite this ease-of-use, it's the most robust and fullest-featured plugin of its kind.
All that was true in the withered days of widgets, long before blocks came along.
Now that we've extended all the MemberPress widgets to work like Gutenberg Blocks, using MemberPress is even easier.
With our Gutenberg membership blocks, you can do all the following things anywhere on your site…
Sell memberships
Display a clickable list of digital downloads
Let your members login or access their account pages
and more!
Now for the nuts and bolts…
---
---
Sell Memberships Anywhere
The MemberPress Registration Block gives your sales strategy a turbo boost by letting you catch your customers while they're captivated.
Instead of trying to pitch your membership or service on some tucked-away widget, you can put your CTA somewhere people will actually see it:
In the middle of a super-engaging article
Directly inside a moving testimonial
Even in the center of a killer content library
With the registration block, you can embed an easy-to-use registration form wherever your content is hottest and your audience is most engaged.
Putting the option to buy exactly where user interest is highest…
Increases impulse signups,
keeps the user experience ultra-smooth, and
skyrockets your conversion rates 🚀
Now that's a winning trio.
Show Clickable Lists of Digital Downloads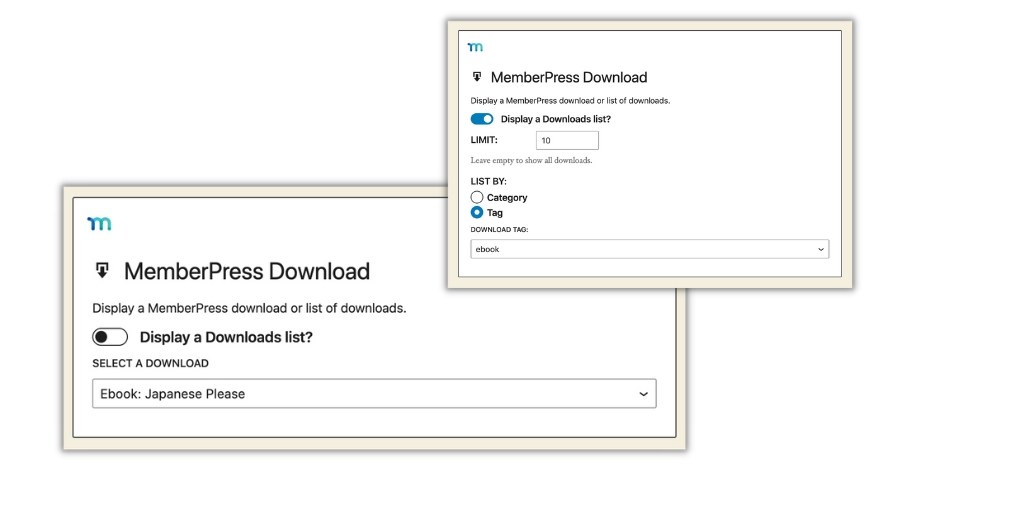 If you're a digital content seller, the MemberPress Download Block is your Swiss Army knife – compact, versatile, and incredibly useful.
With this Gutenberg membership block, you can place lists of downloadable resources directly where your readers are already wrapped up in your content.
Think things like…
ebooks
checklists
reports
digital courses
videos
you name it!
You don't have to quarantine your downloadable content to some dusty corner of your site.
Instead, you can use the download block to showcase it in the thick of your top-performing articles or alongside your most gripping pages.
Plus, with MemberPress Rules at the ready, you can make sure only the right peepers are taking peeks at your most valuable assets (more on that in this next section).
Paywall Paradise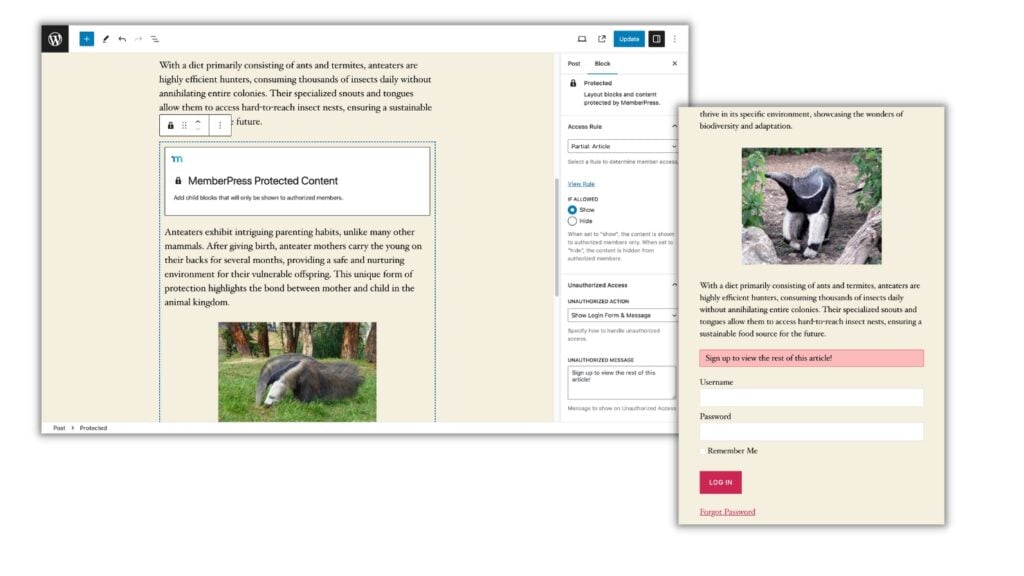 In the market for a guardian angel? Well, you just got one! At least, your content sure did – and it's called the MemberPress Protected Block. 👼
Not all content is created equal. And some of it is worthy of earning. Plain and simple.
The MemberPress Protected Block lets you guard valuable content from unpaying eyes by dropping a paywall or action-gate (e.g., an email address requirement) right where you need it.
Give your site visitors a motivating sneak peak by placing lead-in paywalls (like you see in big online pubs).
Or protect things like videos using a pay-per-view paywall.
You can even hide pro tips or exclusive downloadables behind a protected block.
Really, the sky's the limit.
And you're not just protecting content. You're creating a sense of exclusivity and urgency.
The best thing about using the MemberPress Protected Block is that…
You boost the value perception of your premium stuff AND
At the same time, you (A) get key user info or (B) make a sale
It's a 2-for-one deal.
Roll Out the Red Carpet for Your Customers
The following group of four Gutenberg membership blocks lets you lay the red carpet right at the customer's digital doorstep. They are the…
Account Form Block
Account Links Block
Account Info Block, and
Login Form Block
With these blocks, you never have to disrupt your customers' experience by sending them hunting for essential functions like login or account access.
Instead, you can place access literally anywhere on your site. You can make sure essential functions are always just a click away, right where your members need them most.
And, remember… you should never underestimate the power of a frictionless user experience in reducing cart abandonment rates and churn.
The easier you make it for users to login or out and access their accounts, the happier and more engaged they'll be.
In the world of online memberships, those two factors are your ticket to sustained revenue and growth.
After all, happy, engaged customers tend to stick around. 🤔
ReadyLaunch™ Blocks
When it comes to online design, ReadyLaunch™ is where the Gutenberg magic really happens. It's kind of like your membership site's Narnia wardrobe.
With just a few magical clicks in the ReadyLaunch™ interface, you can leave your site looking like it was designed by a pro.
Here are just some of the benefits these Gutenberg blocks bring to the table:
Uniform look. No fuss.
With ReadyLaunch™, your settings are pre-configured. All you do is add your colors and images.
So every block you add to your site has a branded, professional look – no extra effort required.
Always Ready to Sell.
You can place these blocks anywhere – in articles, among testimonials, or on dedicated pages.
And they're not just visually appealing; they're designed to drive sales. Each block's layout is intentional, and based on best practices.
User-Friendliness That Keeps Users Friendly.
ReadyLaunch™ blocks keep your site organized and easy to navigate by simplifying user interaction.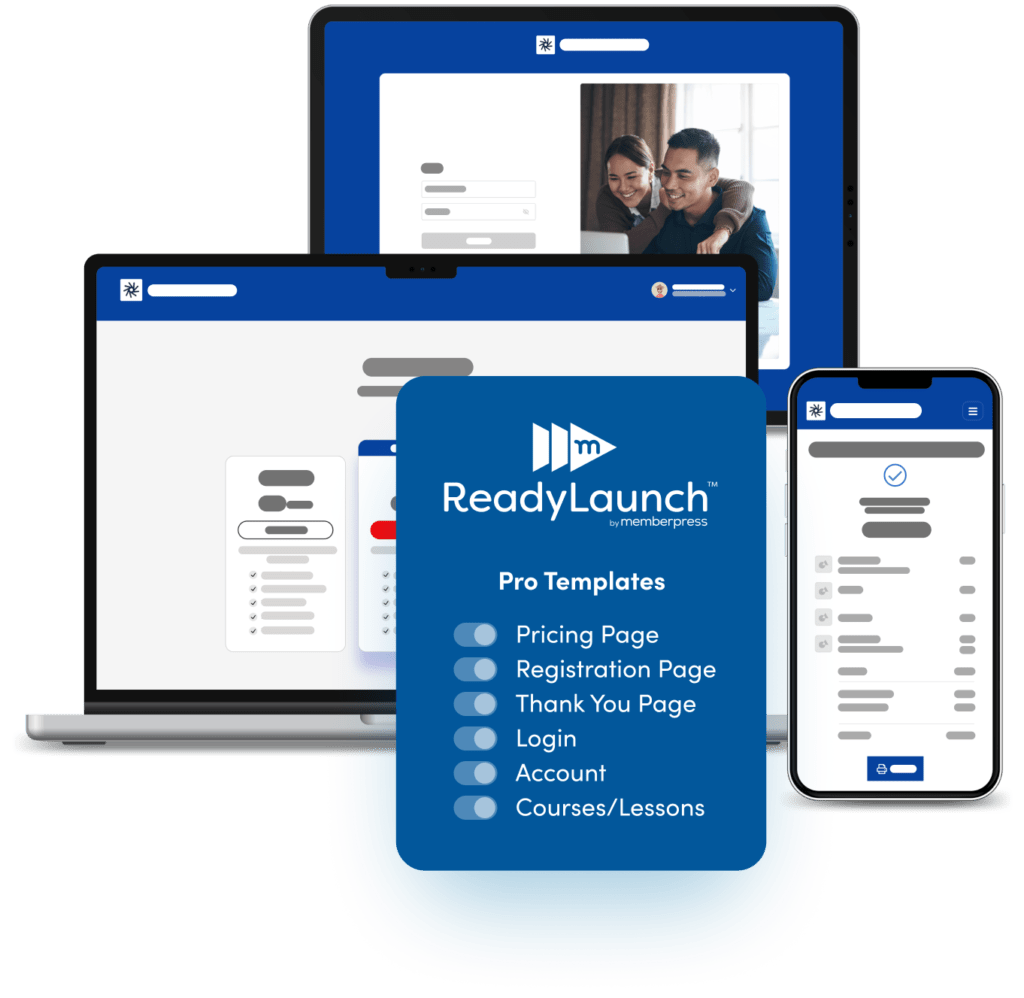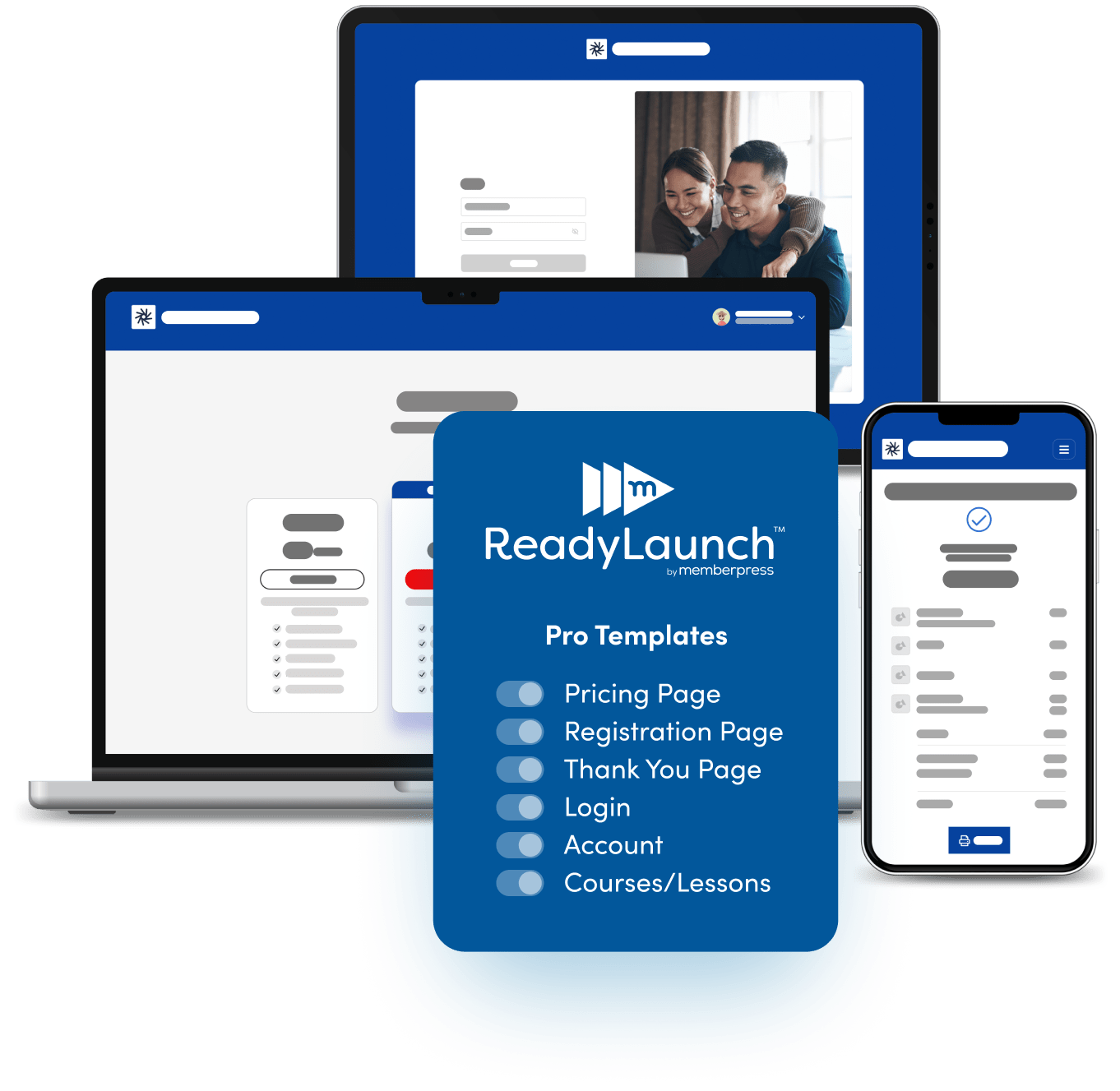 This kind of irresistible convenience keeps new customers coming back – and inspires old customers to upgrade.
No Coding Required.
You don't have to be a tech guru to use ReadyLaunch™. These Gutenberg blocks empower you to site build like an expert, even if you thought CSS was a killer primetime crime series.
Quick Setup. Fast Profits.
Forget about wasting time on complex configurations. With ReadyLaunch™ blocks, you're just minutes away from making your site a revenue-generating machine.
They're incredibly easy to use and they make creating a pro membership site enormously easy to do. When we say ReadyLaunch™ lets you go from no-site to sale-ready in under a day, we're not exaggerating.
---
Wrapping It Up: Unleash the Full Power of Gutenberg Membership Blocks for MemberPress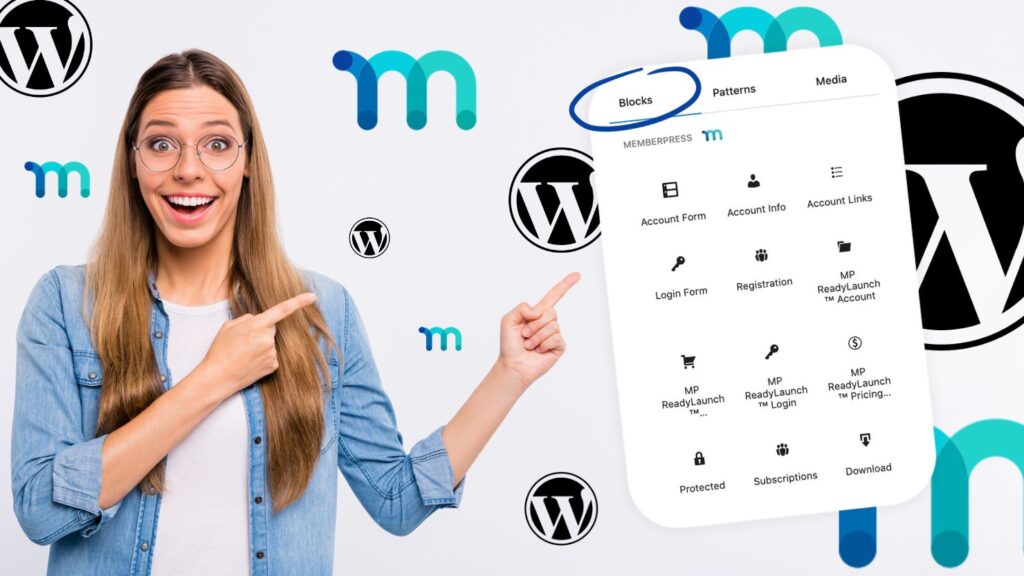 ---
---
So there you have it – the incredible line-up of Gutenberg membership blocks for MemberPress. All designed to supercharge your website and simplify your life.
From the transformative MemberPress Registration Block to the steadfast paywalling power of the protected block, we've covered how each of these little blocks can give a big boost to your online business game.
And then there's the cherry on top – ReadyLaunch™ blocks.
Whether you're a non-techie or you're time-crunched – or you just really want a gorgeous, high-converting site without breaking a sweat – ReadyLaunch™ is your go-to power player.
More than just digital Legos for site building, these blocks are strategic tools that bring your content and sales goals to life.
Each block has its own revenue-boosting specialty, whether it's…
driving impulse signups
protecting exclusive content
making essential account features easy to access
or something else on the long lists of things these blocks can do!
AND the blocks are all cloaked in the branded armor of ReadyLaunch™. So when you use MemberPress, your website not only works like a dream, it looks like one too.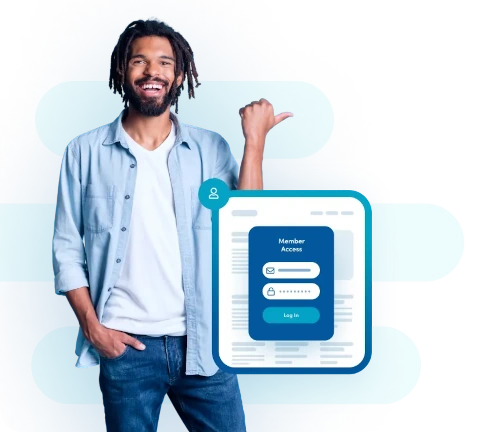 Get MemberPress Today!
Start getting paid for the content you create.
Get MemberPress Now
See All Features
With these blocks, you can make your website more than a digital space. You can make it a dynamic marketplace, a community hub, and your most valuable business asset.
So what are you waiting for? Get out there and get ready to go gangbusters with Gutenberg Membership Blocks for MemberPress today! 🚀