As a monetized site owner, two of your main goals should be…
Learning how to reduce member churn
Learning how to maximize member retention
Learning how to reduce churn caused by failed payments
For starters, you could say that keeping existing members is more important than getting new ones.
After all, marketing your site and onboarding new members is time-consuming and expensive. If new members leave shortly after they join, that's a lot of wasted effort.
In the beginning, it can be tempting to invest the majority of your time and money in advertising and marketing to grow your site. But your best bet for success is to establish a plan for member retention.
If you've tried and failed, or you're not sure where to start, don't worry. Just keep reading.
In this guide, we'll show you how to create a strategy to maximize member retention. Then we'll give you some great strategies for recovering failed payments (one of the greatest causes of churn).
These are two of the most powerful ways to protect you monetized website's bottom line.
To start, we'll go over why maximizing retention is so important.
Why You MUST Reduce Member Churn – Customer Lifetime Value (CLV)
It can't be overstated: Reducing member churn is critical to your site's success. In fact, if you've been focusing solely on trying to build a bigger customer base for your membership site, it's time to refocus.
That's because of customer lifetime value (CLV), which is a customer's total long-term worth to your business.
Burn this fact into your brain: Keeping existing members is much cheaper than acquiring new ones.
That means CLV is critical to growth.
As soon as a member cancels (or "churns"), they're no longer a source of income for your business. And the longer a customer stays, the higher the investment/revenue ratio (or profit).
CHURN RATE: The rate at which members unsubscribe from your membership site.
Members who stick around longer renew their memberships and make more purchases. They're also more likely to be happy. And happy members recommend your site to others whether you reward them for doing so or not.
No matter where your monetized site is in its life cycle, you'll want to measure your site's churn rate regularly. A good website-reporting tool can get the job done.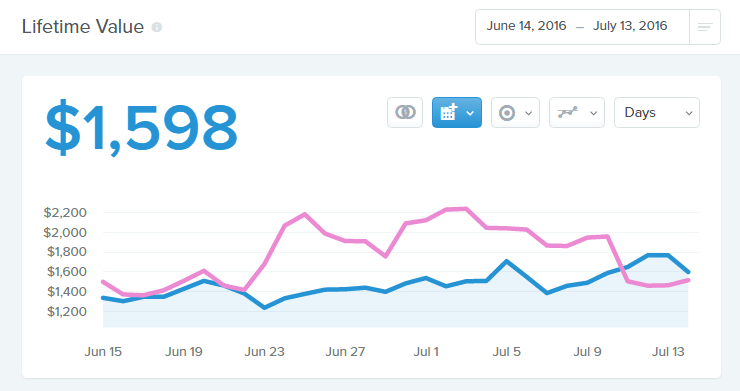 Once you plug some of the holes and begin reducing your churn rate, you can go back to growing your membership numbers. You can start turning those free visitors into paid members.
Now let's talk about some of the most effective strategies for reducing churn and improving retention.
Make Your New Members Feel Welcome
You never get a second chance to make a first impression, so it's vital your relationship with new members starts on the right foot. An automated welcome message is an excellent way to make sure it does.
MemberPress has a handy automated welcome-message feature that lets you greet new members and start the orientation process right away.
Your welcome message should include things like…
Links to your best content
Helpful documentation
Next-steps instructions
Support information
Bring Existing Members Back to Your Site
With so many demands on your members' attention, it's easy to understand how they might forget about your product. It's your responsibility to remind them, especially when you add new content or launch a new feature.
Be sure to send out an announcement whenever you have news. It's a great way to bring existing members back to your site and remind them why they signed up in the first place.
The more valuable your site, the less likely they'll decide your site is a waste of money when reviewing their monthly expenses.
MemberPress integrates with the best email marketing services, including ActiveCampaign and ConvertKit. And this makes sending announcements to your members a breeze.
Reach Out to Potential Leavers
Not only is it critical to be on hand to help members whenever they have an issue, it's vital to be on the lookout for cancelation warning signs.
Remember, it's easier to keep an existing member than to acquire a new customer. It's even harder to persuade a former user to rejoin. So monitoring for user disengagement is key in reducing your churn rate.
The MemberPress Reminders feature is an awesome churn-reducing tool. For example, you can notify members when it's time to renew a subscription or update an expiring credit card. Doing so helps avoid lapses and lost memberships.
There are several reminder types, or triggers, to choose from. And you can set the emails so they're sent before or after the trigger event takes place. The reminder types include:
After a member signs up
After a member abandons signup
Before a subscription expires
After a subscription expires
Before a subscription renews
Before a credit card expires
After a credit card expires
Before a trial ends
Constantly Review User Experience (UX)
Things move (and change) fast in the online world. That means your user experience (UX) can always be analyzed and improved.
While you may've launched the perfect monetized website, it's possible that plugin and theme updates have slightly altered some of your site's formatting.
Is your content still fully mobile-friendly? Have you implemented new developments following UX best practices? These are super important things to check for regularly.
Your site may not be broken, but could it be frustrating your members? Tools like Google Analytics can help you see how members experience your site, and assist you in optimizing your content.
Keep an Eye on the Competition
Were you ahead of the curve when you launched? Unfortunately, there's a good chance your competitors have upped their game, and new contenders have entered the field.
Increased competition can have a significant impact on member retention. So it's important to monitor your rivals to ensure you're still leading the pack.
If keeping an eye on the competition means joining their programs, do it. Whatever reduces your churn rate is worth the effort.
Update and Improve Your Content
Constantly updating and improving your product doesn't just help you stay ahead of the competition. It also gives your existing members a good reason to keep paying their monthly subscription fees.
Keeping your content up-to-date isn't just about reducing your membership site's churn. It's a vital part of keeping your business alive.
No matter how evergreen your membership content is, changes to best practices, new research findings, advancements in technology, and software updates can all leave your content looking out-of-date and less appealing to your members.
Make sure you…
Don't Overpromote
Just like your parents said, there can be too much of a good thing. Whether you've created marketing materials yourself, you've hired an expert, or you primarily work with affiliates, overpromotion can increase your member churn.
Overpromotion can mean overselling the value of your product or just doing too much marketing (placing too many ads on your site or sending out too many emails, for example). And it can result in new members leaving almost as quickly as they arrive.
As your monetized site and its content evolves, make sure your marketing materials reflect these changes. It's always better to underpromise and overdeliver.
Also, you might consider using an A/B testing plugin like Nelio Testing to figure out what's working and what isn't. Then you can get rid of the fluff.
Ask for Feedback and Listen to Your Members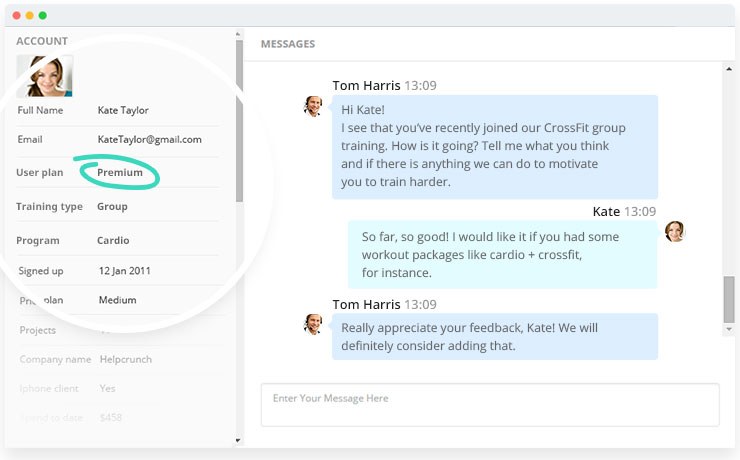 Never assume an active member is a happy member. Even if a member is engaging with your content, they may still be thinking about quitting your site.
While user engagement tools can help rescue disengaged members, asking for feedback is a great way to find out how to keep active users satisfied.
Create user surveys, open up discussion areas, and use email marketing tools to better connect with active users. Doing so will tell you a lot about your membership site and what you can do to reduce its churn rate.
Furthermore, encouraging members to take an exit interview or cancellation survey as they leave can reveal a lot about your business. OptinMonster is an excellent tool for creating and managing these sorts of assets.
And with the MemberPress + OptinMonster integration, MemberPress users can display campaigns on pages such as Register, Checkout, Group pages, Membership pages, Courses, Lessons, Quizzes, and Thank You pages.
Recapturing Failed Payments (Involuntary Churn)
About 50% of churn can be attributed to failed payments. Failed payments occur when a member's renewal fails because their credit card is declined.
In most cases, the member isn't even aware their payment has failed. This is why failed payments are referred to as "involuntary churn".
The following are the most common causes of failed renewals:
Maximum spending limit is reached
Insufficient funds
Inaccurate information
Expired card
Recent fraudulent activity on the card
Human error
Involuntary churn is one of the most overlooked but critical factors in the success of subscription-based online businesses.
Unfortunately, fighting this type of churn requires a highly engaged approach. In other words, it's time consuming.
Your best bet is outsourcing. Though there's a cost involved, a good involuntary churn service is worth its weight in gold.
We highly recommend the LTVplus Recover Payments service. In fact, we use their services here at MemberPress, and the ROI is fantastic.
LTVplus Recover Payments uncovers the monthly revenue you're losing, identifies recovery opportunities, then creates a human-based game plan to make the recoveries happen.
They even sync with your payment processor and other platforms to pull customers with failed payments into their CRM in real time. The result is a failed payment recovery of up to 50%.
Final Thoughts
If you're charging your members recurring subscription fees, reducing the churn rate on your monetized website will help increase the lifetime value of each member on your site.
This means you can justify investing more money in new-member acquisition and improving your content – the two most effective ways to grow your membership business.
You'll need to be proactive if you want to reduce your churn rate. Once a member quits, it's unlikely you'll get them to come back.
Instead, focus your efforts on providing ongoing value and keeping an eye out for those early warning signs of member dissatisfaction.
How do you plan to start reducing your membership site's churn rate? Let us know in the comments.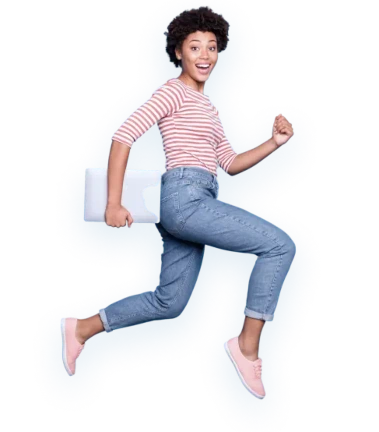 Get MemberPress Today!
Start getting paid for the content you create.
Get MemberPress Now
See All Features
If you liked this article, be sure to subscribe to the MemberPress blog!