When you run a membership site, part of your job is to ensure that its users are happy. You probably considered what type of content your audience would be interested in when you first put your site together. However, it can be hard to predict what people really want.
Fortunately, there's a way to find out what your members are looking for without reading their minds. If you want to know whether your website is effective, the best option is to directly ask the people who use it. Conducting a survey of your site's members can help you determine what type of content they're interested in, and reduce membership churn in the process.
In this article, we'll walk you through how to run a survey on your membership site. Before that, let's talk a little more about why you'd want to!
Why You Should Survey Your Site's Members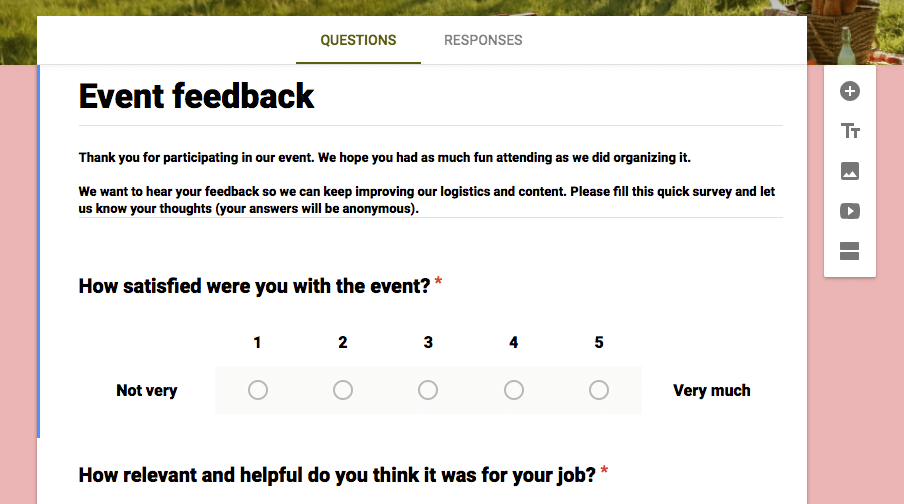 There are many reasons to ask some direct questions of your site's users. Surveys can be an excellent way to find out what people think, what they're enjoying about your site, and what they don't like or find confusing. Conducting surveys can help you curb member loss, by making changes to target specific aspects of your site that aren't as effective.
For example, you might first use a tool like Intercom to identify members who are disengaged. Then, you can put together a survey to find out what features might help get them invested in your site again. You can also check in with your most loyal and engaged members, in order to find out what about your site is working for them (and what still needs improvement).
How to Conduct a Survey of Your Membership Site's Users (In 5 Steps)
Conducting a survey takes a little work, but it isn't a difficult process. Let's walk through the five steps you can take to find out what your members are thinking.
Step 1: Choose Your Questions Carefully
The first thing you'll need to do is decide what to ask. If you don't want to scare people away, you'll want to keep your survey relatively short and sweet, ideally at or under 10 questions. That means you need to choose each question to be included carefully.
While your approach will depend on your specific goals, you may want to focus on questions that fall into these three categories:
Customer satisfaction. This category includes questions about how happy your members are with your site. If you use a number scale, make sure to label it clearly with terms like "extremely satisfied". When rating scales aren't labeled, respondents may have different ideas of what each number means.
Ease of use. Can your members easily find what they need and navigate your site? Make sure to leave a write-in space as well, so members can tell you in detail about any issues they're experiencing.
Affinity for your brand. It's also important to find out how much members like your site. In addition, it's smart to ask how likely they are to recommend your site to others.
Make sure to ask for positive feedback, as well as areas that could use improvement. This can help you understand both what's working and what isn't. You may even be able to use quotes from your survey for testimonials.
Last but not least, in order to maximize your response rate, you don't want to require write-in responses. However, you should provide optional free answer sections where appropriate. This way, respondents can just click through the survey quickly, but anyone who wants to provide more detail can do so.
Step 2: Put the Survey Together
Next, you'll need to turn your list of questions into an actual survey. While you can do this by hand, it's much easier to use a dedicated tool. Here are three we recommend:
No matter what solution you choose, it should offer an easy way to add as many fields as you'd like. Remember to select an appropriate input field type for each question:
For example, for questions with a set number of choices, you can use radio buttons or a drop-down menu. You can also add a text field underneath any question to permit write-in answers that explain, expand, or clarify the member's response.
Step 3: Offer an Incentive for Completion
It's almost time to send out your survey. However, first you may also want to consider creating a prize or reward for members who complete it. For example, offering a small monetary incentive of $10 can help increase survey responses by up to 30%.
Aside from directly paying users to take the survey, you could offer a discount code for your site, or a raffle entry for a tablet or e-reader. Incentives of all kinds can help to increase your response rate, giving you lots of valuable data to work with. After all, the more people respond to your survey, the better you'll be able to predict what your members want and keep them happy.
Step 4: Distribute the Survey
Finally, you'll need to send the survey out to your members. You can either add a link to it on your member dashboard, or share it via email.
To add it to your site's dashboard, you can create a dripped landing page if you don't have one already. You can also manually set up a landing page, and set your site to redirect to that URL after a member logs in:

To send your survey via email, you can use an integration tool to connect your site with your favorite email marketing platform. Then, you can create an email containing the survey and send it out to all of your members. If you want to target a specific audience instead, you can use the members page to search for the type of users you'd like to include.
Step 5: Follow Up After the Survey
Finally, remember to follow up with the members who complete your survey. It's a great idea to send out a thank-you message to participants, letting them know you appreciate their time. It can also be beneficial to send one or two follow-up messages to anyone who doesn't complete the survey, reminding them to do so.
Some survey platforms enables you to automatically send reminders and thank-you notes. Either way, if you've offered an incentive for completion, make sure to include that as well.
Conclusion
It can be challenging to stay aware of users' needs when you run a membership site. Your best bet is to survey them directly from time to time, and find out what they like and what's giving them trouble.
As we've shown, you can craft a survey for your membership site in five simple steps:
Choose your questions carefully.
Put the survey together, using a tool like WP Forms.
Optionally, use an incentive to improve your completion rates.
Distribute the survey, either through your MemberPress dashboard or via an email service.
Follow up with respondents after the survey.
Do you have any other questions about running a survey for your website? Let us know in the comments section below!
If you liked this article, be sure to follow us on Facebook, Twitter, Instagram, and LinkedIn! And don't forget to subscribe in the box below.