There's no doubt that optimizing your website for search engines is key if you want to drive traffic. However, even if your site's Search Engine Optimization (SEO) was in tip-top shape when you launched, it can deteriorate over time.
That's why conducting regular SEO audits is key. By monitoring the state of your site's rankings and pinpointing areas that need improvement, you can increase your site's visibility on Search Engine Results Pages (SERPs).
In this post, we'll introduce you to SEO auditing and explain why it's crucial for your WordPress site. Then we'll walk you through how to conduct your first audit. Let's get started!
An Introduction to SEO Auditing for WordPress
'Auditing' is the practice of systematically examining something in order to determine its validity. When it comes to your WordPress site, there are many types of audits you can conduct, including content, security, User Experience (UX), performance, and SEO audits.
Given how quickly the online landscape tends to change, it's important to keep your site up-to-date in all regards. Audits are a wise practice for evaluating the state of your site, so you can uncover areas that need to be brought up to speed.
An SEO audit might consist of checking several key aspects of your site that influence its standing with search engines, such as:
Keywords: Terms related to your site and its content that users are likely to search for.
Backlinks: Links to your site, internal or external.
Performance: How fast your site loads for visitors.
Responsiveness: How well your site is optimized for mobile usage.
Although these elements are key to how search engine crawlers and users experience your site, you might not notice there's anything wrong with them in your day-to-day interactions with the dashboard. A full audit will help bring them to light.
How to Conduct an SEO Audit on Your WordPress Site (In 5 Steps)
SEO audits can be quite time-consuming, due to the attention to detail they require. Below, we've outlined five steps that are central to the process, with suggestions on how to streamline them when possible.
1. Conduct Keyword Research and Analyze Your Content
Optimizing for keywords is a cornerstone of quality SEO. Taking a closer look at how you're doing in this regard will help you with your content strategy moving forward, and possibly with your rankings as well.
To get started, determine what terms your site is ranking for. Tools such as SEMrush can help you with this: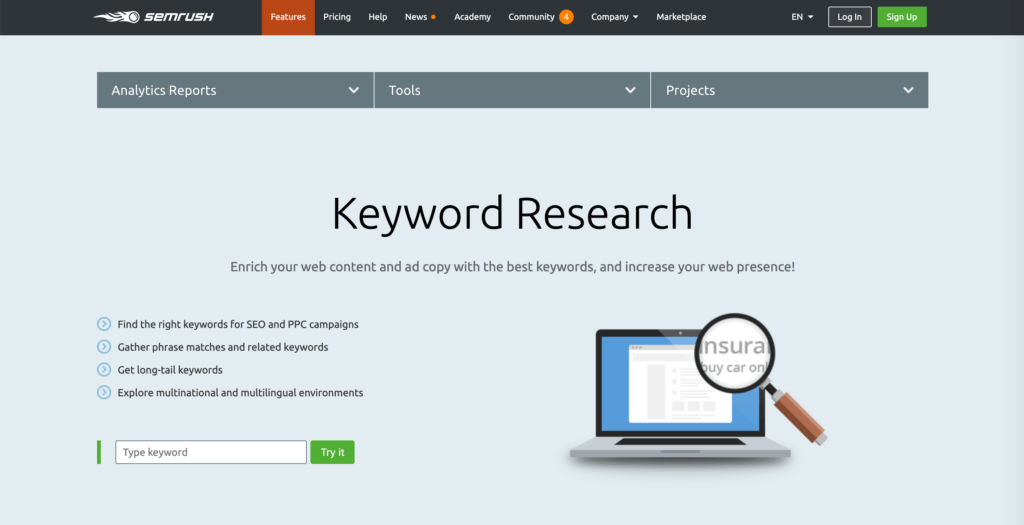 Consider whether the keywords most strongly associated with your site are ones you want to be ranking for. If not, you'll know to tweak your content strategy going forward, in order to better align it with your goals.
While you're at it, you may want to take a look at some of your highest-performing content. Check to make sure your most popular posts are fully optimized for their target keywords, as well as other on-page SEO factors. A plugin such as Yoast SEO can help:
Its checklists will point out areas that could use improvement, so that your most valuable posts continue to drive traffic to your site.
2. Determine the Quality of Your Current Backlinks
Backlinks play an important role in signaling your site's credibility, authority, and relevance to search engine crawlers. However, it's more about quality than quantity when it comes to this part of your site.
Using SEMrush's Backlink Audit Tool, you can sift through all the links to your site to find any that might be considered spam or otherwise low quality:
Once you've identified these problematic links, you have two choices. The preferable option is to contact the owner of the site that is linking back to you, asking them to remove the unwanted backlink.
If that fails, you can 'disavow' low-quality links so that search engine crawlers will ignore them when indexing your site. You can do this in Google Search Console:
In the Disavow Links Tool, simply select your site from the drop-down menu and click on the Disavow Links button. Then, upload a plain text file containing a list of the links you wish for Google to ignore.
3. Run Performance Tests and Implement Speed Optimization
Although they may seem unrelated, performance is a key factor in your site's SEO. Google prizes fast-loading sites above slow ones, so making sure you're running at top speed is important.
There are many speed test tools you might consider for testing your site's performance. One is Pingdom:

The advantage of this platform over other options is that you can run tests from different locations, revealing issues for global users instead of those in a single area. Once the test is complete, Pingdom will provide suggestions for shaping up your site's speed: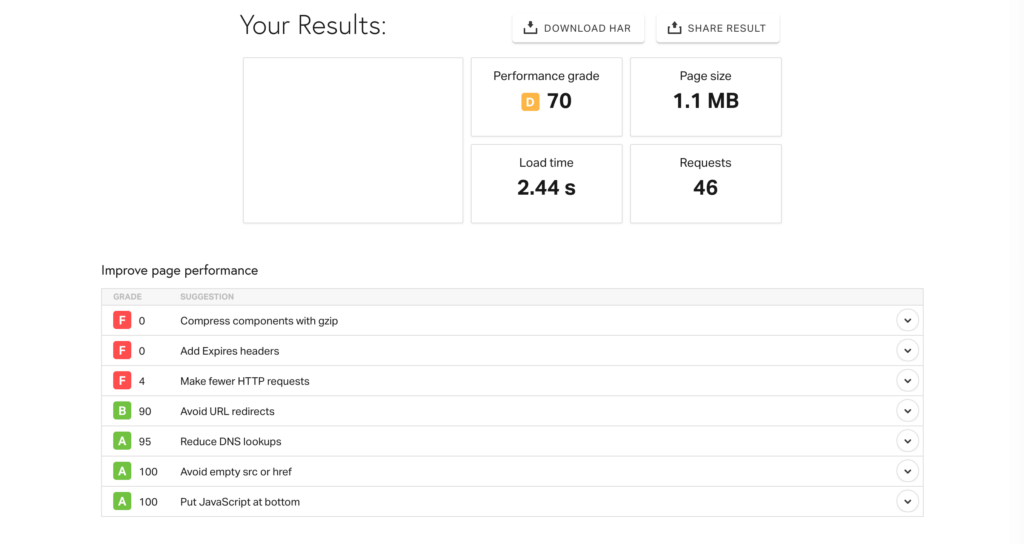 Follow these guidelines to the best of your ability to get your site loading faster.
4. Assess Your Site's Responsiveness and Make Necessary Adjustments
While many sites – especially those created with WordPress – now adapt to fit various screen sizes, there are still plenty that don't. If your website isn't responsive, you're more likely to lose mobile users who become frustrated while trying to use it.
Plus, Google has taken to favoring responsive sites over those that don't provide a pleasant mobile experience. Failing to adapt could be a blow to your rankings.
If you haven't done so in a while, visit your site on a smartphone and note whether it fits within the smaller screen, or if you have to zoom and scroll in order to read it. In the event that the latter is true, you'll need to go about making some changes to your web design.
Probably the simplest way to make a WordPress site responsive is by choosing a mobile-friendly theme:
However, if your site and branding are very well-established, this can be easier said than done. As an alternative, you may want to consider using Jetpack:
This all-in-one plugin includes a Mobile Theme feature that can turn your un-responsive site into a smartphone-friendly one, without requiring you to change your theme. It's much simpler and faster than a complete site redesign, and still provides the needed SEO boost.
5. Create a Schedule to Conduct Future Audits
As you wrap up your first SEO audit, it's wise to put your next one on the books. This practice is most helpful if it becomes a regular part of your ongoing maintenance routine, so consider setting up a formal audit schedule for yourself.
How often you should conduct these examinations depends on your site. Small, static websites that don't change very often can probably get by with just one per year. The more dynamic content you have, the more often you'll need to audit your site.
Small blogs and e-commerce sites will probably do best with two audits per year, for example, while medium and larger sites may need quarterly check-ins. If your website is very large and posting new content multiple times every day, you may even want to invest in monthly audits.
Conclusion
A thorough SEO audit can reveal hidden issues with your site that could be impacting its visibility. By clearing them up, you can get back to managing your site and watching the traffic roll in.
This post shared five key steps you'll want in order to take to conduct your first SEO audit:
Conduct keyword research and analyze your content.
Determine the quality of your current backlinks.
Run performance tests and implement speed optimization.
Assess your site's responsiveness and make necessary adjustments.
Create a schedule to conduct future audits.
Do you have any questions about SEO audits? Ask away in the comments section below!