How to Charge Recurring Monthly Subscription Fees for an Online Course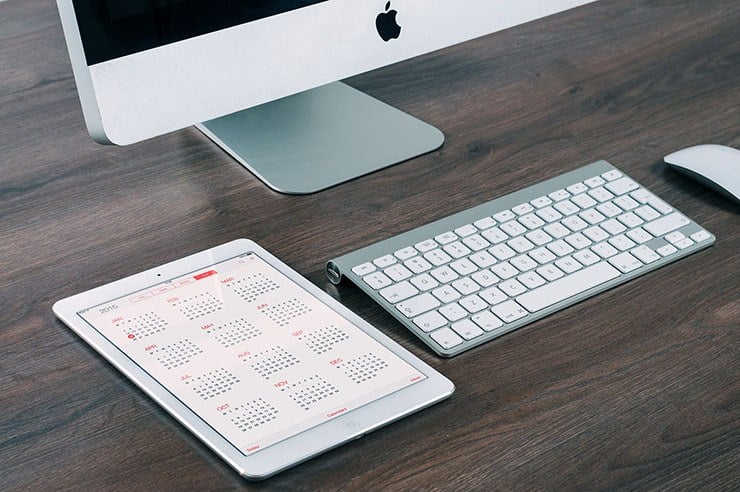 If you're creating a membership website or educational resource, you might be wondering how you can charge a recurring monthly subscription fee for your online course.
Charging a recurring subscription fee for access to your online content isn't the only way to price your product. However, it's a popular option that has many benefits.
In this article, we'll not only be covering the technical details that will enable you to automatically charge a recurring fee for access to your online course, but also some practical advice to help your project be a success.
Is Charging a Recurring Monthly Subscription Fee the Best Option?
Charging a recurring subscription fee, whether it's on a monthly basis or not, can be a very attractive proposition. If all goes according to plan, it could be your ticket to passive income.
The main benefit to the recurring pricing model is that you're paid by your subscribers at regular intervals. Then, with each new member who joins your online course, your recurring income increases.
Compared to charging a one-time fee for access, receiving a subscription fee at regular intervals means you're paid on an ongoing basis for managing your online course and adding new content.
However, charging a recurring fee for access to your membership website or online course isn't the perfect option and it does have some downsides.
Perhaps one of the biggest downsides to charging a monthly recurring subscription fee is that it's more likely that your members will leave once they've gotten what they came for. This makes sense as no one likes to waste money.
However, if you're trying to build a community and create a space where your new members can learn from your more experienced students, giving your members a reason to leave each month can really hamper your chances of success.
One way to combat this churn of members is to ensure that you're providing real value on an ongoing basis. This is easier said than done and it can be more difficult in some industries than others.
So let's look at some tips that can help you encourage your visitors to stick around longer than they otherwise might.
Strategies for Achieving Recurring Subscription Success
One alternative option is to charge access to your course on a subscription basis but to limit the payment cycles to a set number of months. After this period has passed, a member can then be granted lifetime access.
The benefit of this approach is that you'll enjoy recurring payments for a set period. Your members will also have an incentive to complete the predefined number of payments and your community of users still has a chance to grow and become a selling point of your course.
Furthermore, even once the initial subscription fee paying period is over, it doesn't mean it's the end of your monetization opportunities.
Once you've cultivated your community of engaged and invested users, you then have the option of launching new premium offers. This could include digital downloads, supplementary mini-courses, or one-time events. These commercial upgrades can fund the creation of new content and become an additional source of income once the initial subscription cycle has expired.
If you are set on charging an unlimited recurring subscription fee in exchange for access to your product, then your best chance of success is to publish a steady stream of new content for your users.
Other tactics you can employ to increase member retention rates include regular access to online events such as webinars, drip feeding your content, and expanding the scope of your course over time.
When it comes to deciding which additional products or courses to launch, your community will often be the best source of inspiration and guidance.
How to Collect a Monthly Membership Fee
Most good membership tools will give you the option of setting the billing type to recurring when creating a new membership plan or product.
With the MemberPress WordPress plugin, for example, you can use the Product Terms box on the Add New Product page to change the billing type to recurring.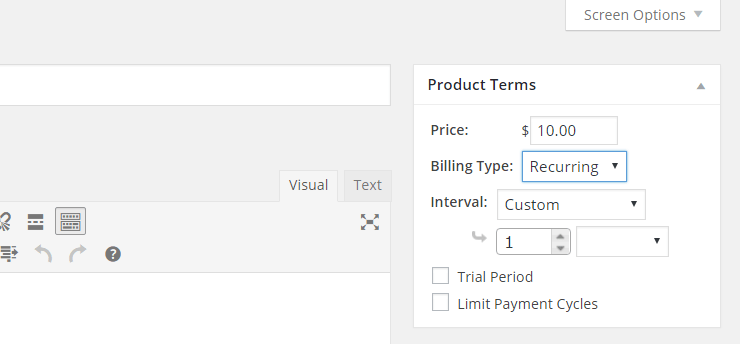 Once you've changed from One-Time billing to Recurring, you can then set the billing interval. With MemberPress, you can use one of the predefined intervals or create a custom schedule for payment collection.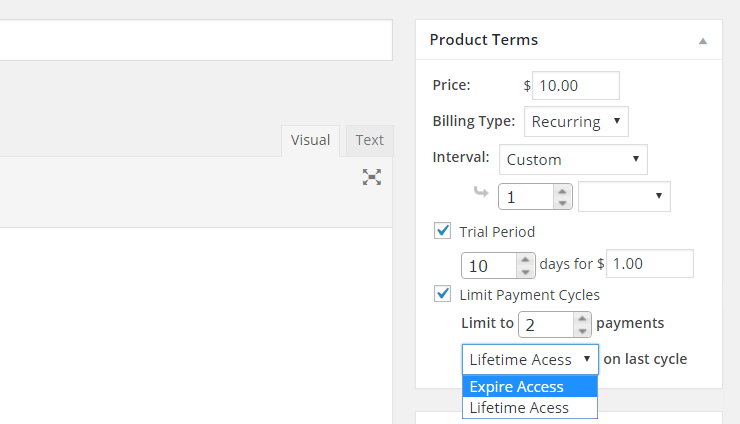 Some tools might also give you the option of creating a trial period, after which the members can cancel their subscription or graduate onto the standard recurring payment plan. This feature can be a great way to entice new members into your course.
Further useful recurring fee options available to you may include the ability to set a maximum number of payments that are to be collected. After this period, the user can then either be removed or granted lifetime access to the course.
Don't Forget Automated Reminders!
Another useful feature to look for is the ability to send out automated reminders to your members as the expiration date of their payment method approaches. These reminders can be invaluable if you want the collection of recurring payments to run smoothly
Thankfully, this feature can be found in the MemberPress plugin. The email reminders can be sent to members before and after their credit cards or current subscriptions expire. This gives members plenty of time to update their payment details and prevent their membership from lapsing.
Now you've got the technical aspects covered, all that's left to do is create that high-quality content that will keep your members engaged for as long as possible.
Final Thoughts on Membership Website Recurring Fees
As you can see, by choosing the right tools or platform for your online course or membership site, creating plans with recurring subscription fees is relatively straightforward.
However, making your membership project a success can be a little more difficult. For one, you'll need to get the pricing right to ensure your target audience joins. Then you have to ensure you're offering enough value to prevent them from leaving after a few billing cycles.
As we've learned, if you're focused on creating a community inside of your course or membership site, then recurring monthly payments might not be the best way to go – at least not an endless cycle of subscription fees.
However, if it's a good fit for your project and you get the details right, then creating a membership product with subscription payments can be a great way to generate a recurring income online while helping your target audience with their goals.
Want to learn more about creating and selling online courses using MemberPress? Check out the MemberPress Courses Add-on!
3 Comments
Joseph Msiska

April 4, 2016

If i want to purchase your yearly membership site will you upload it on my website or i must do it myself? Joseph
K.G. Carter

April 5, 2016

MemberPress is very easy to install and we have detailed documentation to help you. If you need a little more help getting things straight you can reach out to our support staff who are waiting to get you up and running as soon as possible!
Mike Carpenter
April 7, 2016
Can memberpress be used to create categories of downloadable files and then control access to those downloads/download categories according to the members access level?