If you've ever visited a news website and wondered how on earth it manages to publish so much content every day, that question has two simple answers. It might be that it has an army of writers, which is rare these days. Alternatively, it may not produce all of that content in-house, but instead 'curates' it.
Curating content involves finding more of the same type of articles, videos, infographics, or whatever it is that your audience craves. Then you share it with them, so they get access to more information without leaving your website. You'll also need to include proper attribution, of course (otherwise it's stealing!).
In this article, we're going to talk about how content curation on the web works. Then we'll teach you how to automate content curation in WordPress in three simple steps. Let's get to work!
What Content Curation on the Web Involves
Here's how content curation works, in a nutshell. First, you identify other sources your audience might be interested in. Then you zero in on the content you want to share, and make it available to your audience.
In most cases, you'll share that content through your website. That can mean linking out to it, or reproducing it on your own site.
Both approaches are valid, although if you want to go with the latter route, you'll need to keep attribution in mind. Without proper attribution, you're not curating content, but stealing it.
There are a lot of benefits to online content curation, such as:
Giving your audience more of the type of content they want
Increasing the time that visitors spend on your website
Establishing yourself as an authority in your niche
Helping out other sites through backlinks
In an ideal world, every time someone finishes reading a post on your website, they'll jump straight to another one that catches their eye:

The best way to increase the chances of that happening is by having a broader library of content. With curated content, you can easily fill any gaps in your own library, and give your visitors all the information they need.
There's only one problem, however, which is that curating sources and content takes up a lot of time.
How to Automate Content Curation in WordPress (In 3 Steps)
The good news is that, if you use WordPress, you have options to automate content curation. To be more specific, all it takes is the right plugin.
Step 1: Set Up the Feedzy RSS Aggregator Plugin
You may already be familiar with Really Simple Syndication (RSS) feeds. The way they work is that you take a source, and the feed automatically updates to publish every new post from that website.
A lot of people use RSS feeds to keep up with their favorite websites, without having to check them constantly. However, RSS feeds are also perfect when it comes to content curation. All you have to do is pick your favorite sources (we'll talk more about that in a moment), set up a feed, and you're good to go.
The easiest way to create a feed that pulls content from third-party websites is with a plugin. One of our favorite free RSS plugins is called Feedzy RSS Aggregator:

As the name implies, Feedzy RSS Aggregator enables you to pull feeds from multiple sources. You can organize sources according to category, import images, and control how many posts show up on your website.
Even better, this plugin enables you to customize where you want to show that curated content. That means you can, for example, set up a Related Posts section and place it right after your content.
Step 2: Curate Your Content Sources
Before we move on to the technical end of things, it's important that you carefully consider which sources you want to pull content from. With proper attribution, you can link out to any website's content.
However, you want to make sure that the sources you choose meet two basic criteria:
They're relevant to your audience's interests
Their content is of high quality
Automating content curation means that the plugin will share new posts from the sources you choose on your website, on its own. If you choose low-quality sources, you might end up sharing content that scares away your users.
Even worse yet, you might not even notice it happening until it's too late. As a rule of thumb, don't curate content from sources you wouldn't want to read from or that you don't trust. If you follow those two simple rules, you're golden.
Step 3: Add an RSS Feed to Your Website
Adding an RSS feed using Feedzy is simple. If you want to pull content from a single feed, first open the page where you want to display that feed (or create a new page). Once you're in, add a new block and select the Feedzy RSS Feeds option: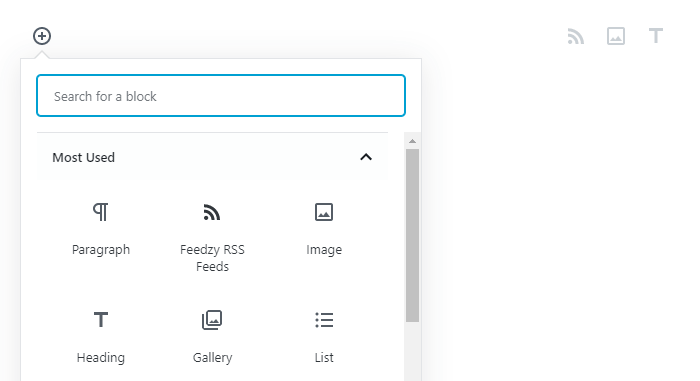 Now the plugin will ask you to enter the URL for the RSS feed you want to curate content from. For example, if you want to use our blog's RSS feed, you'd need to enter the following URL: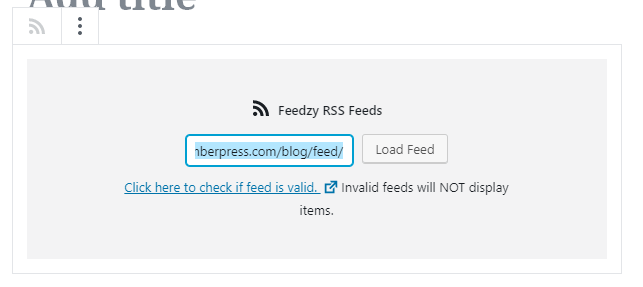 If the URL points to a valid RSS feed, then when you click on the Load Feed button, you'll see a list of all the latest content from that page: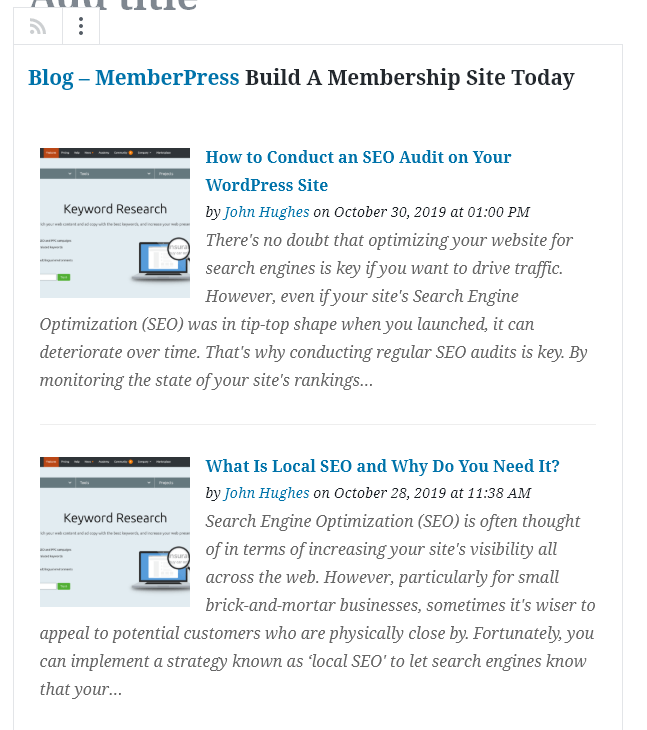 By default, Feedzy will pull the latest five posts from any feed you enter. However, you can configure how many posts you want to curate by tweaking the settings for that particular block.
Aside from that, Feedzy's default settings are spot on. It doesn't enable you to import full posts, but it does link out to their original sources, which takes care of attribution. Likewise, it automatically opens curated content in a new tab, so that visitors don't leave your site.
If you want to curate content from multiple sources to a single feed, that involves a bit more work. First, you have to go to the Feedzy > Feed Categories tab, and select the Add Category option: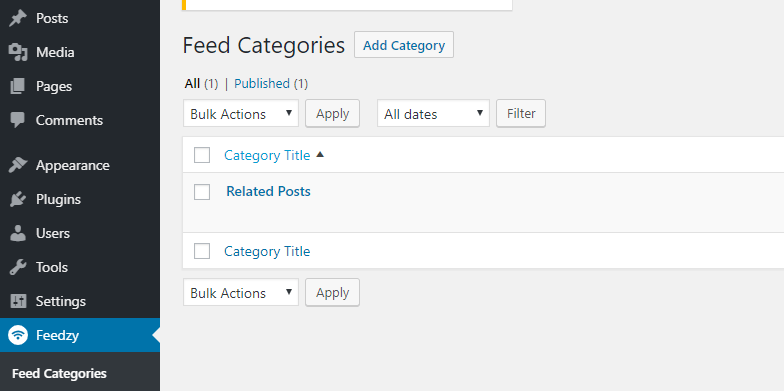 On the next page, you can set up a title for your category and specify which feeds it should pull from. Notice that each URL is separated by a comma: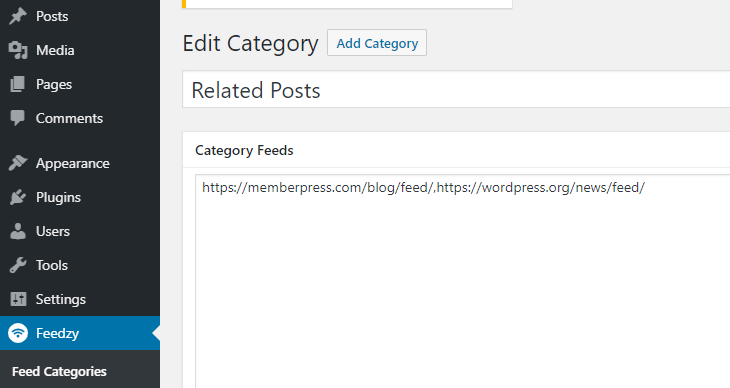 Once the category is ready, return to the Block Editor and try adding a new feed. To select the category you just set up, simply type in its name and it should show up on a list: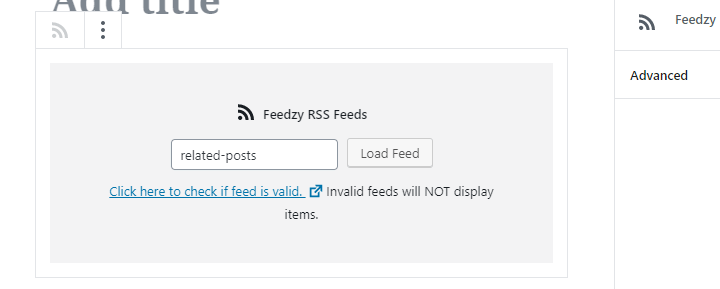 Now feel free to play around with the placement of your curated content section. With the Block Editor, you can display your feeds anywhere you want.
Conclusion
Content curation can take your website and fill it to the brim with all the news and information your audience wants. Plus, automating that process frees you up to work on your own content.
If you're a WordPress user, automating content curation is simple, thanks to the magic of plugins. Here's how to do it:
Set up the Feedzy RSS Aggregator plugin.
Curate your content sources.
Add an RSS feed to your website and configure it.
Do you have any questions about how to curate content on your website? Let's go over them in the comments section below!