Is your nonprofit organization hoping to build a stronger sense of community? Perhaps you would like to encourage wider participation in your projects, or help members connect through your online platform.
An effective way to nurture your community is by setting up a membership site. This will make it easier for members and donors to get involved with your organization, meet with like-minded individuals, and contribute to your cause.
In this article, we'll talk more about membership sites and their advantages. Then we'll look at five types of nonprofit organizations that may benefit from one. Let's get started!
An Introduction to Membership Sites (And Why You May Need One)
A membership site is a section on a website that offers exclusive content or services, such as course material or digital downloads.
Users typically have to sign up for accounts and pay subscription fees to access these members-only areas.
Membership sites are commonly used by businesses that want to offer personalized services to their clients:
However, nonprofit organizations can also benefit from having membership sites. For starters, it can help you grow your community and generate wider interest in your cause.
Volunteers may feel closer to your organization if they are offered an affordable membership service with added benefits, such as free training in form of online courses or other educational content.
Setting up a members-only area can also be an effective way to increase your revenue. This means you'll have more funds that you can use for projects and campaigns.
The good news is that creating a membership site doesn't necessarily require much time or money.
MemberPress makes it easy for you to launch this service on your WordPress site. We also offer discounted licenses for nonprofits, so your organization can grow and thrive without compromising its funds.
5 Types of Nonprofits That May Benefit From a Membership Site
Are you still unsure whether your organization needs a membership site? Let's look at five types of nonprofits that may benefit from offering a members-only service.
1. Community Centers
If you run a community center, you probably offer a host of services for people in your local area, such as fitness and educational classes. Therefore, you may need a membership site to help you keep up with bookings and requests.
For instance, you can enable members to sign up for recreational activities and book your venue for events via your site:
For members of your community who are unable to get to your facility, you might even offer online versions of classes and events. You can also set up your membership site to keep people updated with the latest news in the area. This can be a powerful way of bringing people together to work on community-driven projects.
2. Walking, Running, and Hiking Groups
If you manage a walking or running club, offering a membership service can encourage members to stay active and healthy.
It can also provide your organization with more funds for organizing events, promoting the health benefits of hiking and running, and safeguarding public paths. 
For example, the popular walking group Ramblers helps people explore the outdoors through services offered in its membership:
There are several perks you can offer members of your running/walking club. For instance, you can give them access to walking routes and guides.
Membership can also include walking apps, discounts on sponsored outdoor gear, and invitations to exclusive outdoor activities.
3. Activist Groups
Many activist groups rely on the involvement of passionate individuals to bring about positive change in their communities. Therefore, creating a membership site can help your organization generate wider support and participation from the public.
For instance, Amnesty International offers a membership service that helps people contribute to human rights causes and see the impact of their work:
Similarly, your activist group can encourage individuals to get involved by signing up as members.
Besides keeping your activists up to speed on your projects, you can also offer a safe space where they can share their views, propose ideas, and support one another. 
4. Wildlife Trusts and Environmental Organizations
For many wildlife and environmental nonprofits, donations play an important role in carrying out conservation work.
For this reason, you may want to consider starting a membership service to boost your finances and sustain your organization.
Here's an example of a wildlife nonprofit that drives financial support via memberships: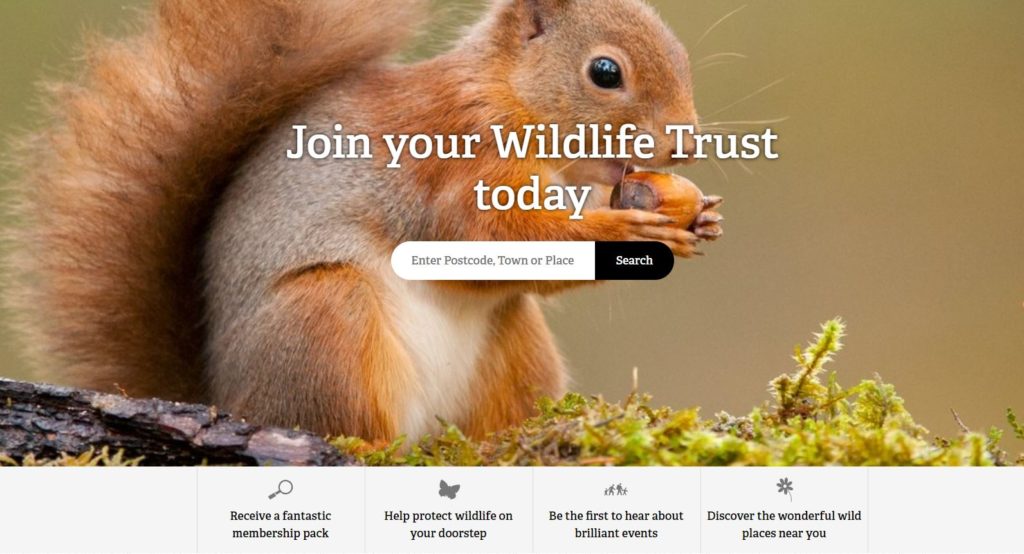 As an incentive, you could provide a welcome pack with useful content, such as walking guides for local areas. The membership can also include invitations to events like opening days and in-person and virtual wildlife talks.
5. Animal Sanctuaries and Charities
A membership site can be a useful tool for your animal sanctuary and charity, especially if you want to encourage people to adopt or sponsor a pet.
It can also offer your organization the financial means to take more animals under its care and continue advocating for animal welfare. 
For instance, the animal welfare organization RSPCA offers a membership service for people who have adopted pets from their sites, as well as those who wish to make an annual contribution: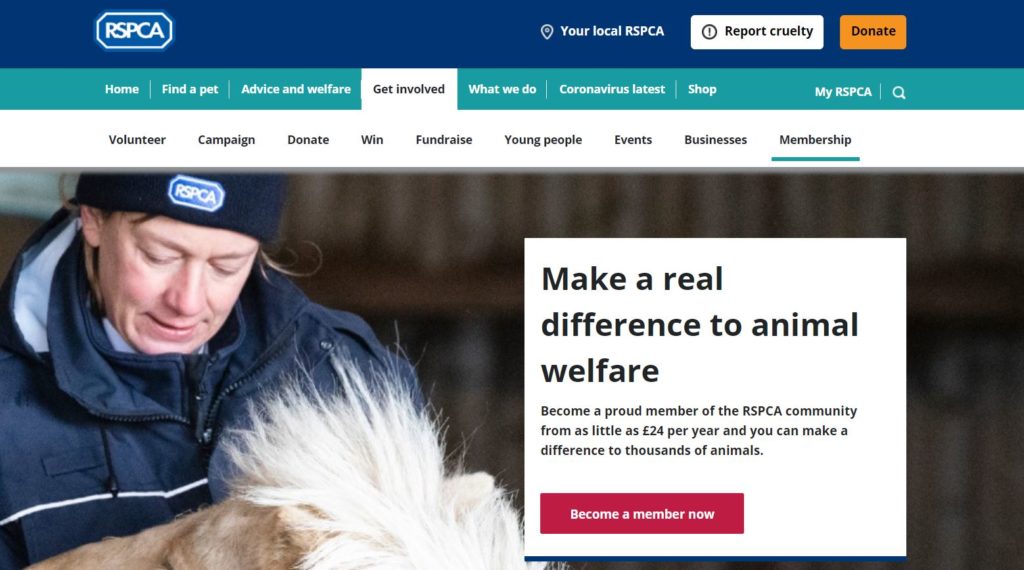 Likewise, you can set up a members area for individuals who want to help the animals in your care.
For example, you can let them view records of their adopted pets and offer informative content about caring for them. You can also allow members to follow the progress of the animals they sponsor. 
Conclusion
If you run a charitable organization, you may be looking for ways to encourage wider participation in your projects and keep people engaged in your work.
A membership site can help you build a strong sense of community and generate financial support.
In this article, we looked at five types of nonprofits that might benefit from a membership site:
Community centers: You can set up a membership site to enable people in your local area to make reservations for recreational activities, book your venue for events, take in-house or online classes, and work together on community projects.
Walking, running, and hiking groups: You can help individuals explore the outdoors and hike safely with members-only services, such as walking guides and apps.
Activist groups: You could involve individuals in your work by setting up a safe online environment to share their views and ideas.
Wildlife trusts and environmental organizations: You might grow your funds through membership fees while offering members informative content about wildlife conservation.
Animal sanctuaries and charities: You can offer a membership service for people who adopt a pet or sponsor an animal, while also encouraging them to contribute to animal welfare.
Do you have any questions about starting a membership site for your nonprofit organizations? Let us know in the comments section below!
If you liked this article, be sure to subscribe to the MemberPress blog!