Online learning is at an all-time high, and the creator economy is flourishing. Now could be the perfect time to launch your own e-learning platform.
Virtual classes can diversify your existing revenue streams or provide the foundation for a brand new business. However, becoming an online course creator isn't that cut and dried.
Developing, promoting, and selling online courses is no small job. But if you have the right tools and put the proper systems in place, you can build a successful platform.
Not only is this industry profitable, but it can also position you as a thought leader in your niche.
Regardless of whether you want to boost your existing business or create an entirely new one, we'll show how to monetize what you already know and become a successful online course creator. Let's get started!
Understanding Online Course Creation and Its Benefits
An online course creator is someone who develops virtual learning materials. Your students will complete your lessons, perform exercises, and put their knowledge to the test by taking quizzes and exams all from their own devices.
Turning your knowledge into an online course can be an effective way to earn additional income.
Although the process will require an investment of time and effort, it creates a reusable resource. A successful virtual class could earn you recurring revenue for months or even years.
If you're already an online business owner, courses can diversify your income. This can help protect you against fluctuations in the market and changes in consumer trends.
Additionally, courses that showcase all your knowledge and expertise can help position you as a thought leader in your industry.
There's also an increased interest in online learning as a result of COVID-19. In this environment, many people are actively looking to upskill in order to protect their future prospects.
Others are using online learning as a way to keep themselves busy. For instance, Udemy reported a 425% increase in enrollments following the introduction of social distancing and shelter-in-place orders.
With growing interest in online learning, this may be the ideal time to set up your own platform, similar to Skillshare or Udemy.
By launching your e-learning business now, you could tap into a huge market while helping people improve their job prospects during these challenging times.
How to Become an Online Course Creator (In 4 Easy Steps)
Whether you're promoting your products, diversifying your income, or launching an entirely new business, there are many benefits to selling virtual classes. Now that we've covered the "why", let's look at the steps you can take to become an online course creator.
Step 1: Choose Your Topic
The best teachers are passionate about their subject matter. As an online course creator, you may not be physically standing in front of your students. However, if you're enthusiastic about your topic, it'll still shine through in your course materials.
You can, of course, research and create content on any topic. However, we always recommend choosing a subject that you're already familiar with. This will make it easier to develop high-quality learning materials.
If you're unsure which subject to choose, it may help to reflect on your skills, talents, and life experiences.
You also don't need to restrict yourself to academic topics. A quick glance at popular online learning platforms reveals that people love expanding their skills in a wide variety of nontraditional areas.
For example, Udemy has entire categories dedicated to lifestyle, fitness, and even "happiness". As long as you're passionate about your subject and have first-hand experience or specialized knowledge in it you're off to a solid start.
Step 2: Perform Market Research
After choosing your topic, it's smart to conduct market research to see if it's potentially profitable. This process often involves gathering data on your target audience and researching your competitors.
The world of online learning is competitive. However, this means there are lots of opportunities to find companies that cover similar subject matter to your planned content.
Some e-learning companies even display the number of people who have enrolled in each of their courses. This can help you predict the level of interest in your own content: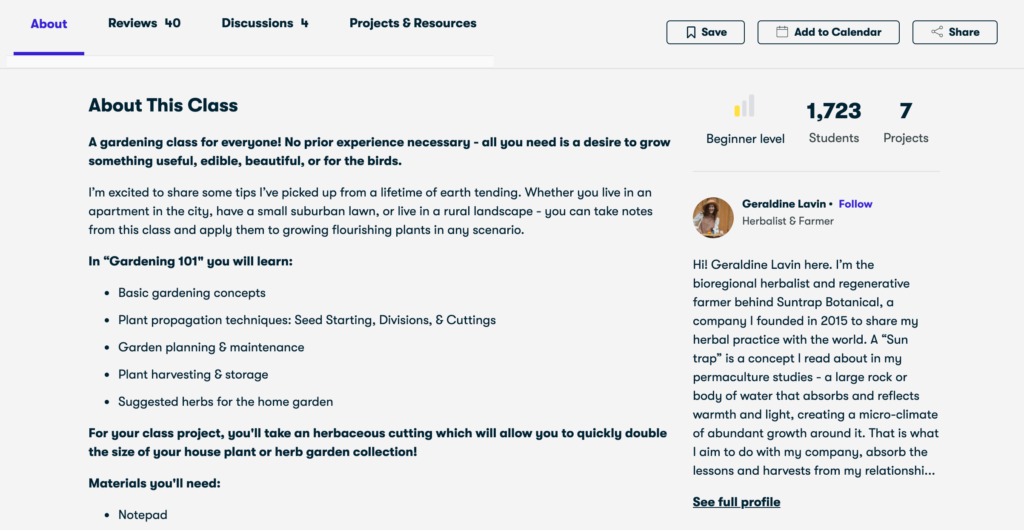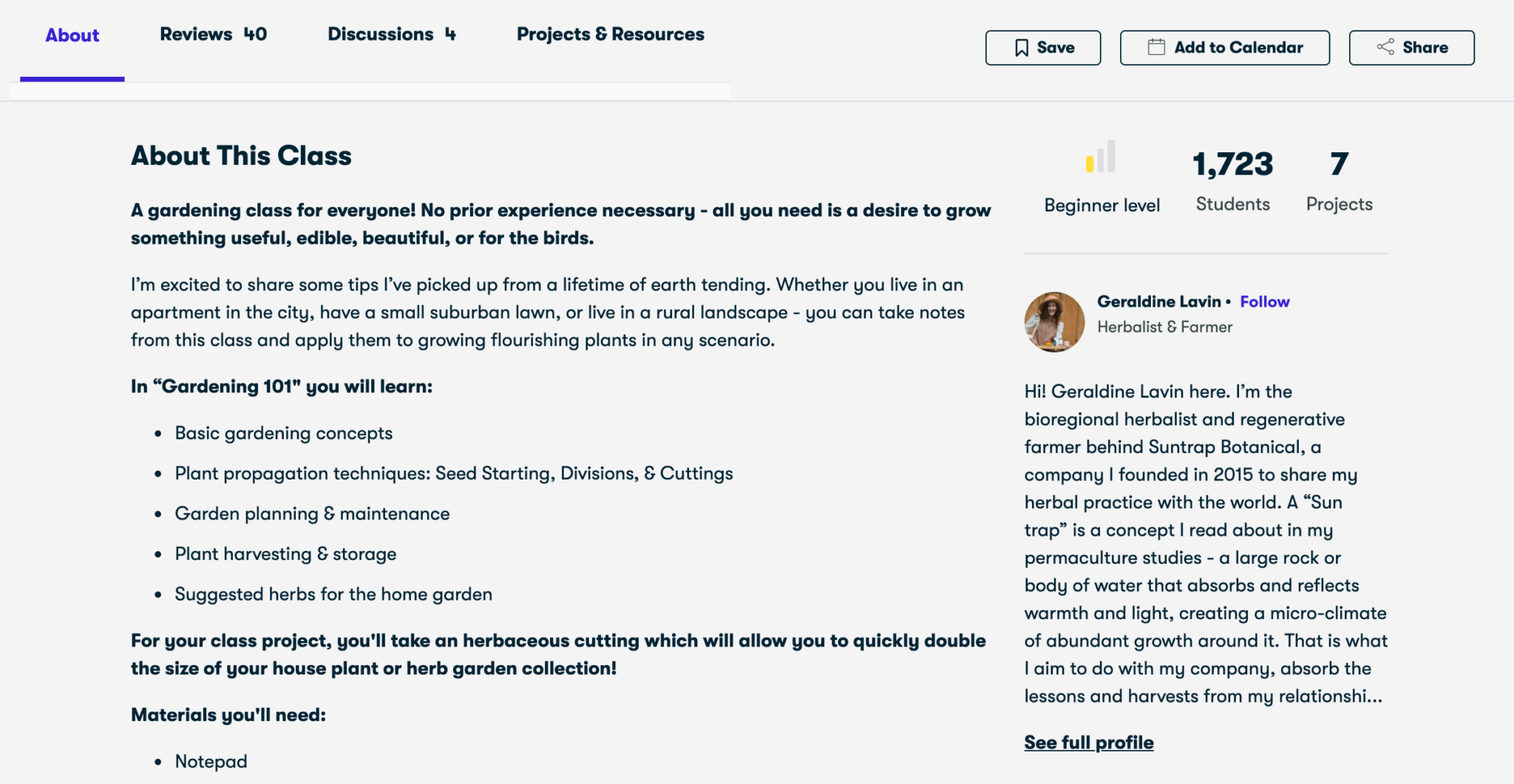 Just bear in mind that popular platforms such as Skillshare already have large audiences. Even comparatively unpopular courses may still attract hundreds of participants.
It may be exciting to see that a competitor's course has brought in thousands of signups. However, we always recommend comparing these numbers to a few other courses on the same provider's website.
This can help you gauge whether these numbers are actually low for that particular platform.
3. Plan Your Content
Ideally, you've chosen a subject you're passionate about and are familiar with. This is important for creating an engaging, high-quality course. However, it can also present a problem – you may have too much to say.
A sprawling, complex course isn't typically appealing to more casual students who are probably pursuing e-learning opportunities in their spare time.
When planning your course, you may need to cut a significant amount of material. Here it may help to conduct some market research. Your target audience can help you identify the content they care about, as well as what you can safely cut.
It can also be useful to identify exactly what your target audience hopes to gain from your course. You can then trim any material that doesn't help your students achieve their learning goals.
At this stage, you may also want to outline the type(s) of content you'll feature in your course. This may include:
Video lectures
Written lessons or modules
Synchronous discussions over video chat or via forums
Downloadable worksheets
Hands-on projects
Essays
Assessments (quizzes and tests)
Which formats are best for you will depend on your subject, teaching style, and the preferences and goals of your students.
4. Build Your Course
The easiest way to create online courses is by using a Learning Management System (LMS). This is a platform that includes built-in features and functionality that are conducive to e-learning.
One such solution is MemberPress Courses, our WordPress plugin and its LMS add-on.
It features a drag-and-drop curriculum builder, student analytics, and compatibility with popular payment gateways for creating premium courses:


You can also use MemberPress to restrict access to your content based on membership level. This is ideal if you want to monetize your courses.
We've covered how to build online courses with MemberPress in other posts, but let's take a quick look at the process.
After activating the plugin, navigate to MemberPress > Courses to install the Courses add-on.
Then select MemberPress > Courses > Add New. This launches MemberPress' course editor, where you can create your class' welcome page: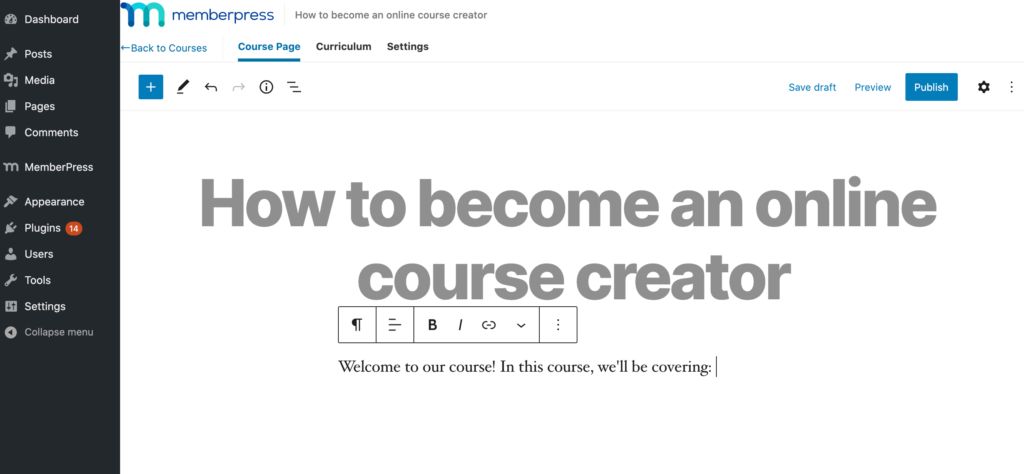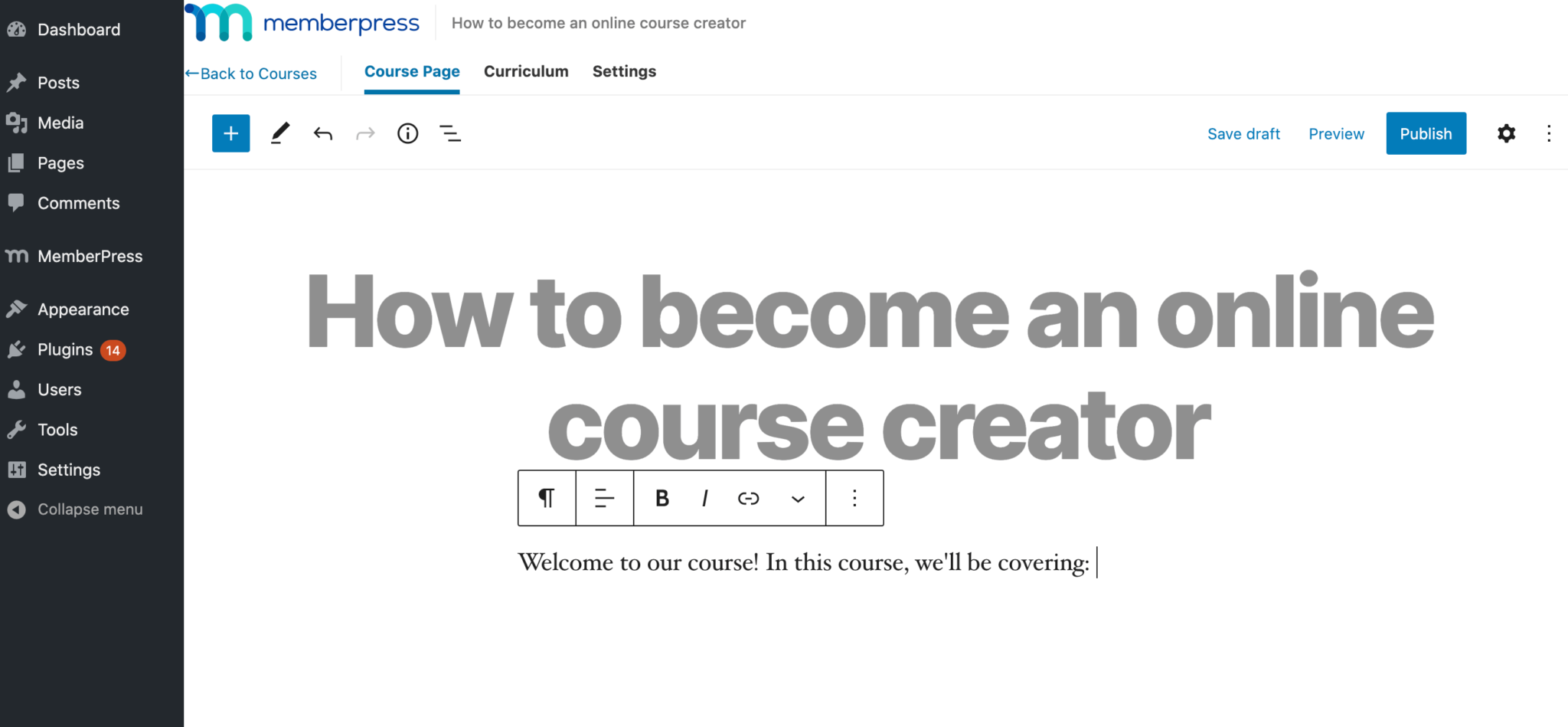 Next, select the Curriculum tab. Here, you can define your course's structure in terms of sections and lessons, and add your content to them: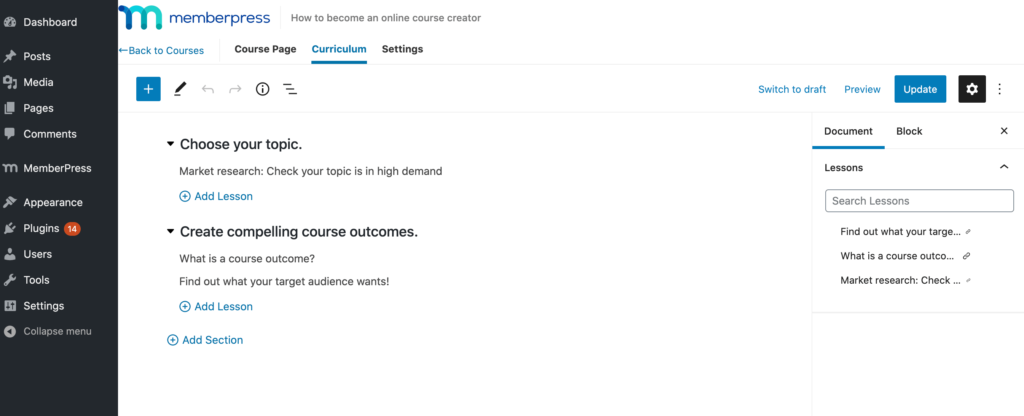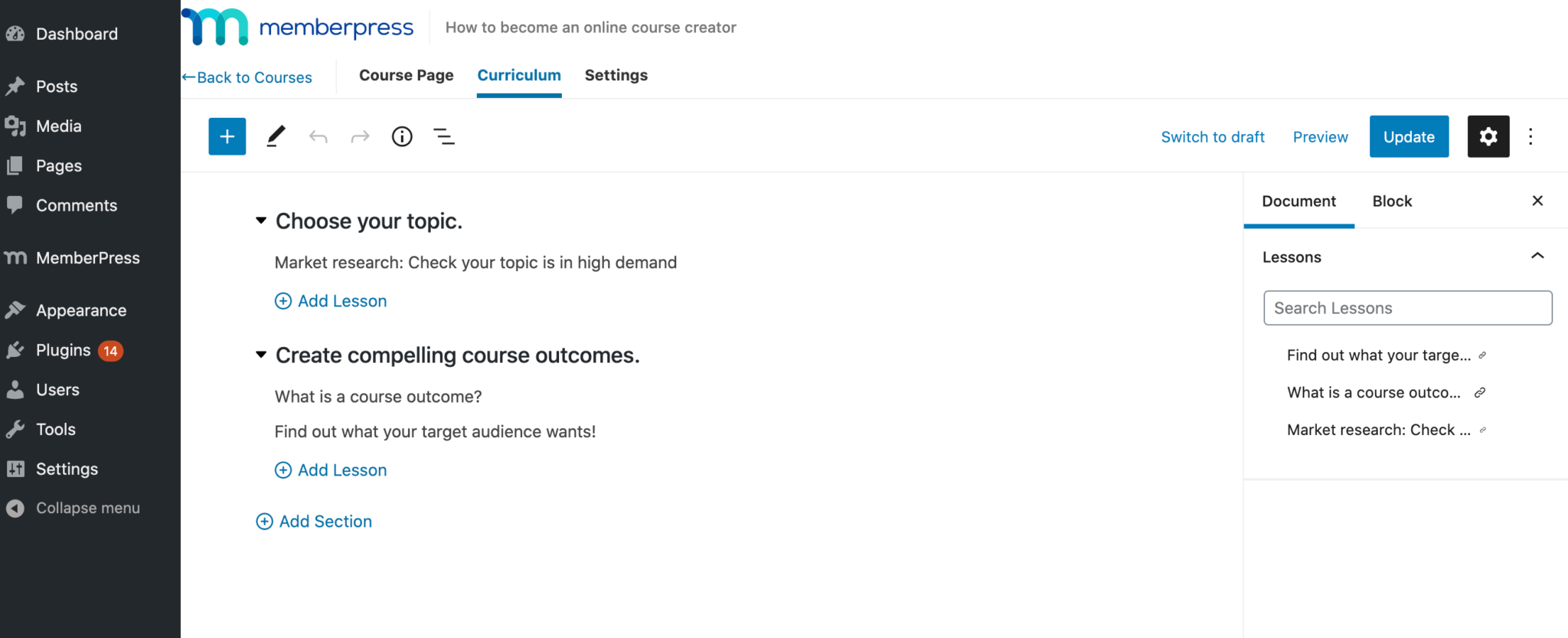 Once you're happy with your course, click on Publish. It will then become live on your WordPress website so that students can register for it.
Also, check out the video below to learn how to turn your online courses into a full-blown certifications program with MemberPress Course Certificates:
Conclusion
The e-learning industry has experienced a recent boom. Whether you're a budding entrepreneur or have an established online business, this is a prime opportunity to branch out and generate income by sharing your knowledge.
If you decide to become an online course creator, consider following our four-step plan for success:
Choose your topic by exploring subjects you're passionate and knowledgeable about.
Perform market research to determine if your chosen subject is profitable.
Plan your course content, making sure to tailor it to your target audience's learning goals.
Build your course using an LMS such as MemberPress Courses.
Do you have any questions about creating online courses? Leave them for us in the comments section below!
If you liked this article, be sure to subscribe to our newsletter in the box up to your right!