Is your online business taking advantage of every opportunity to generate income? Is it possible that you're missing out on some hidden revenue sources?
If you're an online business owner without an affiliate marketing program of your own, it's very likely that you're currently losing out on an additional 30% income revenue!
Having your own affiliate program is the easiest and fastest way to increase sales and broaden your brand awareness across the web through the power of referral marketing. The best part is, it requires very little time, money, or effort. You could literally make money in your sleep!
Today, we're excited to introduce our new affiliate marketing plugin …
Easy Affiliate – a New Affiliate Program Plugin from the Creators of MemberPress

Easy Affiliate was designed with small business owners – like you – in mind. We wanted to provide the ultimate affiliate program that runs out-of-the-box on your existing WordPress eCommerce website.
With Easy Affiliate you'll be able to:
✅ Boost online sales by up to 30% with the power of referral marketing
✅ Integrate with your WordPress ecommerce solution (including MemberPress) seamlessly and instantly
✅ Launch your affiliate program fast with Easy Affiliate's pre-styled, theme-independent Pro Dashboard
✅ Track commissions securely and accurately without third-party cookies
✅ Always know how your program is doing with Real-Time Reporting
✅ Build your email list alongside your affiliate program with Easy Affiliate's powerful Email Marketing integrations
✅ Pay your affiliates easily and quickly with Easy Affiliate's one-click PayPal integration
✅ Stop paying the extra transaction and payout fees other affiliate program solutions charge
✅ Detect and stop affiliate fraud upfront, before you payout
✅ Avoid the restrictions associated with other third-party affiliate programs
Before, some MemberPress users have had to turn to outside affiliate programs – which charge extra fees, sometimes have compatibility issues, and can cause loss of control over their own companies. Easy Affiliate is here to change the affiliate marketing process to put online merchants and their businesses first!
Easy Affiliate ranks above other affiliate programs in affordability, user-friendliness, out-of-the-box features, security, and so much more. Check out the benefits of adding an affiliate program to your business, then discover everything Easy Affiliate has to offer to help put more money into your pockets!
How Can Your Business Benefit from Starting an Easy Affiliate Program?
Adding an affiliate program to your business is an effective business strategy proven to build brand awareness and increase your total sales.
Here are some more ways how adding an Easy Affiliate program to your online business can be particularly beneficial:
Low-Risk and Low Cost
Starting an Easy Affiliate Program is a budget-friendly marketing move for any business. Easy Affiliate can help skyrocket your return on investment (ROI) by saving you time and money.
Also, managing an Easy Affiliate program won't tack on any extra work for you. Instead, your affiliates will do the busy work, such as writing blog articles and uploading social media posts.
At the very least, your business will profit from publicity without any upfront investment. Your only cost will be to pay affiliates a small commission fee after they've successfully referred sales to you. In other words, your affiliates only get paid when you do!
Direct Traffic to Your Site
An affiliate program with Easy Affiliate is an excellent way to drive new visitors to your site and build your online audience. By working with just one affiliate, you allow your product and brand to be exposed to a new audience. Just think of the level of visitors you'll see on your site with multiple affiliates marketing to different audiences!
Boost Search Engine Rankings
Affiliate marketers have a knack for crafting excellent search engine optimization (SEO) content. They know all the secrets to using highly ranked keywords, writing detailed content, and how to update content to improve rankings over time.
Adding an Easy Affiliate program is a sure way that your brand will be found on the internet. Your brand identity will increase across all search engine platforms including blog pages, social media platforms, podcasts, and more.
A Full-Featured Affiliate Program That Puts You In Control
The creators of MemberPress set out to build an affiliate program like no other – and we've done it! Easy Affiliate goes beyond the traditional affiliate program service with a simpler setup process, more customization options, better flexibility, higher security measures, and more!
Easy Affiliate is the complete affiliate program that seamlessly integrates with your existing WordPress site. This fully featured plugin supplies the necessary tools to help you build a successful affiliate program and invite affiliates to market your products and/or services. The quick-and-easy setup will have you making money in a matter of minutes!
And with more customization and better flexibility compared to most other affiliate solutions, you'll be able to create an affiliate program that meets the needs of your business. You'll have your choice of ecommerce plugins, in addition to personalizing the look and feel of your program to match your brand identity.
Easy Affiliate puts the power back in your hands, and keeps it there. By removing the middleman, you'll enjoy complete control over your affiliate program, and the extra cash that comes with it. You'll also be able to closely monitor your success by keeping tabs on your affiliates' marketing activities, including their generated clicks, use of banner ads, and converted sales.
Learn why thousands of membership site owners have already downloaded Easy Affiliate as an easy way to bring in extra cash for their online business.
Easy Affiliate's Buzz-Worthy Features
Easy Affiliate offers numerous out-of-the-box features to help you get the most out of your affiliate marketing program. Business owners and affiliate marketers alike will enjoy the well-thought-out details that make Easy Affiliate the top choice for affiliate marketing programs.
Perfect Payment Integrations
Easy Affiliate's convenient payment integrations will take your ecommerce to the next level. Whether you sell memberships, online courses, physical or digital products, our integrations with MemberPress, WooCommerce, and Easy Digital Download make it easy to track initial and recurring payments.
MemberPress is an excellent membership and LMS plugin you can use to track membership and online course sales.
WooCommerce is a preferred ecommerce plugin used to track physical product sales, monitoring what you sell and when you sell it.
Easy Digital Downloads is a great plugin that will help you keep track of every digital download on your site.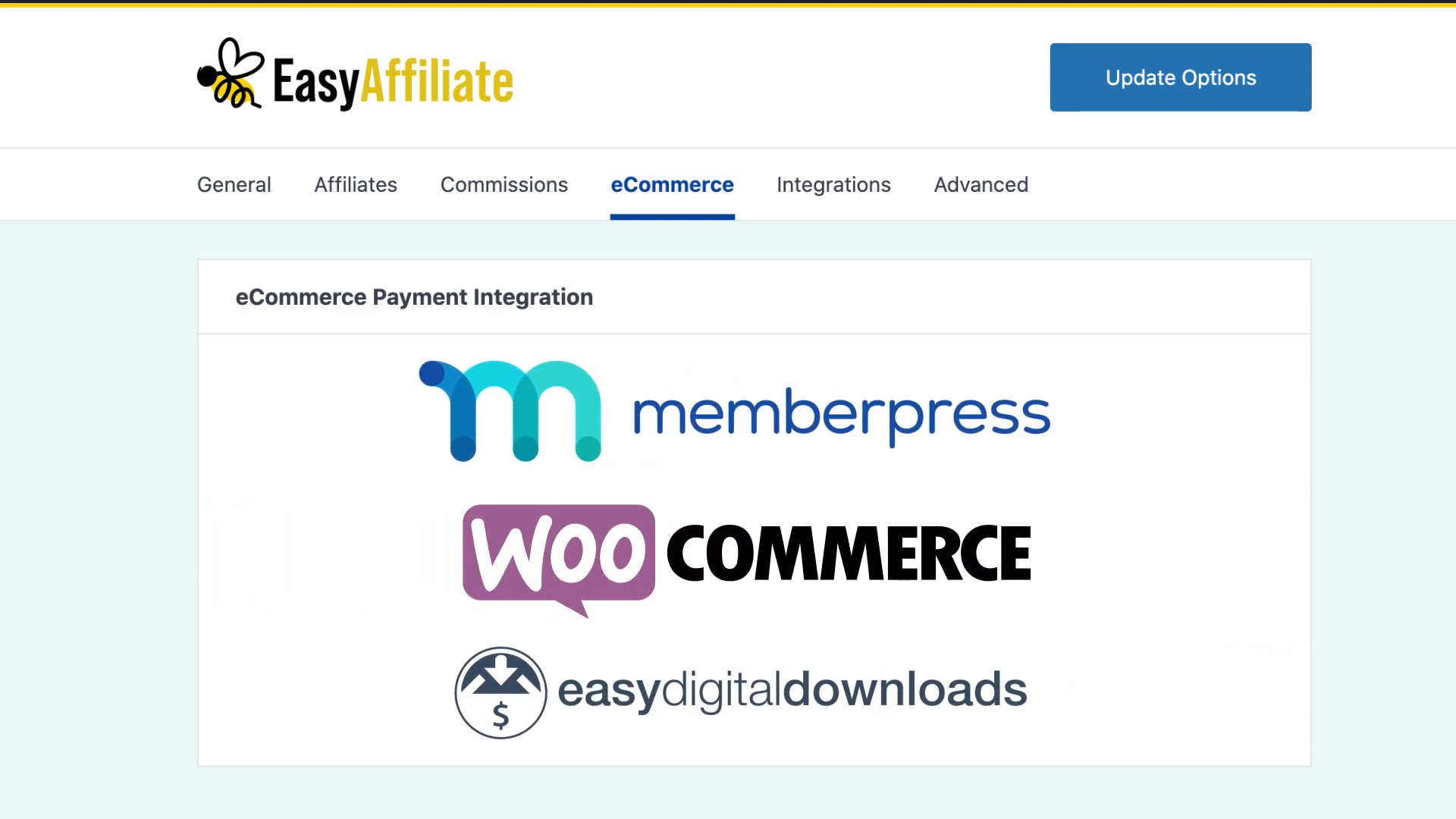 Top-Notch Security
In the highly profitable world of affiliate marketing, there are malicious thieves and hackers who want to rob you of your earnings. Affiliate fraud is one of the biggest threats to any affiliate program. It's the unscrupulous act to steal false commissions from an affiliate marketing program.
Fortunately, Easy Affiliate is the most secure affiliate plugin available. We utilize advanced security in the plugin to ensure commissions are tracked properly while stopping most forms of commission theft from the start. And with our Fraud Protection Add-On, your commissions will be accurately tracked and monitored to flag or reject suspicious affiliate behavior.
Personalized Affiliate Dashboard
Affiliates play a key role in the success of your affiliate program. So you want to provide them with the essential tools that will allow them to be successful with their marketing efforts. Easy Affiliate makes this easy to do with the Affiliate Dashboard.
The Affiliate Dashboard serves as the home base for your affiliates. Here, affiliates can manage their accounts to monitor their stats, edit their account information, view their payment history, and more: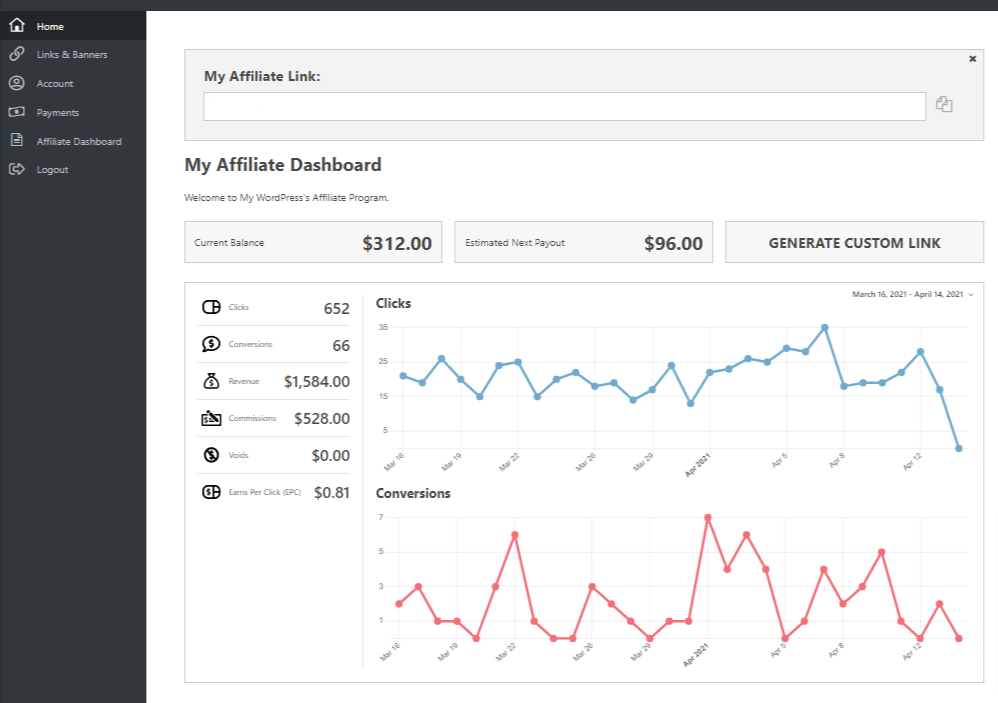 Your affiliates will be able to access anything and everything they need, such as links and banner ads or pull from a collective resource hub: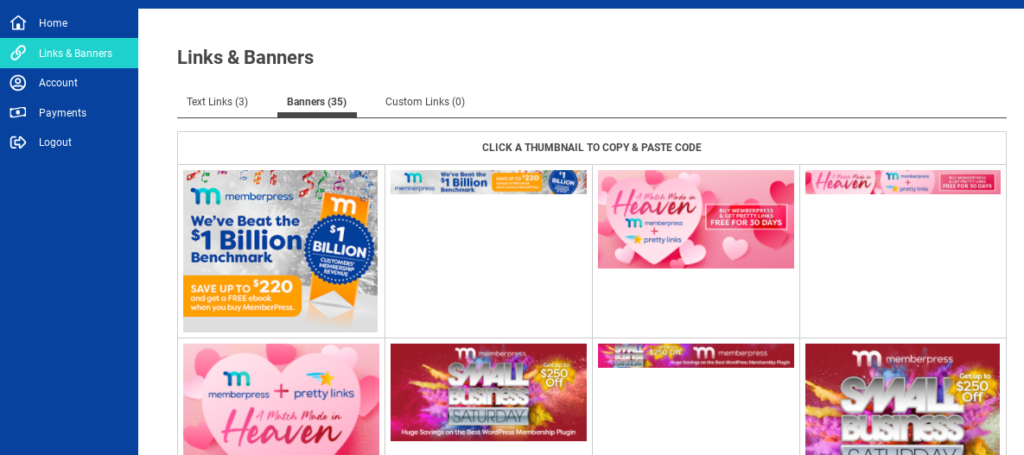 The Affiliate Dashboard is pre-styled, but as the admin, you can easily modify the look of your site to match your brand's identity– hassle free! Build a consistent feel of your brand with customizable color schemes, insert a page header logo, and even write a friendly welcome message for your affiliates: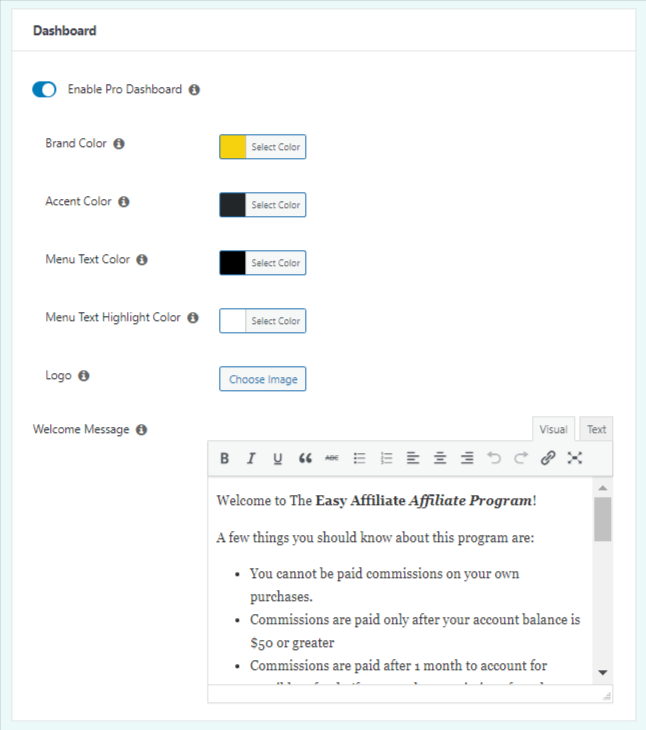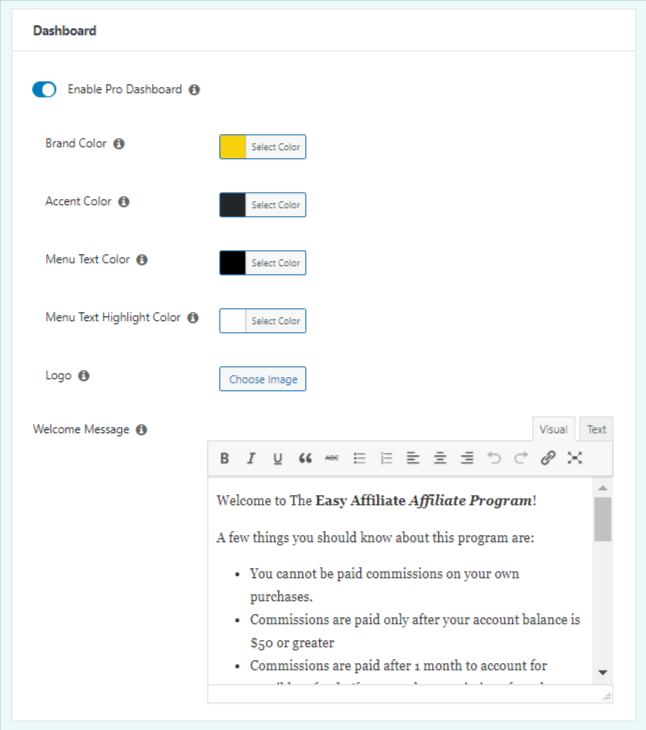 Centralize all the working parts of your affiliate program into one, easy-to-navigate Affiliate Dashboard.
Affiliate Application Process
Enable Easy Affiliate's built-in Affiliate Application process and require visitors to apply for your affiliate program before they become affiliates. You'll have the ability to review each application and decide whether you want to approve, reject, or ignore a submission.
Requiring affiliates to apply to your program is a great way to ensure that they're genuine and professional. In other words, this fraud-detection feature will keep scammers from signing up for your program.
Something else you may want to keep in mind when choosing an affiliate marketer, think of it as hiring an actual employee. There are certain qualities and things to look for before you just hand over your brand's identity.
For example, you'll most likely want an affiliate who has proven experience marketing to a large audience in your niche. Better determine an affiliate's qualification by asking specific questions such as where and how the affiliate plans to promote your products or services.
An unqualified affiliate could poorly represent your brand and ultimately ruin your brand name. Remember, your affiliates reflect your business, your values, and you.
Controlled Commissions Tracking
To attract skilled affiliates, you'll need to offer an appealing commission rate. Commission rates vary across different niche industries with many different factors taken into consideration, such as the price of a product, its value, and your audience.
Generally speaking, the average affiliate commission rate is between 5% to 30%. Physical products tend to have lower commission rates; whereas digital products (like memberships) are set at higher rates. It's important that you do your research and take note of the commission rates offered by similar companies in your niche.
Easy Affiliate allows you to set your own commission rate — but the customization doesn't stop there. You can also add multiple commission levels, override commission rates, and even create custom commission structures: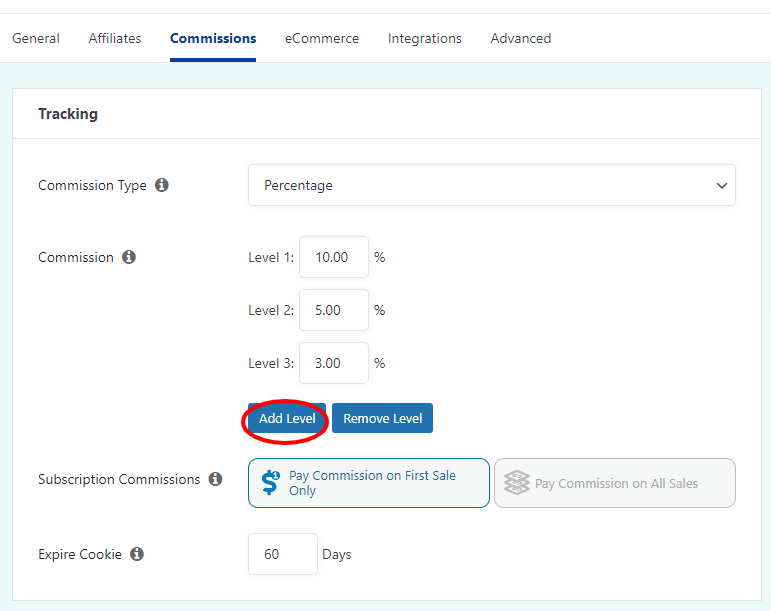 The Easy Affiliate Commission Levels Add-on is an extremely useful tool for creating a 2 tier affiliate program or a full-blown multi-level marketing platform (also referred to as network or pyramid marketing).
By enabling the Commission Levels Add-on, you'll also have the ability to override commission rates. Manually issuing a commission override allows you to pay a specific affiliate (or a group of affiliates) a different commission rate than your other affiliates:
With the Easy Affiliate Pro version, you can use the Commission Rules Add-on to create custom commission structures based on product, the number of sales an affiliate has made, and more. Offering a way for affiliates to "unlock" different commission levels is a great way to encourage affiliates' marketing efforts and reward those who have racked in a high number of sales.
Painless Payroll Process
Paying your affiliates is a critical part of any affiliate program. Easy Affiliate offers several simple ways to pay your affiliates, including PayPal Mass Payment files, PayPal One-Click payments, and offline payments.
We've made the payment process hassle-free. When using our One-Click PayPal payments, all you'll need to do is log in once a month and review your affiliate's activity, then click Pay. It's that simple!
Unlike other affiliate program plugins, Easy Affiliate won't surprise you with any hidden fees when it's time to pay your affiliates – the way we think an affiliate program should be!
Custom Link Generator
Affiliate links are the cornerstone of affiliate marketing. An affiliate link is a unique URL that contains an affiliate's information, such as their ID or username. The affiliate will use that link to promote your products or services in their marketing strategies.

With Easy Affiliate, your affiliates can create custom tracking links that will save their converted sales. Plus, with the built-in Pretty Links plugin, affiliates can also shorten their links to look nice, neat, and click-worthy.
Interactive Email Marketing
You and your affiliates are a team; and together, you are competing to win the hearts of paying customers. Like any successful team, you'll need to communicate efficiently and effectively.
To do so, Easy Affiliate integrates with popular email marketing services, including MailChimp, ActiveCampaign, and ConvertKit. Corresponding with your affiliates via email is a great way to provide them with up-to-date business information, such as an upcoming sale or a new product release.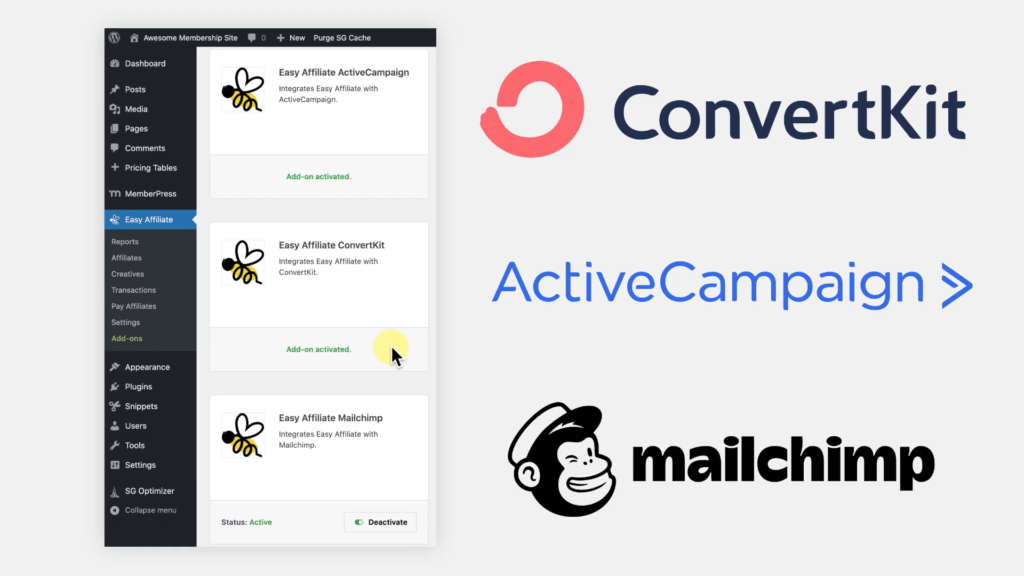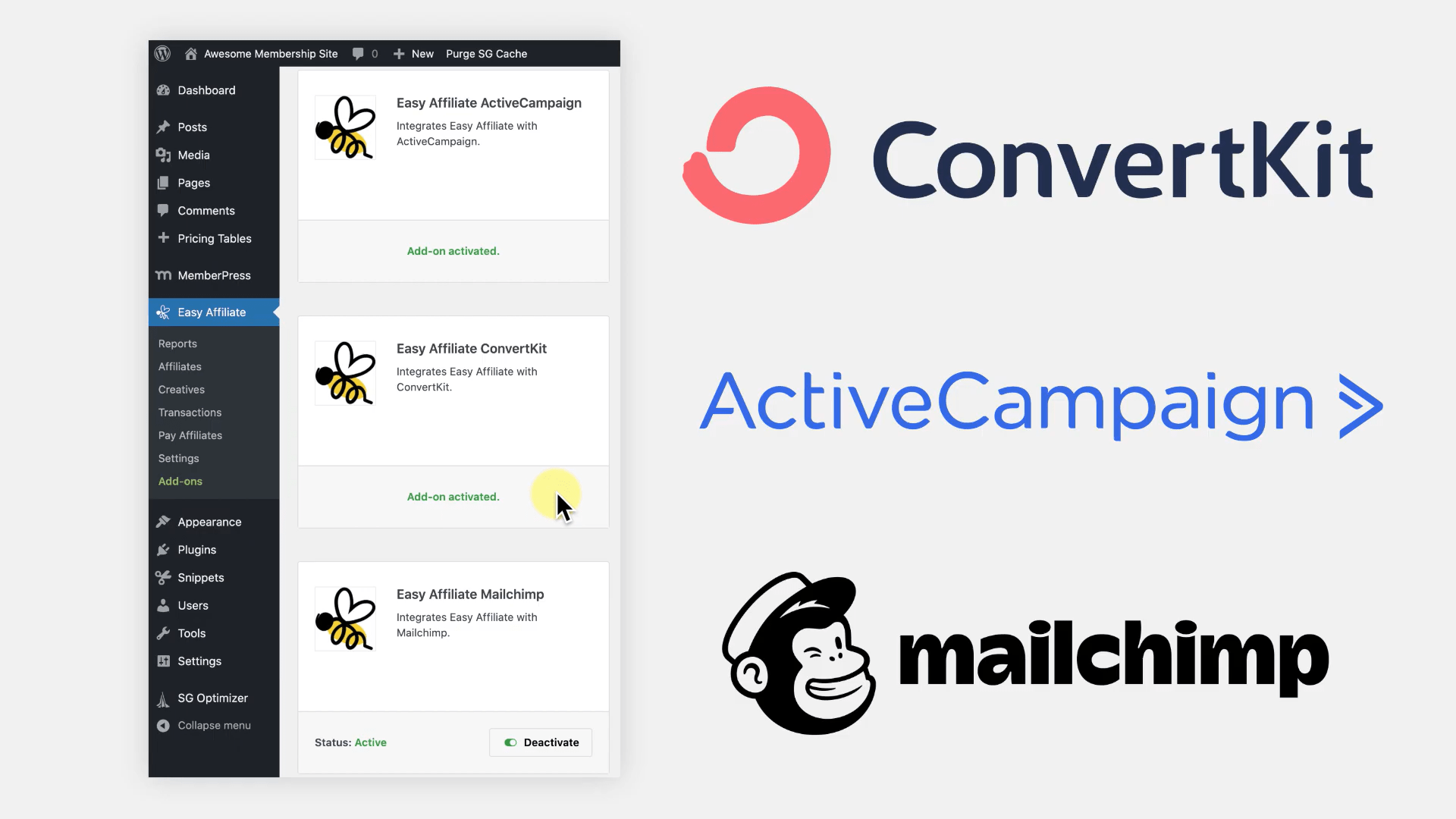 Easy Affiliate also has pre-designed email templates, making it easy to write and send auto-generated emails for situations like:
A Welcome Email – to let affiliate applicants know that they have been accepted into your affiliate program.
An Affiliate Sale Email – to notify affiliates when they have referred a sale and will receive a commission.
An Admin Commission Email – to inform the business owner (you) that an affiliate has successfully referred a sale.
How to Start an Affiliate Marketing Program Using Easy Affiliate
Are you ready to add an affiliate program to your website and start earning easy money? Get started with the quick and hassle-free Easy Affiliate installation and configuration processes.
How to Install Easy Affiliate
Launching your new affiliate program with Easy Affiliate is as simple as installing a regular WordPress plugin.
Simply purchase an Easy Affiliate plan and follow the basic instructions to add Easy Affiliate to your WordPress menu.
How to Configure Easy Affiliate
After you have successfully purchased and installed the Easy Affiliate plugin, navigate to Easy Affiliate > Settings and run through the Setup Wizard to finish setting up your affiliate program.
The Setup Wizard is an absolute standout feature that makes Easy Affiliate the most user-friendly affiliate program available! It will guide you on how to set up your affiliate program in as little as three minutes.
The Setup Wizard will take you step-by-step through the processes of:
Activating eCommerce plugin(s)
Filing your business information
Customizing affiliate registration pages and forms
Uploading design creatives, such as text and banner ads
Need to transfer data from an existing affiliate program? Easy Affiliate can do that for you with the one-click migration process included in the Setup Wizard.
Are you ready to grow your income by starting an Easy Affiliate program for your business? Get started here!
Do you have more questions on how to get started? Our excellent support team is here to help! Just leave us a message in the comments section below!