Adding videos to your site can build engagement and keep visitors coming back to your site.
But how do you go about doing it?
Thankfully, if you use WordPress, it isn't as difficult as you think. In this post, we'll explain how to embed video in WordPress in a flash. Let's get started!
How to Add Video to WordPress Pages or Posts
One of the best things about WordPress is its "auto-embed" feature. This cool feature allows you to embed videos automatically in a blog post, so you never have to worry about finding and adding the video embed code.
As you're writing or editing your post or page, find the place within your post or page where you'd like to add the video.
Then copy and paste in the video URL. WordPress' auto-embed feature will capture that video's embed code and embed the video for you just like that!

You can even edit the width and alignment of the video and add a caption in the WordPress editor.
Keep in mind: This feature ONLY works with allow-listed video services, such as YouTube, Vimeo, Amazon, and Hulu.
For a video service that isn't allow-listed, you'll have to manually embed the video's code into your post or page.
You can also embed a YouTube video using the YouTube insert feature in WordPress:


Simply enter the video's URL, and click Embed.
HELPFUL TIP: If you want to make sure "related videos" don't show up at the end of your video, try adding ?rel=0 to the end of the URL.
How To Embed A Video In A Page's Sidebar
Embedding a video in your WordPress membership site's sidebar may seem complicated, but it's a lot easier than you think.
In your WordPress dashboard, go to Appearance > Widgets. You'll then find the sidebar area where you want your video to appear. Drag the "Text" widget to the sidebar area of your choice and paste the video URL in the content section. Just as it did in the blog post, WordPress will automatically embed the video in your sidebar.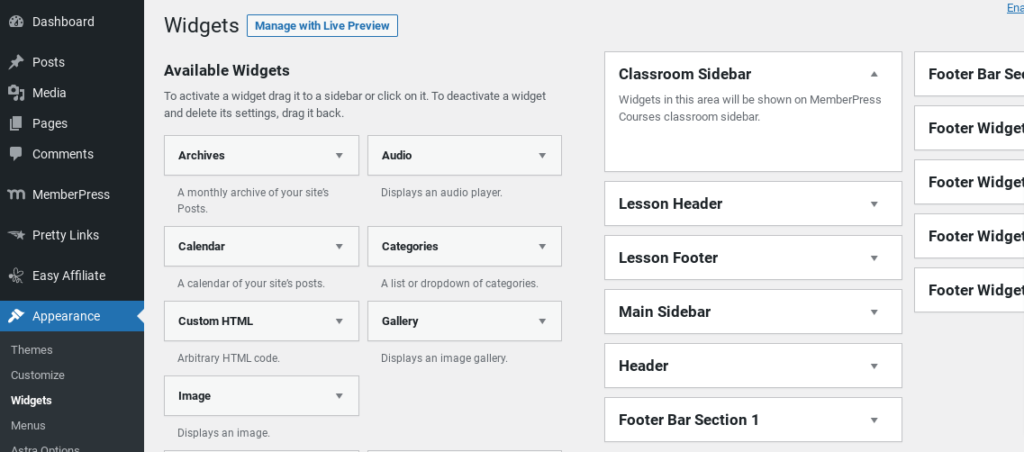 WordPress will also generate a preview of how the video will look in your sidebar so you can see it before it goes live. If you're happy with the way your video looks, click Save, and you're all set!
Final Thoughts
As you can see, embedding a video in your membership site's blog post, page, or sidebar is not nearly as difficult as it may seem, especially with WordPress' auto-embed feature.
This feature also works if you're still using the WordPress Classic Editor. The only difference in Classic Editor is that you can't make any significant adjustments to the post like you would if you were using the Gutenberg editor.
If you liked this article, be sure subscribe in the box up to the right!