More Efficiently Manage Downloadable Files on Your Membership Site
UPDATE 2/5/2018
Unfortunately it appears that the Delightful Downloads plugin is no longer under active development and may have some issues with sites running HTTPS.
As such the following article is here for historical purposes only.
Original Article
Looking to offer digital downloads as part of your membership site? We can help! This guide explains not only how to manage those files but also secure their safe delivery to members.
By using a free plugin alongside your membership tool of choice, you'll find it easier to add, manage, publish, and track downloadable files on your WordPress membership website.
Why Improve Your Digital Downloads Management System?
WordPress makes it easy to add downloadable files to your website, and with a membership plugin like MemberPress, you can easily control who has access to those files by displaying them in the protected areas of your site. This way only signed-up members can access these files.
However, with a free WordPress plugin like Delightful Downloads, not only do you instantly get more control over these files, you get several additional tools for managing them more efficiently.
Once you're familiar with what a plugin like Delightful Downloads can do for you, you'll have a better idea of how you can improve your current system of managing downloadable files and enhance your membership site with digital downloads.
How Delightful Downloads Can Help
While there are plenty of plugins to help you manage, distribute, and sell downloadable files from your WordPress website out there, Delightful Downloads is a powerful, free option that comes highly recommended. So why not give it a go?

Even though this plugin can be enhanced through its library of add-ons, the core Delightful Downloads plugin lets you:
Manage downloads files through a central dashboard.
Categorize and tag downloads for easier organization.
Use shortcodes to add file download buttons to posts and pages.
Block users from downloading files directly without visiting your site.
View download data, reports, and logs.
Members only downloads with redirect for non-members.
If you like the idea of storing, managing, delivering, and tracking file-download activity, more efficiently this free plugin offers lots of useful functionality.
Getting Started with Delightful Downloads for Your Membership Site
First you'll also need to install MemberPress' Delightful Downloads add-on. The add-on just ensures our Rules will protect the file downloads.
Then, simply log into your WordPress dashboard, navigate to the Add Plugins page, then search for the Delightful Downloads plugin and install/activate it on your site.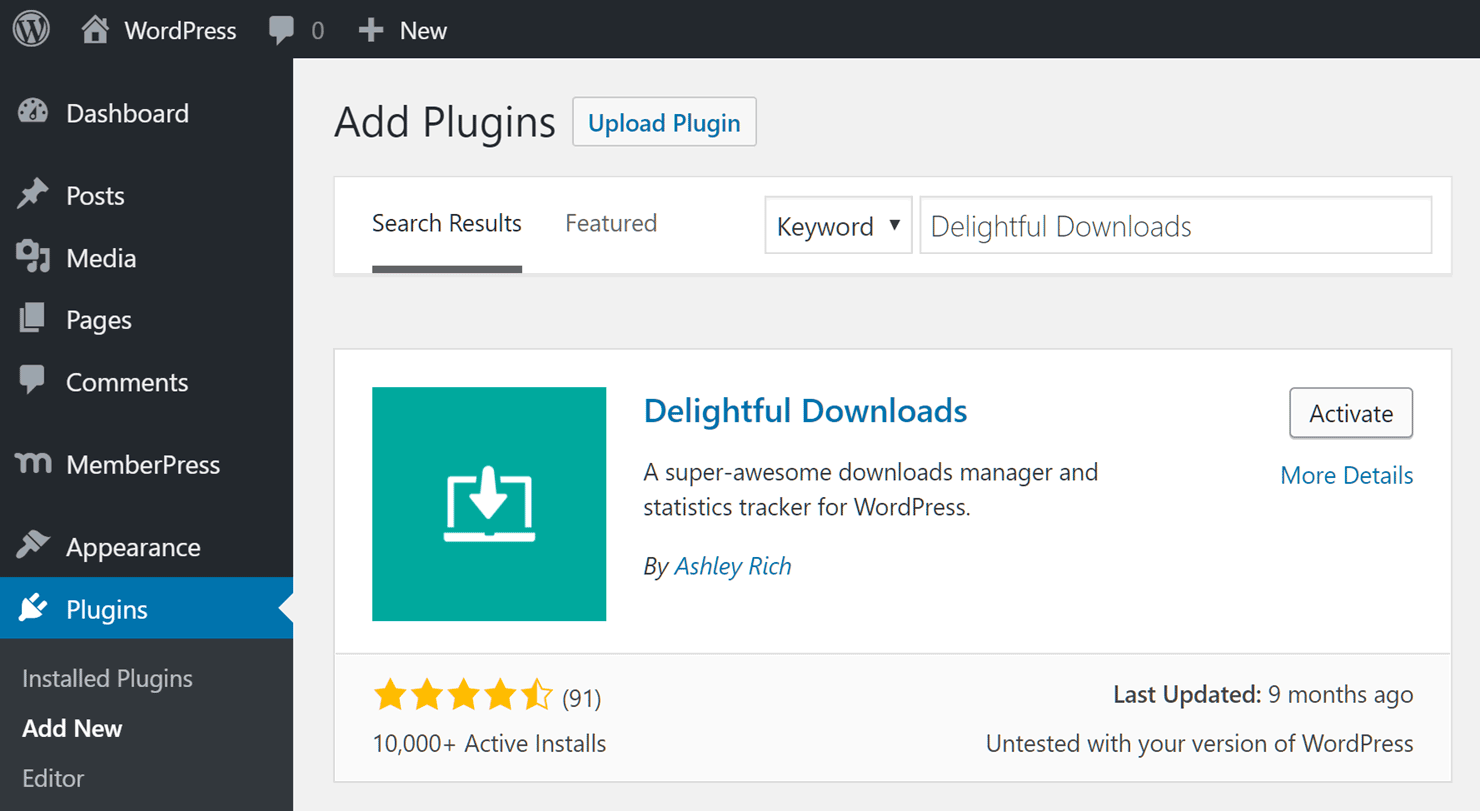 Configuring the Plugin
After activating the plugin, you can start configuring how your site handles digital downloads and how they can be accessed by your visitors and members.
Adding Downloadable Files
When it comes to adding new downloadable files to your site, simply click on the Add New item under the Downloads menu. From there you can give the download a title before uploading the file.
After uploading the files you can decide whether everyone can access it or only logged in members. You can also assign any tags and categories to your download to make it easier to organize your files. Once you've published one or more downloads, you can view the list of files on the All Downloads screen.
Publishing the File Download Links
To make your files available to your visitors, you'll need to add the shortcode that outputs the download button to one of your pages. Thankfully, the Delightful Downloads plugin makes this very straightforward. Simply open a post or page for editing and then click on the Add Download button.

After clicking on the Add Download button, you can then choose which file download link you want to add to the page. At this stage, you can change the button text and color or simply inherit the global site-wide settings. Once you've chosen a file, the shortcode will be added to your page.

Now when you preview or publish the page, the shortcode will be replaced with the file download button.
Thanks to this, you can add one or more of your downloads to any piece of content on your site, including areas that can only be accessed by members.
Use Membership Rules to Restrict Access to Files
As we've already seen, Delightful Downloads gives you the ability to restrict access to a file so that only logged in users or members can download it.
However, you can also use MemberPress's Rules feature to control access to downloads. To do this, you simply create a new MemberPress rule or edit an existing one and select 'All Content with Download Category' or 'All Content with Download Tag' and then enter the name of the category or tag. Now access to all downloads that have been assigned that category or tag or will be restricted to users on the membership plan you selected.

Final Thoughts
As you can see, Delightful Downloads makes it a snap to add, manage, and track downloadable files to your WordPress website. When you combine its functionality with a membership plugin like MemberPress, controlling access to these downloadable files becomes effortless.
Offering your members access to files is a great way to increase the perceived value of your membership site and increase sign-ups, so why not use a free plugin like Delightful Downloads to make it easier to manage them?
Will you use Delightful Downloads to manage your files more efficiently? Let us know in the comments below.
5 Comments
Mathias Jeremiassen

November 6, 2017

Great article, and maybe I'll have to start using Delightful Downloads. We've been using Memberpress rules to restrict access to downloadable files through custom URI, and it works perfectly fine. However what we lack is statistics for these downloads, and it seems Delightful Downloads could solve that.

khan

November 25, 2017

Hi, i want to ask you some thing before buying this plugin, i want to create a subscribtion that offer 3 membership subscriptions, 1: Free but 5 3d models download a day with 20 mb total 2: medium with 20 3d models downloads a day with 70 mb total 3 high with 50 3d model a day with 150 mb of total is it posible in memberpress? i have seen tutorials they only explain pages but not mb's of day and restric download! ? kindly let me know if its posible and how so i purchace your plugin right away many thanks khan
Blair Williams

November 25, 2017

@khan, It should be easy to restrict specific models to being accessible to specific membership levels but MemberPress doesn't track or limit based on how much data a member has downloaded. So, you can't really stop a member's access after they've downloaded 20mb for example. With that said, you could probably have someone write a small amount of code to do this but it won't do this out of the box.
Sanny Zuiderveld
February 12, 2018
Now that Delightful Downloads plugin is no longer under active development, is there a different plugin that you would recommend that does the same/similar? Thanks!
Paul C

February 13, 2018

We're testing the Lana Downloads plugin as a simple alternative. It needs some changes that we're hoping the developer will add soon. If so, it might make a good alternative to Delightful Downloads.