How do affiliates help your business grow? By promoting your product and company and increasing traffic to your site. And getting your product and business in front of new eyes is half the battle when it comes to new conversions and sales.
Since it can feel overwhelming to start and run an affiliate program, we'd like to introduce you to someone who can help—our lifelong best friend, Easy Affiliate (yes, the folks at MemberPress also run this great plugin!).
These two products together are a powerful way to create a WordPress affiliate and referral program.
But before we get too carried away telling you how MemberPress and Easy Affiliate work so amazingly well together, we'd like to pause and review a bit. In case you're new to the online business world, or you just need a quick refresher, let's talk about affiliate marketing.
Affiliate Marketing
Affiliates help your company by promoting your business, product, or services. In return, you pay the affiliate a kickback, referral fee, or commission when you make a sale to one of the customers who came from their referral link.
For example, if you run a health-coaching business and an affiliate from a healthy-recipes company wants to post a link to your page from their site, you give them a unique link to post on their site so you can track when traffic comes to your site from theirs.
That way you not only keep track of where your traffic is coming from but can pay them according to your affiliate agreement.
Affiliate Agreements
Agreements vary based on the type of business you run, how much you want to pay in commissions, and how long you want a link to remain active. They're also based on the number of people sent your way from the site and whether you want to pay per click or per action.
Affiliate marketing is an effective and relatively inexpensive way to market. The affiliate chooses how they use the link on their website, and you only pay a percentage when a sale is made.
Challenges of Affiliate Marketing—Conquered!
Managing your affiliates may be the most difficult part of affiliate marketing. Knowing you have to set up affiliate links, manage who your affiliates are, track your payments, and make sure it all integrates with your shopping cart, payment vendor, and website can feel pretty overwhelming.
And, of course, you want your affiliate program to look and feel just like your company's site.
But none of that need stop you, because you've got MemberPress and Easy Affiliate. The two work together seamlessly, which allows for an easy set-up that has the look and feel of your website.
It also allows you to manage your affiliates, connect your program to your shopping cart, and give your affiliates the ability to manage their own accounts. Does it get any better?
Using Easy Affiliate
Rather than have a third-party hosting service do it for you, you can set up Easy Affiliate directly on your website. And the set-up for this tracking plugin is a breeze, especially when you already have MemberPress. You'll be up and tracking affiliates in the blink of an eye.
Once you have the plugin, simply go to Easy Affiliate > Settings > eCommerce, and set the toggle to activate the MemberPress integration.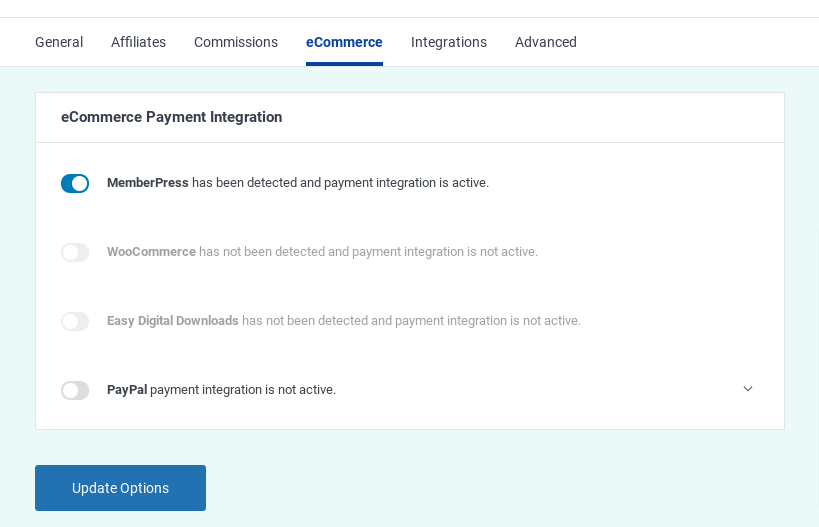 Integrations
That's it! And if you're using PayPal or Stripe inside MemberPress, it's all handled within this integration. You also have options to set up other integrations, such as email services like ActiveCampaign or Aweber.
Commissions
There are lots of reasons why someone would want to become an affiliate. They may love your product or simply love you, but there's also an incentive—commission!
You'll need to decide what type of commission you'll pay (percentage, flat fee) and at which level. For example, you can set the commission to be a percentage and the level to be at 10 percent.
So when a customer purchases a $100 product or service (or membership level) via an affiliate link, that affiliate gets 10 percent of the sale or, in this case, $10.
You can also set up a recurring commission for sales like subscriptions. If someone who originally purchased via an affiliate link renews their subscription, the affiliate gets a recurring commission.
You can see all these transactions in Easy Affiliate and reference them in MemberPress using invoice and transaction numbers. There are other places to see the transactions as well, such as the affiliate's user page in Easy Affiliate.
This user's page is a handy place to track all individual transactions. Plus, you can also override the commission level here. If a certain affiliate has been stellar at sending referrals, you can reward them by bumping up their commission percentage, which is as easy as clicking a box and entering their personal commission percentage rate.
Affiliate Dashboard
If someone signs up as an affiliate, they'll be able to log in to the dashboard on your site to access their affiliate URL, which they can then use on their email list, website, or blog to share with followers.
When they share the link and another person clicks on it, a cookie is stored in that person's browser, which is how you track whether the person has made a purchase via an affiliate link.
The initial link that is created defaults to send to your homepage and can be set up so it goes to other places on your site, such as sign-up pages, landing pages, or sales or marketing pages, where it's easy for potential buyers to see your products and services.
Emails
This is where you can write autogenerated emails, such as:
A welcome email sent whenever a new affiliate signs up
An affiliate sale email sent to the affiliate when a new sale has been made with their link, notifying them of the sale and that the payment has been credited to their account

An administrative email that lets you know about the affiliate sale
So much more!
There's a lot more you can do with Easy Affiliate. Check out this video to see how it works. And if you're ready to turn your site into a WordPress affiliate and referral program, why not get started today?
If you're already using Easy Affiliate with MemberPress, we'd love to hear about it. Share your experience with us in the comments below!
If you liked this article, be sure to subscribe to our newsletter in the box up to your right!