If you're a modern entrepreneur, there's a good chance you've been wondering how to sell courses with WordPress.
The MemberPress Courses Add-on, makes it easy for you to sell courses online using WordPress. The process has become as easy as drag and drop and as affordable as purchasing MemberPress.
What was once a huge, overwhelming job is now an incredibly painless one.
With this online course plugin for WordPress, you get all the ease of use you expect from MemberPress combined with powerful LMS features designed to make building online classes simple for everyone.
The Courses Add-on boils the process down to a basic, click-and-go process.
The best part is that Courses is included as part of MemberPress, so every feature is built right in. No separate download is required.
Creating an online course is easy
Even before COVID hit, instructional online courses were booming. But usher in the age of stay-at-home, and we've seen this business model skyrocket in popularity.
Many of our customers here at MemberPress operate these types of membership businesses.
And it's no wonder. With time on their hands and curiosity on their minds, folks are eager to engage in online classes for everything from fitness and business to knitting, dancing, and pretty much anything else you can imagine teaching or learning.
But what's held many people back from taking advantage of the booming online courses industry is the difficulty and costs of set up.
With thousands of hierarchical pages to organize, tons of content to produce, and complicated coding to tinker with, the whole thing can seem out of reach.
Not with MemberPress Courses.
No complex coding required
As mentioned, creating an online course website used to require massive amounts of complicated coding.
Before, you'd first have to build out all your content. Then you'd have to spend countless hours tweaking the theme and fiddling with HTML and CSS.
The Courses Add-on makes all that confusing coding a thing of the past.
Features like our built-in pagemaker ReadyLaunch™ let you create beautiful course pages with a few clicks of a button.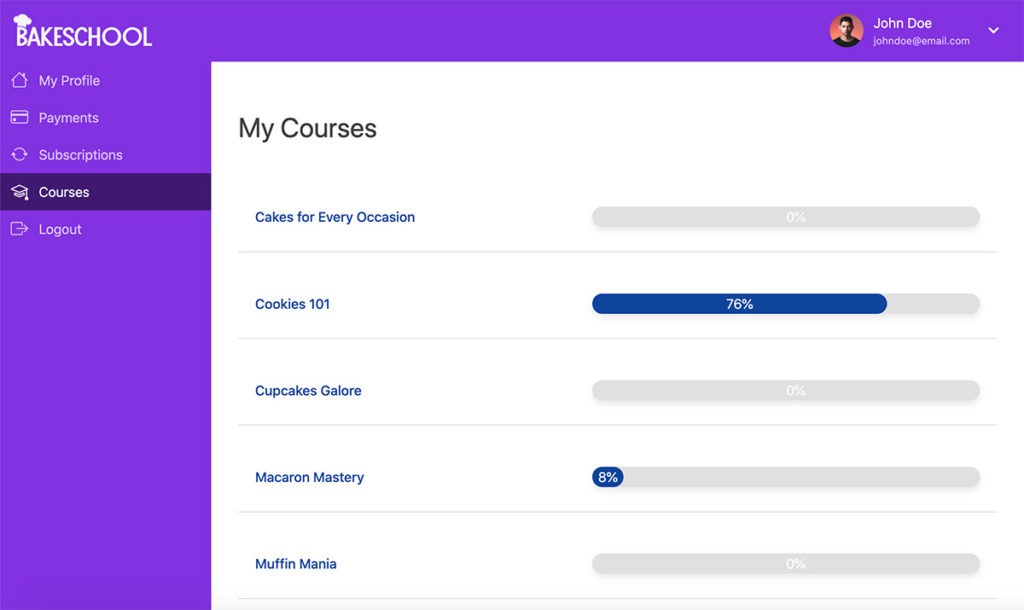 And not only your courses. ReadyLaunch™ applies automatic styling to all your MemberPress pages. And it lets you add branded, pre-styled blocks to any of your pages.
So your site is…
Mobile-responsive
Optimized to sell
Branded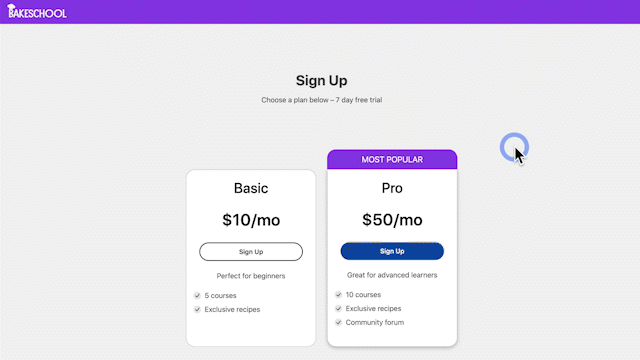 With ReadyLaunch™ you literally get your site set up and ready to sell in under one day.
So you can focus on creating great content.
---
Courses adds powerful WordPress LMS features to MemberPress that do the work for you. You can even see what your front end changes will look like live, right from the styler.
---
Course progress tracking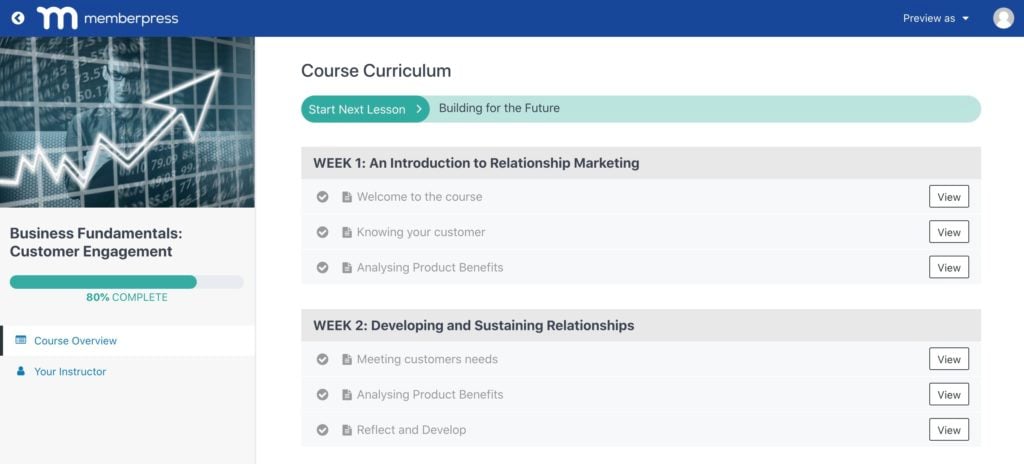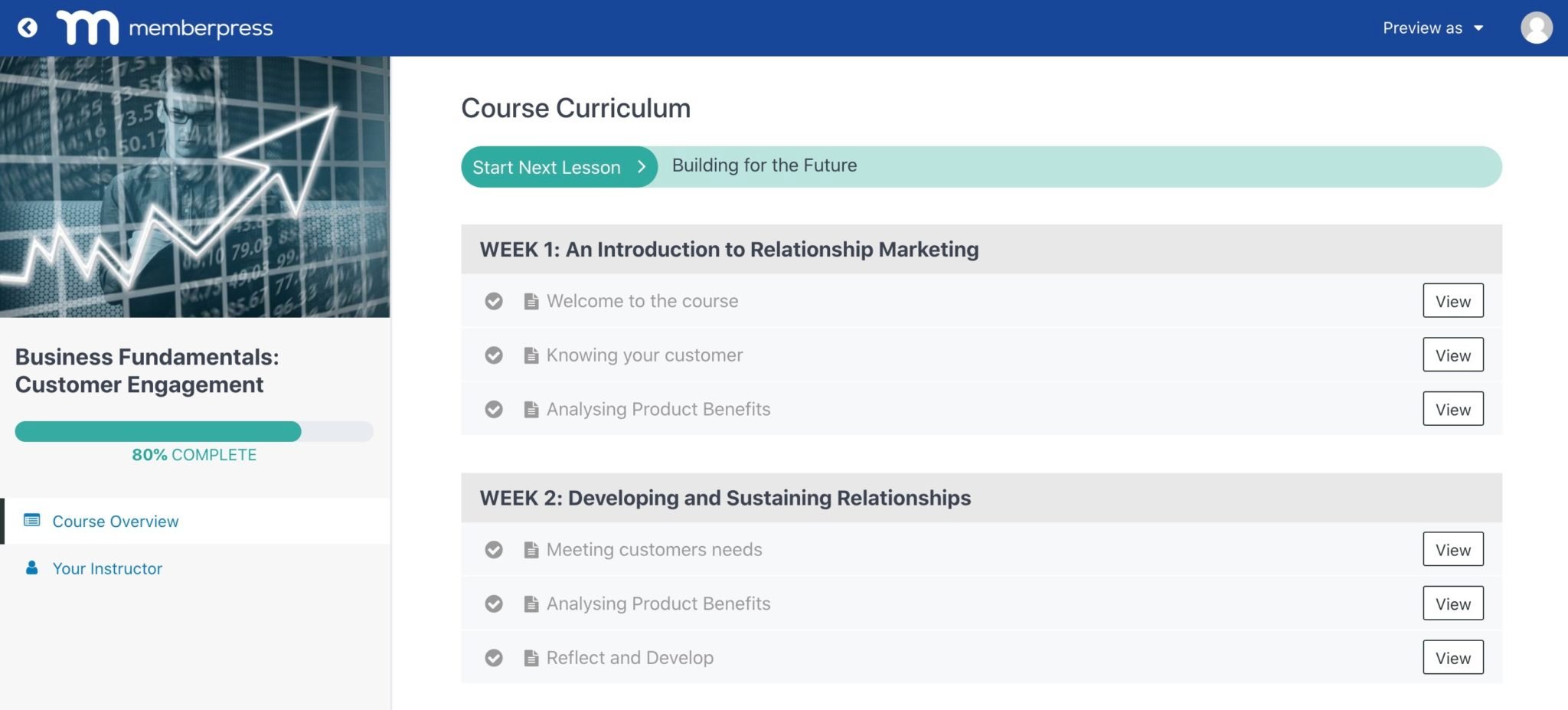 With MemberPress Courses, your students can see their progress on each class they've started. Not only that, but as a site admin you'll be able to see how your subscribers are progressing through the curriculum, too.
This information gives you valuable insight into the user-friendliness and popularity of your courses.
No more fiddling with pages, sub-pages, and custom post types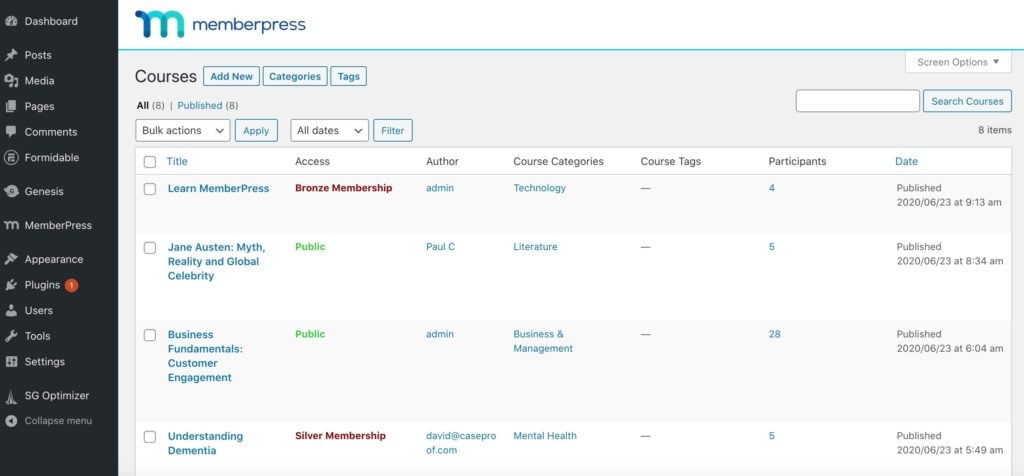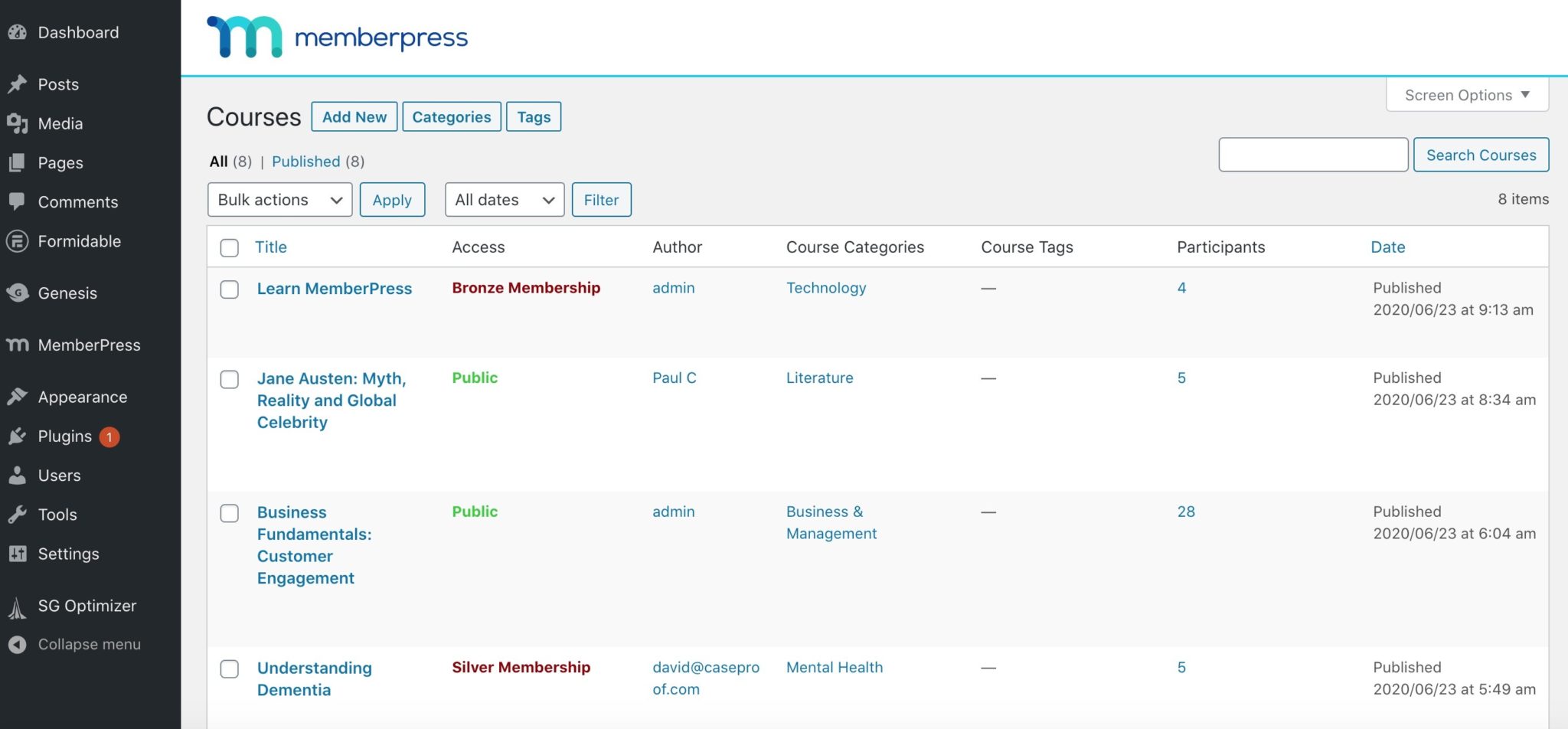 You don't have to…
Decide where your course content will reside in WordPress
Build out pages and subpages
Set up custom post types
And unless you need some pretty advanced features for your curriculum, you won't have to add another WordPress LMS plugin alongside MemberPress.
The Courses Add-on gives you a simple menu item in MemberPress where you can access all of your courses.
From this menu item you're able to see all of your curriculum in one place, plus…
Add new and edit existing courses
Update lessons
Add quizzes
Award certificates
Build your course curriculum, visually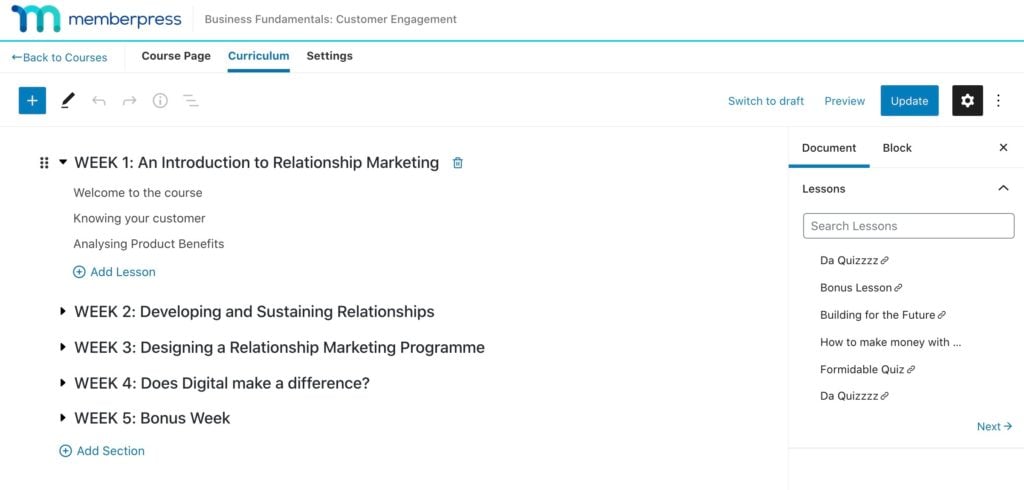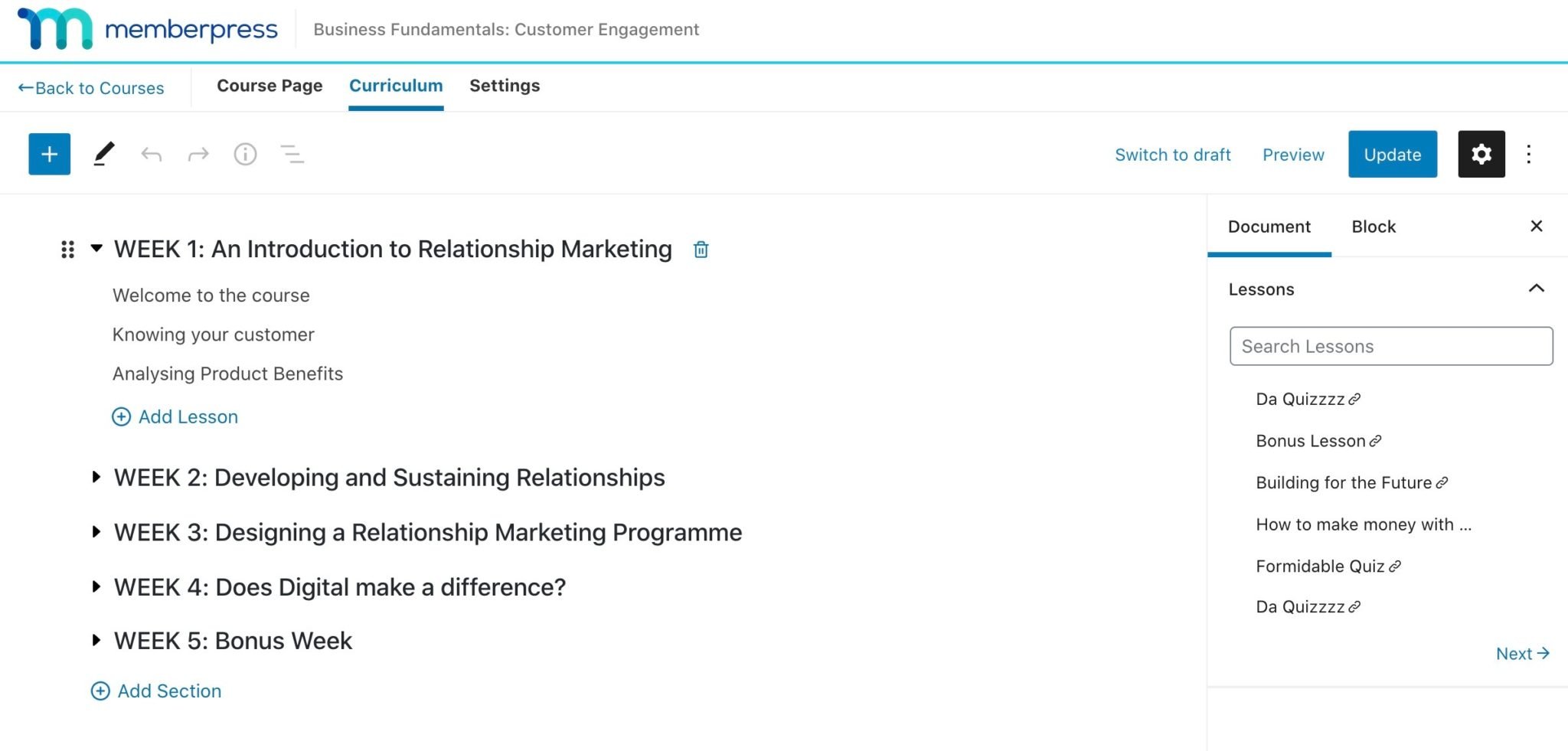 Also, you can edit all of your online courses and corresponding lessons right in the WordPress Block Editor. Using the Curriculum tab, you can even move lessons around within courses using a simple click and drag feature.
Additionally, you get features that help you keep tabs on (and improve) your students' learning. Great learning = a successful course.
And successful courses sell.
Add quizzes and track progress
Using the integrated Quizzes feature, you can build fantastic quizzes that will help to motivate your students and decrease dropouts.
Progress tracking helps your students (and you) keep an eye on student success.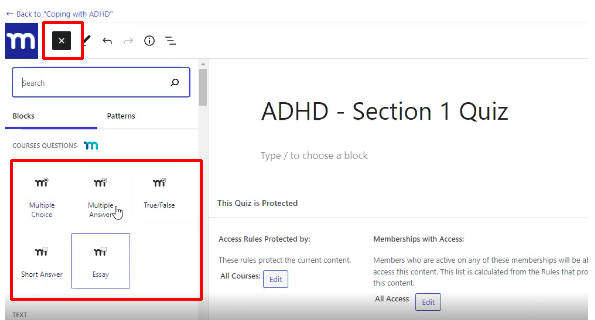 Create a certification program
Double your online courses into a certification program with MemberPress Course Certificates.
Maintain annual enrollment numbers by encouraging your students to come back and up their game.
That could mean taking more courses to earn additional certifications or keeping up-to-date on their training through recertification.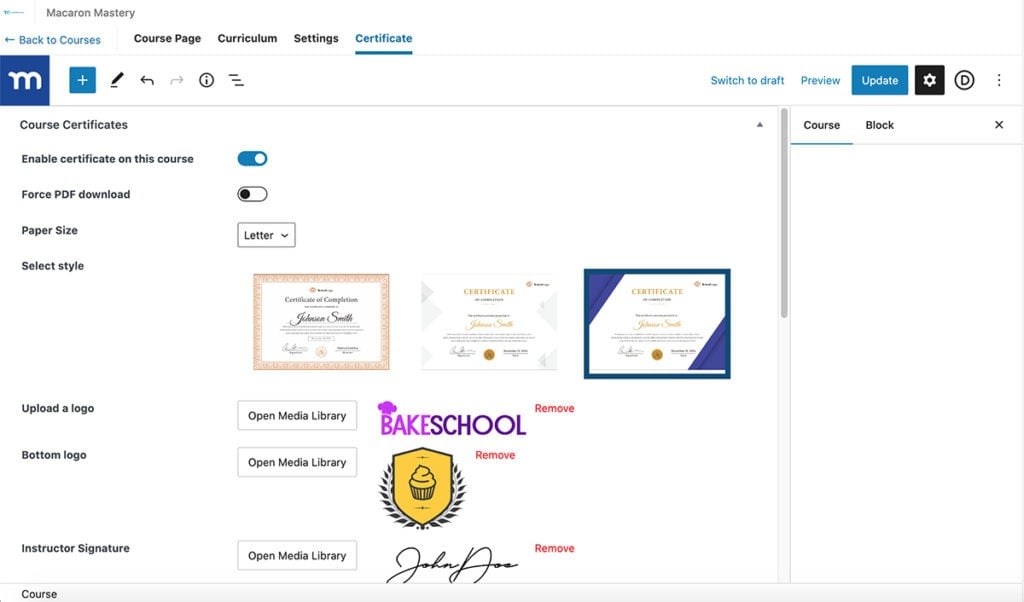 Easily create and manage access rules
As with all MemberPress products, the new add-on allows you to protect your online course content with easy-to-use MemberPress Rules.
You can protect single courses, sets of courses, or courses with any other tag or category you set up.
With this feature you can communicate added value to your users without having to include a word of up-sell jargon (though there's nothing wrong with that!).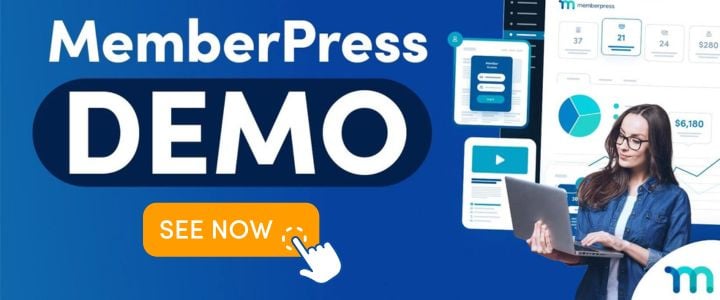 Use the sales feature to build subscriptions


Speaking of up-sell jargon, when a user encounters a page they don't have access to, you want to make sure they have the option to subscribe.
The add-on makes this a piece of cake, enabling you to create a sales page which users encounter whenever they don't have access to a specific course or lesson.
Advanced features for power users
If you have more experience up your sleeve and would like to customize things a bit more, the new add-on has you covered.
As a power user, you can simply disable ReadyLaunch™ for your course pages so you have more control over the look and feel of your courses.
Whatever your level of understanding and experience, the new MemberPress Courses Add-on features are built to accommodate your needs.
Get Started Today
Ready to learn how to sell courses with WordPress?
MemberPress Courses is available to anyone with a MemberPress subscription, including Basic. If you don't already have MemberPress, be sure to get that first.
Activate MemberPress Courses from the Add-ons page in your MemberPress dashboard menu. Then get busy boosting your bottom line!
If you liked this post, make sure you subscribe to the MemberPress blog!