If you're interested in creating and running your own online courses on your membership site, you're going to need a WordPress LMS, or learning management system, to get things done.
An LMS helps you manage all parts of your online course content, including subscriptions, quiz creation and grading, payment handling, and much more.
There are a number of different WordPress LMS plugins available to membership site owners. But the question is which one is the best for you as a membership business owner.
To help you make your decision, we've put together a list of our five favorite WordPress LMS plugins for your consideration. Let's go!
1. MemberPress Courses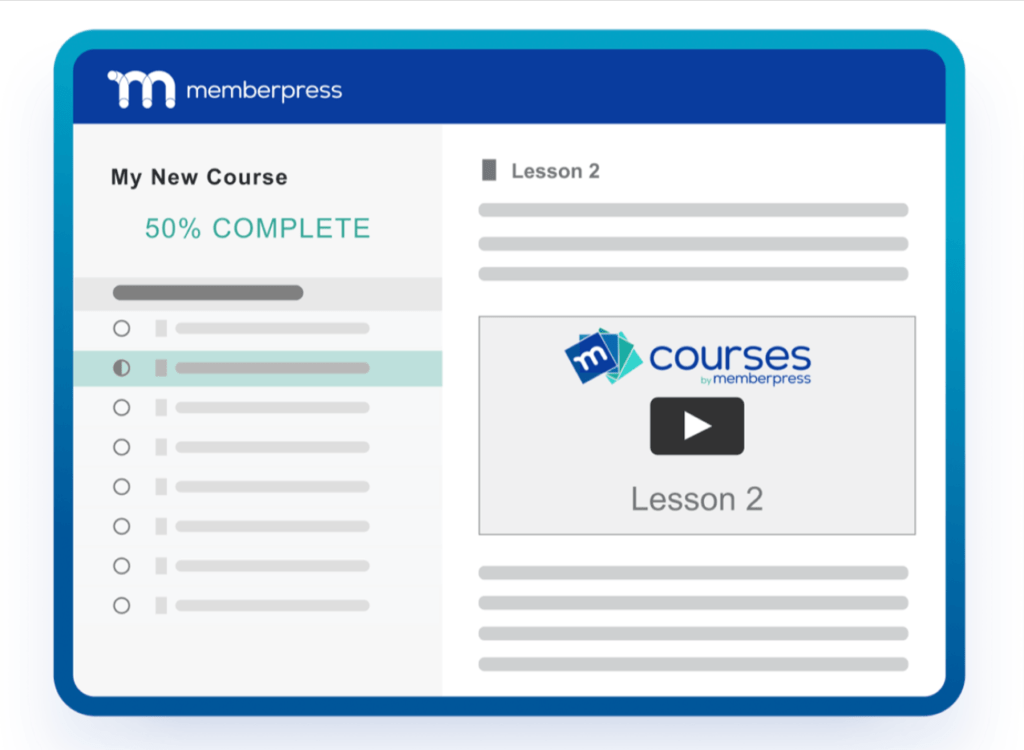 First on our list is (you guessed it!) our own built-in LMS, MemberPress Courses.
If you're already a MemberPress customer, this one's a no-brainer. It's already included in your license. All you need to do is activate it.
Courses is a full-featured WordPress LMS plugin that allows users to accept credit cards securely, create and sell online courses, control who sees content, and sell digital downloads – all with easy setup and no coding required.
The Courses add-on is built right in to MemberPress and is included with every plan. All that's required is a simple activation. It has great components like a 100% visual course builder, progress tracking, built-in quizzes, and a sales feature.
The best thing about this tool is that there's no need to install a separate plugin to sell memberships or protect your course content. It also allows you to add a courses component to any type of WordPress site.
For example, say you use MemberPress to run your online consulting business. If you want to add online classes as an optional product, the Courses Add-on takes care of it. No need to integrate a different plugin to create and manage your courses.
With plans starting at $149 per year, this one's a steal (if we don't say so ourselves). Especially considering you get a full suite of membership site features in addition to an LMS course builder.
2. Sensei
Our second LMS plugin comes from WooCommerce. This easy and flexible plugin is just as simple to use as WooCommerce and integrates seamlessly with WordPress.
With Sensei, you can also run quizzes, provide assignments, give grades, and offer certificates to students.
One of the greatest things about Sensei is that you can use the WooCommerce platform to sell your courses, creating products just like you would with an online store.
Sensei has a number of extensions – both paid and free. These extensions do things like enable your students to share their certificates on social media and give them the ability to download slideshows and PDFs for additional study. It also features a course progress extension.
Like WooCommerce? Want to test the waters with Sensei? The core plugin is free. However, if you'd like to have WooCommerce Paid Courses, which will allow you to further customize your courses, you'll need to purchase an annual single site license for $129.
3. LearnPress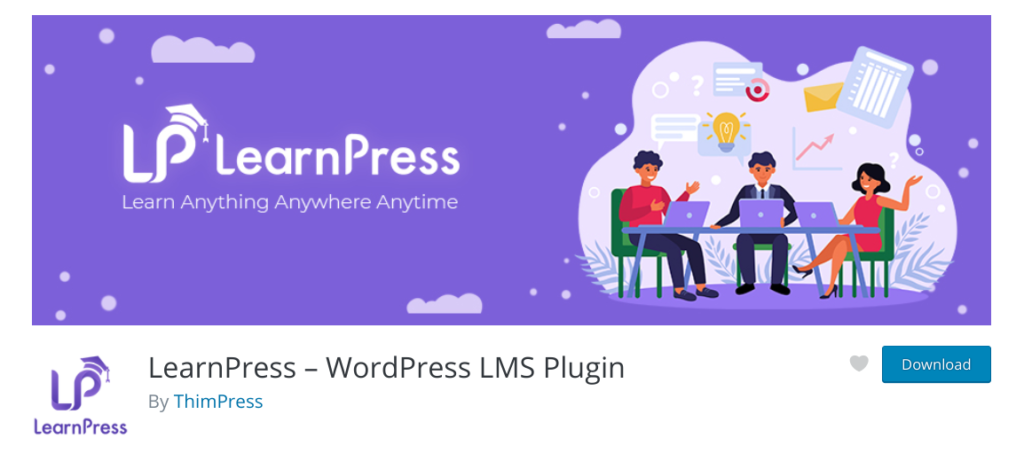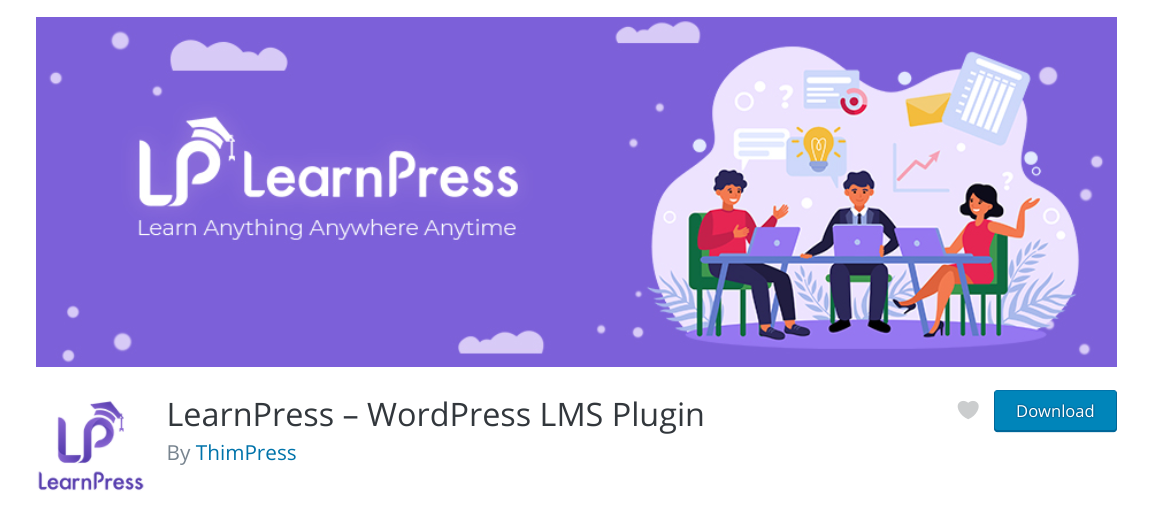 Next up is LearnPress, a freemium WordPress LMS plugin that helps you sell your courses.
LearnPress has a number of great features to help you get your online courses off the ground, including the ability to export content and to use the same lessons and quizzes from one course in another course. It even allows you to customize setup rather than using a setup wizard.
LearnPress has many free and paid add-ons available and integrates with WooCommerce, PayPal, and all of your favorite membership plugins, including Memberpress.
The original version of LearnPress is free – all you have to pay for are the add-ons. There's also a LearnPress Pro Bundle that allows you to purchase a LearnPress theme, as well as most of the premium add-ons, for $249.99.
4. LearnDash


The next WordPress LMS plugin on our list is LearnDash, easily the best-known LMS plugin out there.
LearnDash is an easy tool to use. The plugin has a drag-and-drop course builder, making it simple to create multi-layer courses with lessons, user assignments, multiple question types, prerequisites, and more. This tool also allows you to utilize content dripping with your courses using the Drip-Feed content feature.
LearnDash is compatible with many different payment gateway add-ons, including PayPal, Stripe, and 2Checkout. It's also compatible with Zapier, WooCommerce, Memberpress, and many more tools.
Interested in LearnDash? This LMS plugin comes in three plans, the lowest starting at $199 annually.
5. LifterLMS
LifterLMS is another solid WordPress LMS plugin that every membership site owner would be wise to take into consideration.
With LifterLMS you can easily and quickly create online courses on your WordPress site. This particular tool supports quizzes and quiz timers, downloadable lessons, multiple instructors, and more.
LifterLMS also allows you to offer badges and certificates to students once they complete a course. In addition to those cool features, the tool has a number of add-ons to help you engage with your audience and market your offerings to them.
Ready to try out LifterLMS. You can get the plugin and a payment gateway or individual add-on of your choice for $99 per year with their Individual Add-Ons Plan.
---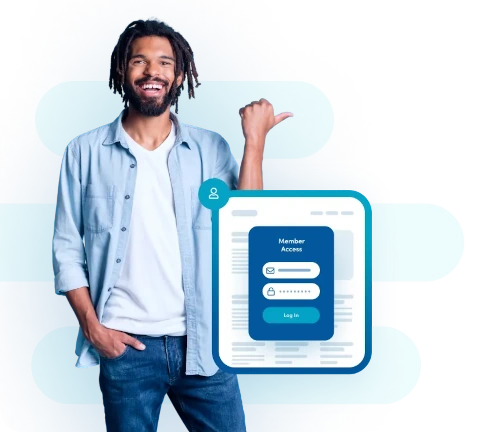 Don't Have MemberPress?
Courses is built right in. Get started today!
Get MemberPress Now
See All Features
Click here to get our step-by-step guide to help you set up an LMS on your MemberPress site.
If you liked this article, be sure to subscribe to our newsletter in the box up to your right!