Push notifications are an absolute go-to tool to initiate instant and engaging interaction with your target audience.
There are many reasons why membership site owners should create push notifications, such as to inform current and potential members about offers, provide updates, and increase overall engagement.
However, the ultimate goal of push notifications is to encourage visitors to venture back to your membership site.
Today, we are excited to add another favorite to our list of MemberPress-approved push notification services: PushEngage!
What is PushEngage?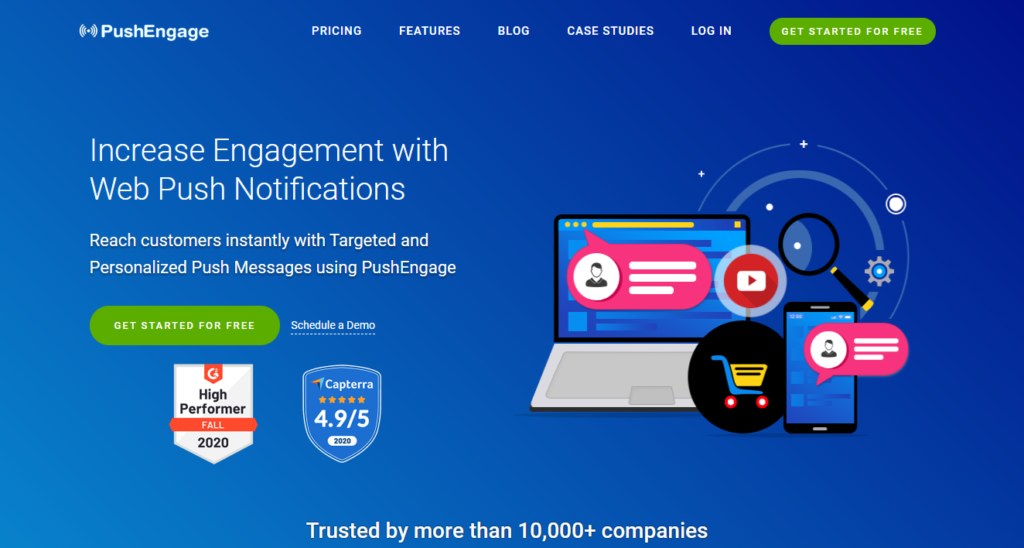 PushEngage is a push notification tool that allows you to send personalized messages across the web automatically. This service uses the automatic segmentation of your subscribers and auto-responders to send out customized notifications in the attempt to bring visitors back to your membership site and complete a purchase.
PushEngage helps you re-connect with your site visitors by sending eye-catching notifications directly to their browser, whether they use Chrome, Firefox, Safari, Edge, or mobile browsers.
As one of the top push service platforms in the industry, PushEngage has several features designed to increase click-through rates, motivate customer engagement, and carry out completed purchases.
How Can PushEngage Promote My Membership Site?
The chance of converting a visitor into a paying member through their first interaction with your membership site is unfortunately low. According to the marketing rule of 7, it takes an average of seven interactions with your brand before a customer is willing to make a purchase.
Push notifications are an excellent way to spread your membership site brand across the internet, reach your target audience, and promote sales.
Different Types of Promotional Push Notifications
PushEngage offers many different types of push notifications, which you can personalize down to the individual. You can also determine how many and how often a customer will see your push notifications.
A helpful bit of advice: Be sure to limit the number of notifications you send to individuals each day. Too many notifications can annoy potential customers, causing them to lose interest and block your notifications entirely. PushEngage makes this easy to avoid with their frequency capping option.
Following are just a few PushEngage notifications types you can use to actively promote your membership site.
Cart Abandonment
Send timely notifications to visitors who have abandoned an item in their shopping cart. You can also create a cart abandonment campaign by sending a series of scheduled notification messages to include an image of the abandoned product, the price, a description, and most importantly, a direct link back to the cart checkout page.
Price Drop Alerts
Update members about price drops automatically. A price drop alert will inform customers when an item of interest has been discounted to a lower price. Running a price drop campaign is a proven technique to ensure completed checkouts and increase sales.
Opt-In Reminders
Enable visitors to subscribe to your web push notifications. With a PushEngage reminder, customers will automatically see your push notification and be reminded to subscribe to your membership site. Opt-in reminders are a quick and easy way to grow your list of membership subscribers instantly.
How MemberPress Users Can Benefit by Using PushEngage
PushEngage offers personalization features that appeal to both your audience and you.
Check out these support tools that will allow you to monitor and enhance the performance of your membership site.
Revenue and Goal Tracking
With the cart abandonments campaign feature, you also have the ability to calculate the generated revenue. You can keep track of conversions as well as the number of transactions resulting from the cart abonnement campaign.
Goal Tracking is a recently added PushEngage feature that will allow you to track the return on investment (ROI) for all of your campaigns. By tracking the number of conversations and the price values of a sale, you can calculate the total ROI and determine which campaigns are most successful.
A/B Testing
Ensure that your current membership subscribers are satisfied by conducting user experience research, also known as A/B testing. Send out different types of notifications to the same target group, then analyze which notification(s) generate a positive response. You can experiment with the different types of notifications even further by altering headlines, word usage, images, and release times.
Advanced Analytics
Measure the performance of your push notifications with systematic, easy-to-read analytics. The PushEngage dashboard highlights subscription rates by day/week/month so you can see the number of new subscribers as well as check the total views, clicks, and click-through-rates for the specified time period – all on a single page!
Multi-Site and Multi-User Management
If your membership site has grown beyond a single website, or if you have multiple staff members, then PushEngage is a must! PushEngage can easily be added to any number of websites and integrate with multiple browsers. You can also designate different access rights for each member of your team.
Be sure and add PushEngage to your MemberPress site today. And if you have any questions, let us know in the comments!
If you liked this post, make sure you subscribe to the MemberPress blog!