Membership-site success involves growing your customer base with a steady stream of new users, and one way to grow that base is to increase the number of visitors to your site. So how do you do that?
Well, it's been proven that blogging, aka harnessing the power of content marketing, can do this for you.
In this article, we'll cover the main reasons why your membership site needs a blog. Hopefully, by the time we've reached the end, you'll be convinced of the benefits of content marketing and that blogging will help you grow your membership business.
What is a Blog?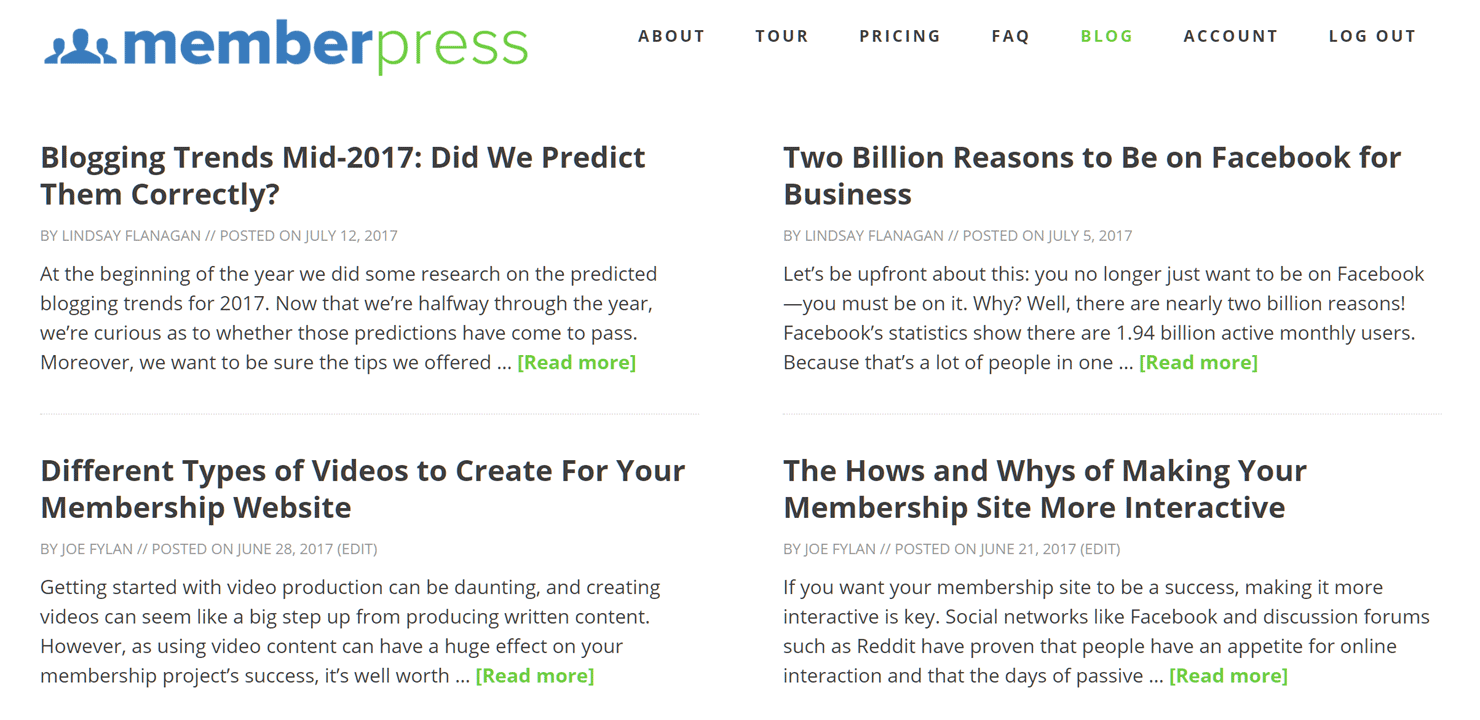 For the purposes of this article, a blog refers to an area of your website where you publish content on a regular basis, just like this blog article you're currently reading on the MemberPress site.
This blog content is freely available to all and outside of the protected areas of your membership website.
Blog posts come in many forms—from short articles sharing your thoughts, to reports that delve deep into a particular topic, and everywhere in between. Why not go all out and include video-, audio-, and graphic-based content?
Once you're sold on the benefits of blogging as explained below, check out our guide to creating a successful content-marketing strategy for your membership site to help you get started.
Demonstrate Your Abilities
Blogging gives you a great opportunity to share your expertise and abilities with your target audience as well as those who haven't yet joined your membership program.
People evaluating a membership program want to know that the content inside provides real value. Publishing freely available tutorials, case studies, and informative articles on your blog shows your target audience that you know what you're talking about and that your membership site is the right option for them.
So if you're looking to improve your membership-site conversion rates, launching a blog is a great place to start.
Connect With Your Audience
In addition to demonstrating your expertise, blogging allows you to share your personality and the story of your brand. Although useful content is valued, some visitors are more drawn to a product they connect with or a brand that resonates with them.
The informal nature of blogging lets personality shine. Not only that, but each piece of content published can increase the time your visitors spend on your site, furthering their understanding of your brand and their connection with you.
Each blog post can also be ended with a call to action, such as inviting readers to check out your membership landing page or join your email list.
Generate Leads for Your Email Newsletter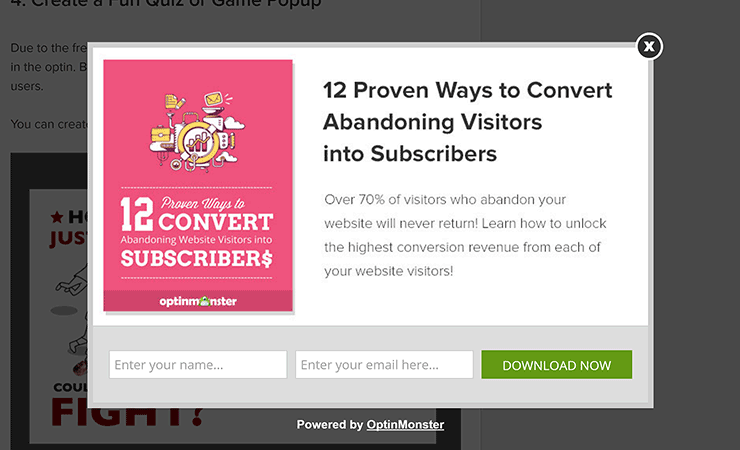 Blogging also gives you the ability to grow your list of email newsletter subscribers. Each blog post can feature a signup form, whether it's an in-content form or an opt-in pop-up. Then, once a potential new member has joined your list, you can send them useful content until they're ready to sign up and become a paid member.
Test Ideas for Your Membership Content
Before you invest the time and resources in creating a new module for your membership course or even launching a new membership product, it's a good idea to do some market research.
Publishing an outline or sample content on your blog is a great way to validate your ideas.
If your website or blog already has an audience, you probably receive feedback in the form of comments. If you've started an email list, you can promote your exploratory blog posts with subscribers.
If you're just starting out, though, you'll have to be proactive and share your blog post with your peers and target audience to solicit feedback.
A service like Google Analytics on your membership site allows you see how your audience is engaging with your ideas and content, even if they're not leaving comments or other feedback.
Your most popular blog content can provide inspiration for new membership content.
Increase Search Engine Traffic
Apparently, websites with blogs have 434% more pages indexed in search engines like Google as opposed to those without. Each piece of indexed content gives you a greater chance of being found by a target audience searching for solutions.
The benefits of blogging can be especially relevant to membership sites where much of your content is locked behind a paywall. 
Google doesn't look favorably on sites that don't feature freely available content, which gives you another reason to start blogging today.
In fact, blogging is one of the recommended simple SEO strategies for membership sites you can implement with relative ease.
Greater Social Media Exposure and More Followers

Each new piece of content you publish on your blog also represents another opportunity for your membership site to be shared on social media.
By adding social share buttons to your site with a free plugin, you make it easy for your readers to bring your content to the attention of their followers.
Whether your blog posts are shared on Twitter, Facebook, or Pinterest, extra exposure helps generate more visits to your membership program, grow your social media followers, and earn you backlinks to your site.
Earn Backlinks to Help with SEO and Boost Traffic

Each time someone publishes a link to your membership website, whether on another website or on social media, good things can happen.
For one, search engines use the number of links that point back to your site as a measure of how popular your content is. They use this data to help decide where to rank your site in their results.
Generally speaking, more backlinks equal improved search engine visibility. Secondly, each link to your content that's published somewhere gives your site a further opportunity to be found.
Every time you publish a new blog post, it's another piece of content that can be linked to, helping improve your search engine optimization (SEO) and grow traffic to your site.
You Don't Have to Do It Yourself
One of the great things about blogging to grow your membership business is that because it's something you can easily do yourself, publishing content is super affordable.
However, writing isn't for everyone. Thankfully, content creation is one aspect of running a membership site and a successful inbound marketing strategy that's easy to outsource.
From finding a good editor for your membership website content to hiring a freelance blogger to take care of the entire process, there are plenty of options for getting help.
Final Thoughts
Another positive aspect of blog marketing is that your output isn't restricted to one type of content. Your posts may consist of short bursts of text, in-depth articles, a series of images of infographics, or video and audio content.
Also, if you're producing podcasts, webinars, or videos for your members or to promote your membership site, publishing the transcripts can also help you add more content to your blog and reap all the rewards associated with content marketing.
A word of warning before you jump in—It takes time to experience the benefits of content marketing and blogging. Your first few posts may go viral and kick-start the process, but this is unlikely.
Instead, think of content marketing as a long game. Each new piece of content you publish increases your chances of success. You'll also get better at content creation with each article you produce.
So start today. Who knows where you'll be in a year's time?
What's holding you back from adding a blog to your membership site? Let us know in the comments below.