Developing and maintaining a membership site can seem daunting – especially if you're a "non-techie".
The required tasks may seem so difficult that you might not even try to start a membership site, regardless of whether you have a fantastic idea.
Even if you've managed to get over the fear of creating a membership site, once you're juggling your website and the many other tasks that come with running an online business, it's easy to let your website maintenance tasks slip through the cracks.
Luckily, there's an easy way to both develop AND maintain your membership site – using a MemberPress web developer.
There are a number of web development services out there ready to help you handle the many responsibilities that come with starting and running a WordPress membership site.
Are you ready to start an online business? Start your own membership business with MemberPress today!
What Will a MemberPress Site Developer Do For Me?
A WordPress website development and maintenance service is a service that helps you handle all of the tedious and potentially complicated tasks that come with running a website. These tasks can be anything from handling hacks and WordPress theme and plugin updates to spam, security checks, and more.
Although these tasks may not seem like a big deal, they're vital to the health and success of your membership website.
Whether you're experienced in the world of WordPress or you're a newbie, these types of services are intended to save you time and allow you to focus on handling other tasks necessary for your online business.
In this post, we'll list the top 10 membership site development and maintenance services available online.
1. MemberFix

Best On-Going WordPress Membership Site Maintenance Service
MemberFix, founded in 2013, is the only WordPress development and maintenance service that focuses 100% on membership sites. They're also a great service because they can do it all and pride themselves in sticking with their customers from start to finish.
Whether you've already established a membership business or you're thinking about starting a membership website, MemberFix is ready, willing, and able to help.
They offer a mini-course for entrepreneurs who need help planning and taking the first steps with their membership site, as well as many articles, podcast episodes, and guides to help people get started on their journey.
MemberFix has a small team, but they're passionate about helping people create successful membership sites and easing the burdens of specific tasks. Their services include everything from site design and development to connecting your membership site to your preferred email service, improving your membership site speed, scanning for and fixing malware and scans, and protecting content and securing your website.
Best of all, the MemberFix team members are all experts on membership sites and can easily work with major membership plugins like MemberPress to make sure your website is configured properly and running smoothly.
2. Codeable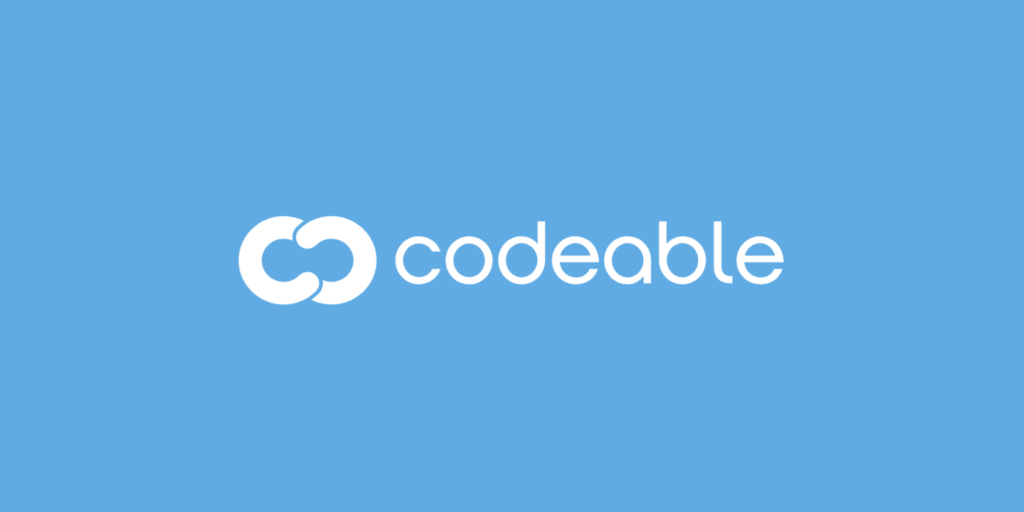 Codeable, founded in 2012, is a WordPress website service that acts more like a referral agency.
With this company, you get started by submitting a project detailing what type of service you need (for example, someone to set up your membership site, assistance with security, help with a glitch when updating a plugin).
Their experts will follow up with you with an estimate for that service from a few of their trusted developers. Once you agree to an estimate, you and that developer can start working together to create and maintain your WordPress website.
Codeable also offers consultations where their team can help you define your project and figure out what service you need.
They have over 500 WordPress experts and over 630 partners on hand to assist business owners with their small businesses at a price point that benefits both the membership site owner and the developer.
3. Fiverr
A lot like Codeable, Fiverr operates as a freelance marketplace for businesses, and it's been around since 2010. One of the coolest things about Fiverr is that, at the time of this writing, they featured over 92 developers with expertise in MemberPress specifically.
Rates are not hourly, but project-based, which makes it easy to find services to fit just about any budget. Finding the right professional is easy and quick, and you never pay upfront – only once your project is approved.
Fiverr also offers access to support 24 hours a day, seven days a week. So you're always able to get help when you need it.
4. WP Site Care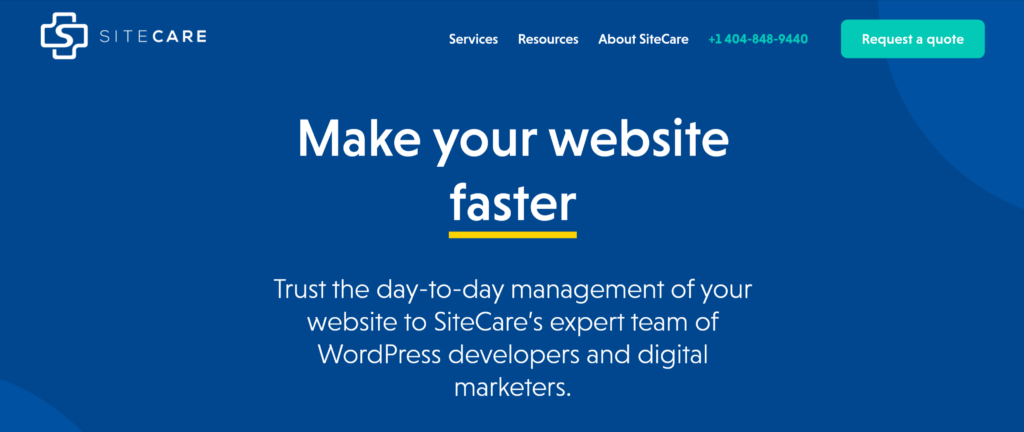 WP SiteCare is a WordPress maintenance and support service that has been in operation since 2012. This company assists businesses in managing, protecting, and improving their WordPress websites.
WP SiteCare is a one-stop-shop that can handle virtually any WordPress website maintenance task for you, such as managing WordPress updates, security services, development services, backups, speed and performance services, emergency WordPress help, SEO services, and even managing WordPress hosting.
This company's services monitor your membership website in real-time so nothing goes unnoticed. They also actively scan for security issues. If they ever discover that your website has been hacked, they can easily clean it up for you for a one-time fee.
With WP SiteCare, you can make an unlimited amount of support requests, no matter the plan. If the support you need isn't covered in your plan, you'll receive a quote right on the spot.
5. WP Buffs
WP Buffs is another WordPress maintenance service that not only provides premium services for your membership site but also offers expanded services to help your business as a whole.
This company features several core services:
Speed optimization
Fully managed security
Plugin, theme, and core file updates and database backups
Website edits, 24/7 monitoring and emergency support
Premium plugins
Mobile and browser optimization
WP Buffs also has cool services that come free with your subscription, including iThemes Security Pro, WP Rocket, and WP Smush Pro.
If you're seeking a white-label partnership program, WP Buffs has that too. If you have clients or customers who are in need of regular website maintenance, WP Buffs can assist you as your "background technical partner."
Another great thing about WP Buffs is that a significant proportion of the company's revenue is donated to charities the company loves. As a WP Buffs customer, you'll not only be supporting a business, you'll be supporting worthy causes.
6. Valet
Like the other companies, Valet offers services aimed to help take the burden of managing your website off your plate. But what sets them apart is that they'll also work as an extension of your current team.
This service offers Core WordPress maintenance, eCommerce maintenance, site audits and assessments, and support and development. Not only do they make sure your website is up and running properly, but they make sure that it's protected and secure.
Valet also offers virtual insurance and great housekeeping in the event of an unexpected crisis.
7. Maintainn
Next up is Maintainn. This service specializes in caring for WordPress websites no matter what you may need—design, development, security, updates, and more. They can modify customized code, customize plugins, suggest additional ways to optimize your website, and much more.
Maintainn also prides itself on a staff of experts who are well-versed in all things WordPress and make sure to keep their skills up-to-date.
One cool feature that Maintainn has is their top-notch support. They can be reached via email or live chat, or through a support button you can install directly to your WordPress dashboard. That way, if you're struggling with something, all you have to do is click the button, and you can instantly receive help without leaving your site.
8. WP SitePlan
Another support and maintenance service overflowing with WordPress experts is WP SitePlan. This company claims that their team is "made of up the industry's top WordPress experts based in the United States."
WP SitePlan offers site backups, security service, installation updates, database optimization, tracking analysis, and uptime monitoring at its core level. However, upgraded features include malware removal, WooCommerce support, help desk support, and more.
Do you manage websites for your clients? This service also provides white label WordPress support, so you can manage your customers' sites and help take some of the tedious site management tasks off your to-do list.
9. Barrel Roll
Barrell Roll is unique in that it not only helps you manage your WordPress site but can also make your website lightning fast. They also claim to "dig deeper into the inner workings of your site than their competitors."
This company offers performance optimization, secure backups, regular updates, SEO support, security services, uptime monitoring, 404 monitoring, web development services, and consultations with experts. In addition to all of those services, all plans include free technical support.
Interested in working with Barrel Roll? They offer free website reviews. All you have to do is fill out a form with your website and your contact information, and they'll get back to you within one business day to discuss how they can help make your website faster and make your life easier.
10. WP Tech Support
WP Tech Support stands out from the pack by its commitment to WordPress website protection and overall health.
How does WP Tech Support help protect your membership site?
They handle any emergency issue that may come up
Offer a safe and secure customer portal so you can submit support tickets and view website reports.
Feature offsite backups
Offer core WordPress updates
Have 24/7 security monitoring
Incorporate development for website improvements (not covered by all plans)
Offer spam comment management
Perform site tune ups
Handle site SEO
Another great thing about this service is that, in addition to their monthly subscription services, they also offer one-time rates on emergency fixes, tune ups, and development projects for those who just want to handle one project at a time.
WP Tech Support also offers dedicated WordPress hosting solutions and claims to maintain regular customer communication, so you'll always know what's happening with your website as it's happening.
Final Thoughts
We understand how difficult and overwhelming it can be to maintain your membership website while also juggling employees, marketing, and other important business tasks. That's why hiring or implementing a WordPress development and maintenance service can come in handy.
These services do cost. But when you think of all of the time and energy you'll save by handing your website tasks off to a trusted professional, you realize it's well worth the cost. Chances are your business would be better served by you focusing on other areas, and your membership site maintenance is something you could probably hand off.
If you'd like to learn more about WordPress website maintenance, we suggest you read our posts about using Gutenberg on your membership site, how to choose a web host, and how to backup your website.
Have you ever used a WordPress development or maintenance service? Did your favorite service not make the list? Let us know in the comment below!
If you liked this post, then please follow us on Facebook for more great content. You can also find Memberpress on Twitter and Instagram.