Announcing MemberPress 1.3 and Corporate Accounts
Today we're excited to unveil a major new release of MemberPress and the addition of Corporate Accounts in MemberPress.
In our 1.3 release we've completely overhauled the way we handle subscriptions, added a new member list page with advanced searching and filtering & extensive data exports options. We've also added advanced filtering, searching and exporting to the subscriptions and transactions pages. In addition to these great new features we've made numerous fixes to increase performance, security and stability.
Subscription Database Optimization
We've spent a lot of time tuning the subscription database queries. This means faster load times of your member and subscription data. You'll also be able to use MemberPress on large membership sites with thousands of subscriptions, transactions and members with fewer headaches.
New Member Listing Page
We've added an all new view of your members. Previously you were limited to the General Users Page in the WordPress admin. Now you can just click on "MemberPress" -> "Members" link which will take you to a page where you can see all of your members. On this admin page you'll be able to search, filter and export (including all of your members' custom field data) all of your members.
You'll be able to filter your members by membership and its current status but you can also search by several member attributes making it quicker and easier to find members. You'll find that this list is optimized for running a membership site. It's initially sorted to show your most recent members first but can be sorted by name, email, username and more. You'll also find that searching is much more effective than on the general user admin page … and extremely fast in comparison.
Advanced Searching and Filtering
We've also translated the advanced searching feature in "Members" over to the "Subscriptions" and "Transactions" panels. Making it just as easy to find those items as it is to find your members.
Advanced Search and Filter View
Corporate Accounts
Along with the release of 1.3 we are also very excited to announce the release of a brand new add-on for corporate accounts (sometimes also referred to as umbrella, group or parent accounts) called our Corporate Accounts add-on which is available exclusively for our Developer Edition customers.
This add-on enables you to create a corporate account memberships for your customers and allows members with corporate accounts to manage their own sub-accounts. Some common examples include corporate or enterprise customers, memberships intended for use by different groups, educational memberships for parents to manage their children and many more.
The parent member of the membership is able to import their sub-account members without any help from you (although you can control how many sub-accounts they can have per corporate account subscription). The sub-accounts are also automatically managed for you. Subscription renewals and account limits are all taken care of by the add-on.
Each membership allows you to specify the number of sub-accounts allowed to sign up giving you the flexibility to define your memberships anyway you like.
To learn more about the MemberPress Corporate Accounts add-on visit our User Manual.
Corporate Account View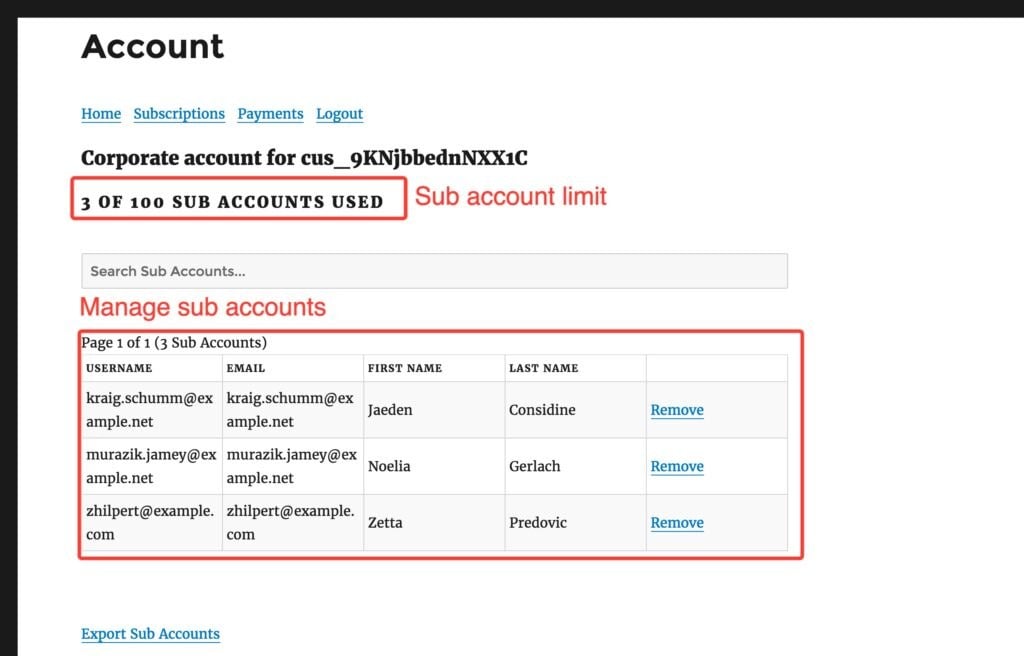 Getting started with Corporate Accounts
If you're a Developer Edition customer head on over to our Corporate Account Add-on User Manual page to get more information about how to start using this exciting new feature!
We think you'll love these new features and enhancements
We take real pride in providing you with the most stable and high performing membership software available. We're excited to see what you think of these new changes. Feel free to leave us a comment below or drop us a line on our contact form.
10 Comments
erikdslater

November 10, 2016

we've completely overhauled the way we handle subscriptions

Sounds exciting :-) Does this mean that MemberPress is tapping into Stripe's Subscriptions functionality? Or are the transaction details still being stored in the MemberPress tables?
Paul C

November 10, 2016

Hi Erik, this change is on the backend with how we store and query the subscription data in the database to greatly boost performance on some of our larger client's sites.

Jason

November 10, 2016

I was thinking the EXACT same thing when they said that! I was really excited, shame. A true rethink of the stripe integration is long overdue from MP - it would open up so many doors to really utilise subscriptions. I long for the day when I can actually start seeing some true analytics and other 3rd party facilities that require subscriptions to work. Is there any talk of you guys doing that any time soon?

Blair Williams

November 12, 2016

Yes Jason, we've got that as one of the high priorities for 1.4. We're users of ChartMogul and so we know exactly what you're talking about btw ... and hence it's a big deal for us too and 1.3 lays the foundation for it to happen.
Justin Ferriman
November 10, 2016
Hi Brandon- This is a great release! I can tell you and your team put a lot of careful thought into this. Congrats!
Blair Williams

November 12, 2016

Thanks Justin. Very much appreciate it.
Steve
November 10, 2016
Great timing, having just launched a site where I know my clients will be very interested in this Members list.
Andrew Hall
November 12, 2016
Horrah for corporate accounts. My clients have been asking for this and will enable me to add a new pricing tier.
Philip Strothmann
November 16, 2016
Hey guys, Thanks for adding Corporate Accounts! That's an absolutely fantastic feature and comes right on time :) It actually just made me to upgrade to the Developer Edition! Now, in running initial tests, I guess my biggest issue right now is adding Sub-Accounts from a usability perspective. At the end of the day, I am 100% certain that I will need to add accounts myself, as long as the system only allows csv files. Not only because there's no instruction whatsoever for people on how to do it, but because I think most people that might sign up for this option, will not want to go through the trouble of creating such a csv - they might not even know what that stands for. In other words: Are you planning to introduce a more user friendly front-end submission solution? In the end, can't we just have a three fields for Name, Last Name, EMail and then that's that? Also, related to that. What happens if I already have people on the system? How best do I switch them over, while keeping their existing accounts? So far I used coupons to achieve what I would now automate with the new Corporate Account solution. Kind regards, Philip
Brandon Toone

November 16, 2016

Hey Philip. Yes we are currently working on some more user friendly features. You'll soon have a form for adding sub-accounts manually and you'll have a dedicated signup url provided to your customers (the parent) that they can use to sign up their own sub-accounts (children). As for switching over the existing accounts we'll likely have to manually migrate your accounts since we don't have a solution in place for that scenario yet. Please submit a request for support and I'll be able to take care of you there.