Running a small business can be a daunting task. There are customers to care for, employees to manage, finances to juggle, and deadlines to meet. Your team members probably have a lot on their plates and have to wear many hats, which is why it's wise to keep track of all their responsibilities using one of the best project management tools.
The right project management solution can enable you to get your business organized and your team members on the same page. That way you can focus on what matters – delivering your best product to customers.
In this article, we'll discuss how a project management tool can make running your business easier. Then we'll introduce five of the best options on the market today. Let's dive in!
How a Project Management Tool Can Help You Organize Your Small Business
The pace of a small business can sometimes feel frantic. There's often too much to do and not enough hands to do it, so anything that can help you get a handle on the chaos is welcome.
Project management software can do just that, as well as:
Act as your customer relationship management (CRM) platform
Track deliverables
Keep remote workers connected
Manage vendors
Plan content creation and marketing campaigns
All this adds up to better organization and more efficient processes for your small or online business. Which, of course, means achieving objectives faster and ultimately making more money.
5 of the Best Project Management Tools for Your Small Business
There are a lot of project management solutions on the market. Each promises to revolutionize the way you work, but many of them feel like the same app with a different coat of paint. In this crowded space, these five tools stand out.
nTask is one of the more feature-packed project management solutions on the market. In fact, if there's a feature you want, you'd be hard-pressed to not find it here.
Standout features for nTask include:
Options galore. If you want to add a specific detail to a task or project, you'll find it here. From simple due dates to full-blown time tracking, nTask has it all.
Gorgeous interface. nTask boasts a beautiful user interface. Lines are clean, colors are vibrant, and it's easy to find what you're looking for.
Affordable. nTask is extremely affordable compared to other options on this list, especially considering the robust feature set.
nTask is a solid pick for small businesses that handle complex projects but still need an affordable solution. Like other options on this list, it offers a free Basic tier, as well as paid plans starting at $2.99 per user per month.
Asana is an extremely flexible project management tool that can be used for anything from tracking a content calendar to managing an entire team remotely.
Asana's standout features include:
Flexibility. Asana can be molded into nearly anything you need, from Kanban boards to a running list of tasks.
Collaboration. Built-in tools for sharing tasks and tracking progress across your team help keep everyone on the same page.
Ease of use. Despite its flexibility and powerful features, Asana's interface is surprisingly clean and uncluttered. Creating new projects, tasks, and templates is simple and fast.
Asana is ideal for diverse teams that need flexibility in how they display and manage their projects. It offers a completely free tier for small teams that includes many of its core features. Paid plans start at $10.99 per user per month and unlock additional functionality.
Trello was one of the original Kanban board-based productivity tools, and it's earned quite a following. Companies such as Google and Peloton use it to keep their organizations running smoothly.
Trello makes this list for a number of reasons:
Simplicity. It doesn't get much easier than Trello's visual, drag-and-drop interface. However, underneath that simple surface, you can add all the details you need on the "back" of your Trello cards.
Integrations. Trello offers a number of integrations with other popular services including Slack, Google Drive, and Evernote. This enables you to easily access the content and features you need from a single place.
Power-ups. If you find Trello a little too simple, don't worry. There are tons of "Power-ups" available to add functionality such as calendar views, custom fields, and more.
Trello is best suited to businesses that just need a simple, visual project management system. This app is free to use (with some limits in place). You can upgrade to a paid plan to unlock full functionality starting at $9.99 per user per month.
Basecamp, like Asana and Trello, is designed to help keep your entire team on the same page and up-to-date on projects. However, it takes a different approach to organizing things.
Here's what makes Basecamp special:
Organization. Projects are siloed into their own self-contained sections within Basecamp's dashboard. Each includes everything your team needs to work on that project – to-dos, a message board, a schedule, and a place for supporting files.
Communication. Basecamp has a heavy focus on clear communication. Each project has separate areas for status updates, off-topic and casual chat, and automated check-ins.
Automatic check-ins. Basecamp enables you to set up recurring questions for team members. This helps avoid the constant back-and-forth of email check-ins and can save a ton of time.
Basecamp is a fantastic option for larger businesses that need to track projects across multiple departments. It offers a free tier with limited features, as well as paid plans starting at $99 per month flat for unlimited users.
5. Notion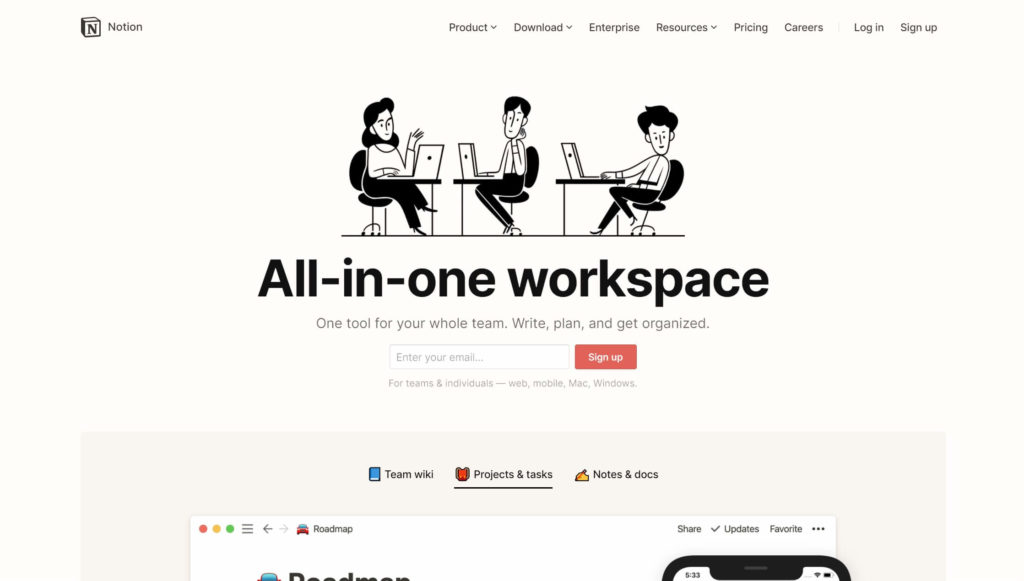 Notion is a relatively new player in the project management space, but it's earned a lot of praise for its design, flexibility, and ease of use.
Notion's most notable features include:
Templates. Notion offers templates for all sorts of content, from task lists to journals and everything in between. This makes it easy to get started.
Customizability. Notion lets you customize nearly every aspect of the interface, so you can develop a workflow that suits your team.
Clean User Interface (UI). The Notion UI is just so clean. There's ample white space, so nothing ever feels cluttered no matter how much information you need to display.
All this adds up to make Notion ideal for organizations that need highly customized workflows. The app is free for personal use, and team plans start at per user per month.
Conclusion
Whether you're just starting your business, or you need something to help you take your company to the next level, a project management tool might be just the answer. These platforms offer a centralized way to organize your entire business, from tasks and deadlines to information and communication.
If you're new to project management software, we recommend starting with one of these excellent tools:
Do you have any questions about choosing a project management tool? Let us know in the comments section below!