Beaver Builder is a page builder plugin for WordPress that aims to work with any theme. The plugin has an intuitive user interface that makes creating custom page designs a breeze.
Whether you want to create your own custom website design from scratch, tweak the existing appearance of your theme, or do something in between, Beaver Builder could be just what you are looking for.
However, what if you're managing a membership website or thinking of starting a site of this type? What does a drag-and-drop page builder like Beaver Builder have to offer?
In this article, we'll take a look at this page builder plugin to show you just what it can do. We'll also highlight some of the ways Beaver Builder can be used to enhance your membership website.
What Does Beaver Builder Have to Offer?
As mentioned, Beaver Builder is a drag-and-drop page builder plugin for WordPress. This means that it gives its users a way to create custom layouts for their website, all without the need to write or edit any code themselves.
Intuitive User Interface with Live Preview
When using Beaver Builder to create your custom layouts, all the work takes place through a visual interface. The benefit of this is that it gives you a good representation of what your custom design will look like to your visitors once it goes live. This is a feature that is lacking from many of the other WordPress page builder plugins. Instead, these tools often force you to regularly switch browser tabs in order to see how your design is taking shape.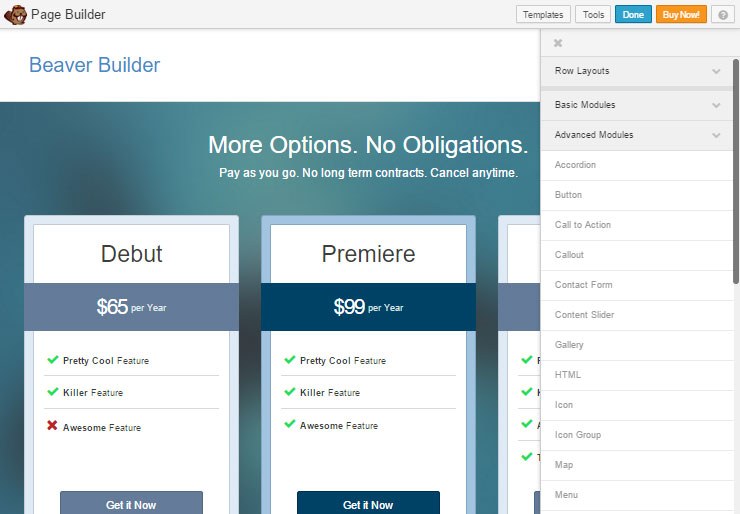 As you can imagine, that way of working can really slow things down. By giving you a live preview of your page as you work on it, Beaver Builder ensures there are no nasty surprises when it comes time to hit the publish button. With less tab switching and page refreshing going on, the whole design process is sped up considerably.
Beaver Builder Prebuilt Templates
However, despite the highly intuitive user interface, Beaver Builder doesn't leave you to your own devices when it comes to creating your custom page designs. While you can start with a blank canvas, you're encouraged to choose from one of the high-quality prebuilt designs that are included in the package.
These prebuilt page layouts are all rather impressive and of a very high standard. They wouldn't look out of place on the best WordPress websites or in the most premium of themes. However, best of all, Beaver Builder gives you the ability to dive right in and start tweaking or totally overhauling these templates to suit your project.
Many of the prebuilt templates would be ideal for giving the homepage of your website a makeover. Personally, I feel that the pricing page template is most appealing for membership site owners who want to present their different membership tiers in style.
Creating a Page Layout with Beaver Builder
When it comes to actually creating your custom page layouts, Beaver Builder uses a row and column format. This should be familiar to anyone who has ever created a table in a word processor app before.
The first step is to launch the builder interface from the WordPress editor. The good news is that Beaver Builder will work with any post type on your WordPress website. This includes post and pages, as well as any custom types or those that have been created by the plugins you are already using on your site.
If you do decide to start with a blank canvas, you can then either add a new module to the page or start building your custom layout by adding a row.

One of the many time-saving features of Beaver Builder is its prebuilt column layouts. Each row can contain multiple columns and adding them to your layout is as easy as dragging and dropping one of the prebuilt configurations into the row you are working on.

Once you've added a row or column to your layout, you can then start populating your design with modules. Some of the modules you get access to with Beaver Builder include buttons, calls to actions, sliders, forms, galleries, icons, maps, testimonials, and many more. If that wasn't enough you can also drop any of the widgets that are active on your site directly into your custom layout. As you can imagine, this last feature opens up a whole world of possibilities for your layouts.
Each of the rows, columns, and modules that you add to your layout can also be customized. Depending on which item you are working on this can include tweaking the size, colors, background properties, button effects, content, and pretty much any other aspect of the element you might want to change.
Beaver Builder also makes it easy to save your modules or layouts for reuse throughout your website. Furthermore, unlike most of the other page builder plugins for WordPress, if you do turn this plugin off in the future, you won't lose any of the content you've added to your pages: only the presentation will be removed.
Who is Beaver Builder For?
Hopefully, you've now got a good understanding of what Beaver Builder has to offer. But is this the right tool for you?
Well if you aren't a developer but would still like to give your website a custom design look and feel or just do more with your page layouts than you're currently able to with the default WordPress editor, Beaver Builder is definitely worth taking for a test drive.
That being said, I believe even those with development skills can benefit from this plugin. Thanks to its user-friendly, drag-and-drop interface, creating custom page layouts for your website (or even your client projects) suddenly becomes much faster and easier.
Beaver Builder reportedly works with any theme and even offers its own theme as you move up the pricing plans. This means that whether you are starting your WordPress website from scratch or you want to begin adding custom layouts to your existing site, this plugin has plenty of offer.
If you are currently running a membership website then I'm sure you can already think of a few of the benefits of being able to add custom layouts to your membership content. Not only will this plugin make the home page of your website more stylish, it will also give you more control over how the inner pages of your site will look and feel.
The value of Beaver Builder becomes more apparent when you consider the range of modules it offers. The plugin's ability to add important elements to your site such as eye-catching buttons, call to action banners, and pricing tables helps to increase its appeal.
Although Beaver Builder is ideal for creating custom page layouts from scratch it can also be used simply to insert any of the modules – such as the call to action button – into your regular posts and pages. You don't have to push this plugin to its limits to get value from it.
Final Thoughts
It's hard to do Beaver Builder justice with just words and pictures. While the layouts you get access to look great, the best feature of this page builder is its user interface. To get proper a sense of why this is the case you really have to try it for yourself.
Thankfully, there's currently a demo version of Beaver Builder online that you can try today. So hopefully, this article has piqued your interest, and now all that's left to do is launch the demo and see what you can create.
What do you think of page builder plugins? Would you benefit from being able to create custom page layouts for your website through a user-friendly visual interface? Please share your thoughts in the comments below.
If you liked this article, be sure to follow us on Facebook, Twitter, Instagram, Pinterest, and LinkedIn! And don't forget to subscribe in the box.