Are you a proactive membership-site owner always looking for new ways to serve your audience while also growing your membership user base? Then Holler Box is sure to be of interest.
Spend just a few hours setting up this plugin and creating custom messages, and you can start using a mixture of discreet notification boxes, social triggers, and lightbox popup windows to increase membership and eCommerce conversion rates and lead-generation performance.
Holler Box integrates with MemberPress in just a few clicks, is easy to use, and offers a number of impressive conversion-rate boosting features. So if you're looking for another way to grow your membership site or other types of WordPress-powered eCommerce websites, read on to find out how Holler Box can do that for you.
What is Holler Box?
As mentioned, WordPress's Holler Box has been created to help you grow your eCommerce-related projects. Whether you're selling physical or digital products, offering online courses, promoting services, or running membership programs from your WordPress website, Holler Box is designed to help you generate more leads and get more sales.
Increasing traffic to your website takes a lot of effort, so anything that helps generate more revenue from existing visitors is well worth investigating.
How Can Holler Box Help You Generate More Sales and Leads?
The Holler Box plugin aims to help you generate more sales and sign-ups for your membership program or other eCommerce venture by displaying personalized messages on your website in the form of popups and header and footer banners. And if you're not a fan of the traditional, slightly contested lightbox window popup, Holler Box has more to offer.
Furthermore, Holler Box also integrates with MemberPress, making it a great tool for turning your free visitors into paid-up members with very little effort.
Let's take a look at some of the ways Holler Box can best help you increase your website conversion rates, whether you're using MemberPress or not.
Subtle Popups to Gently Nudge Your Visitors
Popups have been shown to drastically increase conversions. However, not everyone's a fan of them. They're annoying to some visitors, and an aggressive popup strategy just doesn't work with some brands. But this doesn't mean you can't reap some of the benefits of popups while still keeping your audience happy.
How? Holler Box gives you the option of displaying more discreet website notification popups that still give you the opportunity to promote an offer or ask for an email address in a way that doesn't disrupt user experience. Popups that load in the corner of the browser window are an effective way to subtly alert your audience without hijacking the user experience.
Because Holler Box gives you a good amount of control over how these features work on your site, you can easily choose when and where popups are displayed, which devices they're active on, and whether to display your Gravatar photo in the message box.
Popups to Grow Your Email List and Generate Leads
While subtle popups are perfect for some projects, if traditional lightbox style popups do work with your audience and brand, Holler Box makes it easy to add them to your website, too.
As well as detailed settings that control when and where the popup is displayed and how it's triggered (i.e., exit intent and timer triggers), Holler Box provides you with a small but well-informed selection of popup templates.
Faux Live Chat Service to Obtain Email Addresses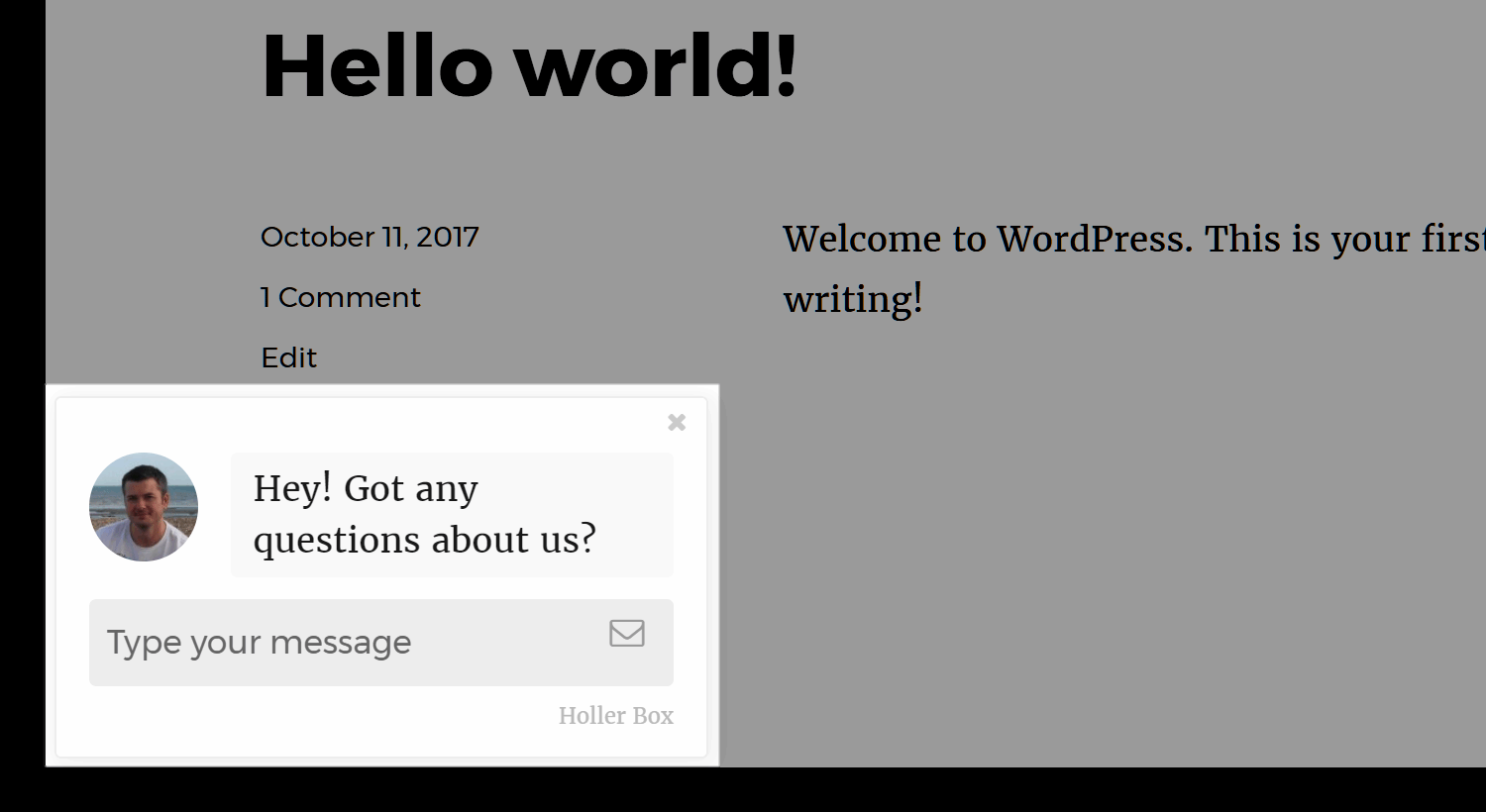 If you'd like to offer visitors the ability to get in touch via a live-chat service but just don't have the time or resources, Holler Box's imitation-chat feature is a good compromise. This feature displays a chat-style popup box on your site, complete with a custom message and optional Gravatar profile image.
Once a user submits their question or message, they're given the opportunity to enter their email address so you can reply with a follow-up email. It's a great way to communicate with your audience while you're away from your computer. And as with the other lead-generation features of Holler Box, you can easily control when and where the fake chat box is displayed.
FOMO Popups to Display Social Proof and Create Urgency
One feature of Holler Box membership site owners are sure to appreciate is the FOMO, or "fear of missing out," popup. Thanks to Holler Box–MemberPress integration, if anyone signs up to your membership program while another visitor is active on your site, a popup notifies them that someone just became a member.
This notification not only plays on the visitor's fear of missing out but also provides some vital social proof that encourages them to sign up to your membership product. And thanks to the Holler Box integration, this feature also notifies visitors when someone makes a sale via the WooCommerce or Easy Digital Downloads eCommerce plugins.
Header and Footer Banners to Promote Discounts and Offers
Displaying a link to your registration page or promoting a sign-up incentive in the header or footer areas of your website is a tried-and-tested lead-generation tactic. Holler Box not only gives you the option of displaying a custom message in the header and footer bars, it also lets you use an optin form to grow your email list.
As you've probably guessed by now, choosing which website pages banners are displayed on, when they should be triggered, and what devices they work on is pretty straightforward.
Holler Box Pricing Information
The core Holler Box plugin is both free to download and use. However, upgrading to the Pro versions of Holler Box unlocks all premium features. For $79, you can start using Pro features, such as:
The ability to offer content upgrades.
Access to more popup templates and extra popup display triggers.
Advanced visitor, page, and post targeting.
The ability to create a display schedule for popups and banners.
Access to premium support channels and plugin updates.
For an extra $20, you can also start using sale notification features on your site to harness the power of social proof and FOMO to generate more sales and sign-ups for your project. The $99 top-tier Pro Bundle package includes access to all future premium add-ons and features.
Final Thoughts
If you're serious about turning more of your website visitors into members, customers, or leads, you should definitely check out Holler Box.
As well as all the useful Holler Box features mentioned above, you can also use the expanded popout feature to display additional content on your site and the content upgrades tool to bribe users into handing over their email address in exchange for extra content.
Holler Box makes it easy to use proven lead-generation and sales tactics without annoying visitors. And the fact that you can hide all these conversion-rate optimization features from visitors who've already registered makes Holler Box an even more appealing tool for the ethical business owner.
Find out more about Holler Box today
Let us know your thoughts in the comments below.