If you want to improve your membership site, then you need a way to see how it's currently performing. After all, if you're not aware of the current situation, how will you know if your efforts have had an impact, whether that's positive or negative?
One of the best and most popular ways to get a good insight into many aspects of your website is to connect it to the free Google Analytics service.
Doing so lets you quickly see at a glance, how many people are visiting your site, which pages are most popular, and where your audience is based.
Google Analytics can do a lot more than that though. So whatever aspect of your membership site you would like to monitor or improve, this free service should provide you with all the necessary data.
In this article, you'll find out how to easily set up Google Analytics on your membership site so that you can start getting a better insight into who's accessing your website, what they're doing once they've arrived, and how effective your site is against your goals.
How to Set Up Google Analytics on Your WordPress Membership Site
Although any type of website can be integrated with Google Analytics, WordPress users have a particularly easy time when it comes to connecting to this free service.
While there are a number of plugins that simplify the process of integrating a WordPress website with Google Analytics, arguably the most popular is Google Analytics Dashboard Plugin for WordPress by MonsterInsights.
With over 2 million active installations, a user rating of 4.4 out of 5 stars, and both free and paid versions available, this plugin is suitable for integrating all types of WordPress websites with Google Analytics.
Sign up for a Google Account
If you're not already signed up for any Google services, such as Gmail or Google Drive, or you'd like to use a separate account for Google Analytics, the first step in setting up this service for your WordPress membership website is creating a Google account.
So if you need to create an account, you can sign up for one on the Google Analytics webpage.
Create a New Google Analytics Website Profile
After registering for your Google Analytics account and logging in, it's a good idea to create a new profile for the website you want to use the service with.
As one Google Analytics account can be used to monitor and analyze multiple websites, you can create multiple profiles to keep the data separate.
While logged into Google Analytics, click on the Admin item in the bottom left-hand corner.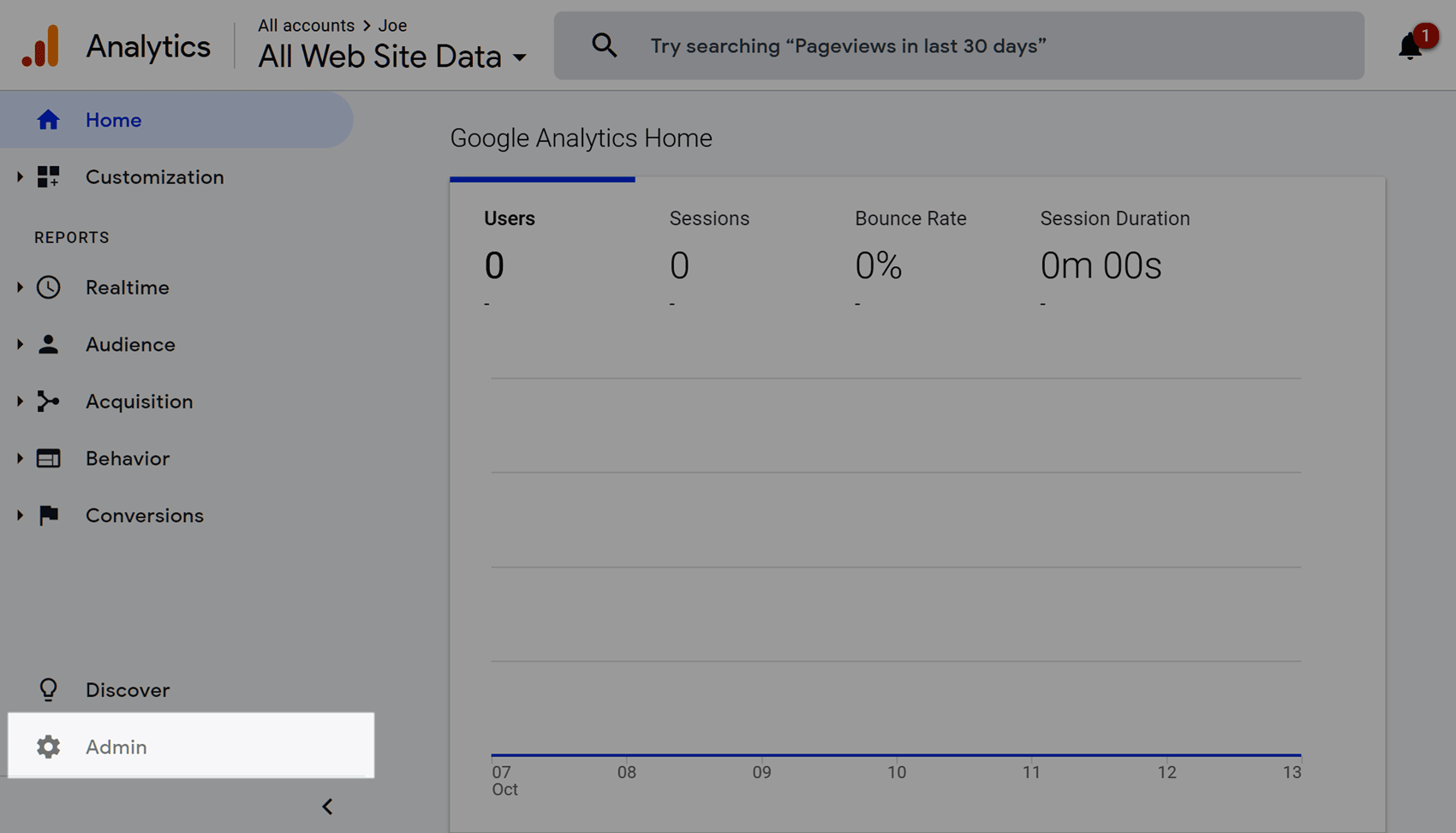 From the screen that's displayed next, click on the Create Property button.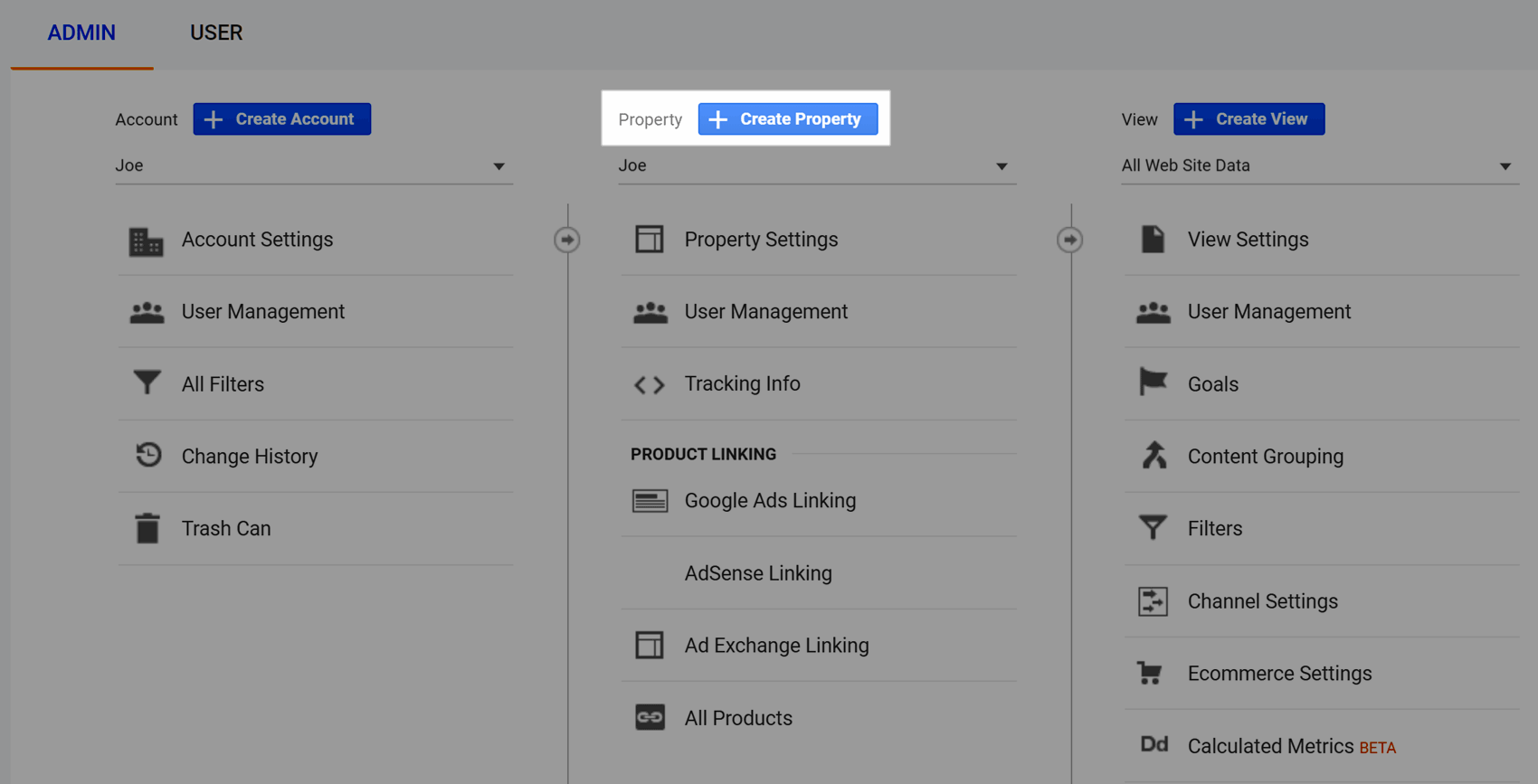 On the Create Property screen, select website type, then enter the name and address of your membership site. Once the next screen that contains the tracking ID is displayed, the new website property will have been successfully created.
Install a WordPress Google Analytics Plugin
Once you have your Google account ready and have signed into Google Analytics, it's time to install a suitable plugin on your WordPress website to facilitate the connection of this service to your site.
There are a few options, but as mentioned, Google Analytics Dashboard Plugin for WordPress by MonsterInsights is a good choice.
To install this, or a different plugin, log in to your WordPress dashboard and navigate to the Add Plugins page by clicking on the Add New item under the Plugins menu.

From the Add Plugins page, enter MonsterInsights in the search field and then click on the Install Now button for the Google Analytics option from the returned results.
After pressing the Activate button that's displayed after clicking on the Install Now button, the plugin will have been added and enabled on your site.
Hopefully, you'll be taken to the getting started page of the plugin, where you can watch a video overview of Google Analytics Dashboard Plugin for WordPress by MonsterInsights.
Now it's time to connect your WordPress website to your Google Analytics account.
Integrating Google Analytics with Your WordPress Membership Site
One reason why Google Analytics Dashboard Plugin for WordPress by MonsterInsights is our recommended option is the setup wizard feature that simplifies the process of using this service on your website. If you can see the Launch Setup Wizard button in your WordPress dashboard, click on it to get started.

If the launch button isn't on display, click on the Settings item under the Insights menu on your WordPress dashboard sidebar. Doing so will prompt you to run the wizard. By answering a few simple questions, and clicking on a few buttons, you should have set up Google Analytics on your membership site in no time at all.
Just remember to select the Google Analytics profile you want to use (probably the one you created earlier in this guide) with this site at the appropriate step.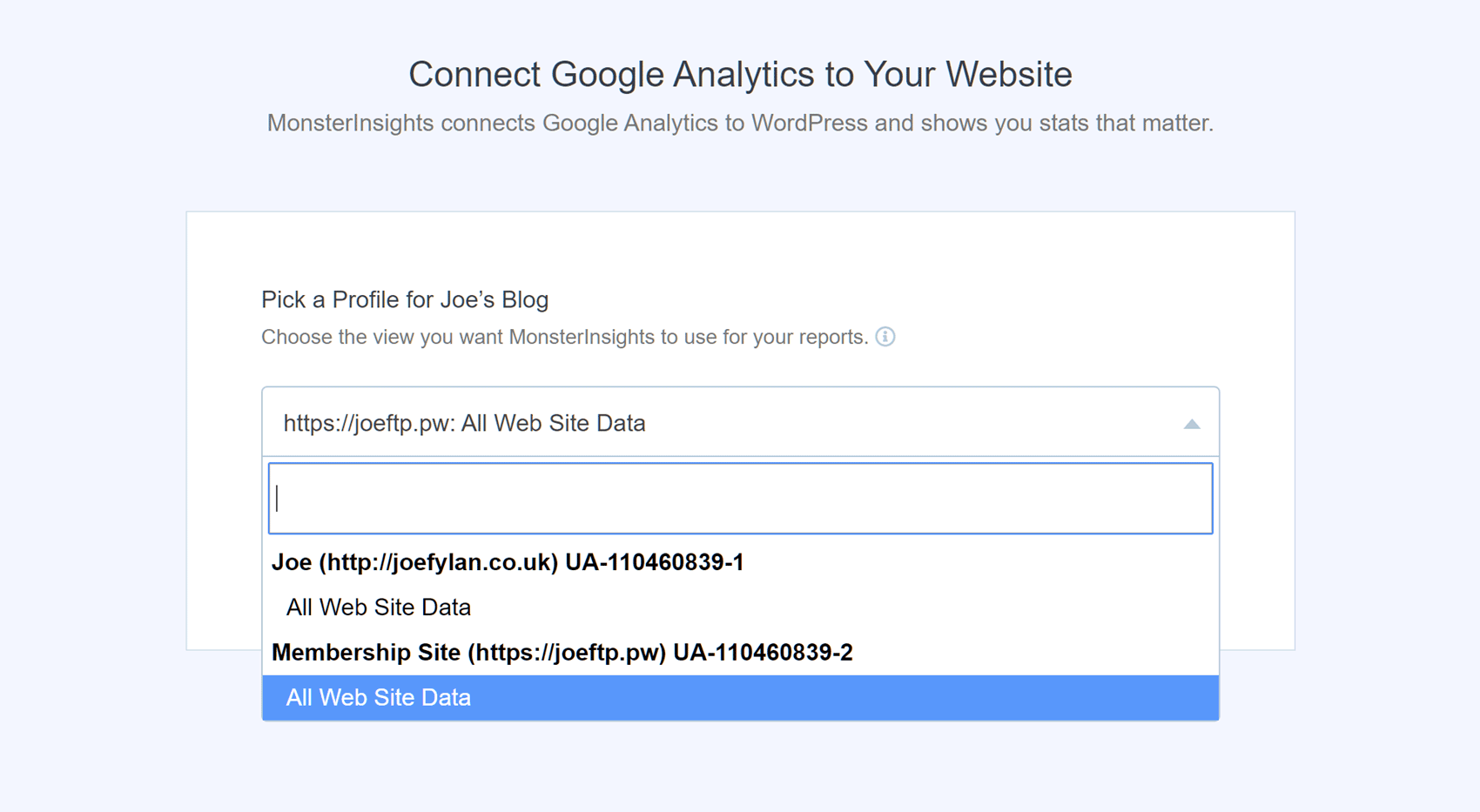 Once you've walked through the rest of the wizard, you will have connected Google Analytics to your membership site.
Viewing Your Google Analytics Data
Another reason why Google Analytics Dashboard Plugin for WordPress by MonsterInsights is a popular choice is that you can view your analytics data from inside your WordPress dashboard, rather than only on the Google Analytics website.
More data and reports are available on the Google Analytics website, but for convenience, it's good to be able to get a quick overview of your key metrics from inside your WordPress dashboard.
Final Thoughts
Now that you have Google Analytics set up on your WordPress membership site, you can start to get a better understanding of your audience, how they are interacting with your content, and how effective your site is at converting visitors into members.
If you'd like to know more about Google Analytics, we've published an article on how to use the service to optimize your membership site. There's also a free course on the Google Analytics website for those who really want to get the most out of this service.
Do you have any questions about using Google Analytics with your membership site? If so please, leave a comment below.